There was a time when PCP airguns were simply out of reach for most airgunners. So, if you wanted an easy-to-shoot airgun with power, you looked for guns like the Benjamin Sheridan. With 8 pumps, you could shoot targets or varmints easily out to 50+ yards. Of course, you did have to work between each shot, but for most shooters, it was worth it for the easy accuracy, range, and power.
Now we have PCP air rifles that start at just over $200.  Some PCP airguns cost less than break-barrel airguns, which is pretty crazy when you think about it. But, unfortunately, you still have the steep start-up cost because you will always need a way to fill them. 
Enter the modern pump airgun
Do you want to hand pump a PCP giving you a bunch of shots "precharged" and ready to go? Or do you want to work between each shot? The bottom line is that you'll be putting in the effort either way. And like a PCP hand pump, as you get closer to the top end of a multi-pump airgun, the force needed to complete each pump becomes greater and greater. Or does it?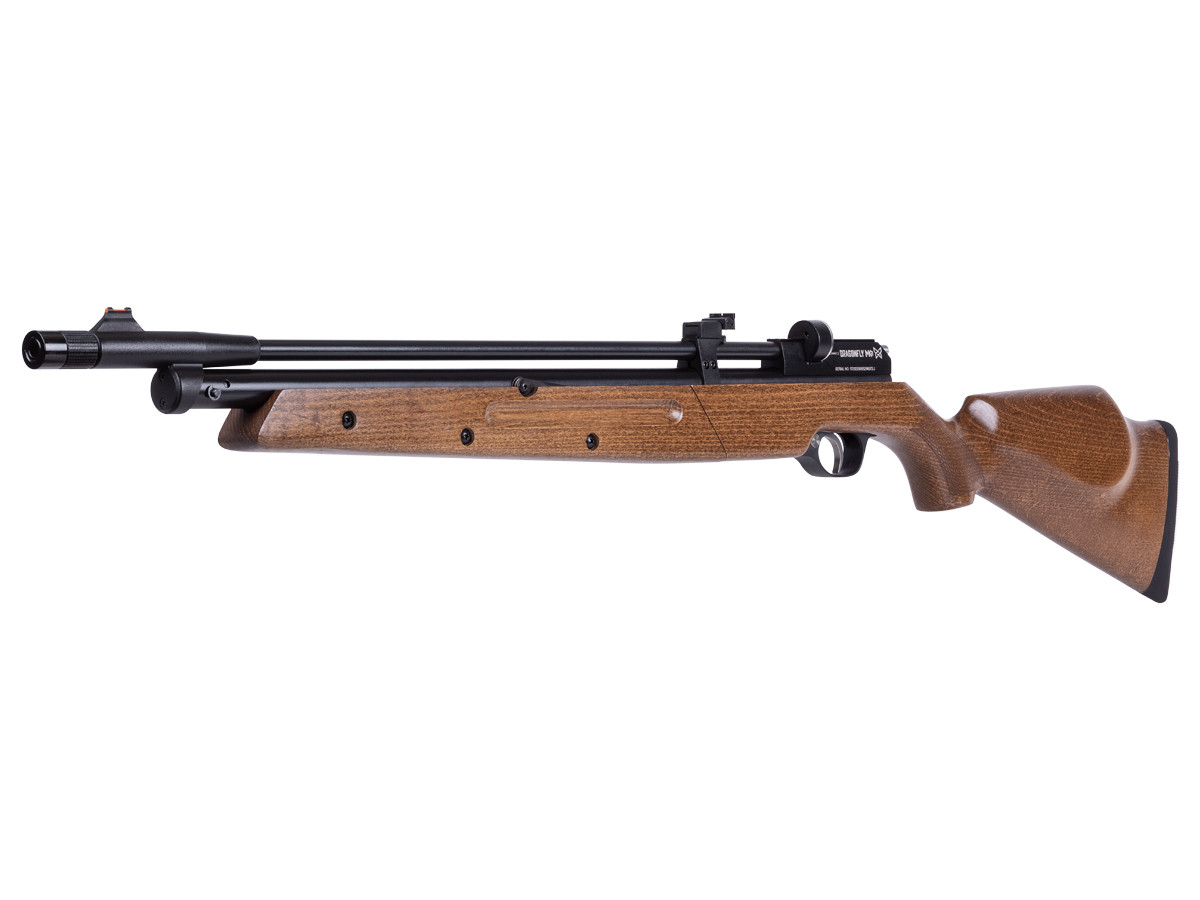 Let's take a quick look at the next generation of multi-pump airguns that have put pump pneumatic airguns back on the map. When the Dragonfly MK I came out, it was unique because it had a magazine, open sights, and was made from wood and steel. This was not your "big box" multi-pump airgun built on cheap plastic. This was an enthusiasts-grade multi-pump. It was available in both .22 and .177 and delivered decent power and great accuracy. How could you make it better?
Well, Air Venturi set out to make it better by massively reducing the cocking force. With the MKII, they introduced the "butterfly" cocking system. This ingenious feat of engineering makes full use of geometry and physics to make pumping 15 as easy as pumping 2 or 3. While you still have to work between each shot, now you are using much less effort for each shot. It's a perfect example of what it means to work smarter, not harder. The MKII's new cocking system is very smart.
What about the best of both worlds?
Shooting the MK II is still not like shooting a PCP because you need to pump it up for every shot. What if you had a PCP that also had a built-in pump? Enter the Seneca Aspen.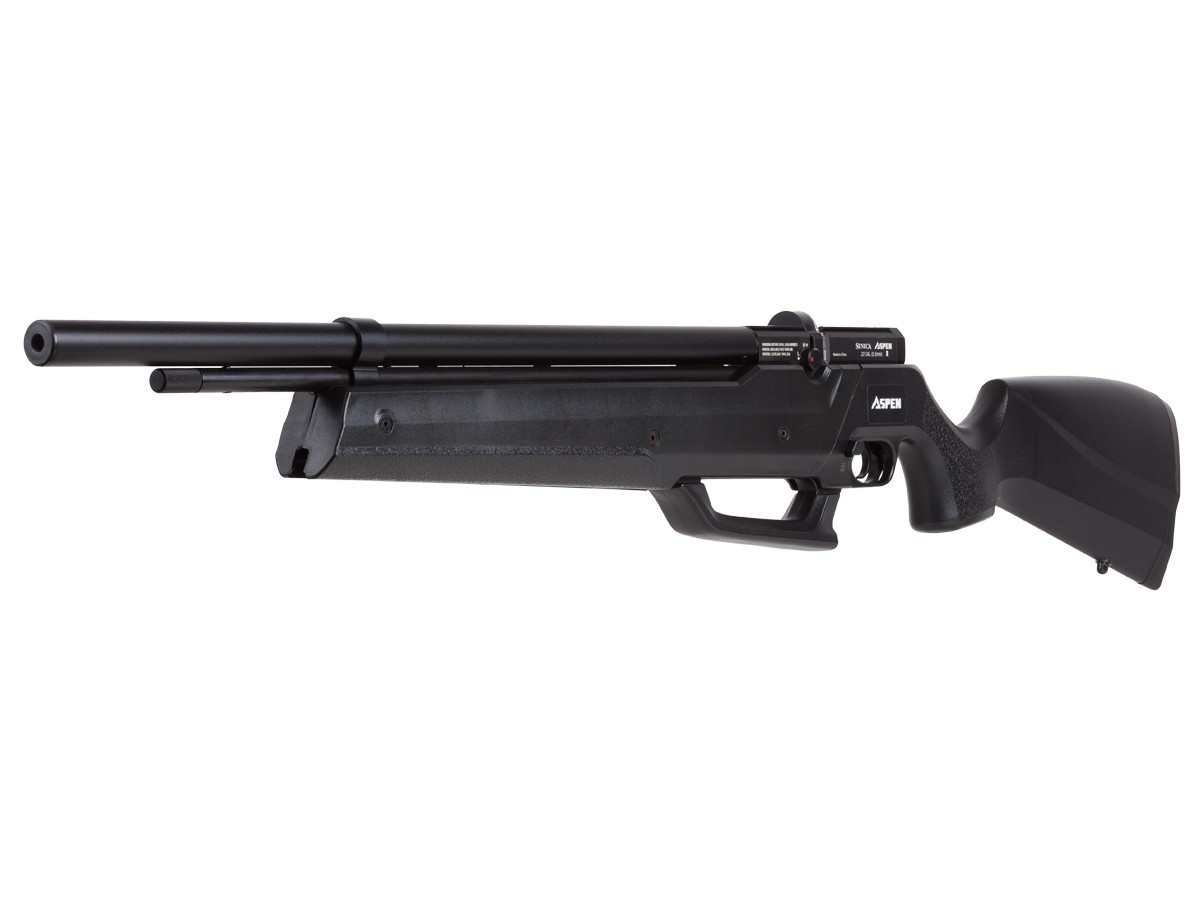 The idea of a PCP with a built-in pump has been done before. FX did it, and it was a very unique airgun. Unfortunately, it was also very expensive. One of the major selling points of multi-pump pneumatic airguns has always been their low price. Here's another place where Air Venturi rose to the challenge and created something for the needs of the airgunning community.
The Aspen is available in .22 and .25. It has a power switch for high and low power, a magazine, side lever cocking, and the most important component, the built-in air pump. The built-in pump can be used as the only air source, filling the Aspen to 250 bar and delivering 2 to 3 mags, depending on caliber. The better option for the long-term durability of the Aspen would be to fill it from a PCP hand pump, personal compressor, or pony bottle and use the integrated pump to top it off while in the field. This way, the built-in pump is not overworked or overheated and will give you years of service.
Isn't it great to have options?
Way back, say the early 1970s if you wanted a powerful, accurate airgun that shot like a .22lr, you were looking at the Benjamin Sheridan. Unfortunately, that iconic airgun is no longer with us. Fortunately, we have some great replacements in affordable PCPs and affordable personal compressors. Airguns like the Dragonfly MK II that's fully self-contained, accurate, powerful, and easy to pump and shoot. For those that want the best of both worlds, we have the Seneca Aspen that stores up pressure for several shots between fills and includes an integrated pump to keep the good times rolling. It's a great time to be into airgunning.