The Webley MKVI 4" Barrel CO2 pellet revolver is the Police Model of the respected UK military service gun that saw action of a period of nearly 100 years. Besides helping to win wars, it was also used in famous TV shows and movies, so you'll probably recognize it even if you're not a big war buff, and it has the quality and features to give you endless hours of plinking and target shooting joy.
This airgun version is made from the directions found in the original blueprints so it gives you an experience that's very close to the genuine version. You'll be stunned at how much this gun looks and acts like the real thing. From loading, to firing, to cycling, to ejecting, it works just like the firearm revolver does. It even uses pellet cartridges in the 6 round cylinder that look like the cartridges from the firearm.
When you hold the Webley MKVI 4", you'll feel like you're holding the genuine article. It has a realistic weight and feel thanks to its full metal construction, and it has the original 1915 markings on it, which are stamped into the metal instead of printed like some replicas. Plus, you can easily imagine that this gun was used and cared for through the years because of the distressed Battlefield finish.
So you can get additional accuracy, the airgun uses a rear notch sight and a fixed front blade sight. You can also use the trigger in double action mode to both cock and shoot the gun, or use the hammer to cock it for single action mode.
If you want a short barrel Police Model pellet revolver version of this popular and successful gun from history, get a Webley MKVI 4" Barrel CO2 gun from Airgun Depot today.
Specs
Manufacturer

Webley & Scott Ltd.

Caliber

.177

Velocity

400 fps

Condition

New

Ammo Type

Pellets

Action

Revolver

Barrel Style

Rifled

Fire Mode

Repeater

Gun Weight

2.20

Overall Length

9.50

Barrel Length

4.00

Loudness

4-Medium-High

Magazine Capacity

0

Mechanism

CO2

Rail

No

Safety

Manual

Front Sights

Blade

Rear Sights

Fixed

Shots per Fill

0

Trigger Adjustability

0

Trigger Action

Double-Action & Single-Action

Use

Plinking/Fun

Warranty

1-year limited warranty
Reviews
Average Customer Review
5.0
5.0
2 Reviews
5.0
By Donald
September 8, 2023
Verified Purchase
If you are a fan of old style revolvers, buy this pistol. You will NOT regret it. It's difficult to ignore if I am in the same room with it.
Pros
This pistol is a beautiful, and solid piece of art. It's mechanically perfect. Excellent recreation. I love the worn finish as well. I sit on my couch and just play with it (uncharged, of course).
Cons
On ALL of the pistols, something better for a grip than a flimsy plastic slab that lightly snaps to the frame. A solid handle where the C02 cart can be installed from underneath, with a solid wood grip.
5.0
By Dan
USA
May 27, 2022
Verified Purchase
I wouldn't hesitate to purchase from Airgun Depot or Pyramyd Air again. I see the Nagant Pellet Revolver in my future. Awesome job AG Depot!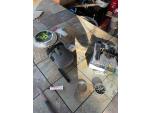 Pros
Accurate, even with my eyes. Probably should wear my glasses. Might actually hit the target consistently. Over all the quality is fantastic. It has some nice weight to it and the fit feels pretty good!
Cons
The grips. I wish I could have them cloned in wood or G10! Also not sure how I feel about the finish. Would like to see the release of the non aged version. It blacked out nicely.
Q&A
Question?
Login to ask someone who bought this product.
Can I purchase this gun from india
asked Nasir from India
Yes, the following documents would be needed: The following documents are needed before order approval, and to clear Customs. The customer must have the following documents BEFORE their order arrives in India. If documents are not available for Customs, the shipment will be abandoned and there will be NO refund. Letter from rifle club, order district/state/national rifle association certifying importer as shooter. Original ID card of associations mentioned. Authorization letter in favor of UPS (obtained from UPS). Address proof with photo ID (driving license, Aadhar card). KYC documents (obtained from UPS).
Adam from USA
is this double action?
asked Bean from USA