We sell thousands of BB and pellet guns but Crosman 357 Magnum is our
#1 selling air pistol
(and has been for years). Many customers write in to say they were skeptical at first because the gun was priced so low (it seemed cheap) but after handling it they were blown away. We're not sure how Crosman has been able to manufacture such a top quality air pistol and priced it so low but our in-house gun specialists, who review every time we carry, are confident this is the best quality air pistol you can buy for the price. Crosman also just updated this popular model to include a tactical rail. Now you can mount red dot sights or other optics to the easy to use weaver rail. This full-sized pistol is constructed with both cast metal and plastic. Gun barrel is 6" rifled steel and grip is synthetic. The front of the pistol is plastic, while the main part is metal. The Crosman Vigilante 357 delivers a realistic shooting experience and shoots up to 435 feet per second (FPS). It is powered by a CO2 cartridge that can be found in the gun's handle. Package includes 4 Pellet Magazines and 1 BB Magazine.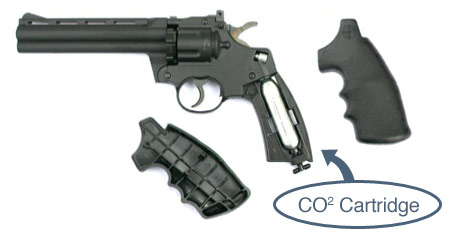 To get the most out of each cartridge (and extend gun life) add a drop of Crosman Pellgun Oil on tip of each CO2 cartridge. Pellets are loaded into a 10 round circular clip. The rear sight is fully adjustable, rare for a gun at this price-point. Feel free to add a red dot on the 3/8" dovetail. Getting the Crosman Vigilante 357 ready to shoot is a breeze. Simply remove handle grips to load CO2. Then, break open front of revolver mechanism and pop in a preloaded circular clip. Close and commence shooting. The feel, shooting and trigger action of this gun is so addictive we're betting you'll go through several rounds of pellets. Be sure to order extra CO2 and pellets for more non-stop fun. We're not saying this for nothing, every day we see recent Crosman 357 buyers return to purchase extra CO2 and pellets.
Frequently Asked Questions
Rafael from Ennis, Ireland asked: What Type Of CO2 Suits This Gun Best?

Staff: 12 Gram Crossman CO2 cartridges are the only ones that'll work with this gun. Each cartridge gets you around 70 shots. Note: CO2 cartridges aren't included with order. Most Crosman 357 buyers also purchase extra cartridges (this saves you on extra shipping fees).
Daniel from Melbourne, Australia asked: What ammo do i need for this and also how much of it i would need?

Staff: You can use any .177 cal pellet, though it is not recommended to use pointed pellets as they can get jammed. When you click ADD TO CART button we show the option of adding Daisy Match Pellets (500 ct) .177 cal to your order.


Specs
Manufacturer

Crosman

Caliber

.177

Velocity

465 fps

Condition

New

Ammo Type

Pellets

Action

Revolver

Barrel Style

Rifled

Fire Mode

Repeater

Gun Weight

2.00

Overall Length

11.38

Barrel Length

6.00

Loudness

4-Medium-High

Magazine Capacity

0

Mechanism

CO2

Rail

No

Safety

Manual

Front Sights

Blade

Rear Sights

Adjustable for windage & elevation

Shots per Fill

70

Trigger Adjustability

0

Trigger Action

Double-Action & Single-Action

Use

Plinking/Fun

Warranty

1-year limited warranty
Reviews
Average Customer Review
4.6
4.5
270 Reviews
This item is amazing and for the price you can't go wrong. its got the weight as well to give it a realistic feeling.
5.0
By Lamonte
USA
April 2, 2022
I'm a crosman vigilante "OG" so to speak. I've had the vigilante for well over 6 years now and a couple of more added. It seems to get more powerful the older it gets. my original one was averaging 425 FPS when I first got it and now it averages around 470 FPS ( lead pellets ) and over 500 FPS ( alloy pellets ). One thing I've learned is when they're brand new they're not as powerful as advertised but throughout time they gain power, alot of power and I leave mine pierced for well over a month and it still works just fine. The secret is putting pellet gun grease on the tip of the CO2 cartridge along with the pellet gun oil. you can leave it pierced for a very long time after that. The only plinking I do is to test and make sure its still working right other than that, I keep it with me in my 18-wheeler at all times..
Pros
Very sufficient and reliable
Cons
Hoping someday they come out with the crosman vigilante air rifle, that would be sick.
I have had mine for several years. It worked fine until recently and I'm not sure if it was a defect or something else, but I am impressed enough to buy a new one. I shoot mine for stress release from computer work in my 20-foot garage. For the person who said it is not powerful enough, I'm wondering what they want? I was not expecting it to fire pellets clean through my 3/8-inch plywood door, but it did on my first round of 12 shots. Once I saw this, I made a backdrop from 1/2-inch plywood. That is enough to stop it. But listen, if that were a human body instead, that would be serious damage. Second, the accuracy is great. I can plunk off Lincoln pennies from the other end of the garage. It splits most of them in half. I tired nickles, and it dents them concave. Who says this is not powerful enough. Anything more powerful requires gunpowder.
Pros
A great revolver for pellets. Nothing quite like it on the market, especially in that price range.
Cons
The spring that hold barrel clip in place popped out and I can't find it anywhere, so the gun is now useless. However, I got about 14 years of use out of it, so who's complaining? Getting another one--it was that good for the price. I paid $59.00 for mine 14 years ago and I hope that my plastic pellet holders are interchangeable with the new models.
1.0
By Roger
USA
March 6, 2022
Pros
Nice gun, but I had problems: You have "unlock" the barrel latch to tip the barrel, to load a pellet or BB
Cons
Was I the only buyer that could NOT press the button, to "tilt" the barrel to load a magazine? I returned mine even though I liked what I saw and really wanted to have one.
5.0
By Jordan
March 2, 2022
Verified Purchase
Pros
Very pleased with this airgun, shoots hard and straight! It is very efficient on CO2 and will go about 50 shots on a cartridge. Good groupings at 40 feet using pellets (see attached photo), with steel bbs the groupings are about the same at 30 feet. I used Gamo "Hunter" pellets, nothing special. This gun has double-action mode and single-action mode. Pulling back the hammer will give you tight groupings, but without pulling the hammer back before shooting it has a very stiff long trigger pull and will transfer to much less accurate shooting. The quality of the gun is decent for the price, but it is very light for it's size because most of the external pieces are plastic. Feels good in the hand though. Adjustable sights, rifled barrel, and pellet clips are easy to find locally (I recommend picking up some extras). Make sure to tighten the CO2 up until you literally can't turn the swivel any further, otherwise it will not shoot consistently.
1.0
By Rory
USA
August 29, 2021
Pros
Looks good
Cons
After Shooting Few times. it stopped shooting . A waste of money.
4.0
By Ak
USA
March 16, 2021
The holster didn't come with mine I got a gun and two cylinders one for pellets and one for bbs
Pros
Powerful and extremely accurate
Cons
Nothing
5.0
By Hannibal
USA
March 3, 2021
Verified Purchase
buy extra clips and ammo.
Pros
shoots out of the box! Amazing gun and reliable.
4.0
By Ak
USA
February 12, 2021
Pros
Fires great
Cons
No holster
5.0
By Kevin
USA
February 4, 2021
Verified Purchase
I would reccomend buying it,especially if you own a revolver and don't want to deal with the problem of finding and affording ammo.
Pros
I got mine a couple of weeks ago and love it.It's accurate and fun to shoot.Ihave 1 .38 and 2 .357 magnum revolvers.It gives me realistic practice and I can sit on my ammo,which is expensive and hard to find.
Cons
Grips are a little large for me but not enough of an issue to regret buying it.
Q&A
Question?
Login to ask someone who bought this product.