We sell thousands of BB and pellet guns but Crosman 357 Magnum is our
#1 selling air pistol
(and has been for years). Many customers write in to say they were skeptical at first because the gun was priced so low (it seemed cheap) but after handling it they were blown away. We?re not sure how Crosman has been able to manufacture such a top quality air pistol and priced it so low but our in-house gun specialists, who review every time we carry, are confident this is the best quality air pistol you can buy for the price. Crosman also just updated this popular model to include a tactical rail. Now you can mount red dot sights or other optics to the easy to use weaver rail. This full-sized pistol is constructed with both cast metal and plastic. Gun barrel is 6? rifled steel and grip is synthetic. The front of the pistol is plastic, while the main part is metal. The Crosman Vigilante 357 delivers a realistic shooting experience and shoots up to 435 feet per second (FPS). It is powered by a CO2 cartridge that can be found in the gun?s handle.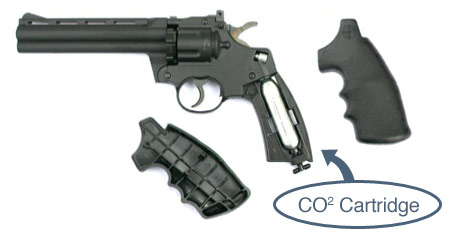 To get the most out of each cartridge (and extend gun life) add a drop of Crosman Pellgun Oil on tip of each CO2 cartridge. Pellets are loaded into a 10 round circular clip. The rear sight is fully adjustable, rare for a gun at this price-point. Feel free to add a red dot on the 3/8" dovetail. Getting the Crosman Vigilante 357 ready to shoot is a breeze. Simply remove handle grips to load CO2. Then, break open front of revolver mechanism and pop in a preloaded circular clip. Close and commence shooting. The feel, shooting and trigger action of this gun is so addictive we?re betting you?ll go through several rounds of pellets. Be sure to order extra CO2 and pellets for more non-stop fun. We?re not saying this for nothing, every day we see recent Crosman 357 buyers return to purchase extra CO2 and pellets.
Frequently Asked Questions
Rafael from Ennis, Ireland asked: What Type Of CO2 Suits This Gun Best?

Staff: 12 Gram Crossman CO2 cartridges are the only ones that?ll work with this gun. Each cartridge gets you around 70 shots. Note: CO2 cartridges aren?t included with order. Most Crosman 357 buyers also purchase extra cartridges (this saves you on extra shipping fees).
Daniel from Melbourne, Australia asked: What ammo do i need for this and also how much of it i would need?

Staff: You can use any .177 cal pellet, though it is not recommended to use pointed pellets as they can get jammed. When you click ADD TO CART button we show the option of adding Daisy Match Pellets (500 ct) .177 cal to your oder.


Specs
Manufacturer

Crosman

Caliber

.177

Velocity

465 fps

Condition

New

Ammo Type

Pellets

Action

Revolver

Barrel Style

Rifled

Fire Mode

Repeater

Gun Weight

2.00

Overall Length

11.38

Barrel Length

6.00

Loudness

4-Medium-High

Magazine Capacity

0

Mechanism

CO2

Rail

No

Safety

Manual

Front Sights

Blade

Rear Sights

Adjustable for windage & elevation

Shots per Fill

0

Trigger Adjustability

0

Trigger Action

Double-Action & Single-Action

Use

Plinking/Fun

Warranty

1-year limited warranty
Reviews
Average Customer Review
4.6
4.5
259 Reviews
This item is amazing and for the price you can't go wrong. its got the weight as well to give it a realistic feeling.
5.0
By Michael
USA
August 8, 2020
Verified Purchase
I bought this for the occasional rattle snake on my property. You aren't supposed to leave the gun pressured up. When I see a snake, I don't have the pleasure of taking the grips off and putting them back on to pressure up. I cut a 1" hole in the bottom of the grip. I can, now, keep a cartridge in the handle, and with a couple of twists, I'm ready to go. I used a soldering iron to cut the hole, then a knife to clean up the edges. A little sanding and it looks like it came from the factory this way. Michael Kluck
Pros
Except for the barrel it's the same gun as the Crosman Triple Threat. Clips are interchangeable.
Cons
Seems a little loose between the clip and the barrel. Must remove the grip to pressure up.
1.0
By Debbie
June 28, 2020
Verified Purchase
This pistol was a waste of money. Even with brand new Crosman co2 cartridge the distance and force this pistol shoots is pathetic. Wish I had my money back.
Pros
Looks
Cons
Very little power
5.0
By Jeff
Canada
May 30, 2020
Ok for Debbie who says still overpriced even with$20 off, I challenge u to find a better deal that's somewhat regularly offered from a retail outlet not a private sale. Sure there are going to be good deals out there but not on a fairly regular basis, I often see this gun on sale,just bought it myself for $50 &that's a Canadian 50 no holster or extra mags. So comparable.its a great gun pretty freaking accurate and to the guy who hit your target 2out of 20 times I don't want to say your a lousy shot I don't know u but u may have to face the facts,or perhaps try a different pellet.these type of guns have been known to like to use whatever pellet just works better in that gun,maybe a better quality pellet,maybe Not,could be time for glasses. I mean no offence u may be the greatest shot in the neighborhood, but I think it's a pretty great gun for what they sell it for regular price.
Pros
Not sure But think I can use the quick change barrels on it.good value,accurate,good FPS for Co2,priced low
Cons
Everyone who complains usually complains about the plastic and I'd have to agree. But on the other hand don't mind it,it keeps the price down. It would cost way more To make all metal, and who's to say it would be as well received it's a different animal then.maybe they could try a better quality of plastic,I don't know. Don't bother putting b.bs in it, it ruins the rifling.
3.0
By Debbie
May 18, 2020
Verified Purchase
Even with a $20 discount this pistol is still overpriced.
Pros
That it has a clip for repeated shots.
Cons
Not powerful enough
4.0
By Michael
USA
December 9, 2019
Verified Purchase
Have enough food for this puppy cause you will not be able to stop shooting this gun. Trouble free operation, plenty of shots per co2. Easy to mount red dot and accurate. This pellet gun will keep me sharp at target shooting. Very good gun for the price. Trust me, get one if you can, it's a blast.
Pros
Very good value.
Cons
Gun on the light side. Trigger on the heavy side.
5.0
By Eddie
USA
October 27, 2019
I owned this air gun and when my grandson shot it he wanted to get one for himself, so I gave it to him. A lot of plastic, but it shoots well and with the long barrel is accurate. Shoots BBs or Pellets with the right cyclinders.
Pros
Accurate Well made Lots of shooting per Co2
Cons
Plastic
4.0
By Jim D.
June 6, 2019
Verified Purchase
Specs say can shoot pellets or BB, is this wrong?
5.0
By Travis
USA
May 8, 2019
Verified Purchase
When I say amazing for the price I don't mean it's not very good but cheap no I mean it's an amazing gun and it's pretty cheap in my opinion it's a win win it has some power looks sweat when your holding it has a nice weight seen very strong sturdy highly recommended
Pros
Looks good shoots good feels good what more could you ask for
Cons
None
5.0
By Michael
USA
April 25, 2019
Verified Purchase
Very nice BB gun has extra discs for pellets and BBs it's heavy has a nice holster and extra carrying pocket for a disc and an extra CO2 cartridge very happy thanks airgun Depot I appreciate you, Big Mike
Pros
Lots of prose has a nice safety nice Trigger action heavy so it's not light feels nice in my hand and it's easy to load easy to handle easy to shoot and it's powerful.
Cons
I wish the holster had a place for like three or four cartridges and then a little clip thing for the extra discs for your ammo .
Q&A
Question?
Login to ask someone who bought this product.