We sell thousands of BB and pellet guns but Crosman 357 Magnum is our
#1 selling air pistol
(and has been for years). Many customers write in to say they were skeptical at first because the gun was priced so low (it seemed cheap) but after handling it they were blown away. We're not sure how Crosman has been able to manufacture such a top quality air pistol and priced it so low but our in-house gun specialists, who review every time we carry, are confident this is the best quality air pistol you can buy for the price. Crosman also just updated this popular model to include a tactical rail. Now you can mount red dot sights or other optics to the easy to use weaver rail. This full-sized pistol is constructed with both cast metal and plastic. Gun barrel is 6" rifled steel and grip is synthetic. The front of the pistol is plastic, while the main part is metal. The Crosman Vigilante 357 delivers a realistic shooting experience and shoots up to 435 feet per second (FPS). It is powered by a CO2 cartridge that can be found in the gun's handle. Package includes 4 Pellet Magazines and 1 BB Magazine.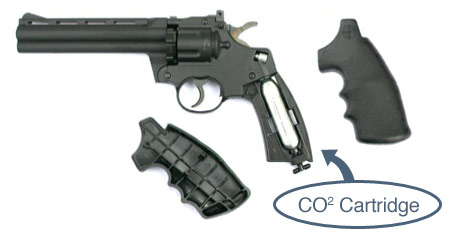 To get the most out of each cartridge (and extend gun life) add a drop of Crosman Pellgun Oil on tip of each CO2 cartridge. Pellets are loaded into a 10 round circular clip. The rear sight is fully adjustable, rare for a gun at this price-point. Getting the Crosman Vigilante 357 ready to shoot is a breeze. Simply remove handle grips to load CO2. Then, break open front of revolver mechanism and pop in a preloaded circular clip. Close and commence shooting. The feel, shooting and trigger action of this gun is so addictive we're betting you'll go through several rounds of pellets. Be sure to order extra CO2 and pellets for more non-stop fun. We're not saying this for nothing, every day we see recent Crosman 357 buyers return to purchase extra CO2 and pellets.
Frequently Asked Questions
Rafael from Ennis, Ireland asked: What Type Of CO2 Suits This Gun Best?

Staff: 12 Gram Crossman CO2 cartridges are the only ones that'll work with this gun. Each cartridge gets you around 70 shots. Note: CO2 cartridges aren't included with order. Most Crosman 357 buyers also purchase extra cartridges (this saves you on extra shipping fees).
Daniel from Melbourne, Australia asked: What ammo do i need for this and also how much of it i would need?

Staff: You can use any .177 cal pellet, though it is not recommended to use pointed pellets as they can get jammed. When you click ADD TO CART button we show the option of adding Daisy Match Pellets (500 ct) .177 cal to your order.


Specs
Manufacturer

Crosman

Caliber

.177

Velocity

465 fps

Condition

New

Ammo Type

Pellets

Action

Revolver

Barrel Style

Rifled

Fire Mode

Repeater

Gun Weight

2.00

Overall Length

11.38

Barrel Length

6.00

Loudness

4-Medium-High

Magazine Capacity

0

Mechanism

CO2

Rail

No

Safety

Manual

Front Sights

Blade

Rear Sights

Adjustable for windage & elevation

Shots per Fill

70

Trigger Adjustability

0

Trigger Action

Double-Action & Single-Action

Use

Plinking/Fun

Warranty

1-year limited warranty
Reviews
Average Customer Review
4.6
4.5
280 Reviews
This item is amazing and for the price you can't go wrong. its got the weight as well to give it a realistic feeling.
5.0
By Michael
September 28, 2023
This is the pistol (revolver) to get. Have a couple hundred pellets through it no problems. Even has some power.
Pros
Great shooter, very accurate, will take care of the little pest.
Cons
Little on the light side.
5.0
By Dave
September 26, 2023
Verified Purchase
You can't find a more quality pellet pistol for the money.
Pros
The quality and accuracy is what you and others have described.
Cons
Non that I have found so far.
5.0
By Roy
July 18, 2023
Verified Purchase
Be careful this is not toy! Mine shoots very good with crosman destroyers 7.9 gr
Pros
Best ten shot,450fps plus,6 inch rifled barrel ,accurate,twin railed,easy load,very reasonably priced,outstanding payloads I have ever come across. As you can see I love this gun sincerely this is not a toy this can be a hunter I have killed many rats with this beauty. Nice weapon. Roy
Cons
My only complaint is I bought one I ordered another thats in the mail as we speak and Ill probably get another before the prices go up if you want to call this a complaint, they got me hooked
5.0
By Kevin
June 28, 2023
Verified Purchase
Pros
I like the weight and handling. I am teaching a 4 yr old about shooting and gun safety so it is a bit heavy for him but perfect for me. Makes me wEnt to buy that Taurus 357 u have my eye on!
Cons
Nuttin really. Go is product and a great price!
5.0
By Buddy Mack
March 7, 2023
Verified Purchase
I would recommend this gun
Pros
Very nice,accurate with nice power
Cons
Could b heavier with more metal
5.0
By Scott
February 21, 2023
I already mentioned duct tape on the hand grip. If you are careful with the barrel pivot/barrel lock mechanism button, you will have years of fun without a decline in accuracy.
Pros
I do not know of any other C02 pistol that offers so much fun for so few dollars. The Crosman Vigilante offers power, accuracy and 10 shots as fast as you can pull the trigger. I have C02 pistols that cost more but the Vigilante is my favorite. In the summer, I get about 70 shots without a significant difference in the power.
Cons
The hand grip is always going to feel loose but for the price it is a small sacrifice to use some duct tape.
5.0
By Greg
February 18, 2023
Verified Purchase
Pros
The 357 crosman pistol is a very nice gun. It's easy loading and very accurate. I like it..
5.0
By Charles Combs
February 4, 2023
Verified Purchase
Great place to shop for weapons
Pros
Like the quick delivery
Cons
Change nothing
5.0
By Lisa
January 7, 2023
Verified Purchase
Pros
Bought this as a fun gift for my husband this Christmas. Just finally tried it. Really accurate at 65'... unbelievable! We both had fun shooting at a target. Much more accurate when cocking the hammer rather than squeezing the trigger without cocking. It requires finger strength, long squeeze which results in less accuracy. A lot of fun and the price was excellent for the power and accuracy.
Cons
Can't think of any cons!
Q&A
Question?
Login to ask someone who bought this product.