Does not come with sights, refill clamp or device to fill the tank. If you plan to put a scope on your gun, you won't need to buy open sights. The AirForce hand pump comes with the correct fitting to fill your Escape air rifle. Are you a survivalist or prepper? The Escape air rifle was made for you! It's compact, light, accurate, very powerful and has adjustable power. Conceptualized by TV's Ton Jones of Auction Hunters fame, the Escape air rifle makes it easy to grab & go when you need to get out of Dodge immediately! Keep your gun ready to move out by making sure you have the hand pump, pellets and gun in one place (preferably in a lightweight case or backpack made to carry rifles). Because the Escape air reservoir is small, most people can fill it quickly and easily with a hand pump. Ton Jones didn't just conceive the Escape series of air rifles, he also did a good bit of the testing. Besides the velocity/energy figures shown above, here are some more figures supplied by Ton and AirForce Airguns:
.22-caliber Beeman Kodiak pellets
21.14 grains 1,165 fps max 63.73 ft-lbs.
.22-caliber Eun Jin pellets
28.50 grains 1,080 fps max 73.83 ft-lbs.
.25-caliber Eun Jin pellets
43.20 grains 1,010 fps max 97.88 ft-lbs.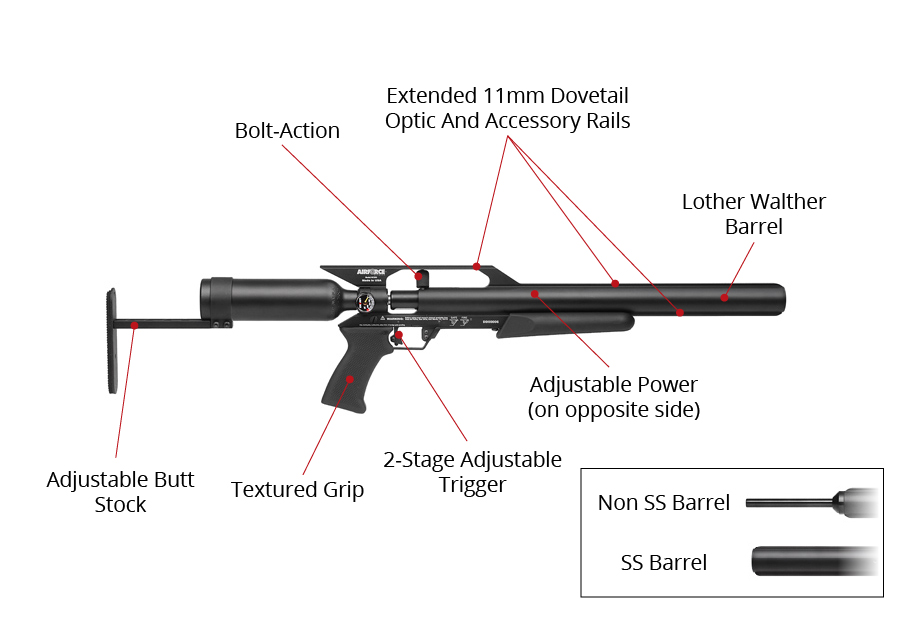 AirForce Escape Air Rifle Features
Pre-Charged Pneumatic(PCP)
Single-shot/Bolt-action
2-stage trigger
Automatic safety
Textured grip Adjustable buttstock
Adjustable power Recoilless
Extended optics rail
Specs
Manufacturer

AirForce

Caliber

.22

Velocity

1300 fps

Condition

New

Ammo Type

Pellets

Action

Bolt-action

Barrel Style

Rifled

Fire Mode

Single-shot

Gun Weight

5.30

Overall Length

39.00

Barrel Length

24.00

Loudness

5-High

Magazine Capacity

0

Mechanism

Pre-charged pneumatic

Rail

11mm dovetail

Safety

Automatic

Front Sights

none

Rear Sights

none

Shots per Fill

15

Trigger Adjustability

Two-stage adjustable

Trigger Action

0

Use

Hunting

Warranty

Lifetime limited warranty
Reviews
Average Customer Review
4.8
4.0
4 Reviews
5.0
By Kentucky K.
June 30, 2018
Recently decided to get the Air Force Escape. I had been using a( what I thought to be a powerful ) break action air rifle. It was good for planking and small rodent control, however recently I've had an influx of squirrels going after my mulberry trees. At 75 yards out the break action lacked the accuracy or the power. Both rifles are 22 caliber however this is where the similarities end. Although expensive to get the rifle and the pump it was well worth the investment. Firing the Air Force Escape for a week now, it has performed flawlessly and its power made me rethink what's beyond my Target and down range. The Air Force Escape at its highest setting was able to punch holes in 16 gauge plate and the pellet completely submerged in the stump behind it. Please do not underestimate the power of this air rifle. Recently took it to the range and was keeping a 1-inch group at a hundred yards. I have trouble doing that with my 22LR. What is superior platform to my break action.
Pros
Again I cannot stress the power of this air rifle, and it's accuracy.
Cons
The bottle that comes with the rifle is rather small. I put the 22/25 caliber Condor high output bottle on my air rifle, this has given me more shots per film and higher velocities. The rifle is loud, over a 100 decibels.
5.0
By milton
USA
January 8, 2018
Don't went to shoot up your 22 ammo just for some shooting time. This is the answer. Great to use at the range and it's cheaper to us in the field for small game. 22 pellets are cheaper than box of 22 ammo.
Pros
Worked great for small game. Cheaper to shoot at the range.
Cons
none
4.0
By chuck
USA
June 2, 2015
the escape in 25 cal is a hammer.it has power to spare and is very acurate easy to shoot easy to fill
Pros
easy to air up with a hand pump.powerful and accurate.
Cons
the safety jammed on mine and stuck on safe.and i had to return it. swapped it for a hatsan at 44 qe long 25 cal.going to give it a try.but i will get another airforce escape in the near future i think i just got a bad one. it is a nice gun
5.0
By Daniel
USA
February 20, 2015
The gun came on time and packed very well, Everything was as it should be clean and beautiful, Im big into and own 5 top level spring piston and gas piston rifles, This is my first PCP rifle and its great, I paired it with a MK4 pump and its super EZ to pump up so dont be afraid to spend the money on a good pump you wont regret it, I love this gun its just to ez to hit everything at 30 yards 50 yards is ez to this gun will group at 100, WHEN ONE SHOT MATTERS i want the Airforce Escape in my hands. Cant wait to take it into the woods for some hunting, And this gun has many power levels for all the knock down power you will need.

Pros
Light, powerful, great bang for your buck, Beautiful finish, ez to pump up
Cons
none so far
Q&A
Question?
Login to ask someone who bought this product.
Is a larger tank made for this ?
asked Donald Walter
I heard that there is a paintball tank that screws right on and it is larger, something about changing the valve that needs to be done , would take any advice from others if available.
John
You can use the same tank that the Condor uses for more shots. The photo shows a Condor tank mounted to an Escape SS. The smaller stock tank is shown below.
El lobo