The Air Venturi Avenge-X Classic with synthetic stock gives you a modular system at a price that's surprisingly affordable for the high performance you get. The flexibility of the system is unlocked by the modular accessories and options of stocks that let you get multiple new features for an assortment of needs out of the same air rifle.
You'll appreciate the boundless possibilities presented by this air rifle because it lets you get different results simply by purchasing a caliber change kit that works with any version or another stock that works with the same type of air reservoir (bottle or tube). You can also change the air reservoir as needed too! Now you don't need to buy a whole new airgun to get a different look and features.
With this version of the Air Venturi Avenge-X Classic, you get a synthetic stock with a textured grip and sling mounting holes in the rear and front for a firm hold and to make it easy to add a sling. It also gives you a male quick disconnect fill fitting on the end of the bottle or tube for fast filling, and a threaded dust cap that helps stop dirt and dust from clogging the fitting.
You'll enjoy the features you already depend on from previous models, like the externally adjustable regulator and adjustable hammer spring that let you customize your tune. You'll also like the external two position transfer port and two stage adjustable trigger that gives you the clean and crisp break you need for dependable accuracy.
The Weaver/Picatinny scope rail lets you add a scope or other optic, and the metal Picatinny accessory rail on the forearm lets you attach things like bipods, lights, and lasers. You also get a reversible sidelever for ambidextrous use, and the high capacity magazine combines with the high shot count for extended shooting time, and the package includes a standard capacity magazine and a single shot tray.
If you want a modular regulated PCP platform with the flexibility to add kits for caliber changes and stocks that offer different features, get an Air Venturi Avenge-X Classic with synthetic stock today from Airgun Depot.
Air Venturi Avenge-X Classic, Synthetic Stock Features:
Reversible sidelever
PCP
Synthetic stock
Interchangeable calibers (kits available): .177, .22, .25
Externally adjustable stainless steel regulator (up to 3,000 psi)
Easily accessible hammer spring adjustment screw
Externally adjustable transfer port (Two Position)
Two stage adjustable trigger
210cc air tube or 400cc carbon fiber bottle
Shots per fill (tube)*: 110 (.177), 80 (.22), 55 (.25)
Shots per fill (bottle)**: 210 (.177), 180 (.22), 110 (.25)
Max. fill pressure: 4,351 psi (300 bar)
Max. velocity: 1160 fps (8.1gr), 1100 fps (14.6gr), 980 fps (25.4gr)
Max. power***: 29 fpe (.177), 49 fpe (.22), 60 fpe (.25)
Fully shrouded barrel with 1/2x20 threaded muzzle and knurled cap
Metal Picatinny rail on fore-end of stock
Sling mounting holes in front and rear of stock
Dual gauges -- reg. pressure (LH Side) and fill pressure (RH Side)
Male quick disconnect fill fitting
Easy access degassing screw
Manual safety
Weaver/Picatinny scope rail
Textured grip
Adjustable cheek piece and adjustable rubber buttpad
Barrel length: 22.8"
Overall length: 43.75"
Weight: 7.7 lbs. (tube version), 7.75 lbs. (bottle version)
High Capacity Magazine: 20 rds. (.177), 16 rds. (.22), 13 rds. (.25)
Standard Capacity Magazine: 10 rds. (.177 & .22), 8 rds. (.25)
Includes two magazines (standard and high capacity), single shot tray, 5 Allen wrenches
* - 10.3gr @ 930 fps (.177), 18.13gr @ 910 fps (.22), 25.4gr @ 895 fps (.25) ** - 10.3gr @ 900 fps (.177), 18.13gr @ 880 fps (.22), 25.4gr @ 880 fps (.25) *** - 13.4gr @ 990 fps (.177), 25.4gr @ 935 fps (.22), 34gr @ 890 fps (.25)
Specs
Manufacturer

Air Venturi

Caliber

.177

Velocity

1160 fps

Condition

New

Ammo Type

Pellets

Action

Sidelever

Barrel Style

Rifled

Fire Mode

Repeater

Gun Weight

7.75

Overall Length

43.75

Barrel Length

22.80

Loudness

3-Medium

Magazine Capacity

20

Mechanism

Pre-charged pneumatic

Rail

Weaver/Picatinny

Safety

Manual

Front Sights

none

Rear Sights

none

Shots per Fill

110

Trigger Adjustability

Two-stage adjustable

Trigger Action

0

Use

Small game hunting/target practice

Warranty

1-year limited warranty
Reviews
Average Customer Review
5.0
5.0
2 Reviews
5.0
By Dave
USA
September 16, 2023
Verified Purchase
Follow-up on issues with magazines: The 16 round magazine might interfere with scopes and not allow the magazine to be fully inserted. Even with readjustment of my scope I still couldn't get it to fully insert. It would have been better to give users two 10 round magazines IMHO. As far as ease to use loading the magazine I would say better instructions on loading the first round is needed in order to get the magazine to work correctly which was the main problem that I was having not being familiar with this design which is a commonly used magazine that works on a lot of other air rifles from my research. The Beeman Commander magazines are far easier to load (even one handed) and have a round counter that is very visible to the shooter. Air Venturi needs to go to that design to make this rifle nearly flawless. I found several You Tube videos on problems with this magazine that I found really helpful on figuring out my problems with the loading of the magazine.
Pros
Really Great Rifle
Cons
Change magazine design
5.0
By Dave
USA
September 13, 2023
If your on the fence about purchasing an air rifle then this is the one to buy. It has everything you can ask for and more. Shoots like nothing I've seen before and I have 3 other PCP rifles to compare to.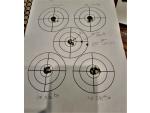 Pros
OMG this rifle is accurate and just a pure joy to shoot. Just love having both a regulator and PSI gauges that are easily viewable without having to turn rifle upside down to view. Cocking lever is smooth. Safety is easy to access and conveniently located. Trigger is smooth and not needing any further adjustment. Rifle weight is good and would be ok in the field for hunting. Stock cheek plate easy adjustable using Allen keys provided. Air Venturi really did their homework on this rifle and has the performance and features that are worth 3 times the price I paid. We have a new bar for performance and features that their competitors will be trying to match. Congrats Air Venturi !
Cons
The magazines are worthless and did not work. The saving grace was that the magazines from my Beeman Commander fit perfectly and worked without fail on this rifle. I don't know if they were assembly wrong but I'm sending them back for replacement.
Q&A
Question?
Login to ask someone who bought this product.
how difficult it is to switch to left handed from right handed with the new avenge-x ?
asked mike from USA
Didn't do the swap and there was no instructions in manual to do this. I am thinking of moving the lever to the left side as well. If I do it then I'll give my reply here to your question.
Dave from USA