The Benjamin Armada just might be one of the most accurate repeating air rifles available today. That's because the technology, barrel, sound suppression and trigger are based on the proven Benjamin Marauder air rifle. If you're one of the shooters who's complained about airguns not having enough rails- the Armada has more than enough Picatinny rails. Add all the gear you want to get the job done. Since the rifle with scope, mount and bipod weigh a bit over 10 lbs., attach a sling so it's easier to carry in the field.
This combo includes the excellent and efficient three stage Benjamin hand pump to fill your Armada with. Filling your Benjamin Armada to 2,600 psi (179 bar) may deliver the most precision. We recommend trying different fill levels between 2000 and 3000 psi to determine the optimum fill level for your rifle. Each gun will preform differently, depending on where you are at. A chronograph is the best way to determine optimum fill levels for pre-charged pneumatic's (PCP's. If you're left-handed and need the bolt moved to the left side of the rifle, please call our customer service to buy this gun. If you prefer to shoot your rifle single-shot (to get the most accuracy from it), remember to buy an Air Venturi single-shot adapter.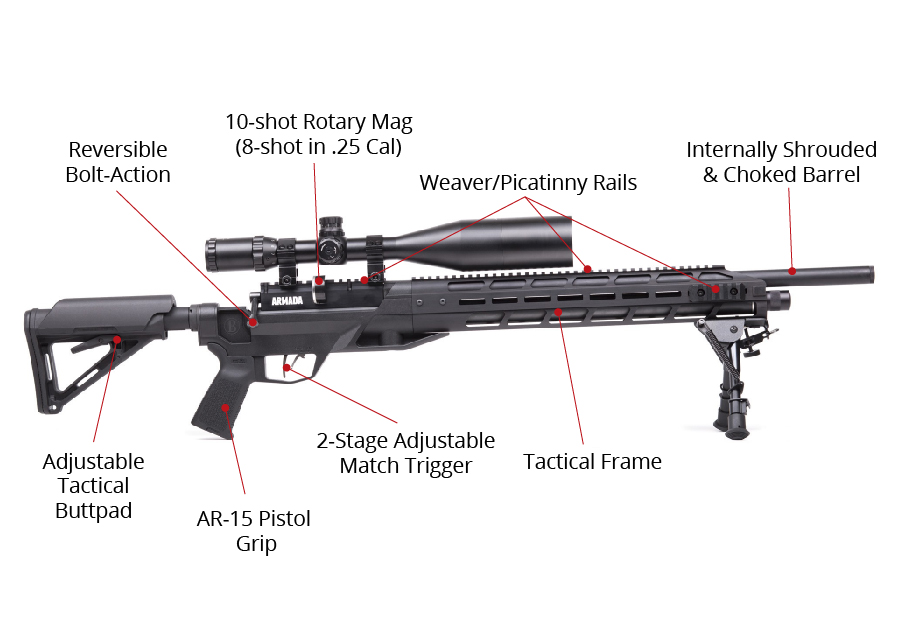 Benjamin Armada Air Rifle Pump Combo Features
Precharged pneumatic
10-shot repeater with auto-indexing feature (8 shots in .25)
Bolt-action
AR-compatible airgun
Uses compressed air: 2-000 to 3-000 psi (make adjustments as shown in the owner's manual)
Can be adjusted for different velocities
Internal shroud makes this a VERY quiet gun
Choked barrel delivers superior accuracy
2-stage adjustable match trigger -- and the trigger is metal!
Raised aluminum breech for easier loading of circular magazine
Machined receiver with 5" of Picatinny rail space
AR-15 pistol grip and telescopic buttstock
Sling-ready (there's a sling slot in the buttstock and a sling attachment point where the bipod is mounted)
Ambidextrous stock
Reversible bolt -- switch from right to left side (with our special service)
Built-in air pressure gauge (manometer)
30+ shots per fill (in .22 caliber)
Can be dry-fired
20" barrel
7.30 lbs. (10.40 lbs. with scope and bipod)
Air reservoir ends with a male quick-disconnect Foster fitting for fast refills
Includes the Benjamin Hand pump
Includes depinger- bipod (adjustable from 6" to 9")- 4-16x56 AO scope with 4" sunshade and co-witness rings; also includes 2 unmounted rails that are in the same bag as the owner's manual
As of April 2- 2015- Crosman no longer includes a degasser; however some guns may still have them in the box. An optional degasser is available.
Scope specs
4-16x magnification
56mm objective lens
Specs
Manufacturer

Benjamin

Caliber

.177

Velocity

1100 fps

Condition

New

Ammo Type

Pellets

Action

Bolt-action

Barrel Style

Rifled

Fire Mode

Repeater

Gun Weight

0.00

Overall Length

42.80

Barrel Length

20.00

Loudness

2-Low-Medium

Magazine Capacity

10

Mechanism

Pre-charged pneumatic

Rail

Weaver/Picatinny

Safety

Manual

Front Sights

none

Rear Sights

none

Shots per Fill

0

Trigger Adjustability

0

Trigger Action

0

Use

Small game hunting/target practice

Warranty

1-year limited warranty
Reviews
Average Customer Review
4.7
4.5
7 Reviews
5.0
By Amber
December 19, 2018
Comes with everything you need except your pellets couldn't ask for better deal, just got this in mail quick shipping, once sighted in accurate shots every time could drive a nail in with it. Also have umarex Gauntlet this blows it out the water by more than 100 miles.
Pros
Everything is included
Cons
Havent found one
5.0
By christopher g.
November 21, 2017
Very quiet rifle all you hear is the hammer drop and the round striking the target, and super accurate. Firts PCP system and was not disapointed
Pros
No need to pump between shots, takes minutes to zero the scope, lot of penetrating power, ready to go
Cons
Hand pump is a workout, butt stock was a bit chunky but functional
5.0
By Joe
USA
June 22, 2017
This gun and scope zeroed in less under 10 shots. The scope is a lot better than comes with most guns. With this setup I can place 10 shots in the a group of a dime. With a full charge of the reservoir in warm weather it can fire of 50-80 shots. Very efficient. The silencer really does mean silent.
Pros
The AR grip, multi position stock and picitany M-lock rails make it perfect for a vet to unwind shooting and Along with awesome optics.
Cons
This rifle wieghs in at 7.9 lbs and the sight almost weighs 2 lbs more. I like to stoot standing it can be sort of heavy.
4.0
By Douglas
USA
April 14, 2017
Got it out of the box and was very impressed. Began shooting various brands of pellet to get the best pellet for the gun. very accurate even with a bad pellet.brand.
Pros
All was easy to put together and scope seemed to be good,
Cons
Pump is useless. Ended up buying a scuba tank to fill gun. Some warning should be given as to the physical strength needed to fill gun. Especially for disabled shooters or seniors who do not have the ability to pump for hours.
5.0
By don
USA
November 17, 2016
tired of springers and inaccuaracy , breaking scopes ect , i stepped up to the plate and bought this RIFLE. The rifle came very well packaged and ahead of estimated delivery time. The rifle assembles quite readily if you have any experience with firearms and is simple enough for even the beginner. The pump in this set is just as easy to assemble and use. After pumping it to the "full" psi rating and a quick laser sighting it took less than 10 shots at 20 yards to zero up. I do make my own semi wad cutter pellets ( why I went .177 ) and even at 50 yrds in breasy conditions , this rifle shoots as true as any rim fire. Power, penetration and accuracy all in one rifle. And as to it being quiet - my hunting dog never heard it as was trying to figure out where the whack on the target came from. I will admit i was worried when i ordered as this is my first PCP rifle - now I am trying to decide which caliber is next . You will not be disappointed with this rifle. Just make sure you have a SOLID backstop - this rifle is the real deal.
Pros
fast repeatable shooting , nail driving accuraccy , and quiet enough for the people next door.
Cons
after 100 or so shots - have not found any
5.0
By charles w shaffer
USA
October 3, 2016
Been rainy for a week now but I finally got a chance to get the Armada out of the box to sight it in Set up at 75 feet In My back yard. First 2 shots a little low made adjustments next 18 you could cover with a half dollar This thing is dead on going to back it up another 50 feet and it has not even 1 mill dot to hit center I have 2 other rifles a F4 177 cal And Octane 22 cal great guns no problems but single shots This is my 1st PcP and hand pump not bad new to me over all looks great shoots off the charts
Pros
Looks great dead on target inter changeable AR parts
Cons
Little heavy if I use for hunting may goto a smaller scope And I will add a rifle strap AR type single clips
4.0
By Chris
USA
January 20, 2016
I sold my trusty .25 Marauder and got this Armada. As a hunter I am not sure if I made the right choice. The gun has a lot of cool features and is actually a little lighter if you replace the scope. I replaced this scope with a UTG Bug buster. You will have to get high rings to do this. The scope it came with is good for bench shooting, but too bulky and heavy for long hunts. I put the old scope on my Stoeger ATAC (nice). You can get a nice selection of M-lock picaninny rails online for cheap. This way you can add quick release sling swivels and other stuff if the couple it comes with isn't enough. The gun has all the usual accuracy of the marauder. I can put holes on holes too easily at 25 yards and have to back up to at least 50 for any challenge. The stock is not comfortable though. The metal on the fore grip gets real cold in winter weather. I recommend the JSB heavy MKII pellets. The pump has given me problems. After only about 10 uses the check valve went. It came with a replacement, but I can't get the nut off the base in order to replace it. I contacted Air Venturi. Left messages and called some more. No help. They finally responded to an email saying to return it to Air Gun Depot. I am sure AGD will help me out. They are awesome. If you want a marauder for hunting, you may reconsider spending the extra on this version. The regular synthetic stock is more comfortable than this one. The scope is super, but you really don't need one that big for hunting medium size game at 50 or so yards. You may be good with it for bird hunting though.
Pros
Very accessory friendly. Cool looking. Has a de pinger. Good scope. Accurate and powerful
Cons
Pump was trouble. That's why the four stars. My Benjamin pump never failed. Maybe I got a lemon. Stock is not comfy.
Q&A
Question?
Login to ask someone who bought this product.