There's a reason the Benjamin Marauder has been our No. 1 seller several years straight: You point, it hits! Our special combo includes a good-quality CenterPoint 4-16x40 AO hunting scope, rings and Benjamin sling. Because your Mrod air rifle will be your go-to gun for just about any type of shooting discipline, you'll be handling it a lot. The wide, padded sling makes it easier to shoot and carry the gun for hours. The adjustable comb brings your eye to the right level for your optics. If you're sharing your gun with another shooter, each person has the right alignment since the comb is easy to adjust up and down. The most exciting part about the Marauder is the price. If you haven't done any price comparisons with other PCP repeaters, you should. The others will leave you with 2 things: Sticker shock and less accuracy. So, get the Mrod and know that you've gotten one of the most accurate PCP repeaters made today.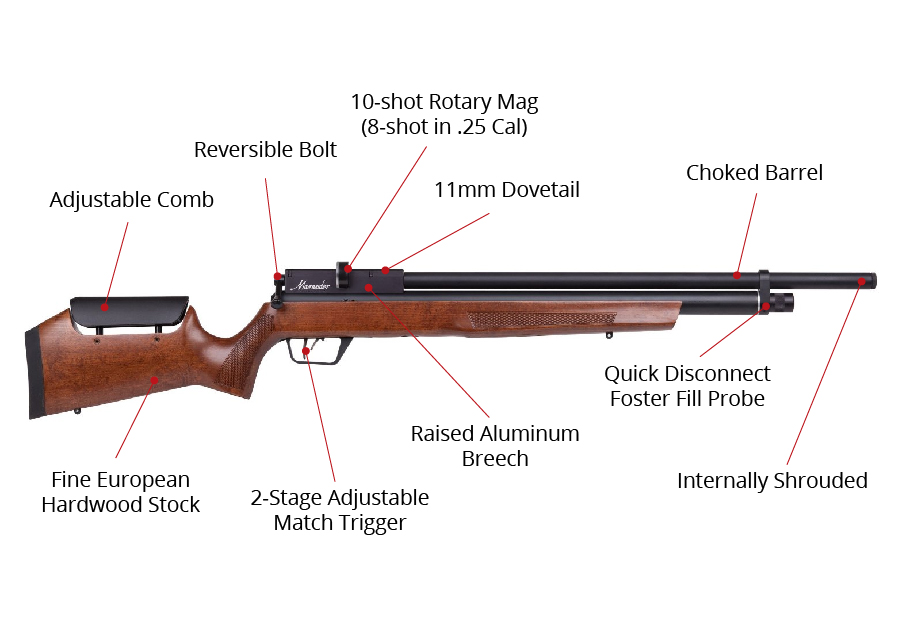 Benjamin Marauder, Synthetic Features
Comes with Benjamin sling and Centerpoint 4-16x40 AO scope ready for installation
10-shot repeater with auto-indexing feature (.25 cal is an 8-shot repeater)
Uses compressed air: 2,000 to 3,000 psi (make adjustments as shown in the owner's manual)
Can be adjusted for different velocities
Internal shroud makes this a VERY quiet gun
Choked barrel delivers superior accuracy
2-stage adjustable match trigger...and the trigger is metal!
Raised aluminum breech for easier loading of circular magazine
11mm dovetail (does not come with sights)
Ambidextrous synthetic stock with vertically adjustable comb (almost a full pound lighter than the wood-stocked rifle!)
Reversible bolt -- switch from right to left side
Built-in air pressure gauge (manometer)
215cc air reservoir
7.30 lbs. - is the gun only weight
42.8" long
Includes CenterPoint 4-16x40 AO scope
Upgrades from the original version of the gun: Factory-installed depinger changes the sharp "ping" to a dull thud. Improved valve (increases the number of shots: .177/.22=32 shots, .25=16 shots). Trigger moved back for better hand position. Optional reversible bolt for left- or right-handed shooters. Simplified breech design for assembly, service and to provide a more stable platform for larger scopes.
As the caliber increases, the gun becomes somewhat louder.
Testing has shown that filling your Marauder air rifle to no more than 2,600 psi (179 bar) may deliver the greatest accuracy. We recommend trying different fill levels between 2000 and 3000 psi to determine the optimum fill level for your own rifle. Each gun is different. A chronograph is the best way to determine optimum fill levels for precharged pneumatics (PCPs). The owner's manual does not show the correct weight and length for this rifle. The owner's manual states this about fill pressures: ""The Marauder has been factory set to an efficient fill pressure that will suit most hunting and target uses.
Specs
Manufacturer

Benjamin

Caliber

.177

Velocity

1100 fps

Condition

New

Ammo Type

Pellets

Action

Bolt-action

Barrel Style

Rifled

Fire Mode

Repeater

Gun Weight

7.30

Overall Length

42.80

Barrel Length

20.00

Loudness

2-Low-Medium

Magazine Capacity

10

Mechanism

Pre-charged pneumatic

Rail

11mm dovetail

Safety

Manual

Front Sights

none

Rear Sights

none

Shots per Fill

32

Trigger Adjustability

0

Trigger Action

0

Use

Small game hunting/plinking

Warranty

5-year limited warranty
Reviews
Average Customer Review
4.9
5.0
20 Reviews
4.0
By Donald Tolman
June 16, 2023
Verified Purchase
The Marauder is obviously a fine high-quality air gun! I also know there are some much improved optics coming out of Asia these days. This one isn't one of them! Ordered a more expensive scope. Plan to hang the Center Point on an air gun I just bought for my son just getting into air gunning. We'll se how it goes, but I am not hopeful. Definitely buy the Marauder, but pass on the Center Point combo option. Just buy the rod, decent scope and quality mounts....
Pros
Airgun Depot and the Benjamin Marauder are first rate! My Marauder is a tack driver....if and when the Center Point 4x16 scope happens to be in the mood.
Cons
The con is the Center Point 4x16 scope in the combo. After sixty years of shooting, including long-range shooting with scopes costing thousands, I've finally found that mythical scope that "can't hold a zero." (It's usually the shooter or improper mounting of the scope). This one is it! When purchasing the combo, I figured how far can even a cheap scope be off shooting house sparrows and starlings from ten to fourteen yards? This one is! Endless remounting (Been mounting scope for years. Have all the tools and know all the tricks) and sighting in on my indoor range only find it missing by two-inches at ten-yards for no reason whatsoever. I mean, there is my elderly eyes, but I've even accounted for that variable! Once, while screwing the scope caps back on. I heard ominous "clicks." The caps were changing my scope settings as I was screwing the protective covers back on!
5.0
By Phil thompson
May 6, 2023
Verified Purchase
Absolutely a joy to shoot
Pros
Absolute tacdriver 50 yard consistance groups and 40 to 50 shot before refill
Cons
Bolt is a bit stiff but nothing time wont fix
5.0
By Raymond
April 28, 2023
Verified Purchase
Pros
Super quiet
Cons
The stock is an odd shape
5.0
By Tony
February 8, 2021
Pros
This is my first PCP rifle and I love it.. The accuracy is outrageous. I'm running 2500psi and at 50 yards I shoot 20 rounds that you can cover with a dime..plus it is Quiet....would definitely recommend .. In the photo 5 rounds to the forehead, 10 rounds in upper left and 20 rounds center mass 50 yards, H&N 22 cal..14.66 gr pellets
Cons
Nothing
5.0
By John
USA
February 7, 2021
There is only one cone in the shroud...I wonder what a second or third cone in the shroud would do for sound. The magazine loading procedure is kind of involved and not intuitive...if I don't load it for a month and go back I usually have to look at YouTube or the user manual. This NEEDS to be select-fire semiautomatic, i.e., full auto or 3-shot. If you're going to go semiautomatic, go full boogie!
Pros
Incredible accuracy...the proof sheet/target was about a ¼" for 3(5?) shots...although not bullseye, the group was 3" down and to the left, it was indicative of what the rifle is capable of. Far more accurate than me...I can do a quarter-size at 75ft offhand with a scope but with a bench this thing is awesome. I see no need for a semiautomatic Marauder although a full-auto or 3-shot would be awesome fun.
Cons
Picatinny rail breech. There is simply no sense of a dovetail anymore. Also, the QC on these is kind of for squat in terms of assembly...mine was clearly not tested/shot with a magazine installed because I COULD NOT install the magazine! Had to remove the shroud and loosen the barrel to slide the barrel forward a couple mm to allow the magazine to install.
5.0
By Scott
USA
January 21, 2020
I just got this rifle and have taken it out 2 times so far. At 50 yards it is shooting 1 1/2 inch spread. It does shoot better with the heavier pellets.
Pros
This will be great rifle for small game.
4.0
By Scott
USA
December 31, 2019
Great airgun hunting rifle
5.0
By Daniel
USA
December 19, 2018
Just received it and I'm super excited to take it out!
5.0
By Post
USA
November 10, 2018
If you're looking for a starting point for PCP this one would be it. I chose .22 and have no regrets. Accurate and comfortable. I bought the full package, because that's what I do when I buy a new airgun. Accuracy is first and foremost and this rifle delivers that accuracy It's a versatile rifle to target shoot or hunt with. I enjoy shooting it and will never get rid of it. All around great air rifle.
Pros
2 stage match trigger, easy on and off safety' Accurate out of the box, The price is right, comfortable to hold.
5.0
By Anthony
USA
October 12, 2018
Excellent balance, excellent stock reconfiguration capability, excellent pressure seal, and most of all accuracy. The scope is certainly much better than expected, and very functional. The adjustable objective lens certainly takes out the parallax issues.
Pros
Great purchase for a first time PCP Air Rifle. The .25 cal hits hard and has certainly variable weights to choose from for hunting, target shooting, and plinking. Airgun Depot certainly lives up to their reputation and well worth taking the chance to purchase your air rifle needs.
Cons
None so far...
Q&A
Question?
Login to ask someone who bought this product.
Can I use my shop tank compressor to fill the marauder?
asked Ernest from USA
How to refill air
asked Donald from USA
There are but 3 ways I know of to fill the air tank to 3,000 psi, a high pressure hand pump (be ready for an upper body work out), an electric high pressure pump, or a SCUBA type high pressure pump with appropriate adapter. Your standard garage type air compressor, with it's max PSI from 125 to 175 or so, will not do the job.
John from USA
Portable High Pressure air tank, PCP specific high pressure hand pump or compressor. Crossman make a hand pump that work with this gun.
Joshua from USA
Since I've never owned a air gun I want to shoot rats/crows on my property. What is the best one that I can use that doesn't need to be pumped on every shot. I also want one with a scope on it. any info is helpful. I have my own air compressor here if they can use it.
asked Bill from USA
Never owned an airgun. Can I use my air compressor to fill them up?
asked Bill from USA
Yes, if your air compressor will reach 3000 psi.
Kirk from USA
Standard shop compressors will not work for PCP guns. You need a high pressure compressor capable of 3000 PSI. Scuba shops can fill portable tanks for you.
Joshua from USA
How do you refill the air reservoir in the Gun . Do I need special equipment
asked Isaac
You will need either a PCP specific compressor or hand pump, or you can buy a portable air tank and have it filled at a Scuba shop and use that to fill the gun.
Joshua from USA
Can you fill from a hand pump ?.
asked Steve
Yes one made for that kind of pressure,, not a tire pump
Robert from USA
You can get a Crossman hand pump that will work with this gun. These are not hand pumps like you use for a bicycle as they have to pump to a much higher PSI.
Joshua from USA
new to this sport. Can a shop compressor be used to refill?
asked Marcus Castro
you cannot use a standard shop compressor. The required pressure is around 3000 PSI
Joshua from USA
Hi there I like the look of this rifle. Only thing I'm wondering is how well they hold there air and the amount of foot pounds of energy. Im interested in the .25 caliber.
asked Shawn Dubay
About 10-12 shots at fulfill before it's drops a lot
Robert from USA
I've owned mine for about 5 years and about 2 years ago it started leaking air and there is no visible or audible leak; however, it takes about 2 days and it will leak from 3000 psi to 0. (I think it is leaking through the air gauge itself) My question is "where do you go to get it fixed"?
asked Roger from USA
is the scope mounted and zeroed
asked Rodger
It's scope mounted no iron sights but it's very doubtful it is zeroed in.
Robert from USA
Can this gun take down coyotes?
asked Brian
Very strong gun at 20 40 yd headshot I would say yes
Robert from USA
Can you use a regular air compressor to fill the rifle instead of the hand pump?
asked Dennis M. Burke from USA
Is the 25 caliber more accurate than the 22 caliber?
asked Bob from USA
Can you use an air compressor to fill cylinder?
asked Bob from USA
Is the Benjamin High Pressure Hand Pump included at the price of $599.99?
asked Mike
Is it made in the United Sates or China
asked Keith
Can it be delivered in India if yes l would like to order it
asked Siroylily786
Can I have cash on delivery... For India
asked Dindo
Hi, is it worth it to buy? Its for about small-medium hunting, and the longest range is probably gonna be 110yards
asked LJ Smuts
Can you use a shop air compressor to charge / fill it?
asked Donn
Where did you get the adapter for the air pump hose to add air to the gun?
asked Bruce
I'm wondering what type of bipod would work the best on this as I do a lot of prone style shooting.
asked Michael from USA
Merry Christmas everyone! Say, have tons of squirrels on my place. What do you recommend to harvest them with the 22 or 25 caliber. would like something really quiet so I can shoot several on an outing! Any particular scope you recommend as best for this type of use?
asked James from USA
hello.. new to air gunning..want to break my grandson into firearm safety..and plinking fun..hows this Benjamin fit the bill..?
asked tom from USA
I think a Crosman Fury or Phantom using the Nitro-Piston breakbarrel technology might be a good start, if your grandson is old enough to want to move right to pellets vs. BBs. If he's 13 or under, maybe the Marlin Cowboy BB gun, which allows some varying power for firing, via a sort of "ratcheting" cocking mechanism. If he's over 13, I'd start with either a springer or gas-piston breakbarrel model. Keep it under $150 or so. If he takes easily to the breakbarrel approach, after a year or two, and maybe some proving of his abilities, he may be ready for a Marauder or even the Armada (Marauder on steroids, basically).
Jared from USA
This would work fine but it's expensive so i would start with a crosman 1200 break barrel
Wyatt
The marauder is an excellent air rifle... especially for the money. To really answer your question though I would need to know how old he is. This rifle is not light. grown ups would have no problem but a young bow or girl would have a problem with the size and weight. I would start off a child with a smaller lighter bb gun. teach him the basics of safe handling, shooting and such. as he gets older move him up to the more powerful air rifles.
anthony from USA