Benjamin Variable Pump Features
All-weather, synthetic Monte Carlo stock
Rifled brass barrel
Fully adjustable rear sight
Pin front sight
Variable power
Bolt action
Single-stage trigger
Manual safety
Made in the USA
Specs
Manufacturer

Benjamin

Caliber

.22

Velocity

800 fps

Condition

New

Ammo Type

Pellets

Action

Bolt-action

Barrel Style

Rifled

Fire Mode

Single-shot

Gun Weight

5.50

Overall Length

36.75

Loudness

4-Medium-High

Magazine Capacity

1

Mechanism

Multi-pump pneumatic

Rail

No

Safety

Manual

Front Sights

Blade & Ramp

Rear Sights

Adjustable

Shots per Fill

0

Trigger Adjustability

Single-stage

Trigger Action

0

Use

Small game hunting/plinking

Warranty

1-year limited warranty
Reviews
Average Customer Review
5.0
5.0
3 Reviews
5.0
By Daniel
USA
October 4, 2020
One of the best pumpers on the market, especially at the price point. Loves H&N barracudas (.22) and even has the power to pump out JSB Exact Jumbo Beast 33.96 grain ammo (shot from 25 yd)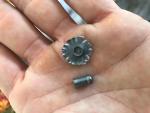 Pros
Powerful pumper. Sturdy, all weather stock. Dead accurate from 35 yards with the factory sights.
Cons
Pumps 6-8 can be laborious, probably best as a lap pumper as opposed to the traditional pumping method.
5.0
By Dan
September 28, 2020
This thing is a workhorse. The hold is somewhat awkward when using the factory sights, but this can easily be amended with the 392s customized scope mount found online. Also, prepare for a sore pumpin' arm if you plan on shooting 25 or more rounds in a sitting. Below is a JSB Jumbo Beast Diabolo gong hit from 25m.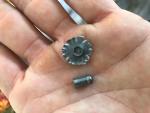 Pros
Got the .22... Powerful and accurate. Feels sturdy in the hand. Hammers rounds into wood from 25-30 yards. The synthetic stock feels like it could withstand a beating, weather included.
Cons
Needs a scope mount attachment. Also those last couple of pumps (6-8) are laborious... heavy duty for a pumper.
5.0
By Karl
May 16, 2020
Verified Purchase
Have a benjiman I bought 25 years ago still works great. Gave it to my son. Had to buy another
Pros
Light weight. Very accurate. Reliable. Time tested action
Cons
Stock comb too high to use iron sights. Scoped mine an never looked back.
Q&A
Question?
Login to ask someone who bought this product.
What is the approved method of removing the entire sight ramp of a Benjamin .22 model 392S ?
asked John from USA
are the open sights really such an issue, will the 177 really get 1100fps and last is it very hard to pump 1st 3 and then 9-10?
asked Joseph from USA
Open sights versus optics is a personal choice. As the pump count goes up it gets harder to pump.
Mark from USA
What rail do I need to put a scope on this
asked Kyle from USA
PY-A-2015 $27.99
Mark from USA
What accuracy does this rifle have at 25 yards?
asked Brett from USA
Very accurate at 25 yards.
Mark from USA
Does it come in a wood stock
asked Brett from USA
I have a model 293 with a wood stock
John from USA
anyone know where i can see a velocity chart per pump for this gun?
asked joseph acavell