The Crosman MagFire Ultra is a multi-shot breakbarrel air rifle that comes with a scope, so that you have everything you need for accurate shooting in one place at a reasonable price. With speeds up to 1300 fps in .177 and 975 fps in .22, you'll get plenty of power and the accuracy you need for small game hunting, pest control, or plinking.
The MagFire Ultra features QuietFire sound suppression technology, so you get a shot that's on the quieter end of the scale, and the low profile design means it's convenient to aim and shoot. It has Nitro piston technology, so you'll get stable operation even when it's cold out, quieter and smoother cocking and shooting, longer life, and you can leave it cocked without worrying about damaging a spring.
The 2 stage adjustable Clean Break trigger gives you accuracy and the ability to get the shot you want, and the 12 round (.177) or 10 round multi-shot magazine will save you time with less reloading. In addition, you'll get a firm and stable hold because of the soft touch inserts on the forestock and grip, and the rubber buttpad adds comfort.
You can use the CenterPoint 3-9x40 AO scope and mounts on the Picatinny scope rail, or remove it to use the fixed front blade sight and adjustable rear sight.
If you're looking for a breakbarrel air rifle that gives you comfort and convenience for pest control, small game hunting, or plinking, get a Crosman MagFire Ultra from Airgun Depot today.
Crosman MagFire Ultra Features:
Nitro piston powerplant
Breakbarrel
Repeater
Max velocity: 1300 fps (.177), 975 fps (.22)
with alloy pellets
All weather synthetic stock
Low profile design
Multi shot 12 round (.177) or 10 round (.22) magazine
QuietFire sound suppression technology
2 stage adjustable Clean Break trigger
Soft touch grip and forearm inserts
Picatinny optics rail
Raised cheekpiece
Rubber buttpad
Sling studs
Manual safety
CenterPoint 3-9x40 AO scope and rings
Overall length: 47"
Weight: 9.8 lbs.
Specs
Manufacturer

Crosman

Caliber

.177

Velocity

1300 fps

Condition

New

Ammo Type

Pellets

Action

Break barrel

Barrel Style

Rifled

Fire Mode

Repeater

Gun Weight

9.80

Overall Length

47.00

Loudness

3-Medium

Magazine Capacity

12

Mechanism

Gas-piston

Rail

Weaver/Picatinny

Safety

Manual

Front Sights

Blade

Rear Sights

Adjustable for windage & elevation

Shots per Fill

0

Trigger Adjustability

Two-stage adjustable

Trigger Action

0

Use

Small game hunting/plinking

Warranty

5-year limited warranty
Reviews
Average Customer Review
2.6
2.5
10 Reviews
1.0
By dave
USA
March 20, 2021
don't buy this gun
Pros
accurate, fairly balanced and quiet
Cons
after less than 200 shots my .22 magazine started losing small fragile parts of the inner assembly. made out of weak plastic and badly designed, i can't use this gun until more magazines become available. only one mag came with it. this is unnacceptable. if new mags aren't the fix i must return the gun and try a different brand.
5.0
By Jared
March 15, 2021
Verified Purchase
Cronographed at 700fps with 14.3 Crossman Premier Hollow Point pellets when it was about 40*F outside. Magazines were easy to get... ordered 4 extra ones thru Crosman. Was under $50.00 shipped and had them in 3 days. I did not use the scope ended up using a reflex sight...works great. Also ordered the cheaper Benjamin sling...perfect fit.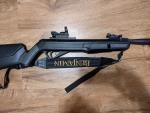 Pros
Overall very well built rifle. Magazines are easy to load. Shoots well and is accurate. Has to be safer not putting your fingers near the break barrel to load.
Cons
Wish it had fiber optic type sights as they are just black and hard to see. Would prefer extra mag and better sights instead of the included scope. Maybe include the sling and extra mag instead of scope.
3.0
By Joe
USA
March 12, 2021
Verified Purchase
It was worth it to me for a shtf hunting rifle. Small game will be easy to get with one shot.worth it to me.
Pros
Its accurate and powerful enough to penetrate 3/4 osb from 40 ft.. i.personally had no difficulty getting a 1/2 inch group with 10 shots with the scope right out of the box. Little adjustments and I put 2 .22 hybrid slugs through a heavy baking pan at 60 ft and same hole.. so it hits decent and very accurate.
Cons
The stupid magazine. Same as every other reviewer.. why sell a rifle with the designation "repeater" if you cant because of junk magazines? I suggest a pellet pen for this gun because it greatly speeds up loading until the mythical magfire magazines are released. Better yet redesign it from metal. Theres an idea
1.0
By T
USA
March 10, 2021
Verified Purchase
Stay away until the manufacturer resolves the problems with the magazine! Otherwise you're in for a lot of disappointment and frustration.
Pros
So far, the only thing I like about this rifle is the looks. Can't say much more as I have not been able to get any reasonable use out of it due to the magazine problem many of your other purchasers have experienced. Single shot option is tedious and difficult as you need surgical tweezers to load this rifle singly.
Cons
If they could remedy the poor magazine problem and the lack of availability of a good replacement, it would make everything go away. Otherwise I'm stuck with a beautiful looking, difficult to load, single shot pellet rifle for $ 200 bucks.
2.0
By John
USA
February 8, 2021
Verified Purchase
Don't buy until extra magazines are available.
Pros
Decent quality gun.
Cons
Stepped on magazine...cannot get replacement from Airgun Depot or Crosman. Buyer beware.
2.0
By GEORGE
USA
February 8, 2021
They're in any videos of this rifle on YouTube whatsoever which is odd why don't you guys send shoot a 1721 Rick from YouTube one of these rifles so he can review it for you guys
Pros
Can't say
Cons
Don't know
3.0
By byron
USA
February 1, 2021
crosman does not have magazines for it nor does air gun depot,pyramid air and after looking for over four hours on the net i could not find any magazines to buy for this rifle
Pros
shoots nice, cocking is not hard but a little heavy it weighs about as much as the m1 garand 30-06 ..
Cons
if i knew when i bought it that you can not get extra magazines for it i would have never bought it. if the plastic magazine were to break you are back to loading one pellet at a time .. if i have to load one pellet at a time i could have bought a cheaper rifle and had more money to spend on pellets..
1.0
By Cody
January 17, 2021
Mag broke shortly after I hit 200 rounds
Pros
I like the stock
Cons
Rear sight broke off in less than 30 shots The scope won't sight in properly after several adjustments and about 300 rounds
4.0
By Antwone
USA
January 13, 2021
Verified Purchase
Love the gun loads and shoots any pellet but really accurate using any crosman 7.9 pellets( doesn't like heavy's)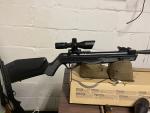 Pros
Price,power and consistency!!
Cons
Though it looks great scope is crap sighted it all day and kept shooting to the left changed the scope shoots awesome now!! Also no where near 1300 FPS 846 fps consistently
4.0
By Chris
USA
January 7, 2021
Verified Purchase
The stock has grey hard rubber inserts that give it a nice feel and look.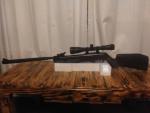 Pros
Out of the box you get the feeling that this is a really nice rifle based on the sheer weight and really solid plastic stock. The bundled optic for this price point is suitable, slightly better than many others. Bulky 3-9 with adjustable objective. Centerpoint. It should hold up well as the recoil on this rifle is not really much to speak of. The new mag fed design is nice. Simple to use. The cocking effort is a bit heavy but not for a full grown adult. The trigger seems solid so far and this one breaks cleanly and take up isnt crazy. I shot probably 30 shots today when i got it and im not disappointed with the purchase. Shot a group, zeroed on the group and fired a ragged hole of 25 shots. I used gamo redfires and crosman hollowpoints. Overall im very pleased and would recommend this rifle.
Cons
I wish crosman would bundle in like 3 more mags with it .
Q&A
Question?
Login to ask someone who bought this product.
Is this the auto loading rifle
asked Samuel from USA
Please let me know where to get spare 22magazine thank you very much for your time
asked Richard from USA
I got some directly from Crosman
Benjamin from USA
Why are there no reviews or anything for this that's odd
asked Guy from USA
Also need spare magazines. Seems like this should be available and a recommended purchase when putting this rifle in my cart.
asked Craig from USA
Need extra 10 round magazine
asked Mark from USA
where is this product manufactured?
asked Richard from USA
Is this comparable to the Gamo Swarm? Which is better?
asked Heath from USA
Do you still have to break the barrel for each shot? Mag just enables less loading, correct?
asked Jon from USA
How hard is it to cock, any video on this?
asked Robert from USA
Not too hard for me. Im guessing 35 pounds
Benjamin from USA
Where can I find spare .22 cal magazines?
asked Bruce from USA
Where can you find extra .22 cal magazines for the Mag fire ultra ?
asked Bruce from USA