The Diana Bandit is destined for greatness as a backyard friendly PCP plinker. Based on the action of their hit PCP--the Diana Stormrider, the Bandit takes a similar approach to repeating shot action with indexing magazines cycled by smooth operating bolt-action.  With 7 shots in .22 and 9 in .177, shooters are sure to enjoy more trigger time with less reloading than most air pistols.  Fueled by a 50cc on-board tank, the Bandit makes for a low overhead entry into PCP guns and can easily be filled with a handpump. The Bandit offers shooters flexibility in their shooting sessions starting with the sights. Each pistol features traditional open sights with fully-adjustable rear sights for shooting straight out of the box. However, if you prefer to mount some optics, remove the rear sight to expose the 11mm dovetail rail.  Likewise, the Diana Improved Trigger (DIT) allows the shooter to customize the take-up on the 2-stage trigger for a personalized trigger pull. When you start shooting, you can expect quiet shots from a long fixed-moderator. 
Diana Bandit Air Pistol Features
Precharged Pneumatic
Bolt-Action
7rds in .22 / 9rds in .177
50cc Cylinder
200 BAR / 2,900 PSI Fill Pressure
11mm Dovetail Rail
Adjustable Rear Sight
DIT Trigger (Diana Improved Trigger)
2-Stage Trigger (Adjustable Take-Up)
Manual Safety
20.1" Overall Length
Beech Wood Grip
Fixed Moderator
Includes: 1 magazine, 1 single shot tray and 1 fill probe with male QD fitting
Specs
Manufacturer

Diana

Caliber

.177

Velocity

725 fps

Condition

New

Ammo Type

Pellets

Action

Bolt-action

Barrel Style

Rifled

Fire Mode

Repeater

Gun Weight

2.20

Overall Length

20.10

Barrel Length

9.50

Loudness

3-Medium

Magazine Capacity

9

Mechanism

Pre-charged pneumatic

Rail

11mm dovetail

Safety

Manual

Front Sights

Blade

Rear Sights

Adjustable for windage & elevation

Shots per Fill

0

Trigger Adjustability

Two-stage, adjustable take-up

Trigger Action

0

Use

Small game hunting/plinking

Warranty

1-year limited warranty
Reviews
Average Customer Review
4.6
4.5
14 Reviews
4.0
By Mason
January 10, 2022
Verified Purchase
Pros
This pellet pistol is awesome don't care what anyone else says the iron sights are good enuf to take small game i bought the.22 and am very impressed by its power for 175 bucks I have no complaints other than the air res should be bigger so I can get more shots per fill this gun is a very good gun for an entry level pcp easy to fill with air easy to shoot lots of fun
Cons
No cons
4.0
By Kevin
August 29, 2021
Never fired a PCP gun before and wanted something entry level to try out. Got the Bandit (.22 version) at Airgun Depot and a cheep (less then 50 dollars) hand pump from Amazon. Takes about 30 pumps to charge from 1 bar to 2 and gets about 25 shots till I have to recharge again. Been using Crosman 14.3 Hollow points ... very inexpensive and accurate ... no need for expensive pellets. Would have rated 5 stars if not for Issue with sights and moderator.
Pros
Price ... Nice entry PCP Pistol. Seems well build ... Like the left hand bolt for loading. Have put about 500 rounds though it so far. Accuracy ... at 10 meters (the distant I have set up in my garage range) this pistole will stack pellets on top of and right next to each other. Dime size groupings are not a problem.
Cons
Sights that come with Bandit are too hard for my eyes pick up correctly. Also to get anywhere near correct elevation I ran out of threads on adjustment screw ... longer screw is needed. Not a real problem because I replaced original rear sights with a red dot. Can't remove the Moderator from the barrel ... seems to have Loctite on it. Bandit came with a threaded barrel cap in box so Moderator should easily detach from Barrel. So not sure why a form of Loctite was used.
5.0
By Robert
USA
August 10, 2021
Verified Purchase
Pros
Powerful accurate quick to fill 3 magazines per fill quiet
5.0
By Steve
USA
August 6, 2021
Verified Purchase
Ordered the Diana Bandit. Also ordered the barrel band and the regulator. Set the regulator at 140 Bar and painted the front sight red. Zeroed the pistol in about 15 minutes. 15 to 25 yards point of aim. Very accurate even with iron sights! Get after it! Buy it!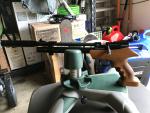 Pros
Best PCP pistol for the money! Hole in hole accuracy at 25 yards. Cocking lever works very smooth. Pistol cycles the magazine flawlessly.
Cons
Should come with the barrel band and regulator. Cheap rear sight.
5.0
By Leslie
USA
July 23, 2021
Verified Purchase
This pistol is my first jump into PCP airguns and I don't think I could have made a better choice than this Diana Bandit! I took the advice of a review I saw on youtube and installed a barrel band connecting the air tank to the barrel just aft of the front sight and this installation went flawlessly. Now, the pistol seems much more robust and secure! The results in the associated video showed the grouping much tighter. The three barrel retaining screws were easily removed and a matching divot in the barrel under the center screw indexed the barrel perfectly. I also wondered just how many pumps from a handpump it would take to get the 50cc reservoir up to the red band and I was seriously pleased to find the Air Venturi G9 handpump up to the task with hardly any effort on my part! A few full stroke pumps with this G9 pump and I was at the redline! I'm actually pretty lucky I didn't overcharge as I expected several minutes of pumping!
Pros
The sheer quality of construction!
Cons
I've yet to put the gun to a physical test, but my only con so far would be the grip may not fit my large hand as well as I would like. Should I choose to customize the wood for my hand, this grip comes with PLENTY of wood. I just don't want to change a great finish unnecessarily so I'll get to shooting it first.
5.0
By Daniel
USA
June 9, 2021
Verified Purchase
A must if you like collecting these type of guns!
Pros
It's amazing right out of box, gun is light and quiet I waited a long time to finally get this and so worth the wait thanks A.G.D. For getting these .
Cons
None
5.0
By TERRY
USA
June 5, 2021
Verified Purchase
Here it is in a nutshell, just buy the darn thing and if you can afford it buy one of each caliber. less than 400 you get two nice handguns that are backyard friendly and fun to shoot, you can fill with a hand pump but there are a bunch of used tanks out there at the scuba shops and they may not be 4500 psi you don't need it and one fill will last you a long time.
Pros
Light weight, sights are decent, like the left hand bolt , glad they include a single shot adapter. It's not really pellet picky but mine really loves the RWS R10's, the JBS 18.13's and the H&N 18's, the kicker is I tried a lot of different brands in it and thought I would give it a test from down under and shoot H&N slugs(single loaded) and they didn't do bad at all and from the sound they made hitting they packed a wallop. The Bandit is a good pcp for someone that doesn't want to spend a lot of money yet get a good shooting gun. So far I have put more than 1000 pellets through it and the little thing is addictive, 1000 pellets and I only got it Friday so I have been slinging the lead in the garage/basement. Put yourself a small red dot on it and you have yourself a shooter.
Cons
Grips are large but then you can taylor fit them to your hand, it's easier to take off than it is to add, but I dont have much trouble with them but I might do a little sanding on them. I havent got into adjusting the trigger but my weight of pull is averaging 1 pound 9 ounces, I would like to get it a bit under a pound if possible. Some say the fill port needs a cover and that would be nice to keep the dirt out of it when you are outdoors but we must remember that this isn't something that you would be beating the boonies with because of the size. All in all the cons are petty to me but we all have our likes and dislikes. Oh there is one thing that they should do and that is to include a barrel band on it, first thing I am going to buy for it.
5.0
By Joseph
USA
December 28, 2019
Easy to take apart and work on. Easy to most.
Pros
Light, powerful, Huma has a regulator for it and I think that making it a little more powerful will be easy.
Cons
I am all thumbs and have wide hands. The grip is to fat and needs ground down.
5.0
By BOWHUNTER28
December 13, 2019
Fine gun. Well worth the $$$$$. Accurate as all get out. Great deal!
Pros
Feels good in your hand
Cons
Handle a smite large.
5.0
By Mitchell
USA
February 8, 2019
Verified Purchase
At this price, I didn't expect too much in the area of quality or function. I dived in and purchased one in .22, and one in .177. Both came in padded cases, with additional items, needed to use these guns. To say that I was impressed would be a gross understatement. Neither gun had any blemishes are machine marks of any kind on them. Better yet, both guns functioned perfectly and are very accurate. Both are easily powerful enough to take small game at moderate ranges. I've made a lot of purchases in my life, and of these two guns, I believe I made tremendous buys. I am new to this sport, but will hopefully have many years of enjoyment shooting these guns. In my opinion, money spent on these guns would be a great value!
Pros
overall weight accuracy noise level carrying cases included
Cons
Grip: the grips are huge blocks of wood, and unless you have XL hands like mine, you may have trouble making appropriate trigger contact. Not a big issue, but I think the fill ports should be covered. As such, I made my own out of some rubber rings.
Q&A
Question?
Login to ask someone who bought this product.
PCPs are getting to be like Teslas. Sitting here checking my back order. I saw somewhere that these were expected back in stock 11/22. Where did I see that? I got my pump. I got my ammo. I got my squirrels, rats, and turtles. Just need my Bandit.
asked Sean from USA
Is there a Bleed Valve on this somewhere?
asked James from USA
Does it come with pump if not what's the best one
asked Brad from USA
The Bandit does NOT come with an air pump. Being the penny pincher that I am yet pleased as I could be with Air Venturi, I bought the Air Venturi G9 hand pump for my Bandit. Between the Bandit and the G9, I had everything I needed to assemble the pump and connect it to the Bandit. Worked efficiently and flawlessly!
Leslie from USA
can you use a laser sight in this pistol? Which one?
asked Rolando from Guatemala
Yes, you would want to search for any laser sight that is compatible with an 11mm dovetail mount - "11mm dovetail laser sight" on amazon or google will start you on the right path.
Logan from USA
In a review above a "barrel band connecting the air tank to the barrel" was recommended. Can you point me to where I can purchase one? And please answer the question below about a pistol scope recommendation.
asked John from USA
Crossman May have one. Call Diana USA see if they can provide a soars.
James from USA
Buy it right here at Airgun Depot! Part #AGD-A8553 is what you are looking for though the description does not say anything about fitting the Bandit. It DOES fit the Bandit!
Leslie from USA
Which scope works best for a bandit?
asked Larry from USA
Fill probe size?
asked Curtis from USA
Foster fitting.
James from USA
Can the silencer be removed to make it less lengthier. Noise is not an issue
asked Richard from USA
Also it leaves bare threads showing and the internal parts of the silencer can fall out and you might put them together wrong, as I did!!!
Ray from USA
You can remove the silencer, as it is screwed on, but it is not designed to shoot that way.
Ray from USA
If I want to buy extra Mags; what type does it take, and how much are they.
asked Richard from USA
If I buy a scuba tank 80cf, what kind of valve do I need on the tank?
asked Richard from USA
Where on the pistol do you fill, what type of fill hose do I need?
asked Richard from USA
Effective range ?
asked Will from USA
Is the barrel threaded? Can I put a aftermarket suppressor on it?
asked Zackree from USA
Yes. The barrel is threaded. The suppressor is epoxied on. Some may come off easily. Some will be very difficult to remove.
Mark from USA
Where can I get a right side bolt receiver?
asked Kevin from USA
Is this a left or right handed gun? What pump s required?
asked Michael from USA
The grip is ambidexterous. The bolt handle on the left side of the receiver. You can get a receiver that has the bolt on the right side. Any hand pump will fill the Bandit.
Mark from USA
I see that the bandit in .22 gets 630 fps. so said the ads. I have seen other bandit owners saying faster fps. speeds. WHAT WOULD BE A FAIR speed for a charged .22 Bandit and with what pellet/s? I'd be really happy with near 700 fps. Thanx all. Love the extreme power of my shin sung Career rifles but will never happen in a pistol.
asked robt. merck
Hey guys was wondering what you thought of Bullseye scope mount. Is it worth it or just gingerbread. THANKS Steve Hall
asked Stephen from USA
Are you able to holster it?
asked Owen
do you think the diana bandit is powerful enough to harvest squirels at about lets say 20 to 25 yards
asked danny
Absolutely, that is my primary use for this gun in .22
Logan from USA
How long would it be if I took off the silencer? Thanks
asked Noah
Where can I purchase additional 9-round rotory magazines for the Diana Bandit?
asked James
can you change the barrel to something like the attaman ap16 barrel
asked Daniel Potthoff
Does it come with pump
asked Mike from USA
What is the best pellet so far ,weight in grains at what distance.
asked Juan from USA
How many shots can you shoot with it before you have to refill the tank? Thank you.
asked Joseph from USA
an you delivery to the China?
asked dio