The Diana Chaser Pistol is the newest product to be offered by Diana! This CO2 airgun was designed for spending all day plinking outside or if the weather prevents that, it makes a great indoor plinker as well. Powered by a 12 gram CO
2
cartridge, the Chaser is capable of 460 to 525 fps, depending on the caliber. The indexing magazines will hold 9 (.177) and 7 (.22) rounds, making this an ideal multi-shot repeater pistol. The pistol grip opens up to hold a spare CO
2
cartridge. There is a fixed front sight blade and adjustable rear sight with an 11mm accessory rail for a red dot sight or pistol scope. If you're looking for something fun and effective, look no further than the Diana chaser.
Diana Chaser CO2 Air Pistol
CO2
Bolt-Action
Includes Single-Shot Tray
Fixed Front Sight
Adjustable Rear Sight
11mm Dovetail
2 Stage Trigger, adjustable take-up
Spare CO2 capsule can be stored in the grip
Compatible with Diana Stormrider Magazines
Specs
Manufacturer

Diana

Caliber

.177

Velocity

525 fps

Condition

New

Ammo Type

Pellets

Action

Bolt-action

Barrel Style

Rifled

Fire Mode

Repeater

Gun Weight

1.90

Overall Length

13.40

Barrel Length

8.30

Loudness

3-Medium

Magazine Capacity

0

Mechanism

CO2

Rail

11mm dovetail

Safety

Manual

Front Sights

Blade

Rear Sights

Adjustable for windage & elevation

Shots per Fill

50

Trigger Adjustability

Two-stage, adjustable take-up

Trigger Action

0

Use

Plinking/Fun

Warranty

1-year limited warranty
Reviews
Average Customer Review
4.4
4.5
24 Reviews
5.0
By William Bills
December 31, 2022
Verified Purchase
Pros
I have 2 Diana air pistols and this is my least expensive one. I also have over 30 other miscellaneous air pistols , some of them much more expensive than this one. This is my favorite one of them all. Dependable , very accurate , comfortable , nice trigger pull right out of the box ! I am 60 yrs old and have quarter size groupings at 50 ft consistently. (With the factory fixed sights !!!) BEST value available , this gun easily worth twice what they sell for. Buy it !!!!!
Cons
NOTHING
5.0
By luke
USA
June 9, 2022
Verified Purchase
Buy it!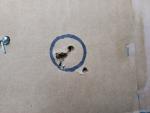 Pros
I wish I had this when I was a kid. I am 35 years old and this is my first airgun purchase in about 20 years. Giggling with excitement. Perfect accuracy out of the box. I was worried after reading some reviews that the sound would be an issue without a suppressor, but after a few initial shots inside and outside the house, I find the report to be very satisfying. Not too loud if you are 50 yards from the next house. It sounds like a little paintball gun. The velocity is moderate which is nice. It is lightweight and daintily constructed, but visibly precise. I am somewhat amazed that an item of this quality of manufacture is priced so attainably. I look forward to purchasing the rifle version.
Cons
It will be too noisy if you live in an apartment or townhouse. Purchase the rifle kit or a suppressor. Plastic sights front and rear. Usable and certainly acceptable given the price. Not complaining. Ricochets. They will happen at 500-600 fps. Wear eye protection. Some surface and bore rust out of the box. Clean thoroughly.
5.0
By John
April 28, 2022
Verified Purchase
Trigger is a little gritty but all in all, a great little pistol!
Pros
Clean minimalist design, i have the .177 and use it single shot. Groups are tight with Crosman premiere hollow point 7.9 gr, even tighter with Crosman Piranha 10.5 gr or NSA slugs. With the iron sights at 20', easily shooting groups covered by a quarter. Really liking this pistol, and can't wait to open her up and polish the trigger! :-)
5.0
By David
USA
December 17, 2021
Verified Purchase
A nice little pistol. The trigger was a nice surprise, low cost airguns usually have poor triggers but this is an exception, light pull breaks clean. I have large hands and the grips are comfortable for me. Shoots well with the open sights and with a Gamo dot scope. If you are looking for an inexpensive plinker you will like this pistol. I have shot about 600 pellets through it and no problems.
Pros
Good trigger, good acuracy
Cons
None
4.0
By benjamin
USA
June 7, 2021
Took out a large raccoon that was stealing fish out of my pond I had no choice dropped it like a dime at about 20 yards
Pros
Hits Hard pretty accurate at about 35 yards
Cons
Noise other than that really nothing more to say had no jam up smooth- all around squirrels were grubbing on my garden I think their history
5.0
By Randy
USA
December 25, 2020
Pros
Earlier I said f.p.s. Was not fast enough to kill small game. The rat never knew what hit em.
Cons
Still not crazy about the magazine. But getting used to them.
5.0
By GEORGE
USA
November 24, 2020
IT'S A REALLY NICE GUN IT'S WORTH THE BUY I GIVE A FIVE STARS LIKE I SAID IT'S MY FAVORITE OUT OF THE 30 I HAVE
Pros
FOR A CO2 PISTOL THIS GUN/RIGHTFUL IS A LITTLE POWERFUL GUN MY OPINION AND SMALL POWERFUL IN THE CROSMAN 2240 AND IT GIVES YOU MORE FEET PER SECOND 40 PLUS SHOTS WITH CO2 IS WORTH THE BUY MY FAVORITE GUN OUT OF THE 30 I HAVE
Cons
THE ONLY THING I DON'T LIKE ABOUT THE GUN WHICH YOU DON'T NEED TO USE IS THE MAGAZINE IT JAMS AND WHEN IT JAMS YOU EITHER HAVE TO USE A ROD OR JUST BREAK OFF THE MAGAZINE
5.0
By David
USA
May 7, 2020
Pros
Accurate, powerful, well made. Gets about fifty shots from a cylinder. It comes with a nice zippered case that has space for spare cylinders and pellets. It has a separate zippered compartment that you can use to hold the manual, tools, targets, etc. Mine is in 22 cal. It will punch holes through a steel soup can. The whole setup, in the case, is still relatively small and light, it fits easily in a backpack. It's quiet enough for backyard use.
Cons
Terrible grip! It's too short and the pommel digs into the palm of your hand. You get used to it. I would have taken a star off, but the rest of the gun is so good it deserves a bonus point.
4.0
By Randy
USA
March 21, 2020
Use singal shot method. Unless hunting. And to honest the round really isn't moving fast enough to kill small game. But for target practice love it.
Pros
Nice gun co2 easy to load. A easy gun to shoot. Right on target out of the box.
Cons
The magazines. Hard to load. I had a round slip. Had to destroy the mag. To get out of the gun.
5.0
By Enemy S.
October 15, 2019
I am not a professional or even a rabid target shooter but after two previous forays into pump and CO2 pistols that were largely unsatisfactory, this Diana Chaser fits the bill. I mostly use it for critter control but since the critters mostly like to sit on my seawall 60 feet away, I've set up my target practice at 60' and was surprised how accurate this gun is. The 177 pellets don't sink at all over 60' and the stock sighting on the gun was dead accurate right out of the box. I really was amazed as I typically would have to aim literally an inch or more high at 60' to account for the gravity on a lesser pistol. You will be pleased with this.
Pros
dead accurate
Cons
slow feeding single shot pellets with my clumsy hands. Waiting for the magazine to arrive from backorder
Q&A
Question?
Login to ask someone who bought this product.
great gun but the plastic handle is weird with the curve / lip at the bottom! Is there any replacement handles?
asked Rob from USA
would you recommend the .177 or.22 for small varmints
asked dal
.22 you can actually use it as a personal defense tool
Ali from USA
Can the trigger mechanism either be replaced or lightened to make it more like a competative trigger with a light pull, like can be done with center fire arms? I would also like to use Fiber optic sights for nocturnal low light sighting?
asked Michelle
Is this gun made in Germany?
asked Craig from USA
No, made in China
Aaron from USA
Can you put the moderator on the pistol barrel ?
asked Roy
Yes. It comes with a threaded muzzle but you have to make sure your moderator has compatible threading.
Randall from USA
IS THERE A PREFERRED SCOPE FOR THIS GUN?
asked JOHN from USA
is there any kind of holster this pistol would fit into? Am in a wheelchair and using my lap as a table doesn't work.
asked tHOMAS from USA
Why does the Diana Chaser have the bolt on the left hand side ?
asked Gerald from USA
For right handed shooters, you can keep your grip on the gun with your right hand and cock the bolt with your left hand. Thus never releasing your grip in the gun. There is also replacement breech block that can be purchased to convert the bolt to the other side
Aaron from USA
How accurate is this air gun? I had a zero recoil pistol years ago - very accurate - loaned it an never got it back a great gun, never saw on like it. I am in the market of a replacement pistol, capable of great accuracy if feed good pellets. talking 5 shot group 1" or less at 30 ft.
asked Gary
In .177 how many shots at or close to full power from one cylinder? At ten yards what drealistically can you expect in the way of accuracy?
asked Martin gavriloff
It appears to be a left hand bolt. Is that so, or is the picture reversed?
asked Lee from USA
How many shots per co2 cartridge in both calibers please?
asked Rolf