The FX Dynamic Express 600 is a PCP air rifle that gives the same consistency you expect from past FX airguns, along with increased air capacity for a higher shot count. You get exceptional power for maximum hunting results and the ability to leverage the revolutionary innovations of earlier models to give you tremendous precision and control.
With this model of the air rifle, you get a 600mm barrel that gives you a superb combination of weight, performance, and length, along with a high shot count. You'll get the best performance with slugs because it uses an FX Superior Slug liner and an FX Superior Heavy STX barrel, and it gives you a lot of shots because of the 480cc carbon fiber bottle.
The FX Dynamic Express 600 gives you amazing consistency because of the Dynamic Plenum, which leads to a stiffer barrel because it surrounds it with steady pressure. You also get powerful shots thanks to the Dynamic Block, with its short impulse, high power valve that gives you efficient use of air.
You get an ergonomic textured grip for a slip free hold, plus a molded cover for the bottle that gives you a cheek rest and a ventilated rubber buttpad for enhanced control. You also get quick and simple tuning capabilities with the adjustable hammer spring power wheel and the externally adjustable AMP MKII regulator, and the two stage adjustable match trigger gives you the exact break you need.
You'll like the long range accuracy you get with the 20 MOA cant on the Picatinny scope rail, and the 14.5" Arca-Swiss forend rail with M-LOK slots makes it simple to add accessories. The dual angled pressure gauges on the block make it easy for you to keep an eye on the regulated plenum pressure and the bottle pressure at all times, so you always know what to expect from your shots.
If you're looking for a PCP air rifle that takes the technological improvements from other FX airguns and gives you incredible results when hunting, get the FX Dynamic Express 600 at Airgun Depot now.
FX Dynamic Express 600 Features:
480cc rear carbon fiber bottle
Reversible sidelever
1/2"x20 male threads at the end of the shroud
156cc Magnum XL Plenum
High power, short impulse valve Dynamic Block
Over the barrel Dynamic Plenum design
Quick Tune System
Fill pressure: 250 BAR/3,625 PSI
Shots per fill (600)*: 128 (.22), 96 (.25), 56 (.30), 26 (.35)
Max. energy (600)**: 82 fpe (.22), 91 fpe (.25), 130 fpe (.30), 173 fpe (.35)
Magazine capacity: 21 (.177), 18 (.22), 16 (.25), 13 (.30), 10 (.35)
Standard Side Shot magazine with deeper .51" lid for longer slugs
Superior Heavy Smooth Twist X barrel
Superior Slug liner
Adjustable hammer tension power wheel
AMP MKII (Adjustable Match Precision) regulator
2 stage adjustable match trigger
Dual angled manometers: bottle and regulated pressure
Picatinny scope rail with 20 MOA cant
14.75" Arca-Swiss/M-LOK forend rail, bridge, and barricade block
Ergonomic textured grip
Molded tank cover/cheek rest w/ventilated rubber buttpad
Foster Quick Disconnect fill port
Barrel length: 600mm/23.6"
Overall length: 43.5"
Weight: 7.5 lbs.
* - Using: 22gr hybrid slug at 900 fps (.22), 26gr hybrid slug at 900 fps (.25), 44.5gr hybrid slug at 900 fps (.30), 68gr hybrid slug at 900 fps (.35)
** - Using: 34gr pellets at 1040 fps (.22), 43.5gr slug at 970 fps (.25), 64gr slug at 1020 fps (.30), 93gr slug at 915 fps (.35)
Specs
Manufacturer

FX Airguns

Caliber

.22

Velocity

1040 fps

Condition

New

Ammo Type

Pellets

Action

Sidelever

Barrel Style

Rifled

Fire Mode

Repeater

Gun Weight

7.50

Overall Length

43.50

Barrel Length

23.60

Loudness

3-Medium

Magazine Capacity

18

Mechanism

Pre-charged pneumatic

Rail

Weaver/Picatinny

Safety

Manual

Front Sights

none

Rear Sights

none

Shots per Fill

128

Trigger Adjustability

Two-stage adjustable

Trigger Action

0

Use

Hunting

Warranty

3-year limited warranty
Reviews
Average Customer Review
5.0
5.0
1 Review
5.0
By Gregg
August 14, 2023
Verified Purchase
I place it on my 42mm carbon fiber tripod with RRS QD clamp and it almost becomes boring. The Dynamic Express so accurate and the trigger is so nice, there is no other comparison I can make.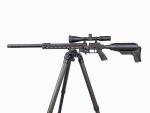 Pros
I've had many airguns over the years, starting with a Benjamin. I've got several break barrel GAMO's. None come close to the FX Dynamic Express. I have many high powered rifles, including customs. To me, this is one of the finest, precision rifles I've ever shot.
Cons
For my cheek, I had to purchase Extra High Rings for my scope. That is not a negative for the FX.
Q&A
Question?
Login to ask someone who bought this product.
How much more for the 580 air tank ?
asked Cris from USA
The 580cc tank would make the length of pull longer. I don't know by how much longer though.
Adam from USA
I am still a newbie, so I need to ask, the "Arca-Swiss forend rail with M-LOK slots"... is this the lower front end rail ?
asked Scrambler82 from USA
Is a Barrel Liner included, needed, and does it improve performance ?
asked Scrambler82 from USA
How will 14.3gr. domed pellet work in this air gun ?
asked Scrambler82 from USA