The Gamo Arrow is a PCP air rifle that gives you a light and quiet option with a two stage adjustable trigger. It reaches alloy pellet speeds up to 1200 fps in .177 and 900 fps in .22 to deliver the performance you're looking for when plinking, pesting, and hunting small game.
You'll enjoy the fact that Gamo included their quietest noise reduction technology, the Whisper Fusion sound suppression system. It uses a moderator with a double chamber to give you quieter shots than competing rifles. You'll also like that you get up to 60 shots on one fill of the 125cc air tube. And with the male Foster quick disconnect fill port and the onboard pressure gauge, you get a gun that's easy to fill and monitor.
The Gamo Arrow gives you a fun and truly ambidextrous experience because it has simple straight pull bolt action for fast shooting. When you pair that with the 10X Quick Shot technology that lets you see the shots remaining on a wheel on the magazine, you get a gun with quick follow up shots that's easy to use.
You'll appreciate the fact that the rifle is so lightweight and compact, at just 5 pounds because of the synthetic automotive grade glass filled stock and under 40", so it's an ideal air gun for you to grab for quick use or to carry all day without getting tired. To give you accurate shots out of the box, this PCP pellet rifle has an adjustable fiber optic rear sight and a fiber optic front sight, plus an 11mm dovetail scope rail.
If you're in the market for a light and convenient PCP air rifle that won't break the bank for plinking, pesting, or small game hunting, get the Gamo Arrow at Airgun Depot now.
Gamo Arrow Features:
Ambidextrous straight pull bolt action
PCP
10X Quick Shot magazine
Max velocity (alloy pellets): 1,200 fps (.177), 900 fps (.22)
Up to 60 shots per fill
125cc air cylinder
Automotive grade glass filled nylon all weather stock
Textured grip and forearm
Two stage independently adjustable Custom Action Trigger
Whisper Fusion sound suppression system
Manual safety
Fiber optic front sight, adjustable fiber optic rear sight
11mm dovetail scope rail
Raised cheekpiece
Ventilated rubber recoil pad
Male Foster QD fill port
Onboard pressure gauge
Length of pull: 14.57"
Barrel length: 20.08"
Overall length: 38.98"
Weight: 5 lbs.
3 year warranty
Specs
Manufacturer

Gamo

Caliber

.177

Velocity

1200 fps

Condition

New

Ammo Type

Pellets

Action

Bolt-action

Barrel Style

Rifled

Fire Mode

Repeater

Gun Weight

5.00

Overall Length

38.98

Barrel Length

20.08

Loudness

2-Low-Medium

Magazine Capacity

10

Mechanism

Pre-charged pneumatic

Rail

11mm dovetail

Safety

Manual

Front Sights

Fiber Optic

Rear Sights

Fiber Optic

Shots per Fill

60

Trigger Adjustability

Two-stage adjustable

Trigger Action

0

Use

Small game hunting/target practice

Warranty

3-year limited warranty
Reviews
Average Customer Review
3.7
3.5
6 Reviews
1.0
By George
USA
January 9, 2023
Verified Purchase
Front mounting barel plastic strap got broken after 4 shots
Pros
Very bed quality rifle
5.0
By Craig
December 10, 2022
Verified Purchase
I have the .22 cal. Quite accurate, can consistently hit an old painted shovel head at fifty yards. Get about 50 to 60 shots from full till just above yellow. However, the last two mags are not always the most accurate. Not as many rounds when shooting Slugs. Much lighter than my other PCP rifle. Have had one mag jam up and go south on me. Best to have about 4 or 5 mags so when you refill the tank you can reload the Mags. Would love this in .25 or .30 cal.
Pros
Iron sights, love them. Extremely quiet.
Cons
Depression around the Foster valve can at times be a challenge to connect for refilling. If I knew how thick the stock material was I'd be tempted to radius the top edges fore & aft to allow my fingers just a bit more room.
5.0
By Dan
November 10, 2022
Verified Purchase
It is a really fun gun to shoot and with it being so quiet you can shoot a lot with out disturbing the neighbors.
Pros
I have had it for 2 weeks now and the looks are growing on me. I have put around 300 pellets through it. I like that it has open sights. Although I put a scope on it. I really like the straight pull bolt. It is easy to pump up. It is accurate enough and has enough power for 30 yard small game hunting. It is so quiet! It is lite weight but feels sturdy.
Cons
There are no cons for me.
1.0
By B Hammond
September 30, 2022
Verified Purchase
Foster valve for refilling the PCP cylinder is in a recessed cavity in the bottom of the fore-stock and is too narrow to easily attach fill-line connector. Very awkward and difficult to perform. Cavity around the fill valve needs to be larger or valve should be located at muzzle end of fore-stock.
Pros
Impressive looking but a bit larger than I expected. My Arrow is the .22 cal. Great hi-vis fiber-optic red & green sights. Nice, fairly light 2-stage trigger right out of the box. Sight rail does not take a standard scope mount but my scope had a smaller adapter rail which works well. Very accurate at 10-15 yds.
Cons
TERRIBLE DESIGN - Magazine CANNOT be removed if a round gets jammed. Jams occurred with standard lead pellets, but especially with GAMO copper pellets. DO NOT USE copper pellets. They are jacketed and jam easily. I had to destroy the mag with a Dremel tool to break the magazine apart and remove it to extract the jammed rounds. With the mag installed, you can't even use a push rod from the muzzle end to push out the jammed round. Without a mag installed, the chamber is too small to hand load single round.
5.0
By Joseph
USA
August 28, 2022
Shoots Crossman 14.3 domes very well. If you have a small property and need to keep the noise and power down while maintaining accuracy, this is your Goldilocks rifle. I am getting 20 reliable shots per fill.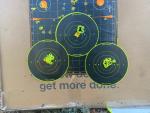 Pros
Light, accurate, and quiet. Perfect 30 yard (35 yards max) pesting rifle. Won't bother the neighbors. Holds .75 to 1 inch groups at 30 yards from a sticks support with ATN 4k.
Cons
Needs a weaver type scope rail system. Needs sling swivels. There are mounting points for sling swivels but you will have to buy them.
5.0
By Gabriel
USA
August 27, 2022
Verified Purchase
Be ready to buy some more magazines, this thing is so much fun that one definitely isn't enough.
Pros
Lightweight, small, ridiculously quiet, fiber optic sights are awesome.
Cons
Fill probe is a little tight but nothing repeated use won't smooth out I'm sure.
Q&A
Question?
Login to ask someone who bought this product.
Is this airgun regulated or unregulated?
asked David Lee from USA
What is included when purchasing this item?
asked Aliana from Malta
what is the air chamber capacity ?
asked George from USA