The Gamo Swarm Maxxim 10X GEN 2 gives you an efficient and light repeater with key upgrades over the older model that won't break the bank. With speeds (using alloy pellets) up to 1000 fps in .22, you get a breakbarrel air rifle that's great for pesting, small game hunting, or plinking.
The improved 10X GEN 2 Quick-Shot magazine attaches to the stock in a horizontal position and lays flat against the gun's body, so you get a compact profile for easy aiming and shooting. Plus, the grip features space for an extra magazine when the bottom cover is removed, and the Shock Wave Absorber buttpad means you'll feel over 74% less recoil.
The air rifle has a 2 stage CAT trigger that lets you adjust both stages for travel independently to get the break you want. It's also powered by an IGT inert gas piston, which gives you the advantages of less vibration, improved cold weather performance, smoother and quieter cocking and shooting, longer life due to the lack of spring fatigue, and the ability to leave it cocked for longer.
The stock is made of all weather nylon filled with automotive grade glass, and it has a textured rubber forearm and grip so your hold doesn't slip. So that you get quiet shots, this airgun uses Whisper Maxxim noise suppression technology and a jacketed polymer barrel.
To give you a combo with everything you need for accurate shooting, Gamo included a 3-9x40 scope that's waterproof, fogproof, and shockproof, and a mount. The 11mm dovetail also features Recoil Reducing Rail technology to keep your optics working for longer by almost completely canceling out recoil for scopes.
If you want an affordable repeating breakbarrel air rifle with upgraded features that gives you fast follow up shots, get a Gamo Swarm Maxxim 10X GEN 2 now at Airgun Depot.
Gamo Swarm Maxxim 10X GEN 2 Features:
Breakbarrel
Repeater
Max velocity*: 1000 fps (.22)
IGT Inert Gas Technology gas piston
Automotive grade glass filled nylon all weather stock
Horizontal magazine orientation
2 stage independently adjustable Custom Action Trigger
Whisper Maxxim sound suppression system
Textured grip with magazine storage inside
Textured forearm
11mm dovetail Recoil Reducing Rail
Shock Wave Absorber recoil pad
Length of pull: 14.4"
Barrel length: 19.9"
Overall length: 45.3"
Weight: 5.64 lbs.
3 year warranty
*Max velocity with alloy pellets.
Scope Features:
3-9x magnification
40mm objective lens
1" tube
40' to 12' field of view
3.5" eye relief
30/30 reticle with fine crosshairs to facilitate target acquisition
Fogproof
Shockproof
Waterproof
21.6 oz
13.5" long
Includes lens caps
Specs
Manufacturer

Gamo

Caliber

.22

Velocity

1000 fps

Condition

New

Ammo Type

Pellets

Action

Break barrel

Barrel Style

Rifled

Fire Mode

Repeater

Gun Weight

5.65

Overall Length

45.30

Barrel Length

19.90

Loudness

3-Medium

Magazine Capacity

10

Mechanism

Gas-piston

Rail

11mm dovetail

Safety

Manual

Front Sights

none

Rear Sights

none

Shots per Fill

0

Trigger Adjustability

Two-stage adjustable

Trigger Action

0

Use

Small game hunting/plinking

Warranty

3-year limited warranty
Reviews
Average Customer Review
4.5
4.5
11 Reviews
4.0
By adnan
September 1, 2021
Pros
hits really hard, clean kills on adult speckled pigeons from 50/60 yards 50 yards . scope is a good fit but can be upgraded for longer range shots.
Cons
magazine needs to be easier to refill, or more like having a 20 round Mag also having an extra mag as it has a slot on the gun but its empty.
5.0
By James
USA
June 18, 2021
Verified Purchase
Pros
This gun hits hard, it makes clean kills on small varmints & rodents.
Cons
None so far.
5.0
By Donald
USA
May 28, 2021
I forgot the photo
Pros
I bought my Gamo Swam Gen2 Maxxim .177 10X yesterday morning. It was my intention to spend the afternoon sighting in the scope and having fun shooting my paper targets. Fun? Four shots and my scope was sighted in. Fun? After sighting in the scope, I put up a new target with plans of spending the afternoon shooting my new rifle. Take a look at the target after the first six shots were fired. I am 70-years-old, how do you have fun with a rifle that hits the bull's eye every single time the trigger is pulled from 20 yards away?
Cons
Nothing
5.0
By Gerald
USA
April 3, 2021
Verified Purchase
Pros
All around great rifle! Hits hard, accurate!! The fact that you don't have to reload after every shot is a plus!!! Waiting for the Magnum to get restocked!!
Cons
None
4.0
By David
February 28, 2021
Verified Purchase
I mounted the scope, set up a zeroing target and within 5 shots had the scope zeroed. Have cleanly hit 5 birds since opening box 3 days ago, out of 7 shots. Accurate for intended capabilites of .22 caliber and small varmints & rodents. Lotsa fun...
Pros
Price, accuracy, ease to break action, 10 shot magazine
Cons
The 3-9x scope is CRAP. Sharp edges around all stock cutouts, LOP is too long.
4.0
By gary
USA
February 18, 2021
Verified Purchase
I use my pellet rifles for rodent clearing... its powerful enough to 65 yards and accurate...
Pros
Shoots Great , magazine easy to load, Scope mounts easy , dialed with 4 shots, Lite and comfortable I have a gen1 swarm maxim as well but the loader malfunctioned, been waiting a month for the warranty replacement loader. except for the cons mentioned the Swarm Maxim Gen2 is very very nice pellet rifle...
Cons
sharp corners on the stock in front, trigger housing sharp corners as well, I guess a little sand paper will solve that.. been nice if they supplies two magazines instead of one...
4.0
By Jason
USA
February 16, 2021
Great rifle for the price! In .22 it packs a heck of a punch, is uber accurate and I am completely happy with my purchase. I was considering the Fusion Swarm version for the different stock and open sights, but for the price - this had it.. Watch videos and find out who has used what brand pellets, how it shot, also realize it gets better after a hundred or so down it.. Within the first 30 rds I was grouping in a dime at 30 yds (Gamo Red Fire) - Gamo PBA jammed a few times and didn't always load (not giving up yet, it shot great when it flew).. 1. Watch vids and make sure this is for you - the Gen2 10 pellet loader is nice, but not perfect.. 2. Buy the rifle and a few different pellet brands, don't go cheap.. I found a 15-16gr pellet to be best for me for accuracy. 3. Watch how to deal with jams, double load potentials, and how to deal with it - videos online are wonderful...
Pros
I was surprised by the light weight, how durable it looked out of the box, and overall look and feel. This is my first adult air rifle since my old Pumpmaster 760 when I was a kid (20+ years ago). I knew Gamo had been around but had not had the chance to shoot one but had watched plenty of videos online. I wanted the 30lb pull - especially after a day of shooting, I was very happy that this was not a Magnum. I think the trade-off in my case for the lighter cocking pull vs. the extra couple hundred FPS was the best call. This also keeps my .22 ammo sub-sonic which was a second factor (noise). This has a slight crack on a dry fire (to be expected), this dropped depending on the pellet I shot and I think I heard more from the action of the rifle while shooting than someone at a distance. The scope is adequate - a parallax adjustment would be awesome, it's a must as there are no open sites. Gamo rail is nice too! It packs a punch, I can punch a dime hole at 30 yds. 50-80 were spot on!
Cons
- It's a inexpensive scope (but works great) - parallax adjustment please. - Availability of the .22 Gen2 Magazines at the time of this review is poor, using only the one in the package. Make sure you get the ones for GEN2, white background/green numbers and not the first gen with a red(wine) background/white numbers. - Loading some pellets is a problem or can cause dry fires or jams - solution is to search the web and find ones that work then try.. - Double loading of pellets - if a pellet is loaded and the gun is charged, the rifle can be cocked a second time which tries to load the second pellet into the back of the first (already loaded).
5.0
By Gary
USA
February 5, 2021
I wish they made these in the 70's and 80's.
Pros
10 shot magazine and very accurate shooting.
Cons
To add a mount for Bipods
5.0
By Bill
USA
January 30, 2021
Pros
I was introduced to pellet rifles with a Co2 air gun. I didn't like the accuracy so I thought I'd try a break barrel. After alot of online learning, I purchased this rifle in .22 caliber. I have had so much fun with this thing! I have an indoor range of 30ft and I have been able to put 10 rounds in a dime sized area. I'm now trying several different pellets but all, so far, have been within a dime. I'm so excited by this rifle!
Cons
I found the eye relief of the stock 3-9x40 scope to be too far forward. I ordered an installed an offset mount and it solved the issue. The scope crosshairs are not great but are OK to achieve the results.
5.0
By Robeson,
USA
December 27, 2020
Verified Purchase
I will enjoy shooting my new Swarm Maxxim .22 until my back-ordered Swarm Magnum comes back into stock so they can ship that to me.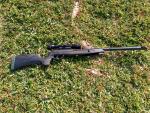 Pros
I bought the Swarm Maxxim in .22 for myself as an early Christmas present and have been pleasantly surprised. I took the scope out of the plastic and mounted it and was shocked to see the point of impact about 1/8th inch out of the bullseye before making adjustments. Amazing!.
Cons
The only thing that didn't impress me is the scope. I would rather pay a little lesst for the rifle and just add my own scope which is what I have now done.
Q&A
Question?
Login to ask someone who bought this product.
What is the diameter of the scope mounts?
asked Zak from USA
Does the Moderator at the barrels end unscrew? It appears to be seperate.
asked Henry from USA
I got a swarm 10 gen 2 and bought a cheap laser scope sighter to site in the scope but the barrel insert is not long enough due to the muzzle...is there a different option?
asked Don from USA
I would like to add iron sights to my Gamo swarm 22 caliber Maxxim Gen2 can anyone help with how to and what sights to use
asked Slick from USA
I am also curious about how to do this.
Reagan from USA
is it possible to ship here in the Philippines? Is it free to shipping fees?
asked Miguel from Philippines
Were can I find magazine for it????
asked Max from USA
Got mine on Gamo's website .
Stanley from USA
How well do the H&N Slug HP, .218 Cal., 21 Grains, Hollowpoint perform through this gun?
asked zachory from USA
What's the return policy ?
asked Atif from USA
How many pounds of effort to cock action?
asked Jerome from USA
Closer to 50 pounds of effort .
Stanley from USA
I'll to. Buy a magazine for gamo swarm maxxim gen 2 22. Can't find any. Can you please send me a link. Thank you
asked Max from USA
How difficult is it to mount the scope? I am not tech savvy. That is the only thing keeping me from purchasing. All scopes I have have been pre-mounted. Thanks
asked Ed from USA
You tube it, that's what I did
Don from USA
It's not hard..you can do it..just take your time
Max from USA
This is not a Picatinny rail?
asked Dale from USA
11mm dovetail Recoil Reducing Rail
Roger from USA
what poundage is the brake action.
asked Barton from USA
The break on the barrel takes 30 pounds to cock it. And the clip when u load it make sure it is lined up if a pellet is in a little off it does throw the clip off a little
Jeff from USA