This is the ultimate plinking and pest control air rifle to get you started without breaking the bank. Utilizing Gamo's Whisper sound dampening technology and powered by an IGT gas piston powerplant and 10X Quick-Shot System, the Swarm Whisper breakbarrel air rifle provides performance and dependability, while also giving you a shot that's quiet enough to discreetly use in your backyard.
If you're looking for an air rifle that's loaded with affordable value for small game hunting, pesting, or plinking, get a Gamo Swarm Whisper gas piston air rifle today at Airgun Depot.
Gamo Swarm Whisper Features:
Breakbarrel
Repeater
10X Quick-Shot System
10rd magazine capacity
Max velocity (alloy pellets): 1300 fps (.177), 1000 fps (.22)
Max velocity (lead pellets): 975 fps (.177), 722 fps (.22)
IGT Inert Gas Technology gas piston
Automotive grade glass filled nylon all weather stock
2 stage trigger
Whisper sound suppression system
Polymer jacketed steel barrel
Textured grip and forearm
11mm dovetail scope rail
4x32 scope included
Rubber recoil pad
Length of pull: 14.4"
Barrel length: 19.1"
Overall length: 44.5"
Weight: 5.43 lbs.
1 year limited warranty
Specs
Manufacturer

Gamo

Caliber

.22

Velocity

975 fps

Condition

New

Ammo Type

Pellets

Action

Break barrel

Barrel Style

Rifled

Fire Mode

Repeater

Gun Weight

5.43

Overall Length

44.50

Barrel Length

19.10

Loudness

3-Medium

Magazine Capacity

10

Mechanism

Gas-piston

Rail

11mm dovetail

Safety

Manual

Front Sights

none

Rear Sights

none

Shots per Fill

0

Trigger Adjustability

Two-stage non-adjustable

Trigger Action

0

Use

Small game hunting/plinking

Warranty

1-year limited warranty
Reviews
Average Customer Review
4.5
4.5
8 Reviews
2.0
By Martin
USA
May 21, 2023
Verified Purchase
I had to send it back and it cost me $55 to do so.
Pros
Nothing
Cons
The gun is impossible to pump safely and hard to operate, the scope is no good, it weighs too much for a pellet or BB gun, and it is loud.
5.0
By Conan
USA
December 5, 2022
Bought this during the covid lockdown and ammo hoarding of 2020, first venture into a pellet rifle of this caliber (.22) - I just wanted a cost effective alternative to shooting, without having to go to a range and I have been very pleased with the power and accuracy. Still looking for that 'sweet spot' pellet, between brands, shapes and weights (domed, flat, hollow point, pointed, and even slugs) but I've really enjoyed it (bought 2 more break barrels since), cocking it isn't difficult for an average guy (it's waaay easier than cocking the Swarm Magnum, but more on that in another review) - and it packs a wallop, depending upon target mat'l, it makes a very satisfying thump, thud, or ping if it doesn't just blast right thru. I also like the 1st generation 10 shot clip. The scope it comes with is accurate and usable, albeit entry level, I replaced with a UTG 3-12x44 scope and this rifle is just plain awesome fun, very happy with the purchase, I am hooked, enjoy shooting regularly!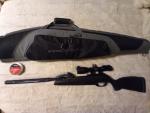 Pros
top quality for a very reasonable price - hard to beat for first purchase, this is way better than the old multi-pump daisy's or crossman we all played with as kids, that being said, this is a real rifle with real projectiles shooting 4 to 5 times harder and faster than those old bb guns - THIS IS NOT A KIDS TOY.
Cons
- wish the stock had the storage compartment for an extra clip like seen on another gamo rifle - sling mounts would seem to be in order but the Gamo "sling buddy" works
5.0
By Hunter
USA
September 5, 2022
Verified Purchase
One of the things I hope this gun will do it take care of coons and other midrange pests. As I said above you cannot really beat this gun, for the price you get A LOT. This gun cannot compete with PCP but if you want to be able to shoot faster, shoot better pellets and kill ethically this gun is your best shot. In my opinion the next step up from this gun would be the air venturi avenger, but for the cost you can buy this gun 3 times for the price of one avenger and everything you need to get the gun working (not counting pellets) I would not say a young kid or irresponsible teen have this gun, I put this in as a no duh, but this gun is powerful. I should also add that the 14gr and 15gr made groups the size of a quarter at 20 yards, The 18gr was the size of my hand. The scope is not bad but if you have the money to buy a better one I would do so. The adjustable trigger to me has no value, I have shot guns for years without and find for myself to leave the trigger alone is best.
Pros
This gun is a very good step up from springers, I have used a .177 springer for years but here in the last year the size of game I have been wanting to take down (pigeons and squirrels) I wanted to get a bigger caliber. The gas piston is a massive step up and has all the power you will need to kill game out to 100 yards (max) The piston has next to no recoil and does not shake the gun at all. As for ammo I tested 3 different grain weights, 14gr, 15gr and 18gr. H&N Hammer, JSB Hades and JSB Diabolo Exact Jumbo Heavy (in wight order) The 14gr and 15gr flew really well but the 18gr would not group at all. So, I would say max use 16gr pellets out of this gun. The Hades have all the power you need, I am blowing though sheet metal like it is nothing. This gun was not my first pick, I really wanted the air venturi avenger but for the price and what I want to hunt the Whisper is good. As for sound, when you first shoot, it will sound loud but latter on not so much.
5.0
By Thomas
August 14, 2022
Verified Purchase
I got excellent accuracy with JSB Diabolo 15.89 grain pellets.
Pros
Excellent accuracy and very quiet. Overall an outstanding break barrel air rifle.
Cons
At this price point nothing. But a better scope is preferred.
5.0
By cosmoo07
February 22, 2022
Verified Purchase
Respect this rifle, it is a kicker and can cause serious damage. To me, the sound is about right, you know you have made a shot. I highly recommend this gun.
Pros
I'm no gun expert but this rifle really pops. I got the 22 and fully satisfied with the action. It is very accurate and feels like a real hunting rifle. The scope is fine for this gun. I can center the target from yards almost all the time. I suggest you buy an extra magazine which are a little tedious to load. Cocking the gun does take a little strength, a little kid would have a lot of trouble. I really love this gun, it is fun
Cons
The biggest change would be that a torx screw driver be in included rather than a crappy little l end wrench. Mounting the scope can be a little troubling until you learn the trick. My first encounter took over a half an hour. Use a torx screwdriver and it will definitely be a lot easier.
5.0
By skyler
August 3, 2021
Pros
Very accurate rifle at 40 yard half dollar sized group, standing supported. Very good for dove and rabbit. 14grains+\- pellets preform very well. Gamo red fire's (for hunting) and Norma pellets (for target practice) group almost Identical, also for a very cheap pellet option the Crossman premier 14.3 gr. good well but there can be some flyers do to inconsistent pellet shape.
Cons
It seemed to be very hard to zero, I think it was a combo of the barrel break-in period and misunderstanding the adjustment ratios.
4.0
By Shawn
March 17, 2021
This is a great pellet rifle for the Money! Personally, I don't think you can get a better one for under $200.00
Pros
Powerful, Easy to Use, can purchase additional cartridges and keep them loaded.
Cons
Not real consistently accurate, I feel that the barrel doesn't always go back and stay in the exact same place everytime after cocking. Personally I think it's a little loud.
5.0
By Anthony
USA
February 27, 2021
If you want to play sniper and take out some targets or small game this is your gun. I stated that the pellets that I use tumble at a distance and you just have to watch your shot. Be very careful with your backdrop not to hit anyone at a distance. When a pellet tumbles it can walk up through a target and go in in one direction and come out at a very different point. Be safe.
Pros
10 rounds are nice. This gun is fast. I did not pantograph it yet but you are pushing a good 1,300 to 1,500 fps depending on the pellet. I use the Gamo Lethal .177 Cal, 5.56 gr - 100 ct pellets and these bad boys move. At this speed they hold good, but they will tumble at a distance over 50 years. That is very good for a gun to do that. My dad was one of the top reloaders on this planet a while ago, but I lost him two summers ago due to cancer. He was 79-year-old and he was a Balck Opps. Snipper in Korea. He asked me about this gun and this type of round and it impressed him. This gun will kill!!! I like the first-gen of this air gun the best. I have six clips and the rounds I use can be a little fussy to load in them, but it is well worth the pain to use them. I like the scope that came with it, but having the weaver rail you can add a red dot or military type scope. By the way, yes I was in the Army, but I was only a Green Beret not Black Opps like my dad. Rock on...
Cons
Be careful, you need to use all 10 rounds before you put a new clip in or you can load 2 pellets by accident then you have trouble. I use Gamo Lethal .177 Cal, 5.56 gr - 100 ct and sometimes they are a pain to get loaded. You see these pellets are just a little longer with the aluminum jacket and the brass core, but man does they work well with this air gun. I think that Generation 2 of this air gun makes room for them, but I like this air rifle just fine.
Q&A
Question?
Login to ask someone who bought this product.
when loading the cartridge the pellets are not loading into the barrel so when I cock the rifle the pellets fallout. I did it slow so I can see it. what do I do
asked orlando from USA
Will the magazine on this accept hunting style pointed pellets? Such as the Predator Polymags, H&N Terminators, etc.
asked Joseph from USA
please explain con statement on gamo swarm whisper
asked Roger from USA
does this come with a single shot capability?
asked Seth from USA
No one pellet can loaded in the mag .
Stanley from USA
How hard is it to cock?
asked Wyman from USA
About 30 lbs
Bryce from USA