It's finally here. Hatsan's Blitz, a fully automatic pre-charged pneumatic air rifle. Yes, you read that correctly: full auto gas operated airgun. What would you do with a full auto PCP air rifle? What wouldn't you do! With 53 FPE at 730 FPS with the .30 caliber, the Blitz is powerful and accurate enough to take down medium sized game like a coyote if you're hunting, or just absolutely destroy a line of cans in under a second. Just pull back the side bolt, load the magazine, push the bolt down, flip the selector to Auto, and you're ready to rock.
If full auto isn't enough for you, the Blitz has more in store as well. Use the included carry handle with adjustable open sights or remove it to add a scope on the combo 11mm dovetail and 22mm Weaver optics rail. If you need more, the Blitz has 3 Picatinny accessory rails on the sides and bottom of the bottle for attaching things like a bipod, laser, or flashlight. Flip the Hatsan Blitz over and you'll see the color coded manometer (yellow-green-red) on the bottom ahead of the trigger guard that lets you know if it's under-pressure, optimal, or overfilled. You'll also find fitted sling mounts, in case you did remove that carry handle on top to add a scope. If you want the power of a PCP air rifle and the excitement of full automatic, there's literally only one airgun for you: the Hatsan Blitz.
Hatsan Blitz Features:
Pre-charged pneumatic
Full/semi-automatic selector switch
580cc carbon fiber bottle on forearm
1,000 rounds per minute cyclic rate
Max Velocity w/ Lead Pellets: 1050 FPS (.22), 970 FPS (.25), 730 FPS (.30)
Max Energy: 36 FPE (.22), 41 FPE (.25), 53 FPE (.30)
Shots at optimal velocity*: 130 (.22), 110 (.25), 100 (.30)
Magazine Capacity: 21 rds. (.22), 19 rds. (.25), 16 rds. (.30)
Gas-operating cycling mechanism requires no batteries
QuietEnergy fully-shrouded barrel
Detachable SwingLoad Magazine (Includes 2)
Magazine winding tool stored in stock
Elevation Adjustable Comb
Adjustable rubber butt pad
Combo 11mm dovetail and 22mm Weaver* optics rail
Carry handle with integral adjustable open sights
3 Picatinny forearm accessory rails
250 BAR / 3,625 PSI fill pressure
Integral manometer
All-weather synthetic stock with textured rubber pistol grip
Includes fill probe with 1/8"; BSPP Male threading
*Weaver mounts are not standard and certain weaver/picatinny mounts may not fit the rail correctly.
Specs
Manufacturer

Hatsan

Caliber

.22

Velocity

1050 fps

Condition

New

Ammo Type

Pellets

Action

Semiautomatic/Full-auto

Barrel Style

Rifled

Fire Mode

Repeater

Gun Weight

8.80

Overall Length

45.20

Barrel Length

23.00

Loudness

3-Medium

Magazine Capacity

21

Mechanism

Pre-charged pneumatic

Rail

Weaver & 11mm dovetails

Safety

Manual

Front Sights

Adjustable for elevation

Rear Sights

Adjustable for windage & elevation

Shots per Fill

130

Trigger Adjustability

0

Trigger Action

0

Use

Small game hunting/target practice

Warranty

1-year limited warranty
Reviews
Average Customer Review
3.9
4.0
16 Reviews
5.0
By Mark
June 9, 2021
Verified Purchase
I had just gotten this a few weeks ago and it had shipped completely empty. Just wanted to put this out there, that you will have to fill it the first time with a large blast of air to get the valve to seat. I had also gotten a hatsan air pump, but when I tried to pump it, it just leaked the air out. Then I had gotten a bottle set-up and filled that with my pump, then used the bottle to fill the air rifle. The initial blast of air was enough to seal the valve, and I was able to pump up the air rifle the rest of the way. So don't think it's defective if it's not holding air when you first get it. I'll take 1/2 point off the review just because no one tells you that if the air cylinder is on 0%, you have to initially blast it to seat the valve. I had to look up the info myself. I'm sure some have been returned thinking they are defective.
Pros
Haven't shot it much yet, but the little bit I have, it's been awesome. And yes, the full-auto is amazing!
Cons
If it's delivered empty, you'll have to fill it with a high-pressured blast of initial air to seat the valve.
4.0
By Eugene
USA
April 8, 2021
When gun arrives, unlike some higher end guns, it has no air. What that means is that you cannot fill it by a hand pump or anything that is very slow to fill. If fact it will appear that gun is leaking air. This is indeed the case because valve needs internal tank pressure to stay closed. So first fill needs to be done with a tank or a compressor, not a hand pump – don't freak out about it, it is normal and true for other brands as well.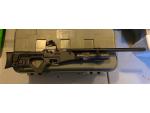 Pros
This is one of the only two fully automatic PCP rifles I am aware of. It is pretty accurate for the money, though no records will be set with this gun. Shooting fully automatic is a lot of fun. Pretty good capacity on a single charge. Comes with three magazine.
Cons
Feels a bit plasticky. Trigger action is probably one of the worst I can think of. Charging handle is not very smooth and requires a lot of force. Fully automatic is prone to failure to feed I gun is not cleaned and lubed.
4.0
By Brian
USA
April 3, 2021
Verified Purchase
If you enjoy a gun with the fun of full auto , I dont know who wouldn't, and that shoots consistantly accurate then but this gun. I dont see how you could go wrong. 1500 rounds flawlessly.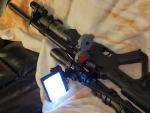 Pros
First off let me say that I started of with the airforce texan lss .357 and thought this full auto hatsan blitz will be the perfect second pcp airgun for me. So like most people at this time I had to wait almost 2 months to get it. As I waited I tried to get ammo in .30 asthats what caliber I've got only to find out there was a wait for that as well. Anyways when I received my 3000 pellets I began shooting. I will tell you this, this is not like shooting those full auto bb guns that are replicas like the dpms and all the rest. This is an airgun that is quite effective in the 100 yard range. The most consistent gun I have probably ever shoot. At 65 yards I shoot 16 rounds that all touched in the target no bigger then a silver dollar. At 25 yards I held it as steady as possible on rock and roll mode and blew a hole thru an old metal door all 16 rounds touching. I personally love this gun and am glad I bought it.
Cons
First off I cant stand the fill port. I prefer the quick disconnect. Secondly the magazine size. It shoots so fast that you can barely lift off the trigger in time to not empty the magazine. Which is also very fun.
1.0
By Jerome
USA
March 17, 2021
Verified Purchase
I was waiting for it for months and had the pleasure to play 2 magazines before the trigger mechanism stopped grabbing the hammer so impossible to cock it! Found few screws not tightened, one of the 2 bolts that hold the bottle was down in the housing!!! The cocking bolt has to be pushed by hand to push the pellet to the end and so after 20 shots, it became a manual rifle. Ouawwwoo. For a $950 riffle it hurts!!
Pros
Very nice
Cons
20 shots, 10 problems. Not finisbed, certainly not tested by the the factory
5.0
By Bob
December 1, 2020
Verified Purchase
Pros
This is a well built gun. Everyone I have let shoot this wanted one. I believe I've sold 5 so far. I can shoot dime size groups at 25 yards all day. It does run through the pellets. The magazines work well. I haven't had one jam yet.
Cons
Nothing
5.0
By MICHAEL
USA
November 20, 2020
Verified Purchase
I'd buy the 25 cal. In fact I will in February. Use all types of pellets if you like plinking. A whole new world.
Pros
Of course the Full Automatic ability. A dream come true, what you boy didn't want one.. . I have had 0 issues with the rifle. This is my 3rd pcp. It's amazing the accuracy and hard hitting, now more like devastating. My other two pcp are 22. Stormrider and a gun with a name HUNTSMAN. I don't know much about it. Made in Korea. Airgun shops could not help me with who made it. It loud and has a 6 gun type pellet for repeating shots. Get this fires between 2000 and 2300. Tested it with 4 different cronies. Back to my BLITZ. easy to fill , took 14 min from 0 to max. Now a top off 5 min. It's well made with fine material. A little heavy but still great when firing it in full auto. So far 600 rounds in full auto and 340 in semi mode. Don't forget to clean the Barrel first off. Every pcp gunner NEEDS one. By the way not a single jam . All THREE mags flawless. 7 different BRANDS and styles, even mix pellets.
Cons
Only one. A 30 or 50 round mag. Hopefully a after market will show up.
5.0
By Twin cities, MN
October 31, 2020
Verified Purchase
Buy it, you will love the rifle. I'm at ~1500 shots with flawless performance.
Pros
I own the .30 and it is an absolute blast. My daughters love it. Lots of power in the .30, like a 22LR. The full auto is ~1000rds/min and plenty controllable. And on semi it is a tack driver. 50yds same hole, 100yds touching. Awesome fun. Also a great help with ground squirrels in the garden.
Cons
Larger mag, 16rds on full auto empties fast.
3.0
By Kurt
USA
October 28, 2020
Verified Purchase
It would be very nice if magazines were available in larger sizes. You will need to buy a 4500PSI tank to get it filled to full capacity. Do not try to buy tanks from amazon, the sizes will not fit valves and some dive shops wont fill them. Ended up with Air Venturi Wingman 98 Carbon Fiber Tank, 98 Cu Ft AGD-A5905 from airgun depot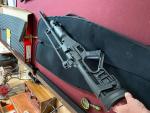 Pros
FUN-- when it works. Incredibly fast when on full Auto
Cons
Have had to send it to Hatsan twice already for repairs (in 3 months) Not sure if it will last.
1.0
By John
USA
October 17, 2020
Its not worth the money. Mine sucks!
Pros
It looks mean
Cons
It shoots lame
5.0
By Christopher
USA
September 27, 2020
Verified Purchase
I love how this model feels in my hands and the balance feels about right ( was worried due to the placement of the tank), love that it has built in and fully adjustable iron sights. I'm hoping I can add an additional suppressor/moderator to lower its noise levels (personal preference). I have to be careful of the full auto option or i will burn ammo in a hurry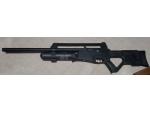 Pros
pro: very light and easy to maneuver, easy loading,
Cons
con: it requires a special tip to fill it up and i am having a hard time finding a replacement for just in case this one goes south on me
Q&A
Question?
Login to ask someone who bought this product.
can I convert the 30 cal to a Harpoon Arrow Launcher ?,I will like to use both, also is any way that we can get an extra bottle with a quick disconnect ? thanks :)
asked LUIS from USA
air leak can not pump up
asked tracey from USA
You need to hand pump like crazy the 1st 50 - 75 pumps, it should seal the valve. I did it both ways. Hand pump and high pressure compressor To Fill was about 6 - 700 pump strokes. No pun intended!
Martin J. from USA
If the gun was delivered completely empty, you have to do an initial blast of air from a high pressure tank. You wont be able to fill it with a hand pump. The blast of air will seat the valve in the tank.
Mark from USA
Hi, I need to know what to do if there is an air leak. When I fill the tank, it doesn't keep the air inside the cylinder. Do I have to tighten a screw or something?
asked Cristian from USA
You need to hand pump like crazy the 1st 50 - 75 pumps, it should seal the valve. I did it both ways. Hand pump and high pressure compressor
Martin J. from USA
It needs an initial blast from a high pressure tank to seat the valve. Then you can finish filling it.
Mark from USA
Can you fill the blitz with a hand pump from the factory uncharged condition. Or will it leak too much and you will never be able to even seat the valves from a completely empty air tank?
asked Richard from USA
You need to hand pump like crazy the 1st 50 - 75 pumps, it should seal the valve. I did it both ways. Hand pump and high pressure compressor To Fill was about 6 - 700 pump strokes. No pun intended!
Martin J. from USA
The initial blast of air from a pressurized tank will seal the valve. A hand pump wont seat the valve.
Mark from USA
Technically you can, but you going to have to spend a lot of time and desire to exercise. You are probably looking at 1,500+ pumps.
Eugene from USA
Does anyone know if the barrel is 216 217 or 218 cal for the .22 ???
asked Brian from USA
How many magazines are included with the .22?
asked David from USA
Mine came with 3 magazines.
Anthony from USA
Can you add a Moderator (Suppressor/Silencer) to the 30cal Hasten Blitz?
asked Da'love from USA
Yes you can with an adapter that fits the shroud. However doing so will void your warranty.
Richard from USA
Does it come in a hard shell case?
asked Kevin from USA
No hard case... Just a box.
Anthony from USA
how long does it take to fill air rifle
asked Gerald from USA
Depends on what you use. 100 psi to 250 with my Benjamin Recharge air compressor only takes about 2.5 min.
Anthony from USA
1500 to 3000 psi 15 min
Carlton from USA
whats the best ammo for this rifle
asked Reynaldo from USA
Due to the full auto capability I figured I would start of with Crosman Premier .22. generally cheap to buy in 500 rd tins. Well I was pleasantly surprised by the accuracy considering how light those pellets are 14.3 gr. I own Hatsan Bullmaster, FlashPup, Flash, Vectis and they all typically need an 18gr pellet to get decent accuracy but not the car with the Blitz. I can shoot H&N Crow Magnum, JSB domes at 18gr but I'm quite happy with Crosman Premier.
Anthony from USA
Several polymags, jsb heavys 15 gr.
Carlton from USA
Which hand pump should be bought and fitting for blitze
asked Mike from USA
Don't even bother with a hand pump. You will need an air compressor to keep up with the amount of shooting you will do. I recommend Benjamin Recharge air compressor. But if you must pump make sure it's at least a two stage pump but your back won't love you.
Anthony from USA
Will the H & N Hornet .25 ammo fit and work in the magazines for this gun ?
asked Greg from USA
What is a good scope to go with this gun?
asked David from USA
I've had great success with UTG scopes but they are on the budget end of the spectrum. The recoil isn't much so any decent scope should work just fine.
Anthony from USA
If I get a hand pump for this what kind of adapter will I need?
asked Tim from USA
PY-A-3550, Fill probe adapter.
Mark from USA
can I use a hand pump ? I bought a 4500 psi 4 stage hand pump. Gun is back ordered
asked William from USA
Can you actually use a hand pump to pump it from the factory uncharged condition or will a hand pump not be enough to close the valves from completely empty?
Richard from USA
Yes. You can hand pump the Blitz.
Mark from USA
What is the muzzle velocity difference between the first shot and shot #130 assuming starting pressure is 250 Bar?
asked paul from USA
The Blitz has not been tested . It is brand new.
Mark from USA
How do I get my air gun to fill Have tried several different ports.
asked Richard from USA
I used the fill port on the side of the stock
William from USA
The fill port will be underneath the stock, in front of the trigger guard. the fill port (provided with the gun) fits in the fill port.
Mark from USA
Can this gun fill with the nomad ll air pump
asked chai from USA
Are there any restrictions regarding fully autos in California?
asked Pete from USA
Not for air rifles. And i know theres a guy that has a youtibe channel that shoots in california all the time with it.
Richard from USA
Is not an firearms
chai from USA
its not a firearm so no restrictions
Ben from USA
We do not believe so. You would have to contact the state of California for that information.
Mark from USA
Will there be a suppressor for this airgun? It says the loudness is 3-medium.
asked Kenneth from USA
Mine is fairly quiet (30 cal). I can shoot it in my backyard, and frequently do. No complaints.
Steven from USA
Once the gun is released ,there will be after market adapters and moderators available.
Mark from USA
is this gun shipped in a box or a hard shell casee
asked Anthony from USA
Mine was shipped in a box with egg crate padding. The box can be used as a case if necessary.
Steven from USA
Its sent in a box
Richard from USA
We have not seen this gun
Pete from USA
what ammo is optimal for the .30 cal,,,,are there magazines available ?
asked LAWRENCE from USA
JSB Heavy is my preferred ammo in the Blitz. Rifle comes with 3 magazines.
Steven from USA
The features list says includes 2 swing-load detachable mags and a winding tool that is stored in the stock (commented 06/16/2020)
John from USA
Yes there are magazines available to buy
Richard from USA
We have not seen the gun. There is no info on the best pellets.
Mark from USA