The BT65 series is the PCP in Hatsan?s lineup that offers more velocity and muzzle energy than that AT44 series. All BT65?s feature a 23? long barrel and an air valve that results in muzzle velocities as high as 1250 fps (and that?s using lead pellets mind you).
The Hatsan BT65 Elite QE is the elite version of the BT65 featuring a ambidextrous thumbhole synthetic stock with adjustable elevation comb, x3 Picatinny accessory rails and two clever magazine storage slots built into the stock in front of the trigger guard. The QE stands for Hatsans Quiet Energy integrated sound moderator which is simply one of the best sound suppression technology currently available. Add features like the Quattro adjustable match trigger, Anti-Knock System to prevent air wastage if the rifle is knocked, and Hatsan Anti-double pellet feed mechanism and you get a lot of features and quality for your money. The most important aspect for any air rifle is accuracy, and time and time again we find Hatsan?s German engineered barrels to be incredibly accurate. The Hatsan BT65 Elite QE Air Rifle is a fantastic gun perfect of hunting as well as long range target shooting.
Hatsan BT65 Elite QE (Quiet Energy) Air Rifle Features
Ambidextrous Thumbhole Stock
Repeater (10-rd mag in .177 & .22, 9-rd mag in .25)
Bolt-action
Extremely powerful
Anti-double-feed mechanism prevents more than one pellet from loading when gun has been fully cocked
Fill reservoir up to 200 bar (2,900 psi)
Vertically adjustable comb
Integrated rail accepts Weaver* or 11mm mounts (no open sights)
2-stage adjustable Quattro trigger
Gold-plated trigger blade
Rubber recoil pad adjusts vertically and angularly
Removable air reservoir has built-in manometer (air pressure gauge)
255cc air reservoir volume
Anti-knock system prevents gas waste if rifle is knocked or bounced
Fully shrouded barrel
Integral silencer reduces report by about 50% over non-shrouded
x3 Weaver/Picatinny accessory rail for a bipod, laser or flashlight
Integrated Magazine holder into Stock design
Up to 40 shots per fill (30-40 in .177 & .22, 18-27 in .25)
Up to 52 ft-lbs. of energy (30 in .177, 45 in .22, 52 in .25)
Ideal for hunting up to medium-size quarry
Includes various o-rings, reservoir bleed valve, 1/8" BSPP probe with male threads, 3 rotary clips, sling, sling swivel studs, sling swivels and owner's manual
*Weaver mounts are not standard. We do not recommend using them.
Specs
Manufacturer

Hatsan

Caliber

.22

Velocity

1180 fps

Condition

New

Ammo Type

Pellets

Action

Bolt-action

Barrel Style

Rifled

Fire Mode

Repeater

Gun Weight

9.75

Overall Length

48.80

Barrel Length

23.00

Loudness

4-Medium-High

Magazine Capacity

10

Mechanism

Pre-charged pneumatic

Rail

Weaver & 11mm dovetails

Safety

0

Front Sights

0

Rear Sights

0

Shots per Fill

40

Trigger Adjustability

Two-stage adjustable

Trigger Action

0

Use

Small game hunting/plinking

Warranty

1-year limited warranty
Reviews
Average Customer Review
4.9
5.0
18 Reviews
5.0
By Ross
USA
August 1, 2020
Verified Purchase
This is a hammer of a .25 cal. For not being a big bore I am extremely impressed with the knockdown power it has. Bough this gun from here and it came rather quick and came with everything described. Absolutely an amazing gun!!!
Pros
Powerful and accurate! I'm hitting full soup cans @ 100 yds with total devastation and penetration. Hitting the milk jug @ 100 yds with lighter grain .25 after 40 shots without filling! I normally shoot from 3k psi down to about 2.2k psi with the 3 rounds. I use an electric pump and it pumps it as fast as I can reload the three mags. Really quite too, I can shoot it in my backyard and not bother the neighborhood.
Cons
You will want to buy your own electric high pressure air pump because trying to pump this by hand would really suck...
5.0
By Jason
USA
March 16, 2019
it's heavy but not much heavier than my shotgun or couple of my rifles shoots nice and good for taking small pests that i have coming around the house it's real quiet shoots light or heavy pellets crony i was getting 950 fps with 47 fpe and i have not adjusted anything on it yet .
Pros
little more power than my hatson flash nice to have spare clips right on the rifle
Cons
heavy and a little long
5.0
By David
USA
February 13, 2019
I have both the Hatsan BT65SB and the Elite QE. The BT65SB is modified, tuned, and maxed out. Shooting a 34grn pellet, sighted in at 40yrd; groups 9 shots fully covered by a dime. The Elite is well tune, but no modifications; also sighted in at 40yrds. Shooting a 25grn pellet, 9 shots in one rough hole. Like with every air rifle, once you find that magic pellet; stay with it. Both have unreal accuracy beyond a 100 yrds. Scopes used are first focus points, one is 8-32x50 and the other is 6-24x50.
5.0
By Ed L.
December 19, 2018
Most powerful .25 pellets rifle, come with 3 mags, 3 MAGS! They won't easily get jammmed, excellent accuracy, the loudness very depends on what pellet you are using. ***Ask Airgundepot for suggestions for the pellet*** I'm just a poor English Asian, but I have to write this comment to recommend this rifle One more thing for first-air-rifle buyer, this rifle doesn't allow you to use longer size pellet. Most of the repeater cannot load a long+heavy pellets cause the mag is too small, if you want to shoot longer and heavier pellets, you have to pick a single shot air rifle.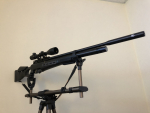 Pros
***Design*** This is a perfect design air rifle for me 1) 2 spots at bottom of the rifle to store your mags, they are easy to take out and reload, so far I have shoot over 200 pellets, they never stucked into the barrel 2) Adjustable tigger 3) Both 11mm and 20mm In ONE rail 4) Silenced, in my opinion, pellets make different. 5) Adjustable back rear and face aim rest 6) very easy to fill with and they put the PSI value bar is at the end of the rifle. ***Performance*** 1) Excellent accuracy at 75 yard less than .50 inch group 2) 1080 FPS is pretty awesome with this price 3) Very easy to use, very stable, really good for small game hunting at 50-100 yard ***Customer service, shipping and price*** 1) Professional customer service 2) They ship really fast 3) THIS COMPANY IS THE BEST PRICE OF MARKET, TRUST ME
Cons
1) Cannot load long pellets (Just for my personal. I think most of the repeater cannot load long pellets except single shot rifle) 2) YOU HAVE TO BUY AN EXTRA MALE QUICK DISCONNECT, it only come with non-quick-disconnect one, so I bought an Air Venturi Male Quick-Disconnect, 1/8 BSPP Female Threads, Steel, Rated to 5000 PSI $15.00, spend $15 it will make your rifle completed!
After receiving the Hatsan BT65SB Elite QE in 25 cal, I read through the manual and watched online videos about setting up the rifle and cleaning it. I then mounted a Vortex 6x24x50 and performed a sight-in at 25 yds and 50 yds using the JSB Match at 25.39 grs. Shot just under a dime size grp at 25 and under an inch at 50 yds. Great trigger on this one too. Killed 7 sage rats first time out hunting. This rifle hits them so hard it knocks them back dead right there ! VERY happy customer !!!
4.0
By Sidney
USA
January 2, 2018
Like the rest of the Hatsan line, this BT65 Elite delivers the FPS stated in the specifications. I ran some JSB 25.4 pellets over a chrono right out of the box and average FPS for 5 shots was 963 FPS with air pressure reading at 150 bar. May need to tune it back a bit for best accuracy. QE shroud makes it pretty quiet but still might be a little too loud for backyard use. Quattro trigger is excellent as usual. Bolt action is a little stiff and feels dry being a new gun. Haven't shot groups with it yet due to bad weather but it should be just as accurate as my other Hatsans.
Pros
Powerful, great trigger, solid build.
Cons
Action is a bit stiff and a little rough when new.
4.0
By Keith
USA
December 20, 2017
overall accurate consistantly fill plug has rubber rings have had to replace one after two refills
5.0
By Matthew
USA
November 24, 2017
A powerful accurate tank of a rifle for those like me who still like to shoulder a long gun. I bought this in .25 and am stunned every time I pull the trigger. Speaking of wich is a little o th heavy side but matches well wit this heavy gun. I'm getting close to 30 full power shots with a fill. And that's plenty when each shot counts.
Pros
POWER, ACCURACY, BUILD.
Cons
None if you don't mind weight. 11lbs with scope.
5.0
By Gerry
USA
September 12, 2017
Had my BT65 elite for a year and a half. Recently added a regulator which has made an already great gun SUPERB! I have 5 properties in San Diego county where I do ground squirrel eradication. I love this gun!!! It's been so reliable, sturdy and accurate beyond description. I switch between JSB MKII Heavies, H&N Barracudas and H&N hunter extreme pellets. My gun loves them all. It hits with so much power, accuracy and authority the squeaks don't stand a chance. Yeah, with my bipod and big scope it is heavy but most of the time I'm sitting and waiting for them to show up anyway. It's just as accurate as guns that are double the price and more. Just can't say enough about this rifle. I depend on it and it never lets me down whether my target is 25 yards or 125 yards away! Really a great gun and for a great price.
Pros
Durability Accuracy Quietness Comfortable stock, HARD HITTING!!!!
Cons
It is a bit heavy especially when adding bipod, camera, flashlight, etc. Magazine does not lock after 9 shots. I've missed a couple squirrels by firing on empty chamber.
5.0
By Filipe
June 28, 2017
Q&A
Question?
Login to ask someone who bought this product.
Is the safety manual or automatic
asked Kelly from Marshall Islands
are you shipping to canada?
asked Tran from Canada
We can not ship any airgun that shoots faster than 500 fps to Canada. You may be able to purchase the high power versions with your PAL thru Airgun Source in Canada.
Mark from USA
if this rifle doesn"t have open sights , why does it show them in the photos.
asked Randall from USA
There are no open sights. The magazine is sticking above the receiver. There is no front sight.
Mark from USA
does it come with a scope an bipod? how quiet is it an how does it compare to hatsan at44s-10 long qe /
asked bradley
cuando van a tener este producto nuevamente . para que fecha esta listo Hatsan BT65SB Elite cal 22 y 25
asked Erlys from USA
What hand pumps are available and do they require adapters
asked robert from USA
Do you ship to trinidad & tobago
asked sheldon
Please contact our International Shipping Department at [email protected] They can answer your question a lot better then we can. thanks Sincerely, The Airgun Depot Customer Care Team
Scott from USA
How is the air cylinder recharged? How loud is the rifle?
asked Earl from USA