Just released at this years SHOT Show, Sig Sauer introduces their newest replica CO2 pistol, which are based their firearm lineups. The slide is made from metal and is mounted on a polymer frame, with a 30 round capacity magazine. Being the first pistol of its kind, it features a belt-fed 30 round magazine, with a Double Action trigger, and it is capable of firing .177 pellets, as fast as you can pull the trigger! Featuring a functional slide that blows back with every shot, and fueled by a 12 gram CO2 cartridge, you'll be looking at around 380 fps. Based on their P320 Nitron Full-Size pistol, SIG utilized some of the same specs and build sheets for this air gun replica, resulting in their most accurate replica to date. Featuring a Weaver/Picatinny accessory rail, under the barrel, the customization options are almost endless!!!
SIG Sauer P320 Pellet Pistol
Uses a 12-gram CO2 cartridge
Semi-auto
30rd rotary mag
Manual safety
Fixed white dot sights
Blowback
Metal slide
Polymer frame
Weaver/Picatinny accessory rail
Same styling and trigger pull as P320 firearm
Specs
Manufacturer

SIG Sauer

Caliber

.177

Velocity

380 fps

Condition

New

Ammo Type

Pellets

Action

Semiautomatic

Barrel Style

Rifled

Fire Mode

Repeater

Gun Weight

1.81

Overall Length

8.00

Loudness

2-Low-Medium

Magazine Capacity

0

Mechanism

CO2

Rail

No

Safety

Manual

Front Sights

Blade

Rear Sights

Fixed

Shots per Fill

0

Trigger Adjustability

0

Trigger Action

0

Use

Plinking/Fun

Warranty

1-year limited warranty
Reviews
Average Customer Review
4.4
4.5
14 Reviews
3.0
By Dekota
July 15, 2021
If you want a nice p320 replica then it's great but if you're looking for functionality and accuracy then the umarex SA10 is a better option for this price range. A nice tip to know for both of these guns is for them to feed properly you most completely return the trigger to the original position between each shot. The trigger has two jobs to do (cycle the magazine and fire the shot) and if you only come half way off the trigger it doesn't cycle the mag so you just get a blank fire.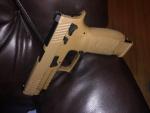 Pros
Love the belt fed clip and the quick change c02 lever.
Cons
C02 WILL leak eventually due to seals becoming worn and the loading lever isn't adjustable. Nice that you can disassemble but this gun could've been built so much better (loosely fitted parts).. When they make a updated version it will probably be more worth the money.
5.0
By Joshua
USA
August 25, 2019
I have found the best CO2 powerlet for this gun is Sig Sauer CO2. No leaks, and you get more shots, and the FPS stays higher longer.
I had no issues with feeding or magazine at all. I tested a lot of pellets and the most accurate for me were the Beeman 7.7gr coated wadcutters. But velocity was low. The RWS Basic 7.0gr wadcutters accuracy was not as good for the minor velocity increase. Lead Free pellets are the best for this gun because of their lower weight. I tested a lot of lead free pellets and the best compromise for speed and accuracy was the Lead Free H&N Prometheus 4.5gr wadcutters. These were a little more accurate than the SIG Lead Free 5.5gr wadcutters for me. Using Lead Free pellets does add to the cost of shooting but you get the best experience using Lead Free pellets. I got 2 magazines or 60 shots per CO2 cartridge so I thought that was a good total considering that this is a blow back gun.
Pros
Look and feel. Gun feels solid. Blow back action is more than I was expecting. A lot of fun to shoot. Pretty accurate too at 20 feet.
Cons
I would like more velocity (power). I don't have a chronograph but lead pellets lob in at 20 feet and don't penetrate the cardboard back stop well. I did all my testing indoors at 60 degrees so if was warmer that would help some.
5.0
By Jesse
USA
December 19, 2018
The gun is great! I got the black one. I wasn't impressed with the generic holster, it keeps pushing the magazine release so I don't use it. the gun is a great shooter though, it looks and feels like the real gun.
4.0
By Levi K.
September 5, 2018
This thing absolutely never jams. Ever. I've probably sent over a thousand rounds through it of all different kinds and never a single jam. I wish it could shoot a little faster, maybe, but let's face it...this is a fun gun, not a hunting pistol. I think it's great for practicing firearm techniques or just having fun plinking in the back yard. You're probably not going to actually be able to kill anything with it, so don't buy it for that reason. It's very fun! My brother walked up to it one day and said it could have fooled him into thinking it was a real Sig sitting there. (to be fair, my brother is not very familiar with firearms, so take that into consideration.) I find this to be a quality product and enjoy shooting 30 rounds through it in the back yard into cans and targets, etc.
Pros
NEVER JAMS. Looks really good, some people have thought it was real at first glance. 30 rounds always surprises me that I can keep shooting.
Cons
FPS is only around 300-400
4.0
By Ben H.
July 17, 2018
Very nice air pistol. Looks, feel and weight of real pistol. Like that it shoots both BB and pellets. Have to be careful when loading mag back into the pistol with BB or some will fall out. Can shoot 45 - 60 rounds before you see a fall off in CO2 pressure. Overall very nice fun. Nice way to shoot when you can�t get to the range
5.0
By Big A.
April 6, 2018
This P320 pistol shoots pellets and BBs it looks feels and shoots just like a pistol has the feel of a 22 a slide moves and all it is so realistic it is unbelievable I totally recommend this gun especially when you can shoot 30 rounds of a mixture of BBS and pellets
Pros
Saves on bullets saves on having go to the gun range all the time fun to shoot
Cons
The one major con is that is so real looking when you see it and shoot it that you should be careful when you are out and about and if you carry it
5.0
By Kosior
USA
April 5, 2018
This is a good one. The price is very good; even for extra magazines.. Wow. I just noticed that the price is even better now, than when I bought mine. This is a really great pellet semi-auto.. Airgun Depot is the best.. No complaints at all. If you are new to them, take a look at everything that they offer.. They are impressive. The care that they take with packing up everything was to the highest standard as well.. The customer service is above and beyond.. They're great..
5.0
By Butch S.
April 2, 2018
I purchased the P320 air pistol from Airgun Depot in December 2017 and after nearly four months of use, I am very pleased with the quality and the precision of this pistol. It is very, very accurate. Yea, I've read the negative reviews here at Airgun Depot and at other web sites regarding this pistol, but I believe that I can pinpoint the problem that people are having with jamming. The problem is that this air pistol is too well made and too precision for many brands of pellets and BB's to function well. I, too, had trouble with various brands of pellets such as Gamo, Crosman, etc., but the pistol shot first time, every time whenever I used a high-quality pellet such as Sig Sauer's own brand of pellets. Yea, Sig Sauer pellets are expensive, but they are high-precision pellets and like anything else, you get what you pay for. If you put a Sig Sauer pellet alongside a cheaper pellet, you can actually see the difference. Also, if you measure the diameter of a large sample of Sig Sauer pellets, you will find that they are all within .001" of each other. That's impressive. The cheap pellets, on the other hand, are all over the place. Now, I'm not knocking Gamo, Crosman and the other guys, and I'm sure that they do make some quality pellets in their product line - I just haven't found them yet. As far as BB's are concerned, stay away from Crosman "Copperhead" BB's. They are made a few thousands undersized (it doesn't take much) and they fall out of the P320 cartridge, jam the pistol, etc. Daisy "Precision Max" BB's (silver color), on the other hand, never jam the P320. I have no trouble at all with this Daisy BB. In summary, don't bad-mouth the air pistol or the air rifle if you're having problems with jamming, be more selective with the pellets and BB's that you purchase. Start with the brand of pellets and BB's that are recommended by the manufacturer, and go from there. Good luck!
Pros
Very accurate, well balanced. I have compared the Sig Sauer P320 air pistol with the Sig Sauer P320 9mm pistol - the real thing. The P320 air pistol is the same weight and feels just like the real thing in your hands. With your eyes closed, you wouldn't know the difference. Very impressive.
Cons
Does not fire cheap pellets and cheap BB's. Overall, I would not call this a negative because when you use high-quality pellets and BB's, you get superior results.
4.0
By Marissa
USA
July 13, 2017
I really like this pistol a lot. I purchased it because I was intrigued by the 30-round belt magazine as well as its capability of firing both .177 pellets and BBs. The gun feels solid, the grip is comfortable and the weight is nice without being heavy. I like the fact that I can load more pellets into this pistol than any other airgun I own except for my Sig MCX and MPX, or my Air Ordnance SMG 22. The sights are well-placed and offer a clear sight picture (even in darker conditions after I put a little bit of acrylic glow-in-the-dark paint on the three white dots) and I love the picatinny rail, I use an Osprey flashlight/green laser combo. The pistol is quite accurate out to 30 yards with JSB Diabolo (.75" group). I haven't tested it further yet. It also seems to like Sig Sauer PBA pellets a lot. It is also rather efficient with CO2, getting somewhere from 60-80 shots from a 12 gram charge. However, there is definite room for improvement. The belt-fed magazine is a novelty, but it has a tendency to jam somewhat frequently, and almost without fail when firing multiple shots in rapid succession. So far I've been able to un-jam it without causing any damage, but it feels like the magazine may break sometimes when trying to remove a jammed pellet. I recommend sticking with a pellet that is only about 75% of the length of the belt's holes or shorter to reduce jams. Additionally you must be aware of the two-stage trigger pull which is rather long and heavy compared to a powder burning pistol. The first stage advances the belt and the second stage fires the pellet. It seems like most of my jams happen if I don't provide a moment between firing and attempting to advance the belt. Also, it would be lovely if the pistol had a locking slide, and it would help to have an opening in the slide above the action (where a powder burning pistol elects spent cartridges) to make it easier to remove jammed pellets. Also, a bit of advice on loading the magazine; the belt can sort of come halfway out of the clip on the bottom side. This can cause the links to become spaced and make it difficult for the belt to advance. Simply press down on the belt when it is placed in the track and press down on the link in the top space of the magazine which sits in the action and it will make it easier to advance it, as it doesn't quite fit through the top part where the gun's mechanism advances it when the links aren't flush with each other and the track.
Pros
Very nice feel, accurate, reasonably powerful as well as efficient for a 12g CO2, large magazine capacity, dual ammunition capability, reasonably priced, more or less reliable as long as shots are not fired too quickly
Cons
Jams happen more often than I'd like, particularly when firing quickly, no locking slide
Q&A
Question?
Login to ask someone who bought this product.
Does the slide lock back on the last shot.
asked Larry from USA
Any chance they will release a compact version
asked Colt
sig sauer p320 pellet pistol what is the best match for a laser dot for this gun and rail i need to dispatch squirrels.
asked speedhiker
Why does it keep jamming
asked Steven from USA
When will be able to buy extra clips
asked Steven from USA
Is there a PDF user manual?
asked John from USA
What is FPS shooting pellets?
asked Douglas from USA
Does the gun come with the 30 round belt feed mag?
asked MICHAEL from USA