The break barrel market is filled with amazing rifles and the industry has only been growing and improving. The days of single shots are nearly in the rear-view and every company is competing for the next breakthrough technology and design to give them a step up on their competition.
Today we are going to compare some of the most popular multi-shot break barrels on the market today in the Crosman MAG-Fire, Gamo Swarm, and Hatsan Speedfire. They all compete in the same design and price bracket, but each has something unique to offer to shooters.
Crosman MAG-Fire –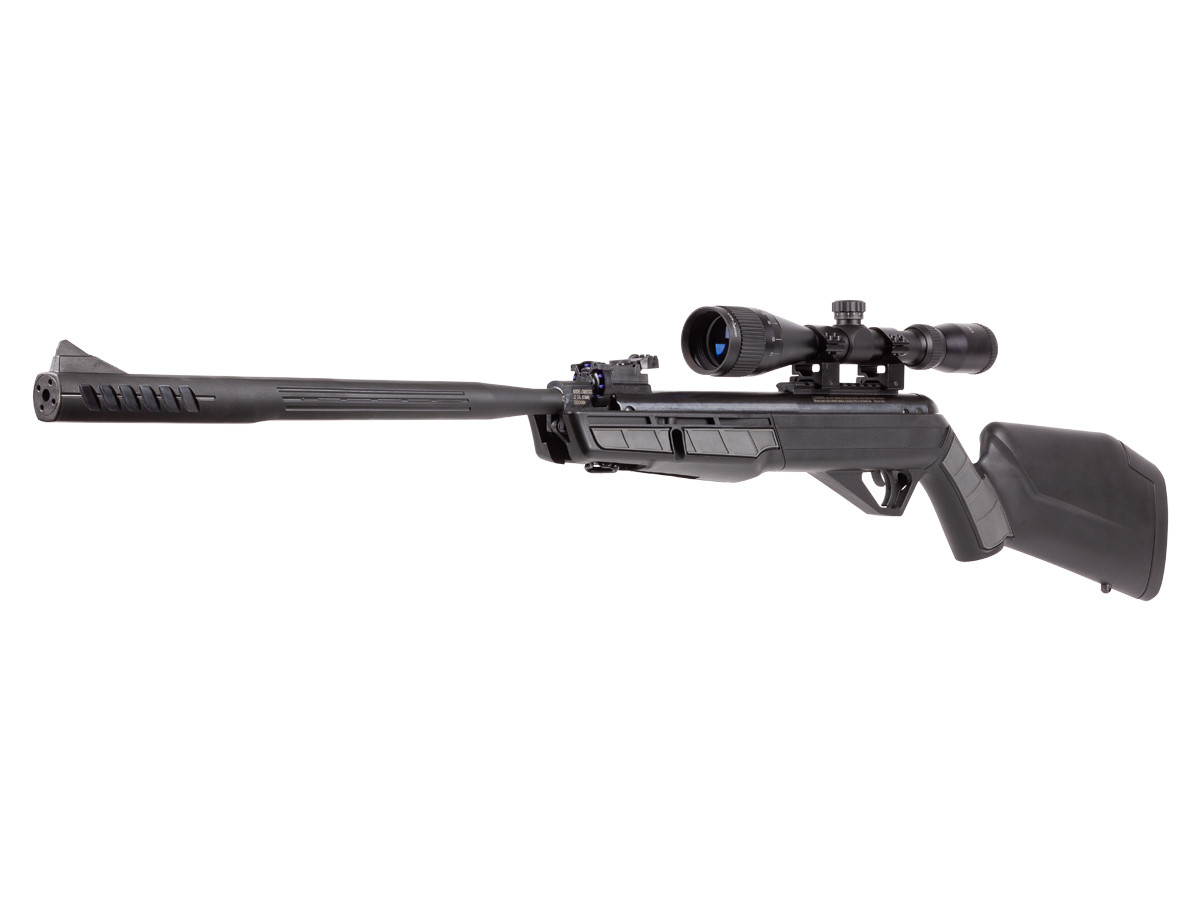 The MAG-Fire line is a multi-shot break barrel that comes with everything you could want in a rifle at an affordable price. Crosman offers three different versions the MAG-Fire Ultra, MAG-Fire Extreme, and the MAG-Fire Mission. Each of these features Quietfire sound suppression technology that is specific to Crosman. This makes sure that each shot has a low report to not spook your game. They also include Nitro piston technology, allowing the shooter to get a reliable rifle, no matter how cold it is out or how long you leave it cocked.
The MAG-Fire has the shooter in mind when it comes to features. The rifle has two options for magazines, a multi-shot 12 round which houses .177, this is more than the Swarm, or you can grab the 10 round standard magazine in either .177 or .22. It also includes soft-touch inserts on the grip, and a full rubber buttpad to add comfort. These allow the shooter to get a stable grip on the rifle in any situation.
Every rifle in the MAG-Fire line includes a full two-stage adjustable trigger that gives every shooter the accuracy they are looking for on every shot. A Centerpoint scope is included with every rifle, but you can remove it and use the standard fixed front blade and adjustable rear sight or add your preferred scope to the standard Picatinny and weaver rail.
Gamo Swarm –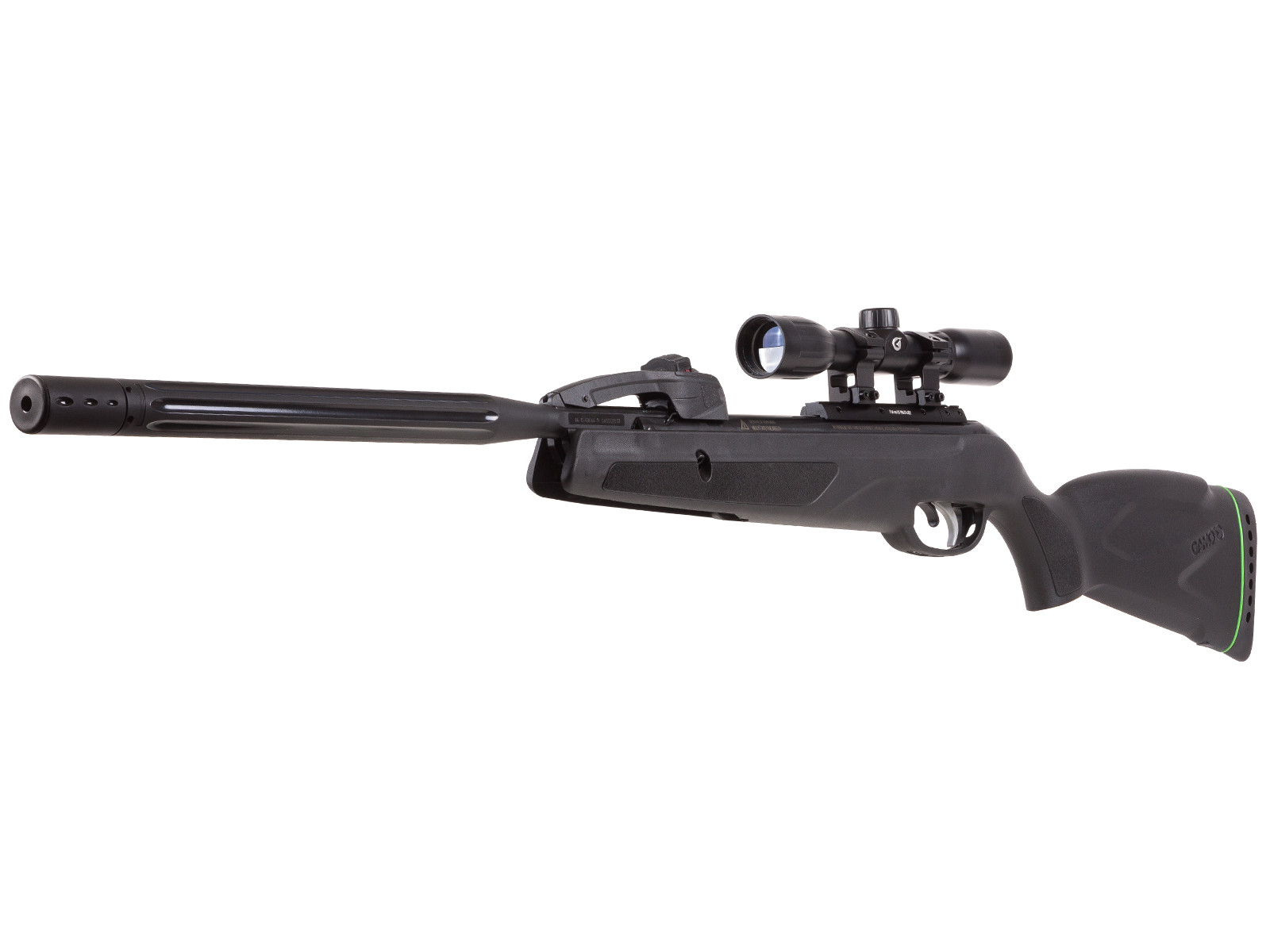 The Gamo Swarm line of rifles gives you an awesome plinking and pest control rifle without charging you an arm and leg. Offering four different versions, the Whisper, Fusion, Magnum, and Maxxim. Each version comes in .177 and .22 so you can be sure there is a Swarm model to fit every need a shooter might need.
Including the Gamo patented Whisper technology on every Swarm, this makes the Swarm easily the quietest break barrels on this list. The rifles feature a 10x quick-shot magazine that attaches to the stock and lays flat against the body of the rifle, which is a unique feature to the Swarm Gen 2 line of rifles. Add in their revolutionary new reloading system, it gives you the fastest loading rifle on this list. Each Swarm is powered by an IGT inert gas piston. This gives the rifles improved cold-weather performance, smoother cocking and shooting mechanism, and less vibration. These features improve the rifle's life and give you the ability to leave it cocked for prolonged periods of time.
The rifle also includes a two-stage CAT trigger design that allows the shooter to adjust both stages for independent travel to get the break that is perfect for them. Combined with the all-weather nylon stock, textured rubber forearm, and the patented SWA (Shock Wave Absorber) recoil pad, you will never have an issue holding or aiming the Gamo Swarm.
Each 10X Gen2 Swarm comes with a full 3-9×40 scope that is waterproof, fog-proof, and shockproof, easily the best option for scopes that is on the list. The dovetail rail comes in 11 mm and includes Recoil Reducing technology that keeps your optics lasting longer by almost completely eliminating scope recoil.
Hatsan Speedfire –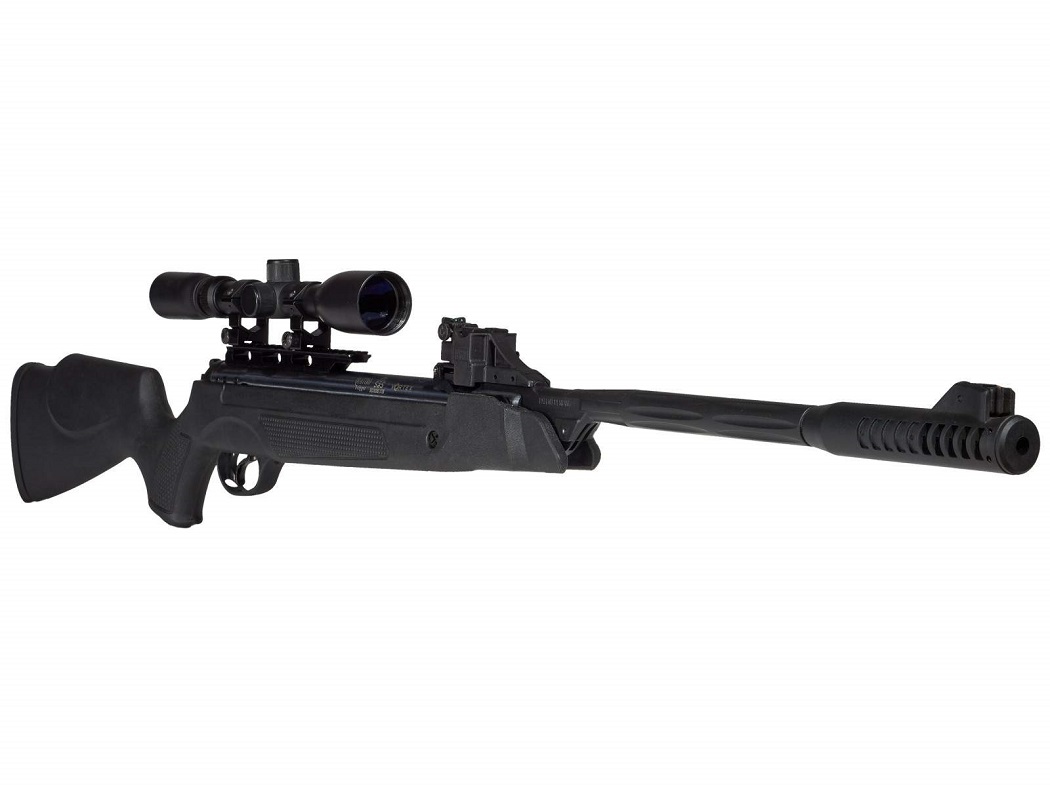 One of the lightest break barrels out of the list, the Hatsan Speedfire is a perfect option for a shooter wanting a light and maneuverable rifle to take out in the field. Available in both .177 and .22, if you want a rifle that feels like a hunting rifle without the weight, the Speedfire is the option for you.
Featuring the timeless Hatsan Vortex gas piston, the Speedfire is an easy-to-shoot and aim air rifle. The gas piston allows for smoother cocking, shooting, and not having to worry about a spring failing. It operates great in cold-weather conditions, and you can cock it and leave it for hours at a time. This gives you the ability to pick up and shoot at any time.
The Speedfire has a unique combo scope mounting rail, with both an 11mm dovetail and Picatinny rail. The rifle comes standard with an Optima 3-9×40 scope but you can also remove it and use the standard TruGlo fiber optic open sights instead which no other rifle on the list includes. It also has a two-stage adjustable Quatrro trigger allowing the shooter to set the break to whatever they prefer.
Every Speedfire has a rifled steel barrel that sends pellets downrange with power and precision. It also includes a synthetic ambidextrous stock that can handle any demands you may have for it. The EZ-load system action cocks and loads the rifle at the same time. Add in the RPM magazine, which is available in 12 rounds of .177 or 10 rounds of .22, to give you quick and accurate follow-up shots. Add in two included magazines which allows you to have plenty of lead to send downrange at your target compared to the other rifles on the list.
No matter your selection, there are a bunch of great options for multi-shot break barrels. If you have questions or concerns, you can always give us a call here at Airgun Depot and we would love to help you make your decision easier.