How do you make a great gun even better? You listen to the customers and do what they asked! In this case, that's adding a synthetic stock to one of the most popular precharged pneumatic rifles made today. Crosman listened and not only put a synthetic stock on the Benjamin Marauder, but they gave it a vertically adjustable comb, too. You'll get a lot of powerful shots that will let you rid your backyard of pesky birds and critters. Don't worry about noise scaring your prey or alarming the neighbors...it's one of the quietest air rifles ever made.
Synthetic Upgrades
Improved valve and a depinger, get 32 shots per fill
Ambidextrous synthetic stock with vertically adjustable comb & reversible bolt
Trigger is moved back for more comfortable hand positioning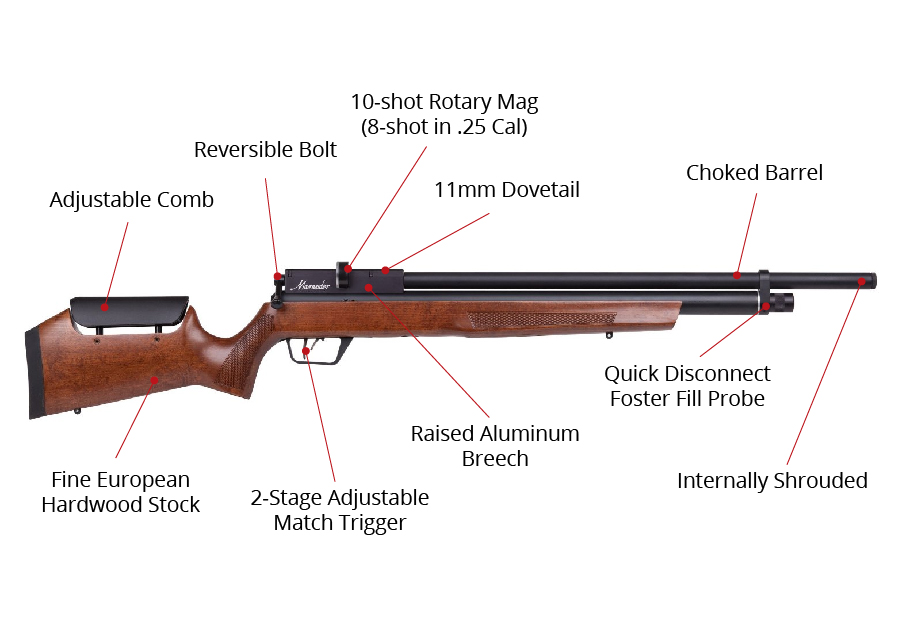 Features
10-shot repeater with auto-indexing feature
Single shot tray available for this caliber
Can be adjusted for different velocities
Internal shroud makes this a VERY quiet gun
Choked barrel delivers superior accuracy
2-stage adjustable match trigger...and the trigger is metal!
Raised aluminum breech for easier loading of circular magazine
11mm dovetail Crosman Barrels - Weaver/Picatinny Rail Lothar Walther Barrels
Built-in air pressure gauge (manometer)
Uses compressed air up to 3,000 psi *
215cc Air Reservoir
Gun comes set at 2,500 psi air fill; to fill to 3,000 psi
Air reservoir ends with a male quick-disconnect Foster fitting for fast refills (requires a female Foster quick-disconnect adapter to fill from a scuba tank or hand pump)
Includes: Magazine, and Sling Swivel Studs
*The owner's manual states you can fill the gun with air or CO2, but that is incorrect. Please fill your gun with high-pressure air only.
Specs
Manufacturer

Benjamin

Caliber

.177

Velocity

1100 fps

Condition

New

Ammo Type

Pellets

Action

Bolt-action

Barrel Style

Rifled

Fire Mode

Repeater

Gun Weight

7.30

Overall Length

42.80

Barrel Length

20.00

Loudness

2-Low-Medium

Magazine Capacity

10

Mechanism

Pre-charged pneumatic

Rail

Yes

Safety

Manual

Front Sights

none

Rear Sights

none

Shots per Fill

32

Trigger Adjustability

Two-stage adjustable

Trigger Action

0

Use

Small game hunting/target practice

Warranty

5-year limited warranty
Reviews
Average Customer Review
4.8
5.0
64 Reviews
4.0
By steve
October 10, 2023
Verified Purchase
Pros
Very accurate quite
Cons
Hard to work the bolt
Pros
very accurate and love the trigger
Cons
My gun new leaks air. I never fired it for two months after buying it and now I'm stuck having to deal with Crossman directly as it's a warranty issue.
5.0
By Richard
USA
January 27, 2023
Verified Purchase
Talked to Airgun Depot and was advised to return. Got refund and ordered replacement. Airgun Depot customer service gets 5 stars.
Pros
Accurate air gun made in USA
Cons
Benjamin QC needs help. Supposedly leak tested for 72 hours but mine leaked down from 3,000 to 2,000 PSI Overnight.
5.0
By Walter
December 28, 2022
Verified Purchase
Customer service is exceptional. Thank you.
Pros
This Synthetic Marauder is impressive. It was right on target out of the box. It holds pressure extremely well. The price was good, as it was on sale for Christmas.
Cons
The only con is the magazine. It is difficult to load and put into breech.
Pros
Don't know about the pcp to much if it does as good as what I read on this pcp it been out of the world good feed back maybe fixing to go and get it next week if you don't mind me asking any thing why I should not buy it hopefully it will do what I won't to
5.0
By Gary Shrum
May 22, 2022
In SW Florida in a 55+ community and I have been taking out rabbits and iguanas. The Marauder is so quiet people don't even know I'm around. Most of my shots have been 75 yards or less, and knock on wood, I haven't needed a follow up shot. Hands down a great air rifle.
Pros
My Marauder in 22 cal. with the Walter barrel is a tack driver. The trigger was excellent right out of the box.
Cons
For a mid priced level of a PCP air rifle I haven't seen anything I would change. I see myself purchasing a device to mount to my scope to accommodate my GoPro camera and I'm hoping the top rail will be long enough.
5.0
By Elizabeth
July 30, 2021
over all performance has been very good to excellent. it hits about a dime size pattern at 25 yards.
Pros
good build quality, pin point accuracy and back yard pest knick down power.
Cons
the magazines are the only weak point for me. had the tighten the spring and lube it so it would bind
5.0
By Ronnie
September 16, 2020
After years of shooting a high end single cock rifle, shooting this pcp rifle is almost surreal. Zero vibration, zero recoil, nearly zero shot noise. The sound of the pellet hitting the target (think squirrel or crow in my pecan trees) is louder than the shot itself. And shoot it does! With a Nikon 3x9 scope and shooting Exact Jumbo Diablo pellets off a bench I can put 10 shots in .75" EVERY TIME at 50 yards! If only I had a .22 rim fire this accurate. I once shot a horsefly that landed on my target. I aim for the eye of a squirrel. With the velocity it shoots you do need to figure out your holdover as there is some drop of course. The Nikon scope I'm using is great but not high end. It has duplex crosshairs and at 25 yards I'm sighted dead on...at 50 yards I use the top of the bottom post. Someday I may play with a higher end adjustable scope, but this suits my needs for now. It has a wonderful trigger...as nice as my after market deer rifles. I use a hand pump...not too bad.
Pros
So quiet. Zero vibration. Great trigger. Amazingly accurate.
Cons
It takes a bit of effort to pull the bolt back enough to chamber a new pellet. If you chamber a new pellet and then subsequently don't shoot it, I can't tell if one is chambered and sometimes can't remember. I'm not sure what happens if you attempt to chamber new pellet with one already there...need to research a little.
5.0
By Craig
USA
December 23, 2019
Received my marauder a week ago. Wow. Waited a year to pull the trigger wish I did it a year ago. Very nice quite I've it. Shoot about 50 rounds so far. Today we have rain coming in so I had to pull everything under cover sorry for the dark picture. I want to give a shout out to Mat at airgun depot for helping with the right adapter to rise my night owl night vision scope to clear the magazine it works great. The picture of the target is shoot at night. What a group. That is right out of the box. If you are thinking of getting a marauder do it. Don't wait.
5.0
By Timothy
USA
December 7, 2018
Ok, the first rife in .25 was a leaker but airgun depot staff sent me the return info immediately and other than a snafu at ups it was excellent. I received the new rifle with a complimentary 10 for 10 test. the second box was damaged, obviously dropped and on the barrel end no less. I called airgun depot and told them I would test the gun before shipping it back if needed. I used the Benjamin domed pellets for break in and no issues with accuracy. I was getting 15 or 16 shots with each fill from 2700 to 2100. One hole groups out to 30 yards. I decided to try a local indoor range with a 50 yard high power section. I was not disappointed. was getting better grouping than the 30.06 shooting next to me and no sore shoulder either. After retrieving my target I had several other shooters asking about the rifle. I added a bipod and a 6x32 power scope (overkill) but really want to take this gun out to a 100 yard range when the weather cooperates (cold and windy). If your interested in a pcp that wont break the bank and shoots lights out this is your gun. I also have a m rod in .22 that shoots great just not past 50 yards.
Pros
price accuracy power
Cons
weight (but not heavier than other pcps)
Q&A
Question?
Login to ask someone who bought this product.
can a suppressor be installed in the Benjamin Marauder 22
asked Philip from USA
does this rifle come with a scope
asked Dana from USA
Can the air reservoir be filled from an air compressor
asked Dana from USA
Does the Lothar Walther barrel take the Picatinny style scope mount
asked John from USA
twist
asked Keith from USA
Can I get this model with sights?
asked WILLIAM from USA
Does the .22 cal have a 1/2x20 threaded end so I can use my suppressor on it ?
asked John from USA
I've heard the .25 cal barrels are made by green mountain; is this true?
asked Ken from USA
What are the details in the barrel options for the 22 cal?
asked Joe from USA
There are 2 barrels available. One made by Lothar Walther one by Crosman, The twist rates are the same. Some customers prefer the LW barrels.
Mark from USA
how many times can you fill the mrod with the 88cu in tank?
asked Donald Grint
el caño de este rifle es de este fabricante Lothar Walther Match Barrel w
asked sergio from USA
How long will this hold a full charge ? Are the scope mounts that come with a Simmons 22 mag rifle scope high enough to clear the rotary mag. ?
asked Samuel E Schawl
do you have this comb with a Lothar barrel & what is the price
asked Robert Ballard
What is the twist rate of this barrel and is it choked
asked Terry from USA
Does it come with everything I need to start servicing and shooting or do I need to purchase special fittings or adapters?
asked Wesley Galapir
Allen, what compressor did you end up buying to use to recharge your bottle?
asked John
Can you Remove The Sling
asked User
What is the cost to fill the tank?
asked Mark
With the tank that comes with the gun I can only charge the gun to about 2700 pounds. Does anyone have this problem or know the fix?
asked Pat
Are the .22 cal Marauder Barrels any Better/More Accurate than they used to be or is it still a crap shoot if I will get a good one or Not
asked Gary from USA
in the description of the Marauder it says "Gun comes set at 2,500 psi air fill; to fill to 3,000 psi" what does this Mean?
asked Gary from USA
PCP noob here and box stock .25. I was curious what psi to fill it up to. I read from 2600-3000.
asked Mike from USA
Marauder should be in my hands in the next few days. I downloaded the manual and read it twice. My question is on the fill psi. I am new to PCP so will be using a Scuba tank for now. The manual states "Designed for use at pressures between 2000-3000". Then in the Advanced Tuning Techniques it states "Tuned to work at various pressures" and later "Fun has been factory set to and efficient fill pressure". So, do I fill it to 3000psi box stock? When I go to "Tune" it what is the "Factory Setting" to get baseline info? Thanks for any info for a PCP noob
asked Mike from USA
I was trying to fill my Marauder from a scuba tank to 2500 on the rifle gauge but every time I bleed the fill tube the gauge on the rifle drops to 2000. What am I doing wrong? Aloha, Mark
asked Mark
Hi --HOW DOES ONE --PUMP UP THIS RIFLE? WITH WHAT ? A STD FOOTPUMP FOR CAR TYRES ? WHERE EXACTLY IS THE VALVE ON THE MARAUDER --WHERE U ATTACH PUMP ? DOES IT HAVE A RIFLED BARREL ? CAN IT KILL A LARGE GAME BIRD --LIKE GUINEAFOWL ( OR A TURKEY ) @ 40 YDS? WHAT TYPE OF AMMO IN 22 CAL DOES IT SHOOT ? STD LEAD WAISTED PELLETS? NEVER OWNED A PNEUMATIC AIR RIFLE --HERE IN AFRICA -----ALWAYS SPRING BREAK BARREL TYPES APPRECIATE SOME INFO ON THIS AIR RIFLE I AM ABOUT TO IMPORT --MANY THANKS --CA WINTER
asked carl from USA
What is the maximum range of .177 for hunting squirrels
asked airgun hunter
Is it a regulated PCP ?
asked Mariano from USA
Does this come with anything to fill/ charge the rifle or is that sold separately?
asked Darren
Can you charge the air cylinder from an air compressor in your shop?
asked Phillip from USA
What is the easiest way to recharge the cylinder and can you do it at home with a compressor or hand pump?
asked Joseph from USA
You can purchase a high pressure hand air pump . Or use a scuba tank ore a shoebox compressor.
James Drury
The easiest way is via a scuba tank.. Hand pumps are available to recharge, but takes some effort and time. If you have a compressor that can deliver 2000psi then your all set
Robin from USA
Can a compressor be used to charge the gun?
asked Richard from USA
Yes, as long as it can generate the pressure needed. So you need one specifically for airguns or scuba tanks etc.
Guet
That depends on the compressor. If you mean a common shop compressor (for power tools) that can only go up to 125psi then NO. If you mean a high pressure compressor that can go up to 4,500psi then YES. I have a high pressure compressor that can go to 4,500psi but I charge a 90ci carbon fiber bottle (the Benjamin bottle to be exact), then use that to charge the Marauder. That works better since the compressor would fill the gun in no time with the risk of quickly over filling it and it's not worth the time setting it up for just that 1 fill, plus it's a smoother fill from a bottle & I can regulate it & keep it hooked up while bench shooting for consistent strings. Hope that answers your question.
Tim from USA
Yes but not one from Home Depot. They are $2000 plus. Must be rated at 3000 psi or above.
Jason from USA
There are no regular shop air compressors that will fill a PCP gun. Shop compressors only work up to an average of 125psi. This gun needs 3000psi. Now there are compressors made for this purpose, but cost anywhere from $1500 to Over $5000 The cheaper takes a couple hours to fill your gun. Best to buy a Air Ventura 4500psi tank and have it filled at a scuba shop or make friends with your local fire dept. and maybe get it filled there.
William from USA
You would need a high-pressure compressor such as the ShoeBox for this gun. 3000psi is needed to fully charge it.
rowiac
Not your normal garage compressor it only goes to 120-150psi. You can with a special high pressure 3000 psi compressor used for filling scub tanks or pellet guns, they are very expensive compared to the ones used to fill your car tires.
Harold from USA
You need a high pressure compressor like the Shoebox compressor.
Stephen from USA
Can you fill up this gun with an at home air compressor
asked John
Do you have a Home Compressor that will go up to 4500 psi ? If NOT... then No, you wont be able to fill the Gun at home. BUT... if you have a High Pressure Compressor, i.e. 4500 psi capable, with proper filtering, then Yes you can.
Scrambler82 from USA
No. This needs much more pressure than consumer air compressors are capable of.
James
Is the 900FPS with alloy or lead pellets?
asked Joe
My 25 caliber shoots 20 grain lead pellets at 920 fps.
Steven
Does this gun come with a female adapter to fill the gun
asked Nick
No, The female adapter would be supplied with the Pump or tank or compressor you need to fill the gun.
JOHN from USA
The gun comes with the male fitting on the gun (foster fitting) for filling but does not come with the female counterpart. If you wind up getting a Marauder then get the tank accessory for a k-Valve tank setup which will come with a female Foster fitting.
Neil from USA
The air rifle comes with the male fitting on the rifle itself however it does not have the female fitting/ quick disconnect. There is a pump that you can purchase as a kit that will have the quick release/ fitting to fill the rifle. Since you will be needing a fill station of some sort, its good to know what options you have. Keep in mind that you will need some type of way to continually filling up the rifle, so choose wisely.
Vincent from USA
No, it did not come with any adapters.
Patrick from USA
maurader 25 how many shots do you get from one charge and does the scuba tank fitting work on a HPA paint ball tank
asked [email protected]
what pellets have worked best with this rifle? (.22 or .25 cal)
asked Ron
My .25 does well with the polymags too. Great accuracy and devastating knock down on small game.
anthony from USA
Don't know about the 22 , but in my 25 caliber nothing comes close to being as accurate as JSB Exacts. At 50 yards most groups are 1/2 inches. Have tried 6 other pellets and none of them are even close to an inch.Steven
Steven
well I have the disco 22 it fills to 2000psi how much more time will it take to fill this gun at 3000psi and how hard will it be
asked Jacoby from USA
From a Novice's point of view ! First will the Gun handle the 3000 psi you are talking about ? Make sure ! Next the type of Pump/Compressor you are using to fill the Gun will determine how fast you will fill the air chamber. There maybe other things to take into consideration like Tubing size used to connect the Gun, fittings used, how patient you are... but to me, again a Novice, it will depend on the air source.
Scrambler82 from USA
I have found that using a benjamin pump: starting from 1000psi, it takes about 35 pump strokes for each 500psi increase. If you're in average shape physically, you can do about 70 pumps before it is comfortable to take a break. That'll get you to 2000. Walk away. Do something else for 5-10 minutes. Let the pump cool down so you don't destroy seals. Come back, do 70 more. These might be a little harder. Not bad though. Use your weight. There you are... 3000psi !!!!!!
matt from USA
Getting the gun to 2000 PSI with the pump isn't a problem. That last 800 PSI to 3000 PSI is a bear with the Benjamin pump. I find that after about 100 strokes, and the last strokes requiring me to really lean into the pump, it's a good work out. The real work starts at 2000 psi, and gets progressively more difficult till you hit your target 2700 or 2800 PSI. I have a tank, and I have the pump. If I had it to do over again, I'd skip the pump and for the cost of the pump add $100 and get the Air Venturi Tank. Any paintball shop should be able to fill it for under $5. You get lots of shooting for very little work. I didn't buy the gun to get a workout pumping, and the tank really helps keep the sport enjoyable..
Brad
Double the time and double effort with a hand pump. Gets to be a workout from 2000 - 3000 psi. If you use your hand pump correctly, you should pump slow and stop every 5 minutes for the pump to cool. Then its not so bad, since you rest between pumping sessions.
William from USA
I have the original 177 mrod and it takes about 100 strokes to go from 2000psi to 3000psi with a crosman pump. I rarely let it go below 2000psi.
Richard from USA
I have an air pump for an Air Force rifle. Will it work on this gun?
asked corey from USA
Yes it will work as long as you have a Foster quick disconnect female adapter to plug into the rifle's male foster quick connect nipple
Santos T
how hard is it to charge this rifle with air, and what expense is involved?
asked Mike
Here in Tennessee there aren't many places to get a scuba tank filled so I went with a Venturi G4 hand pump that delivers up to 4500 psi and the total cost was $150 (including shipping) from China and it arrived in 4 days. This pump can be found on Amazon and it comes with enough O-rings and washers to rebuild it at least 3 times. Going by ratings on Amazon the Benjamin pump is a piece of crap and the AirForce pump isn't much better. Everyone buys the Hill pump but a rebuild kit cost over 30 bucks for it and it only delivers 3300psi like the rest. and cost twice as much as the Venturi plus it does not come with any QD adapters. In other words you can buy 2 Venturi's for the price of one "over priced" Hill pump. I am 60 years old, have one arm, 5'7" 180 lbs. and I can fill my modified Crosman 2240 13 ci. 3000 psi bottle from empty to full in about 12 min. I also have a Crosman 2400KT/2250 with a HiPAC screwed into it and I fill it to 2800 psi with little effort with this pump. I hope this info helps, Happy Shooting!
TnWalt
You can buy the Benjamin brand hand pump for about $130-$150 You can buy the Air Force hand pump for about $199-215 And finally my personal pick a Hill brand hand pump for about $270.i like it because it has a great warranty & built in water separator which is what the problem the above two have it creates moisture that doesn't completely drain & causes a hydro lock before you get up to full charge. Not to mention the introduction into your internal parts which in time wreaks havoc on the internal spring. The last option is buying a regulator and a scuba tank for roughly $300 and fid a dive shop to fill it when it needs to be brought back up to charge. But it defiantly is the quickest way to fill it with the least amount of effort
Santos T
How much time or how many strokes does it take to fill this gun with the hand pump?
asked Mike
Around 20-50 depending on your strength and weight.
Nathin
Do you offeer international shipping for this item?
asked Vilnis
Vilnis, Please contact our International Shipping Department at [email protected]. They can answer any questions you might have. Sincerely, The Airgun Depot Customer Care Team
Scott from USA
do you have these in stock?
asked Stephan
Stephan, Unfortunately, this particular gun is out of stock with an estimated restock date of 10/29. However if you would like to be one for the first to have this gun when it comes into stock you can pre-order online and once in stock will be ready to ship. Sorry for any inconvenience this might have caused. Hopefully this answers your question. Sincerely, Airgun Depot Customer Care Team
Scott from USA
Stephan, Unfortunately, this particular gun is out of stock with an estimated restock date of 10/29. However if you would like to be one for the first to have this gun when it comes into stock you can pre-order online and once in stock will be ready to ship. Sorry for any inconvenience this might have caused. Hopefully this answers your question. Sincerely, Airgun Depot Customer Care Team
Scott from USA