How do you make a great gun even better? You listen to the customers and do what they asked! In this case, that's adding a synthetic stock to one of the most popular precharged pneumatic rifles made today. Crosman listened and not only put a synthetic stock on the Benjamin Marauder, but they gave it a vertically adjustable comb, too. You'll get a lot of powerful shots that will let you rid your backyard of pesky birds and critters. Don't worry about noise scaring your prey or alarming the neighbors...it's one of the quietest air rifles ever made.
Synthetic Upgrades
Improved valve and a depinger, get 32 shots per fill
Ambidextrous synthetic stock with vertically adjustable comb & reversible bolt
Trigger is moved back for more comfortable hand positioning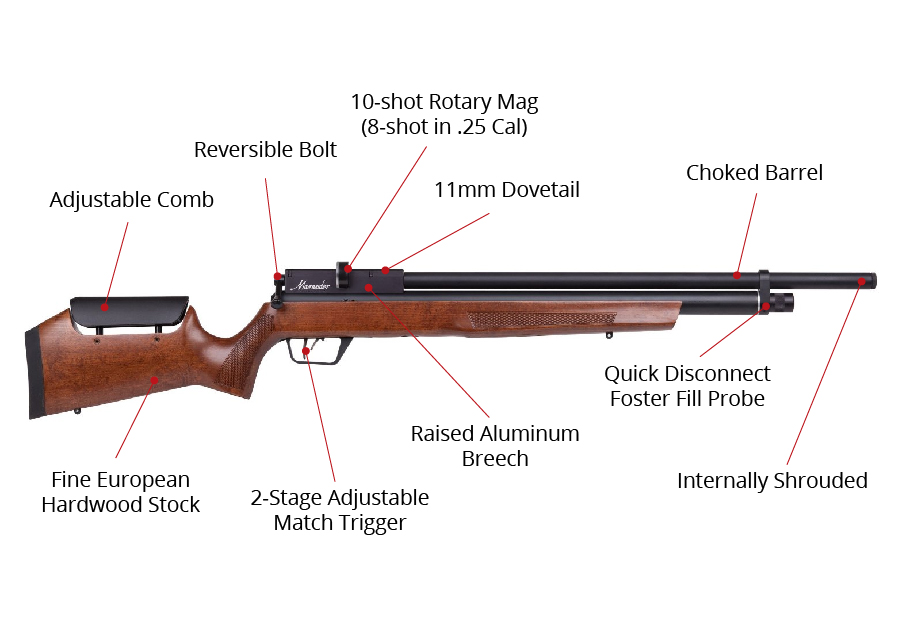 Features
10-shot repeater with auto-indexing feature
Single shot tray available for this caliber
Can be adjusted for different velocities
Internal shroud makes this a VERY quiet gun
Choked barrel delivers superior accuracy
2-stage adjustable match trigger...and the trigger is metal!
Raised aluminum breech for easier loading of circular magazine
11mm Dovetail Accessory Rail
Built-in air pressure gauge (manometer)
Uses compressed air up to 3,000 psi *
215cc Air Reservoir
Gun comes set at 2,500 psi air fill; to fill to 3,000 psi
Air reservoir ends with a male quick-disconnect Foster fitting for fast refills (requires a female Foster quick-disconnect adapter to fill from a scuba tank or hand pump)
Includes: .177 Cal Synthetic Marauder, 10-Round Magazine, and Sling Swivel Studs
*The owner's manual states you can fill the gun with air or CO2, but that is incorrect. Please fill your gun with high-pressure air only.
Specs
Manufacturer

Benjamin

Caliber

.177

Velocity

1100 fps

Condition

New

Ammo Type

Pellets

Action

Bolt-action

Barrel Style

Rifled

Fire Mode

Repeater

Gun Weight

7.30

Overall Length

42.80

Barrel Length

20.00

Loudness

2-Low-Medium

Magazine Capacity

10

Mechanism

Pre-charged pneumatic

Rail

11mm dovetail

Safety

Manual

Front Sights

none

Rear Sights

none

Shots per Fill

32

Trigger Adjustability

Two-stage adjustable

Trigger Action

0

Use

Small game hunting/target practice

Warranty

5-year limited warranty
Reviews
Average Customer Review
4.9
5.0
56 Reviews
5.0
By Craig
USA
December 23, 2019
Verified Purchase
Received my marauder a week ago. Wow. Waited a year to pull the trigger wish I did it a year ago. Very nice quite I've it. Shoot about 50 rounds so far. Today we have rain coming in so I had to pull everything under cover sorry for the dark picture. I want to give a shout out to Mat at airgun depot for helping with the right adapter to rise my night owl night vision scope to clear the magazine it works great. The picture of the target is shoot at night. What a group. That is right out of the box. If you are thinking of getting a marauder do it. Don't wait.
5.0
By Timothy
USA
December 7, 2018
Verified Purchase
Ok, the first rife in .25 was a leaker but airgun depot staff sent me the return info immediately and other than a snafu at ups it was excellent. I received the new rifle with a complimentary 10 for 10 test. the second box was damaged, obviously dropped and on the barrel end no less. I called airgun depot and told them I would test the gun before shipping it back if needed. I used the Benjamin domed pellets for break in and no issues with accuracy. I was getting 15 or 16 shots with each fill from 2700 to 2100. One hole groups out to 30 yards. I decided to try a local indoor range with a 50 yard high power section. I was not disappointed. was getting better grouping than the 30.06 shooting next to me and no sore shoulder either. After retrieving my target I had several other shooters asking about the rifle. I added a bipod and a 6x32 power scope (overkill) but really want to take this gun out to a 100 yard range when the weather cooperates (cold and windy). If your interested in a pcp that wont break the bank and shoots lights out this is your gun. I also have a m rod in .22 that shoots great just not past 50 yards.
Pros
price accuracy power
Cons
weight (but not heavier than other pcps)
5.0
By Jim
USA
December 1, 2018
Verified Purchase
I love my Benjamin Marauder. My Benjamin Maximus was a great entry level PCP rifle, but the Marauder far exceeds it in consistent accuracy, lower noise level and overall performance. It truly is a fun, awesome, and need to own PCP rifle. Great job Benjamin!!!
4.0
By Garry
USA
August 26, 2018
I have had my .25 cal Marauder for over 2 years. This gun is as good as my Crown out to 50 yards
Pros
Deadly to 50 yards Great starter PCP
Cons
heavy, shot count, mechanically loud, suppressor won't help
5.0
By William
USA
May 28, 2018
This is my 3rd Marauder. I have two Gen 1 Marauders and I wanted a lighter .25 cal for hunting. Once I got it I already knew I wanted to camo it up. I own several air rifles and these 3 my most accurate. I was impressed by the improvements of the Gen 2 Marauder and decided to give it a try. I wasn't disappointed.

Pros
Light Weight, Power, and Accurate.
Cons
None
5.0
By Anthony
USA
May 25, 2018
Shot about 100 rounds though it and it's great. Air Gun Depot shipped it fast!
Pros
Extremely accurate Nice trigger (like it better than my .22 Marauder) A lot more knock down power than the .22 Quiet - But a bit louder than the .22
Cons
The butt plate is the most uncomfortable I have ever had. It's odd that the .22 Marauder (wood stock) has a great butt plate. I replaced the .25 with an adjustable padded one, It burns up the CO2 a lot faster than the .22 Marauder - a lot faster It is relatively heavy but I'm not lugging it around. I shoot off my raised deck.
4.0
By Joel L.
April 23, 2018
A little heavy and filling to 3,000 PSI with the pump is a work out,but other than that, the rifle is everything I expected. Very quiet and less than dime size groups at 100 feet. The 25 cal also has much more knock down power than my 22 cal.
5.0
By BikerDave
January 2, 2018
This is my first PCP rifle and what a joy to shoot. It works as advertised and it is really a good quality product. The fit and finish are super and I am looking forward to learning to shoot some field target events with it.
Pros
Good quality and great fit and finish. Easy to follow user manual, and very easy to set-up and get going. The magazine is simple and fool-proof to use and works without any issues.
Cons
It is a bit heavy and may be too heavy for small or young users, but this type of gun was made for sport shooting so that should not be an issue for many shooters. It just has a solid fieel.
5.0
By Samer
USA
January 2, 2018
This has joined my Hatsan to the list of favorite PCPs, great accuracy and quiet. Definitely recommend, may add another to my collection
Pros
Quiet
Cons
Not many, if anything, a metal trigger would be nice.
5.0
By Bruce
USA
December 28, 2017
Extremely accurate! Very quiet!
Pros
Accurate,quiet,good trigger.
Cons
None
Q&A
Question?
Login to ask someone who bought this product.
What are the details in the barrel options for the 22 cal?
asked Joe from USA
There are 2 barrels available. One made by Lothar Walther one by Crosman, The twist rates are the same. Some customers prefer the LW barrels.
Mark from USA
What is the easiest way to recharge the cylinder and can you do it at home with a compressor or hand pump?
asked Joseph from USA
You can purchase a high pressure hand air pump . Or use a scuba tank ore a shoebox compressor.
James Drury
The easiest way is via a scuba tank.. Hand pumps are available to recharge, but takes some effort and time. If you have a compressor that can deliver 2000psi then your all set
Robin from USA
Can a compressor be used to charge the gun?
asked Richard from USA
Yes, as long as it can generate the pressure needed. So you need one specifically for airguns or scuba tanks etc.
Guet
That depends on the compressor. If you mean a common shop compressor (for power tools) that can only go up to 125psi then NO. If you mean a high pressure compressor that can go up to 4,500psi then YES. I have a high pressure compressor that can go to 4,500psi but I charge a 90ci carbon fiber bottle (the Benjamin bottle to be exact), then use that to charge the Marauder. That works better since the compressor would fill the gun in no time with the risk of quickly over filling it and it's not worth the time setting it up for just that 1 fill, plus it's a smoother fill from a bottle & I can regulate it & keep it hooked up while bench shooting for consistent strings. Hope that answers your question.
Tim from USA
Can you fill up this gun with an at home air compressor
asked John
No. This needs much more pressure than consumer air compressors are capable of.
James
Is the 900FPS with alloy or lead pellets?
asked Joe
My 25 caliber shoots 20 grain lead pellets at 920 fps.
Steven
Does this gun come with a female adapter to fill the gun
asked Nick
maurader 25 how many shots do you get from one charge and does the scuba tank fitting work on a HPA paint ball tank
asked [email protected]
what pellets have worked best with this rifle? (.22 or .25 cal)
asked Ron
My .25 does well with the polymags too. Great accuracy and devastating knock down on small game.
anthony from USA
Don't know about the 22 , but in my 25 caliber nothing comes close to being as accurate as JSB Exacts. At 50 yards most groups are 1/2 inches. Have tried 6 other pellets and none of them are even close to an inch.Steven
Steven
well I have the disco 22 it fills to 2000psi how much more time will it take to fill this gun at 3000psi and how hard will it be
asked Jacoby from USA
I have an air pump for an Air Force rifle. Will it work on this gun?
asked corey from USA
Yes it will work as long as you have a Foster quick disconnect female adapter to plug into the rifle's male foster quick connect nipple
Santos T
how hard is it to charge this rifle with air, and what expense is involved?
asked Mike
Here in Tennessee there aren't many places to get a scuba tank filled so I went with a Venturi G4 hand pump that delivers up to 4500 psi and the total cost was $150 (including shipping) from China and it arrived in 4 days. This pump can be found on Amazon and it comes with enough O-rings and washers to rebuild it at least 3 times. Going by ratings on Amazon the Benjamin pump is a piece of crap and the AirForce pump isn't much better. Everyone buys the Hill pump but a rebuild kit cost over 30 bucks for it and it only delivers 3300psi like the rest. and cost twice as much as the Venturi plus it does not come with any QD adapters. In other words you can buy 2 Venturi's for the price of one "over priced" Hill pump. I am 60 years old, have one arm, 5'7" 180 lbs. and I can fill my modified Crosman 2240 13 ci. 3000 psi bottle from empty to full in about 12 min. I also have a Crosman 2400KT/2250 with a HiPAC screwed into it and I fill it to 2800 psi with little effort with this pump. I hope this info helps, Happy Shooting!
TnWalt
You can buy the Benjamin brand hand pump for about $130-$150 You can buy the Air Force hand pump for about $199-215 And finally my personal pick a Hill brand hand pump for about $270.i like it because it has a great warranty & built in water separator which is what the problem the above two have it creates moisture that doesn't completely drain & causes a hydro lock before you get up to full charge. Not to mention the introduction into your internal parts which in time wreaks havoc on the internal spring. The last option is buying a regulator and a scuba tank for roughly $300 and fid a dive shop to fill it when it needs to be brought back up to charge. But it defiantly is the quickest way to fill it with the least amount of effort
Santos T
How much time or how many strokes does it take to fill this gun with the hand pump?
asked Mike
Around 20-50 depending on your strength and weight.
Nathin
Do you offeer international shipping for this item?
asked Vilnis
Vilnis, Please contact our International Shipping Department at [email protected] They can answer any questions you might have. Sincerely, The Airgun Depot Customer Care Team
Scott from USA
do you have these in stock????
asked Stephan
Stephan, Unfortunately, this particular gun is out of stock with an estimated restock date of 10/29. However if you would like to be one for the first to have this gun when it comes into stock you can pre-order online and once in stock will be ready to ship. Sorry for any inconvenience this might have caused. Hopefully this answers your question. Sincerely, Airgun Depot Customer Care Team
Scott from USA
Stephan, Unfortunately, this particular gun is out of stock with an estimated restock date of 10/29. However if you would like to be one for the first to have this gun when it comes into stock you can pre-order online and once in stock will be ready to ship. Sorry for any inconvenience this might have caused. Hopefully this answers your question. Sincerely, Airgun Depot Customer Care Team
Scott from USA