Featured at SHOT Show, the Benjamin Maximus is the latest, high performance, single shot bolt action, pre-charged pneumatic (PCP) rifle being offered by Crosman. The Maximus was conceived to cater those who are on the fence about getting involved with PCP rifles, usually due to perceived time, effort, and cost. Crosman eliminated those preconceived notions by utilizing the Discovery platform for a user friendly PCP rifle that anyone can accurately shoot. Youth shooters (i.e., your future Olympic gold medalist and/or ISSF champion) were also in mind during the research and development phase of Maximus project. Easily filled with a hand-pump or high pressure tank, the Maximus fills to 2000 PSI and delivers up to 30 shots per fill in .177 cal or 20 shots in .22 cal. The rifle features an on-board 200 bar manometer for monitoring fill pressure. The action is machined to accept two piece 11mm optic mounts and compatible accessories.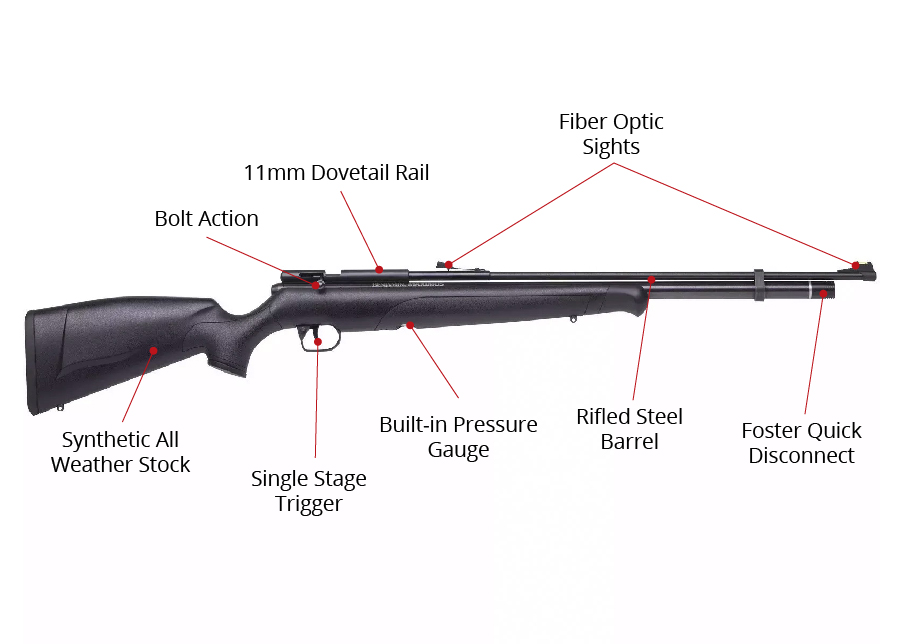 Benjamin Maximus Air Rifle Features
Precharged-pneumatic
2-000 psi
Up to 30 shots per fill
Single-shot
Bolt action
Rifled steel barrel
Single-stage trigger
Dovetail mounting rail
Black synthetic all-weather stock
Built-in pressure gauge
Metal breech
Single-stage trigger
Fiber optic rear sight
Fiber optic front sight
Specs
Manufacturer

Benjamin

Caliber

.177

Velocity

1000 fps

Condition

New

Ammo Type

Pellets

Action

Bolt-action

Barrel Style

Rifled

Fire Mode

Single-shot

Gun Weight

5.00

Overall Length

41.70

Barrel Length

26.25

Loudness

4-Medium-High

Magazine Capacity

1

Mechanism

Pre-charged pneumatic

Rail

11mm dovetail

Safety

Manual

Front Sights

Fiber Optic

Rear Sights

Fiber Optic

Shots per Fill

30

Trigger Adjustability

Single-stage

Trigger Action

0

Use

Small game hunting/plinking

Warranty

5-year limited warranty
Reviews
Average Customer Review
4.7
4.5
11 Reviews
5.0
By Kenneth
USA
August 16, 2019
This was my first PCP powered Airgun. In total it's my third Airgun to ever get. It takes less than 40 pumps to go to 2000 psi (I don't know if that's good but for me it's not too exhausting). Accuracy wise, this will put pellets into pellets with ease. I have aftermarket scope mounts and have a mantis scope on it, and will soon be adding a bipod, for the price, it was well worth it.
Pros
-Accurate -Easy to use -Balanced -VERY clear optics
Cons
-Cracks like a .22lr, which is to be expected -The trigger is rather heavy compared to other guns, and non-adjustable
3.0
By gary
USA
June 5, 2017
very cheaply made ,,plastic trigger and trigger housing,,it shoots well for what it is
Pros
good for a youngsters first air gun to see if that is what they like,,price keeps from losing a bundle if that's not there thing,,
Cons
to much plastic and would i recommend,, theirs no maybe option
5.0
By Bryan
March 26, 2017
I just turned 60 years old. my first air gun was a Benjamin 22 Cal. before they merged with Crosman. Or so I think because my Benjamin looked totally different than they do now. They now look like my fathers crosman looked back then. Anyway my Maximus is now my second PCP. My first was Benjamin Discovery. I messed up the Discovery by oiling it. I am an old farm kid and think that I can oil anything. Not so. I use the Maximus to control Pests in my garden. At 40 yards it will go right through a rabbits or squirrels head. And hit every time. I use Crosman Premier Domed Ultra Magnum Pellets 14.3 gr. I put a Airforce 4X 32 Scope on it. And only took 8 shots to Sight it in. I also put a TKO muzzle brake on it. And it no longer sounds like a 22 short every time I fire it . very quite now.
Pros
Accurate. Powerful.
Cons
It seems to start loose accuracy when it gets below the first black line below 2000. lbs. of pressure. So I just keep its pressure up.
5.0
By stephen
USA
February 4, 2017
first off let me say agd is awesome. I have yet to get a bad gun form agd. the benjamine maximus is great, its my firsy pcp rifle and has been good so far. but I haven't got it sighted in where I want it.so far I have been shooting at 22ft. the limit of my shooting range. ammo, beeman silver bear hollowpoints 12.65 gr., skenco heavy long range pellets, lead free 18 gr. beeman crowmagnum 18.21 gr, and finally barracuda hunters,18.21 gr all of these work well at 22 ft. I could cover the hole with a dime.shooting 15 rounds after mounting a utg 3-9x40 scope. it took all of 5 shots to zero it. I took it out side and shot 5 rnds with no adjustments, a half turn down on elevation and a quarter turn on windage.and I was shooting quarter size groups at 20 yds. stil have to fine adjust the scope. have picked up some crossman premiers, domed 14.3 gr. reviews say they work well with the maximus, and with the 2240. I have been having trouble with the 2240 although it shoots just about everything ive put in it, it hasn't really liked anything yet. hopefully it will like the domed pellets. I like to shoot it at 70ft. and it works well. I still haven't had a chance to sight in my hatsan .30 yet, but hoping to today. let me say somethinh here, I have read where some people say they have trouble getting things delivered. I have no problem, between agd and either ups or fedex everything ive ordered has either come early or on time. thankyou .
Pros
great gun right out of the box, straight shooter
Cons
didn't get the promo deal my computer wouldn't acess it so I bought the rifle separate then had to buy the pump. no fault of agd.
4.0
By Henry R.
October 14, 2016
Outstanding rifle it's powerful accurate light weight perfect rifle for my daughter,my only complaint is she's only 11 Years old and she not strong enough to pull the bolt back to its set point, it's much to stiff.
5.0
By Benjamin
USA
October 11, 2016
First off, I just want to thank the Airgun depot sales team and all of Airgun Depot, for such a great shopping experience! The Benjamin Maximus is, really a no-frills starter pcp, with way better accuracy than I thought possible with a gun of this price! When paired with the AV G6 hand pump, and a Mantis 3-9x32 AO Scope, it's perfect for shooters who want a simple, inexpensive way to enter the world of PCPs. At 25 Yards, I can shoot .343 CTC ( Under a half inch) groups with this, all day. 50 yards, the groups start to open up just a little bit, this gun can still shoot three-quarter inch groups at that distance. 75 yards? Amazing. kept the groups within 1 .5 inches. Very impressed. Thanks, again AGD!
Pros
inexpensive, Simple, lightweight, accurate, even past 50 yards! sling studs pre-installed (a bonus for those who want to put a bipod on their gun)
Cons
A little loud, but the TKO Muzzle brake fixes that :)
5.0
By CARLOS
USA
September 19, 2016
Very light to carry around in the woods. Accurate. 811 fps average. 20 good shots from 2,000psi to 1,000psi. with 14.3gr pellet. Easy to fill with Benjamin Hand Pump. Rifle is working fine. Only time will tell about durability.
Pros
Light. Easy to fill. Accuracy. Low price. Looks good.
Cons
Trigger is hard. Breech is small and makes difficult to load pellet.
5.0
By Hugo
USA
September 7, 2016
Good airgun
Pros
Good airgun
5.0
By CARLOS
USA
September 1, 2016
Very light even with UTG 3-12x44 SWAT scope. Easy to fill the 2,000p.s.i. reservoir with the HPA Pump. A little dificult to load pellets do to size of breech. Easy to sight in at 25yrds. Accurate. Triger a little hard. Synthetic stock looks great. Had to install dovetail to weaver adapters to install scope. No recoil when fired. Hand Pump works good. Gauge on rifle works fine but a little small in size for people with poor vision. Safety works great. Measure 41.7 inches in length. It is a delicate rifle. Must protect rifle from banging around.
Pros
Very affordable price. Easy to fill reservoir. Light to carry. Accurate.
Cons
Breech is small. Pressure Gauge is small. Trigger a little hard.
5.0
By jerry
USA
August 27, 2016
I already own a .22 Marauder, which I like, but it is heavy, and can be a chore to hand pump to 3K psi. So, at this price, I figured I would give the Maximus a try. I like the fact that it has open sights, which a Marauder does not. It is also significantly lighter, and easier to hand pump to shooting pressure. I have not yet mounted a UTG scope I had not used, so I cannot yet comment on distance shooting, but it was pretty accurate out of the box. At less than 1/3 of the cost of my Marauder, I did not expect the same quality, and it is apparent. But it is well worth the money, and it's made in the US, so I'm happy. As of yet, I can live with the trigger and louder noise. The only thing that really annoyed me is the sloppy bolt, which I fixed with a 3/8 dia. x 1/8 thick neodymium magnet placed on the receiver under where the bolt handle closes. It does not even need to be glued. Seems like for another 20 or so bucks, they could afford a tighter bolt, upgrade the trigger with some adjustment screws, a rubber end on the stock, and maybe even some sound suppression, although that might affect shooting characteristics at 2K psi.
Pros
Price. Accuracy. Weight. Relatively easy hand pumping effort.
Cons
Sloppy bolt. Hard end on stock. Moderately loud.
Q&A
Question?
Login to ask someone who bought this product.
It says it can use co2, so how does that work exactly
asked Tate
(1)What is the model number (2) how long is it, end to end?(3)length of barrel? Want to order aftermarket upgrades.(4)What pellet works best for you at what distance.Thanks for your info!!!
asked Salvador M from USA
My Maximus .22 shoots 35 rounds (accurately) with JSB 15.89 ammo at 35yrds; is it just my rifle or is anyone else experiencing this?
asked Chip
Is there anyway this can be filled with an air compressor like I have in my shop or does it have to be filled with the pump
asked Tristan
What mizzle fits this rifle?
asked emanuelsalgado75 from USA
Does the Benjamin Maximus come with accessories like scope ,pellets and pump?
asked Khriesakuo from USA