The XL features a handsome, checkered, hardwood stock. Velocity up to 1100 fps (w/ alloy);
30ft lbs of downrange muzzle energy.
Independent research by Intertek found that Nitro Piston technology reduces noise by 70% during the shot cycle comparted with traditional steel spring break-barrels!
Benjamin Trail NP XL 1100 Air Rifle
With Nitro Piston Technology
70% Less Noise then the competitor's "quiet" break barrel
Gas Piston Technology uses Nitrogen as the power source, instead of a steel Spring
Dramatically reduces felt recoil by eliminating the "double hit" and "spring torque" of a steel spring
Quicker lock time leads to increased accuracy
Hardwood Ambidextrous Stock w/Thumbhole Grip
Integral Rail Mounting System – make mounting optics quick and easy
Includes: CenterPoint 3-9x40mm with adjustable objective and Mil-Dot reticle, Sling Mount and Swivel Studs
Want more info? You can read a full
Benjamin Trail XL Review
.
Specs
Manufacturer

Benjamin

Caliber

.22

Velocity

1100 fps

Condition

New

Ammo Type

Pellets

Action

Break barrel

Barrel Style

Rifled

Fire Mode

Single-shot

Gun Weight

9.70

Overall Length

48.25

Barrel Length

19.50

Loudness

3-Medium

Magazine Capacity

0

Mechanism

Gas-piston

Rail

Weaver mounts

Safety

Manual

Front Sights

none

Rear Sights

none

Shots per Fill

0

Trigger Adjustability

0

Trigger Action

0

Use

Small game hunting/plinking

Warranty

5-year limited warranty
Reviews
Average Customer Review
4.2
4.0
169 Reviews
I love the Benjamin Trail NP 1100, but didn't realize 8.8 lbs was so heavy for a woman. Also disappointed about paying for next day air and waiting 4 days to get it. They don't tell you that the order goes out the next day and doesn't ship on weekends.
3.0
By David
USA
April 22, 2021
Lots of power, especially with the .25 caliber version.
Pros
Energy down range. Strap mounts is certainly a positive being a break barrel air rifle. Wood stock looks really good though, a bit soft and easy to ding in the field.
Cons
Barrel overwrap for silencer volume is too thin and dents easily. Completely avoidable in design phase. The trigger is a bit tight despit adjustments, but I have managed to work with it and get respectable groupings at 35 yards.
3.0
By gary
USA
April 21, 2021
Pros
Power it definitely has Power and is pretty accurate with a variety of pellets that I have
Cons
Absolutely hate the stock I tried to find an aftermarket to no avail, scope is total garbage extremely heavy cocking force trigger is sad definitely upgrade right away.
1.0
By Eric
USA
April 4, 2021
Verified Purchase
Pros
nice stock
Cons
terribly inaccurate , extremely poor trigger
4.0
By chris
USA
March 25, 2021
Now I'm a tinker by nature, so when I first got it I just had to take it apart and put it back together cuz I wanted to understand how it worked, what they did half fast to save a penny, and how I can make it better. so by nature I had already replaced the CRAP seals, did my own personal trigger mods, replaced scope, and added loctite before I ever broke it in and I only shot it maybe 20-30 times the first day before I took it apart that night. Then I broke it in and OMG!!!... it's like a wet dream with a scope!!! Accurate AF and when it blows its load and leaves a mess wherever it hits! Lol... my only changes would be the basics: Better; trigger(aka Charlie detuna), scope (hawk or vortex), breech seal, piston seal, breech bushings, stock washers, better barrel altogether... preferably a Walther w/better sleeve tension and build sleeve cap longer with better ventilation for suppression AND compensation, larger sleeve cap bore dia., and I'd eally with an overall length of 50-52"
Pros
ACCURACY!!! Can you say "Tack Driver!" Cuz I have literally put pellet on pellet with this gun in .22 and .25 at 70yrds.
Cons
Personally I would have added the extra 1 3/4" to the barrel to push the overall length to 50" but also allowing room to make the compensator better. The barrel sleeve cap is indeed a compensator. It has 2 holes drilled in it to allow gas to escape from behind the bullet before it exits, which in turn somewhat moderates it but really compensators are strictly for accuracy they are NOT BUILT for suppression aka moderator
4.0
By william
USA
January 29, 2021
to fix loosing screws on this rifle use red loctite problum solved
Pros
good gun for the price
Cons
scope
1.0
By Ronald
USA
January 24, 2021
Verified Purchase
All but impossible to shoot accurately . Had I read the comments in the air gun forums , I would have made a different choice for a springer/gas ram . The majority opinion on these forums is that the gun requires many months of practice to learn how to get it to group well . Strongly advise you consider another option especially if this is to be your first springer.
Pros
Like the scope rail and stock finish .
Cons
trigger is really bad .
3.0
By Mason
January 16, 2021
Pros
Good power pretty accurate
Cons
The mounting bracket completely fell off after about 50 shots
5.0
By Gary
USA
November 29, 2020
Blue lock tite on stock I used 242 works amazing torched them back down to 50 lbs run 1 pellet cleaner using a brass air gun cleaner but don't get rid of all of the lube also your wanna chat a scope and rings I recommend the hammers 3X9X40 AO MILDOT scope. They work amazing with the kick of this gun also use 1 inch high utg leapers mounts work better then a solid mount. Next thing you know you will have a very accurate break barrel u just got to get the feel down once you do you will have a amazing air rifel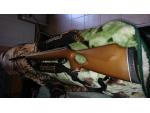 Pros
By far the most powerful nitro piston air rifel for hunting amazing power I put the hammers 3X9X40 AO MILDOT scope Beacuse scope was defective I recommend changing it and going to utg leapers RINGS no need for blue loctite besides on stock to gun that goes to barrel ! I also recommend just sliding one cleaning pellet through it with brass gun cleaning pole cause u don't want to get rid of everything ! Once you know how to hold this gun proper standing I can hit the bullseye using either h&n terminators 16.36 or hornets 16.20 from 30 yards away and hit the same pellet 5 times in a row this thing has amazing grouping!! So I bought another also I had a average out of my cadwell crony of 837 let me remind you it was 49 degrees out ! I'm very sastified about my pursuance I've already put 500 shots through it took out a big bore raccoon , fox also turkey this rifel has plenty of knock down power I don't recommend this to any kid this is by far a adult air rifel
Cons
Trigger could use work but watch you tube Kevin kormandy has amazing videos on this gun !other wise I wouldn't change a thing !!
2.0
By Edgar
USA
October 28, 2020
I have owned this gun approximately 3 years, but quit shooting it 2 years ago. It continuously damages scopes, loosen screws, etc. It is such a pain to keep shooting articulately I just set it in the corner of my workshop and forgot about it. It is useless if you cannot depend on it.
Pros
Looks good, and strong impact on target
Cons
Damages scopes after only 50 or less rounds, loosens screws frequently, even bent ring mounting screws.
Q&A
Question?
Login to ask someone who bought this product.
What is difference between the Benjamin Trail NPXL 1100 and the Benjamin Trail NPXL725 Rifles?
asked Douglas from USA
1100 is a .22 caliber and the 725 is a .25 caliber
Gerald from USA
What is the energy in 25 cal ?
asked Donald from USA
Got mine at 29 fpe
Gerald from USA
What do you think of the scope that comes with it? Is it good to 75 yards of will I need to upgrade.
asked Greg from USA
I would upgrade to the hammer 4x12x40 works great on mine
Gary from USA
in the opinion of those ppl with lots of experiance pleasetell me what they think the most powerful and most inexpensive airgun that would be able to take ground hogs at 100 yd distances
asked gregg from USA
As one commenter called: I'm a rabbit / squirrel guy! Which caliber would you choose? .177, or .22 or .26? And what kind of ammunition do you recommend? And how many joules do they have?
asked Molnár from Germany
22 cal will give the necessary lethality and low ammo cost. 22 cal guns typically shoot 30 ft lbs -41 joules.
Mark from USA
It Definitely a problem, You want to know the real reason I canceled my order Benjamin 725/ 25 cal nitro Piston!!!! The synthetic ram is poorly installed, that's the biggest problem with The 725 !! Crosman can't seem to got it right!! They will self distrust in a matter of time. Check out U-Tube Videos before purchase if!!!!!!!!
asked Joseph from USA
Hog wash ! There is nothing on YouTube about your claim! After about 500 shots mines still continues to THUMP SMALL GAME!!!!
Gerald from USA
Is the scope on the gun when you purchase it and is it sighted in when you purchase this airgun
asked Levi
It comes with a 3X9X40 centerpiont scope and mounts it is not sighted in out of the box
Gary from USA
I am left handed and left eyed.. would this fit me?
asked Michael
will this rifle kill a coyote??
asked Rodney
Yes in 25 caliber with a well placed shot
Gary from USA
How many ft pounds?
asked Jonathan
I have one that generates 29 FPE the other one I've had to return twice Beacuse of low velocity and the rail feel off so it's miss hit but crossman is testing it before they send me a new one
Gary from USA
Can your shoot birdshot out of it.
asked Louis giordano
how dose the gas piston work ? what is the air inside it ? how do i replace the piston ?
asked mike litynsky
Does anyone know the difference in cocking effort (rated in pounds) for this rifle, versus the Hatsan 135 QE in same caliber? The Hatsan is supposed to be 50 lbs. of cocking effort, for approx. 1,000 fps. s
asked Chaz
What is a good or decent scope for this airgun.makers or brand name will help.
asked Maura from USA
Would this work for hunting raccoons? Shooting them out of trees?
asked Michael
It says it is a nitrogen piston action. Do I have to refill a nitrogen chamber? How many shots does it get per fill?
asked Fred
is this legal in australia
asked reuben poole
que precio tendría con todo y envió a cárdenas tabasco , mexico al código postal 86500?
asked Manuel
Just ordered one myself. Is upgrading the trigger difficult. I saw one video where someone said he had to file down something to get his to work?
asked Tim
Can I use bbs for this gun?
asked Jiachen from USA
Yes, you can use BBs in this gun. IF you do YOU WILL RUIN the gun for pellets. The steel BBs will cause the rifling to deteriorate. All ACCURACY will be LOST. Spending 300 bucks for a BB gun seems outlandish to me since you are uining the gun. Currently any BB on the market is not .177. Most are slightly smaller so they effectively rattle down the barrel wearing down the rifling as they go. There are several articles on the internet telling you of the damage to a good gun by using steel BBs. BBs are not very accurate as they are so light. If you are shooting short distances then use a BB gun with a smooth barrel. If you want accuracy at longer distances then you need to shoot good pellets out of a good gun.
Mike from USA
Not steel BB's, they damage the rifling and would be hard on the gun and scope. Lead ones can be used but they're also hard on the scope, but pointless anyway because they're inaccurate. Basically it's best to use lead pellets ~10.5gr or heavier.
ROBERT from USA
I was told by the Crossman rep. pellets only. Since the barrel is rifled, BB's will probably mar the rifling which would greatly affect the accuracy. The only model that can use both that I know of is an old Benjamin air pistol, model 130, from the 1960's which was able to use darts, BB's and pellets. They may have made other models which could use both but I do not have that information.
Paleoman
I am new with this gun, i just want to know that how to clean it and how to take care of it. I read some Q&A that many of them says to clean it first before i use. Any body know that, this air gun shot Deer? with .177 Cal?
asked James from USA
First, in most states you cannot hunt deer with anything smaller than a .30 caliber gun. You need to buy some .177 pellets and look at them. They are not for hunting anything larger than a squirrel. The penetration of the pellet to kill an animal humanely is just not physically possible. You can use the .357 and larger pellet guns for deer hunting if your state allows them. Next is cleaning the gun. There are a number of opinions on the internet on the subject but you asked the question and AirGun Depot asked me to answer you. I am very opinionated about this subject so you need to research it a bit on the internet to get other opinions. MY humble opinion is that you clean the gun before you ever shoot it. I do not want to be pushing pellets down a barrel that may have all kinds of metal machining grit in front of it. Secondly, I do not know what gunk they put in the barrels to keep them from rusting but I don't want it in there either. I see where some guys suggest "shooting" the barrel clean of all that debris. I personally think they are idiots. There are numerous videos of cleaning barrels and most of them are good enough that you will get the idea of how to clean your gun. Do not use petroleum based solvents. That stuff eats the silicone rubber gaskets in any air rifle. Use only the mineral oil cleaners. Yes it will take longer but after a dozen or so patches it will be clean. You will feel good about it. I only clean new guns and very seldom clean a gun after that. I do wife them down but do not try to clean the bore unless I see a lot of crud. I do occasionally run a couple patches down the bore but do not try to get a clean white patch to come out. There is no powder residue since it is an air rifle and the graphite left in the barrel is actually a lubricant which does not have to be cleaned out. Therefore nothing to cause rusting in the bore. Just my way of doing things.
Mike from USA
I used to work in a gun shop in Austin TX. I bought a used Bee Man R1 from a customer who while trying to run Deer out of his garden killed one, it was .177
Eddy James
The bore is usually filthy, so yes, clean it. Nobody should attempt to kill a Deer with it, especially in 177. I'd consider Racoon the limit. Plus the range is limited because the power drops off very fast, about half the power is lost at 50 yards or so.
ROBERT from USA
What is the length of pull on this rifle. (distance from trigger to butt plate)?
asked Bill
The distance from the trigger to the end of the butt plate is 14 inches.
Mike from USA
I like this air gun, realistic and accurate. What ever I shot it never failed. No more squirrels around my residents. Recommended for you.
James from USA
I bought this gun - Benjamin Trail NP XL1500 Air Rifle With Scope .177 cal Can i use .22 or .25 with this gun? Or do i need to use only .177 for this gun? Thanks, James
asked James
It is a .177 only
Scott from USA
How is the scope holding up with this rifle? My older RWS really does a number on scopes.
asked Dave
Mine is a POS, at least the quality. After about 200 rounds (and the kind of rifle handling I'd afford a newborn infant), a perfectly focused image becomes impossibly blurry after firing a round. All screws are tight. I can snap it back to normal focus by tapping the scope or even the stock of the rifle. Working to resolve it now.
Ken from USA
Zeroed great but after two weeks it got windage stuck to the far left. They sent me another scope,no problem for free.
DAVID from USA
The scope is holding up very well. I have put a couple of hundred rounds through it and no problems with the scope. It seems to hold its settings very well even thought the rifle kicks severely when fired. The scope mount, however, is a different story. My first NP XL 725 I shot about 25 rounds through it and the scope rail, which is supposed to be welded to the receiver, fell off the rifle, scope and rail went to the concrete. Arigun Depot replaced the rifle and this one seems to be holding up okay.
James from USA
Well, I haven't had any issues yet. Shot probably a thousand or so times and no problem yet.
Jeff from USA
I took that scope off and put a leapers 4×16 ×44 swat
mike
Digame para cuando estara disponible este modelo. Muchas gracias.
asked Hector from USA
We speak ENGLISH in this country learn it or get out.
Scott from USA
You can't use regular scopes on these air guns . They are air gun specific scopes that work very well and you will be a lot more accurate also. Took center point off ordered scope from air gun depot 3x9x40 haven't had any trouble out of new scope and is very accurate. Squirrels were invading the house , i am getting ready to replace siding se i eliminated the squirrels before starting this project. A dead Squirrel can't chew holes in the new siding. Hope this helps you out
Michael from USA
You can't use regular scopes on these air guns . They are air gun specific scopes that work very well and you will be a lot more accurate also. Took center point off ordered scope from air gun depot 3x9x40 haven't had any trouble out of new scope and is very accurate. Squirrels were invading the house , i am getting ready to replace siding se i eliminated the squirrels before starting this project. A dead Squirrel can't chew holes in the new siding. Hope this helps you out
Michael from USA
Hector, Por desgracia, cuando se trata de armas de aire comprimido reformadas, es difícil determinar cuándo vamos a tener de nuevo en stock. En este momento, no tenemos ningún marco de tiempo actualizada sobre este tema en particular cuando estará disponible. Por favor, continúe siguiendo el sitio web para las actualizaciones. Atentamente, Servicio de Atención al Cliente Airgun Depot
Scott from USA
I am looking for a Truly Reliable scope. I am a more than average target shooter and I have several guns. With in the range of over 10,000 rounds or so. I have thrown away 2 RWS 4-12X50, 3 Center Point 3-9X40, 2 Bushnell and 1 Tasco 2.5-10X42.
asked David from USA
Air gun specific scopes will hold up. Do not try and use scopes made for center fire guns. Air gun will blow the nitrogen out in regular scopes. Stop wasting money on big game scopes think outside the box . Spring action recoil needs an air gun scope. Accuracy will also improve. Have a great day.
Michael from USA
The ONLY scope I found holding up to heavy reverse recoil was the old Redfield-- I shot maybe 20 a day over a 4 year period (killing time and starlings) And I went thru maybe 10 scops whose cross hairs started wandering before I accidentally found an old redfield and it totally solved my problems.
William Moore jr
Rather than look for a stronger scope, consider making the gun less abusive to them. A better main seal and some tuning will make more power, better accuracy, and be less abusive to scopes. I doubt any scope can consistently survive on this gun as it comes from the factory. If you read reviews of this and other nitro spring guns you'll see scope breakage is very common. I tune all my guns and have yet to break a single scope, which are mostly cheap bundled ones and/or not airgun rated.
ROBERT from USA
HI, you ship to Puerto Rico? My zip code is 00738 Thanks!
asked Glory
Glory, Please contact our International Shipping Department at [email protected] They can answer any questions you might have. Sincerely, The Airgun Depot Customer Care Team
Scott from USA
What weight pellet works well with this gun? Are u happy with the .25 or would u rather have gone with the .22?
asked Brian from USA
The biggest factor imo is the pellet speed, so if you're ok with the trajectory then great. Another is pellet choice and cost. If you wanted you can buy whichever caliber then buy a barrel(s) in whatever other cal you want. The barrel is ~$16 from Crosman. If you want a complete assy with linkage and shroud it's closer to $32. With the complete assy you can swap barrels in 5-10 min. Parts availability and low cost is a big bennie with Crosman.
ROBERT from USA
My everyday pellets are the Beeman Crow -Magnums, around .26 grams. The H&N Baracuda Hunter Extreme Hollow points shoot really well with a weight of 28.4 grams. I have no regrets with this gun. I already own a Benji Nitro Piston .177 and recently bought 2 of the special edition models in the .22 caliber. I love them all. They all have their purpose. If I were to choose caliber, it would be hard to say. For slightly bigger game, the .25 is the way to go. If you are a squirrel, rabbit type of guy, the .22 is great and with the proper placing, power and ammo the .177 will definitely do the job. Just for the record, the .22 Benjamin Special Edition is worth a look unless you really are into the wood stock.
Jeff from USA
realizan envio a Chile?
asked conrado
Conrado, Por favor, póngase en contacto con nuestro departamento de envíos internacionales en [email protected] Ellos pueden responder a cualquier pregunta que usted pueda tener. Atentamente, El Equipo de Atención al Cliente de rifle de aire Depot
Scott from USA
If I buy this gun what else besides pellets do I need to buy.
asked Brian
#1 GRTlll tiger was the first thing I installed in all 3 of my Benjamin rifles. Try the stock one first is the only way to appreciate the difference.
David from USA
BUY DIFFERENT WEIGHTS OF PELLETS AND FIND OUT WHICH ONE THE GUN LIKES.
Ivan from USA
what does it weigh in lbs in .25 caliber
asked mike beeman
Mine weighs 8lb 6oz without the scope, with scope it's 9lb 12oz. Brutal to carry around hunting so lots of people get a sling. The regular Trail weighs 6lb 8oz without the scope so just under 8 with.
Guest
My 22 version weighs 8.5lbs without the scope, or maybe it was 8.4... The 25 will be slightly less since the bore is larger, so maybe an oz lighter? Assuming the barrel OD is not larger which I doubt. Wood density and moisture content vary a couple oz too. Most magnum guns weigh about 8.5 btw.
ROBERT from USA
The gun weighs the same in all three available calibers (0.177/0.22/0.25); about 8.5 pounds with the scope. It's no toy. This is a serious air rifle and it carries serious weight.
Thomas from USA
The gun weights pretty close 10lbs with scope without about 7.5-8 without
Vincent from USA
with scope almost 6 lbs,
pat from USA
Will this gun shoot good groups out of the box at 60 yards
asked Nick Coast
Virtually no chance, but it depends on what you call good groups.
ROBERT from USA
WELL NICK RIGHT OUT OF THE BOX IS A TOUGH ONE IT HAS THE POWER BUT IT ALSO HAS A KICK TO IT I CHANGE MY TRIGGER TO THE CHARLIE THE TUNA GRT-III AND SHOOT NICE GROUPS AT 20 YARDS BUT I STILL TRYING DIFFERENT PELLETS. IF YOU ARE A MARKS MAN I COULD SEE IT HAPPENING BUT YOU GOT TO WORK ON THAT TRIGGER. SO TO ANSWER YOUR QUESTION IT HAS THE POWER ,MUST FIND THE RIGHT PELLET, AND A STEADY HAND IT IS POSSIBLE. I REALLY LIKE MINES BUT DID ALOT OF TWEAKING IHOPE THIS HELPS YOU.
Ivan from USA
I've had mine two months and after about 500 rounds and multiple different pellets the best it will do is 2" at 25yards. Sometimes better but certainly not reliably. I'd say I'm an average shooter and have owned many rifles.
Paul from USA
do you think it can take down a coyote
asked jase
Head shot, yes. We put out a Home Depot bucket, filled it with water, and at 50 feet put a round-nose pellet through both sides (1 shot). But coyotes are tough. A body shot may just send it home to die. Tom
Thomas from USA
what is a good upgrade scope?
asked william from USA
*Update* The UTG 4-16x44 AO SWAT AccuShot Rifle Scope I bought had to go back for replacement... Shot it for awhile, had the zoom ring screw come loose and the end eye piece ended up wobbling. Yay for UTG for the replacement, quick and easy. The gun has a lot of barrel droop and no one seems to make weaver mount rings that adjust for droop (unless someone can correct me on this). I have a Regal NP and a Beeman dual caliber that are funner to shoot (and have dovetail scope mounts so i have adjustable scope mounts on them) but I have not given up on this gun yet. It just seems to be real tough on scopes, and you definitely need to loctite things down (pretty much all of the screws on it...all of them).
Greg from USA
HELLO WILLIAM I PUT THE CENTER POINT 4X16 X40 SCOPE WITH A RED/GREEN ILLUMINATION ON MY RIFLE ITS A GOOD SCOPE FOR THE PRICE BUT HAS SOME ISSUES WITH IT LIKE THE KNOB FOR THE RED/GREEN ILLUMINATOR IS HARD TO TURN ON & OFF AND I DON'T CARE FOR THE FLIP UP LENS COVERS I TRIED TO GET THE STRETCH LENS COVER LIKE THE 3X9X40 THAT COMES WITH WITH THE RIFLE BUT CENTER POINT DOESN'T MAKE ONE FOR THAT SIZE. BUT OVERALL IT IS A REAL NICE SCOPE IT IS CLEAR AND POWERFUL A GOOD SCOPE FOR THE PRICE. IF YOU PLAN TO SHOOT IN THE DARK THEN IT IS A GOOD BUY FOR THE PRICE. HOPE THIS HELP YOU ON YOUR DECISION HAPPY SHOOTING WILLIAM
Ivan from USA
I just bought a UTG 4-16x44 AO SWAT AccuShot Rifle Scope... I've got it mounted (it's big) and plan on trying it out this weekend. The Centerpoint scope that came with it has all ready gone back to Crosman once due to it breaking after 100 shots or so. They sent the exact same model back as a replacement so I figured it was time to upgrade. It's not worth the cost in my opinion... The replacement went on my Crosman Nitro Venom. The XL1100 is a great gun, is very accurate off of a rest, and is heck of fun to shoot. I bought mine to keep the ground squirrels under control at my retirement house in the mountains. I really need some time with it, and I have some heavy pellets on order (some H&N Barracuda Hunter Extreme19.09 grain and Match 21.14 grain). Greg
Greg Bold
I'm interested in buying this xl 1500 in either .177 or .22. I really prefer the .177, but am concerned about noise. I'm now shooting a regular Trail NP .22. It's as accurate as a break-barrel can be when well tuned, and quiet as a mouse...literally, no louder than a BB gun, but the pellet's only traveling about 700-750fps (I hope). HOW LOUD IS THE TRAIL NP XL 1500, (in either .177 or .22) AND HOW MANY FPS CAN I EXECT SHOOTING CROSMAN HOLLOW POINT PELLETS?
asked Choctaw1
Thank you very much Powered rifle
SERGO from USA
The XL isn't much louder then the Trail you have, but in 177 ti can go super sonic and make a very loud crack as Mike mentioned. The 22 should be a little quieter due to the bore diameter, and a tune can quiet a bit more, heavy pellets help too. Springers in this power range lose a lot in 177 as well so you're way better off in 22. It'll shoot a generic 14.3gr pellet at maybe 850 to 900, but more when tuned. Mine does 940 at maybe 1000' elevation so maybe 950+ at sea level? You can mid the shrouds tip to help quiet it some too, but most of the noise comes from the power plant so not much you can do. Whatever the story it's an excellent magnum and probably as quiet as you can get in a springer of this power. So just picture the Trail you have but ~2lbs heavier, longer, ~10lbs harder to cock, and ~40% more power. I think the regular Trails are excellent in 177, and this is excellent in 22. A physically larger gun to match the larger pellet, but otherwise very much the same.
ROBERT from USA
Short answer is No louder. I do not have a chrono to give you FPS. Long answer is that there is a plethora of info on the web that will tell you that your XL1500 will not get anywhere near that many FPS with regular lead pellets. But at that point you gotta be smarter than the pellet rifle. The Story: I received a new pellet rifle (not the XL1500) and did not clean it. First mistake! Then I used a target pellet that was less than 7 grains. Second mistake. When I shot the first pellet it sounded like a 223 going off. In my little town it is a felony to shoot a firearm in the town limits. It was so quiet at the time. No traffic, no wind, no nothing. Needless to say I RAN back inside and put the rifle away. I waited until after dark to retrieve the pizza box target. I then realized that all the info I had read on the internet about air rifles had not stuck in my tiny brain. Soooo when I received my XL1500 just last Saturday what was the first thing to do? No do not shoot it. I cleaned it very well. Micro lubed the barrel bore and then dry patched it couple of times to remove all but the tiniest amount of lube left in the pores of the metal. Then I got a 10 grain pellet to try for the first shot. Other than the mechanics of the guns power plant it was quiet enough to shoot without my neighbors calling the police. Then I tried a 7.9 grain Crosman pellet and there was a difference in the shooting noise level but still not supersonic breaking the sound barrier to make too loud of a noise. There are several sites on the web that all offer lots of good information. Just do not make a decision based on a single person's opinion. There are a lot of talking bobbleheads out there. Think the NFL. When you find a concensus of opinions then you know that more than one person has experienced the situation. As to how many FPS that you can expect from the Crosman Hollow point pellets, the answer is something less than roughly 1100 fps as anything greater will be supersonic. As you know supersonic is when the pellets break the sound barrier and that is where you get the very loud sound. I have more than one Crosman/Benjamin and I like them all. Not that there are not things about them that I think a good company should change but I can either fix those items or they are not bad enough prevent me from buying them. Good Luck. DOG (Da Old Gunner)
Mike from USA
what about front and back sights for this gun
asked E.x.
This rifle comes with a scope no other sights. With this rifle and most other air rifles you'll want to use a scope anyhow and the one provided is adequate. I have 2 Trail NP's and I replaced one of the 3-9x scopes with a more powerful 4-16x not really much difference.
stephen from USA
Their arnt any on this gun
Vincent from USA
voces enviam para o estado de MINAS GERAIS BRASIL sem problemas de entrega?
asked reinaldo
Reinaldo, Entre em contato com o nosso Departamento de Transporte Internacional em [email protected] Eles podem responder a quaisquer perguntas que você possa ter. Atenciosamente, O Airgun Depot de Atendimento ao Cliente
Scott from USA
Good afternoon. Do you delivery in Russia? How much will it cost?
asked alexsandr
Alexsandr, Please contact our International Shipping Department at [email protected] They can answer any questions you might have. Sincerely, The Airgun Depot Customer Care Team
Scott from USA
I am very interested in the nitro piston vs the spring piston but do you know about the life span of the nitro piston? Are they subject to leaking or anything unforeseen that may have been overlooked? The Hatsan claims to have a recoil-less spring piston rifle in the 25 cal and I am torn between that and some other makers claims .A lifetime warranty on the power supply would ease my skepticism. Any info would be much appreciated. Thought about the pcp's but the pumps are just a bit too much and the 25 cal multi-pump guns just don't seem to have the knock down power I need for my squirrel situation which is now out of hand.
asked joe
I have used the NPXL1100 in >22 for about 20,000 rnds. and then sold it to a friend. Chrony did not change after the initial break in, which was over 1000 pellets. Though when I bought it, it had erratic placement in shooting and needed tuning, fortunately I am a tuner and found the problem on the crown poor deburring was the culprit. After that it was a nice gun shooting sub MOA at 80yrds. The gas piston is consistent and reliable, I had similar thought before buying but gave it a go anyway. Doesn't hit like a Daystate PCP, but bang for the buck is excellent.
Smoothairguns
Nitro is cool but there are drawbacks, and one of those is failure. Lifespan is hard to say since they're fairly new, but they're like the gas struts on SUV hatches which most anyone can tell you don't last. The nitro are also harder on scopes which often break. I think if you're shooting squirrel this is the wrong gun, maybe the standard Trail or similar gun in 177 or 22 cal would be better. This gun is also heavier and harder to cock than the regular Trail, plus much more expensive. 25cal pellets are also expensive and hard to find. A Trail, Titan, or one of the other guns would be much easier to use and still have plenty of power for squirrels.
ROBERT from USA
Do I need a co2 cartridge for this gun?Does it have inside air pumps?
asked Marwan from USA
CO2 not required, it has a nitro piston (like the piston that holds your hood or rear door in your car). Single shot, break barrel, and it packs a punch!
jonathon from USA
Which pellets is the most accurate with the Benjamin trail XL-1500
asked louis
I'd go a step further and suggest the JSB 13.43gr in 177. For .22 the JSB 18.13gr. The gun is better in 22 which is why I mentioned it, and you can buy a 22 barrel for ~$16 from Crosman. http://www.crosman.com/pdf/manuals/Trail%20XL%20EVP.pdf You'll need the barrel, a link pin, and new breech seal which are about $18 all together. The remaining parts you can rob from your old barrel, or you can build a complete new 22 barrel so it's easily swappable, which is how I prefer it . For that it's maybe another $10 in parts. Same with the 25 cal should you want to try it. You can write me at chevota at hotmail if you have questions. Meanwhile check out those 13gr JSB, they're outstanding.
ROBERT from USA
I use Crosman premier hollow points. they are awesome up to about 65 yards. at 25 yards i hit a 7 shot group about the size of a dime.
Sawyer Walser
currently im using crosman premier ultra mags domed. 10.5 grain. accurate enough for most. your accuracy and energy delivered on target will increase will a better and heavier pellet.
Gabriel from USA
do you ship to Nova Scotia Canada
asked Allan Pettipas
Allan, Please contact our International Shipping Department at [email protected] They can answer any questions you might have. Sincerely, The Airgun Depot Customer Care Team
Scott from USA
Dear : I would appreciate to note the size of the shipping of the product : length, width and height.
asked CARLOS from USA
Carlos, The box size would be around 50" long x 10" wide x 10" high. The gun itself is about 48" long. the weight of the item is 9.15lbs. To ship the package would be around 14lbs total. Hope that answers your question. Feel free to contact us with any other question you might have. Sincerely, The Airgun Depot Customer Care Team
Scott from USA
What is the best ammo for this rifle if you want the best accuracy?
asked Sander
have to go with the JSB exact monster 13.4 grain. crosman premier ultra mag 10.5 are good to but the JSB will excel.
Gabriel from USA
trial and error, i use a heavy grain, 11.57, and Beenman Silver Arrow
jonathon from USA
What is the Nitro Piston & how does it work ?
asked Ray
The nitro piston replaces the conventional metal coil spring with a nitrogen filled gas chamber. The advertised advantages of that change is that the Nitro Piston is a "quieter" shooter, and your gun doesn't experience spring metal fatigue over time. I can personally tell you that it is definitely a quieter air rifle. I can't comment on the spring fatigue issue as both of the two BTNP XL725's (0.22 & 0.25 cal) that I have purchased are too new to compare the RWS metal spring air rifle that I have had for years (without metal fatigue). I like the BTNP XL725, have recommended it to others, and would buy it again for both performance and price/value. Tom T
Thomas from USA
I own the .177. I love the rifle but would like to convert it to a number two. Does anyone know where I can get a number two barrel ? I live in South Africa.
asked steve
Do you mean .22 caliber? You can get them from Crosman, so maybe some place local that buys from Crosman can special order it? Crosman has .177, .22 and .25 barrels for this gun. Or a barrel from a Chinese model B22 should fit but I don't think any have the shroud.
Todd
You mean a .22cal? Yes, the barrel is available from Crosman direct for ~$16US. Not sure about shipping out of the country, I've heard stories they only ship within the US. You'll probably need a couple or several extra parts, but I can help with that info if you need chevota at hotmail.com
ROBERT from USA
I would recommend going back to Benjamin for the answer.
John from USA
How well does this rifle shoot the pba ammo? I have a gamo rifle and it will not shoot the pba ammo with any kind of pattern.
asked Troy
This is a magnum so it will only make things worse. Try shooting heavier lead, like 10gr at minimum, but JSB 13.43 are even better. Lighter pellets are also harder on the scope so best to avoid them altogether.
ROBERT from USA
pba ammo is very light in grains. you will need to purchase a quality alloy pellet and adjust the scope for this lower grain pellet. super important for the success of this rifle. "going to attach my full review that will answer your question, follow these steps and a quality pba will group." Accuracy is no problem. Power is no problem. Noise is no problem. "The more you shoot the quieter this rifle gets and the better you shoot." Allow me to address any question or concern. Now I am very huge on accuracy and am an expert shooter, I will revisit this point later. To start: Step 1 this rifle out of the box should be cleaned of excess grease and oil, run a bore brush through the barrel too. Step 2 Tighten all screws with a screwdriver, the two stock screws, the trigger, and butt plate. & scope mounts and scope. Important important important...tighten the big screw holding the barrel to the receiver. You will need to remove the stock to access this screw. That will be the two side screws on the stock and the two in the trigger well. NOTE: this is a magnum air gun, shooting it will loosen ALL screws throughout this rifle. Use blue Loctite. Step#3 Break it in shooting cheap daisy pellets into the dirt or a whatever. This is not for practice, only to break in the rifle. (Needs to have a break-in period. in this period this rifle is burning off excess oil and grease and seating in all its components. Failure to do this will result in poor accuracy.) 150-500 pellets. Next: IMPORTANT this rifle likes 10.5 grain and up pellets. Anything less will cause poor accuracy. Recommend Crosman Premier ultra mags domed. Or JSB exact monsters 13.4 grain. Look it's like this, the more weight (grain) of the pellet, the more accurate this rifle. Reason for this is this is a Super Mag rifle. Light grain pellets will become unstable flying out of this thing at blazing speeds loosing accuracy. Heavy is better, more kinetic energy delivered on target means more destruction. This is Crossman big dog flag ship of break barrels. It is worth the money if you're interested in moving up in shooting ability. Follow these steps and your new xl1500 will be the pride of your collection. Last few things, if you're having problems with shooting this rifle after reviewing these steps then revisit to your shooting techniques. Don't call crosman. Their cust service just says to exchange it. These steps will make this rifle perform and remove frustration. Ps. revisiting my past statement…I'm getting nickel groups consistently at 50 feet in a sitting position. @ 100 feet I'm still picking off birds holding over .25 mil dot on the scope provided. I recommend this rifle.
Gabriel from USA
I shoot only RWS superdomes in all of my guns. Stay consistent with your pellet type and weight and you will stay consistent on your targets. Find one type of pellet that fits your needs and site your gun in using it and consistency will follow.
John from USA
Does it have a suppressor built in? Are you happy with it?
asked Donald
Yes it does have a suppressor, you can tell by the fat barrel. Most all the break-barrel Benjamin models have this. The guns are still loud imo, but certainly better than a gun w/o and a coil spring. The nitro spring does more to reduce noise that the suppressor does, but nice to have both. The gun is very nice looking, probably the best looking airgun period. It's hard to cock and a bit heavy, but that goes for most magnums anyway.
ROBERT from USA
What is the most acturate pellet for this gun?
asked charles
predator polymag is absouletly #1 in my experiances ive tried 6- different types, H&N FTT, Benjamin dome, baracudda hunter xtrem, crow magnum and H&N FT...with predator polymags 10yds 1/4inch groups 15yds thur-20yds 1/2inch groups, 25 & 30yds 1/2 to 3/4 ctc= or measuring your pellet from the center of one pellet to the center of the other that's completion style.. hope this was helpful to ya..
Sid from USA
Can this be used in all weather conditions?
asked john
yes. this is the second function of the nitro piston. the gas in the piston does not react to the temperature due to the compression of the nitrogen.
Gabriel from USA
Can this gun be used in all conditions? (rain, snow, etc.)
asked Peter
How I can get the (Benjamin Trail NP Nitro Piston XL725 Air Rifle w/Scope .25 cal Was: $350.00, Sale Price: $299.99) in Pakistan. SALMAN
asked SALMAN FAROOQUE
Salman, Please contact our international shipping department at [email protected] Sincerely, The Airgun Depot Customer Care Team
Scott from USA
What profile are the scope rings that come on the scope?
asked Todd from USA
I believe they are considered a medium profile scope ring. I replaced the scope that came with mine. I bought the Centerpoint 4-16X40 scope with red/green illumination - open box and am very happy with this scope on this gun.I put the scope that came with my Benjamin Trail onto my Stoeger X10.
Michael from USA
I am left handed, will this product be comfortable to hold and use left handed with the thumb hole stock? Is it possible to get this air rifle without the thumb hole stock?
asked Josh
It fits left or right handed equally. This is the only stock option, but you can reshape it and remove one or both cheek rests if you want. You can also order a different stock, for example the Stoeger X50 should be a perfect fit, but I can't remember if the X50 has the slot for the cocking linkage. If you buy the standard version (non XL) you can choose from a wide variety of stocks from Crosman and other mfg's.
ROBERT from USA
What is the cocking effort?
asked Devan
Mine is 38lbs at its peak measured 1" from tip. I used a proper pull type scale, not a bathroom scale.
Todd
It's hefty! I don't know how scientific this is, but I placed the barrel against a bathroom scale and cocked the rifle while observing the read out and it peaked out at a max of 45 lbs. just before the sear set the trigger. If you shoot a lot you definitely get a work out. But then again XL1100 packs a powerful punch! In comparison, I also bought a Titan GP also in .22, did the same thing and it peaked out at 35 lbs. I can cock this rifle all day. I am very pleased with both NP rifles and have killed many a squirrel with these rifles, but I favor the power of XL1100..
Theodore from USA
It takes about a 35-40 lb. pull in order to cock this rifle. Once the barrel is broken the cocking effort is very smooth and I've had no problems cocking this rifle.
George from USA
Are you satisfied with accuracy of this rifle?
asked charlie
Clean barrel and get use to the trigger and this gun performs. Break-in important with all the XL line about 50 rounds. Do these things and you love this and all XL line guns.
Lawrence from USA
What game can be taken with this gun?
asked charlie
I have used it successfully for squirrels, and chipmunks.
William from USA
Do you know where I could get the smooth bore model?
asked john
No, but you could hone one out, or buy the .25 barrel and insert a sleeve. I think everyone's question is why? Are you making a shotgun? If so cool, let me know how it works because I want a shotgun too! I was thinking of just sanding the rifling out of a .25 barrel and using making custom little shells to hold the shot. Just remember that whatever you're using it for the gun needs some resistance from the ammo, so like shooting BB's would be a bad idea, especially for the scope. Look up "dry fire" and the damage it causes. A pellet acts like a cork allowing pressure to build inside, if that pressure doesn't build then it gun pounds itself and the scope will be the first to go. So BB's, darts, too light pellets, no pellet etc a bad idea...
ROBERT from USA
I havn't heard of a smooth bore available for this model. You can call Crosman at (800)7AIRGUN.
Richard from USA
Please give your details of this Benjamin Trail NP XL1500 Air Rifle With Scope .177 cal.
asked Viet nguyen
Accuracy is no problem. Power is no problem. Noise is no problem. "The more you shoot the quieter this rifle gets and the better you shoot." Allow me to address any question or concern. Now I am very huge on accuracy and am an expert shooter, I will revisit this point later. To start: Step 1 this rifle out of the box should be cleaned of excess grease and oil, run a bore brush through the barrel too. Step 2 Tighten all screws with a screwdriver, the two stock screws, the trigger, and butt plate. & scope mounts and scope. Important important important...tighten the big screw holding the barrel to the receiver. You will need to remove the stock to access this screw. That will be the two side screws on the stock and the two in the trigger well. NOTE: this is a magnum air gun, shooting it will loosen ALL screws throughout this rifle. Use blue Loctite. Step#3 Break it in shooting cheap daisy pellets into the dirt or a whatever. This is not for practice, only to break in the rifle. (Needs to have a break-in period. in this period this rifle is burning off excess oil and grease and seating in all its components. Failure to do this will result in poor accuracy.) 150-500 pellets. Next: IMPORTANT this rifle likes 10.5 grain and up pellets. Anything less will cause poor accuracy. Recommend Crosman Premier ultra mags domed. Or JSB exact monsters 13.4 grain. Look it's like this, the more weight (grain) of the pellet, the more accurate this rifle. Reason for this is this is a Super Mag rifle. Light grain pellets will become unstable flying out of this thing at blazing speeds loosing accuracy. Heavy is better, more kinetic energy delivered on target means more destruction. This is Crossman big dog flag ship of break barrels. It is worth the money if you're interested in moving up in shooting ability. Follow these steps and your new xl1500 will be the pride of your collection. Last few things, if you're having problems with shooting this rifle after reviewing these steps then revisit to your shooting techniques. Don't call crosman. Their cust service just says to exchange it. These steps will make this rifle perform and remove frustration. Ps. revisiting my past statement…I'm getting nickel groups consistently at 50 feet in a sitting position. @ 100 feet I'm still picking off birds holding over .25 mil dot on the scope provided. I recommend this rifle.
Gabriel from USA
My son is in love with this air rifle. I have not been able to experiment with the rifle to get a feel for it, as my son quickly gets on the rifle each time we set up targets. I've seen 1/2 " groups at 20 - 25 yards from his targets. I was skeptical about the optics with this package, but so far so good. He has 500-600 rounds through the rifle with no problems. I picked Benjamin based on references from others with experience with Bejamin.
david from USA
I am very happy with the Benjamin Trail NP XL1500 Air Rifle. I have run about 300 rounds through it. As everyone said, it is loud at the start but does quiet down after a while. The scope was a no-brainer to attach. It even includes an allen wrench to tighten the screws. The stock is good quality, although on mine there were two spots, one on each side of the rifle close to where the front strap mount is located, where the finish was gone right out of the box. I suspect it was placed in some sort of fixture at the factory before the finish was dry. I plan on trying to locate something to touch this up, without making a bigger more noticeable area.
Frank from USA
My trail np only cronys 357 fps, any help?
asked charlie
It's common for the nitro spring to leak and do this. If your cocking effort is lighter to match the power loss then it's the spring. If the cocking effort is 100% then either the breech seal or main seal is not doing their job. New seals or springs can be bought direct from Crosman for a reasonable price.
ROBERT from USA
First is your crony functioning properly? If it is then my second question is have you toyed with the gun? Opened it? If not then I would say there is a problem and you should contact Crosman and return it if still under warranty. \ Oaks
michael from USA
Are you sure your chronograph is not set to meters per second? That would be equivalent to 1171 feet per second. If not, how old is the gun?
Frank from USA
I heard this air rifle has lags in the trigger system, is that true?
asked connor mehigan
The trigger system is adjustable, excellent overall rifle. If the need ever arises, I will buy this again. I have tried many other brands and this is by far the best .
muffnbuster
I love this gun! It is fun to shoot. I was amazed at the quality of the gun. I do not have any issues with the trigger but I am not an experienced 'Gun Guy'. Most of 50+ years experience are with Bows.
John from USA
Hi Conner, The trigger is often the weakest link in many guns. This trigger is not too bad but I did replace mine very quickly with a Charlie Da Tuna adjustable, 2-stage trigger. Cheap, easy to do, and a very effective upgrade. I made the same upgrade to my Gamo Whisper that had a horrible trigger. Overall, the finish and performance of this gun is great. Thanks, Frank
Frank from USA
How is this gun? Can you kill small animals with it? What don't you like about it?
asked max
It is quite powerful. It can penetrate 3/4" plywood at 30 yards. So far two ground hogs, one porcupine, one fox, and one coyote with one shot kills. Not crazy about the accuracy, can hit a milk jug at 100 yards 8 out of 10 times. No where near PCP accuracy.
meangeeka
Where is this gun made?
asked Jackson
China, like most inexpensive airguns. The other option is Germany, but it's a lot more $. It's worth it imo, the German guns like Weihrauch are amazing quality, but few are willing to pay. RWS claim to be German but I have my doubts, whatever the case they're mid way between Crosman/Benjamin and Weihrauch. Like the RWS 34 in .177 or the 350 in .22 are the ones to get (imo)
ROBERT from USA
china.... live everything else.
jonathon from USA
Can u put a silcencer on this?
asked Aaron
It comes with a suppressor already, that's why the barrel is so fat. The barrel is about half that size and the outer tube makes a hollow chamber between the two. When fired the setup collects air and sound at the end of the barrel and diverts some of it backwards into that space. It's not an ideal setup because it could catch more sound, but it does help a lot and it's not as obviously illegal as others so you're less likely to have legal problems with it. You can also modify the tip to catch and divert more air/sound if you want to play with it. If you wanted to you could put a regular style silencer on it by removing the current set up which is threaded on the barrel, but the threads are course so I'm sure you'd need a custom silencer to fit it. It would probably be easier to thread a plain barrel to fit your silencer.
ROBERT from USA
Most likely not. But this gun is very quiet and would not need one even in a relazed neighborhood environment.
Cole
I live in Argentina. Is there any posibility to get free shipping?? Is the first time i will buy in this webpage. I didn´t understand the free shipping options at all. Thanks!
asked Pablo
You can get free shipping if you spend over $199 and live in the lower 48 states. We can not give free shipping to Argentina.
Scott from USA
I have a Nitro NP currently. Has anyone owned both the Nitro NP and XL1100? I am interested in precision and power. Does anyone know what the magic Pellet is for the XL1100? Thanks for your time. Mike
asked Michael from USA
I'd try the H&N Barracuda and JSB 18.13gr, both are heavy and work well with magnums. As you may already know the accuracy with spring guns like this is mostly with the shooter, but with those pellets you know you're a step ahead. Also be sure all the screws are tight etc and the gun is properly lubed. If you still have trouble you might look at the barrel and/or its crown and the problem and consider fixing the crown or replacing the barrel. They're cheap from Crosman.
ROBERT from USA
It is difficult to master the right hold on this gun (you will have to experiment with it). Mine sometimes likes different holds at different times. This definitely has the power, and as far as accuracy goes, you will have to experiment with the pellets. It depends on the gun, not all are EXACTLY the same. I've had good experiences with Crosman Premier Hollowpoints, Predator Polymags, H&N FTT, etc.
Conor from USA
can I get this gun at the store in Wilmington?
asked alex
You are allowed to purchase wherever you would like. We don't have any stores, we are only an online company.
Scott from USA
Do you can send this Nitro piston gun to Chile? Than You My Email is [email protected] My name, Juan Jose Iglesis Stagnaro
asked Juan Jose Iglesis Stagnaro
Try checking out at the sight and if there is a restriction you will get a warning before you purchase the product. There are a lot of different regulations for all different countries and they are always changing, so we have set up an automatic warring if there is a product, based on your location, that is forbidden. Shipping price always changes, but you should be able to see the final price before you complete your purchase.
Scott from USA
Can I order stuff from Indonesia? if allowed, how much total price plus shipping guns to Indonesia? thanks for the response ....
asked isman
Isman, The best way to find out if we can ship to a certain country is to attempt to place the order. The shipping cost depends on the total weight of your order and can be calculated with the shipping calculator found on our website. Sincerely, Airgun Depot Customer Care
Steve from USA
What type of scope does it come with?
asked Vadim
Includes CenterPoint 3-9x40mm with adjustable objective and Mil-Dot reticle.
Scott from USA
Does it come in a different color?
asked Francisco from USA
No, sorry it does not come in a different colour.
Scott from USA
does this gun come with a sling
asked Jordan perry
No it does not come with a sling.
Scott from USA
I'm thinking about buying this gun to use for squirrel hunting. Would you recommend it?
asked Eric
Kills squirrels easily. I use 18.13 grain jsb match exact jumbo heavy diabolo lead pellets and get one shot kills. I would recommend this rifle because it is powerful and is very accurate. Using a Primos trigger bipod adds stability and accuracy since the rifle is heavy. Must master the stock trigger by squeezing it like a lemon in tiny finger movements. I have nearly 3000 rounds through my np xl1100. You will get use to the trigger. Just think, no air to buy and no need to use a pump.
Larry
I kill squirrels with one shot dead on accuracy anywhere from 16 to 30 yards when zeroed in at 23 yards, even though have taken at 40 yards. I have found that my rifle loves the jsb match exact jumbo heavy 18.13 grain pellet. Just think, no air to buy or no need to pump air! Shot nearly 3000 rounds and have mastered the stock trigger. I also use the Primos bipod to steady my aim which makes a big difference in accuracy.
Larry Edwards
YES!!!!! T.O.T.A.L.L.Y. This pulverizes squirrels with head shots! If Predator Polymag pellets work good in your gun they are the best pellet for squirrels.
Conor from USA
Is this an accurate air rifle? What is the largest animal YOU would hunt with this?
asked Clark Conner
I've taken hogs with Crosman Penetrators in .22 cal. Ear shots at 20 yards or less.
Jeremy from USA
Once you master the correct hold position, and select the right ammo by trial and error, the rifle is pretty accurate. (I've gotten 1/2" 5 shot groups at 35yds, if that's saying anything....) The largest thing I would shoot with this is a raccoon (and only if you make the shot count, otherwise you'd better have a backup powder burner handy for when it comes to chow on your leg, if you throw the shot slightly.)
Conor from USA
How quiet is it? Is it quieter than a GAMO Bull Whisper?
asked Hayden
I don't know about the Gamo Bull Whisper, but what I can tell you is that my xl1100 is very quiet. This was one of my concerns as well, since I live in a very crowded area. All I hear is the impact of the 22 cal pellet smashing against my target. The only time it sounds like a 22LR bullet is after I have put a drop of chamber oil in the chamber. After 2 shots it is back to normal quiet shooting. Backyard shooting into a bullet box is what I do alot of and noise is not an issue. Also I have never felt it kick. Hope this helps you, my friend.
Larry
Is this ok to have in California? I tried to purchase this at Walmart.com but they wouldn't let me buy because of my location.
asked jon frando
Yes it is allowed in California.
Scott from USA
I need to control yellow finches because I am a market farmer (my sole income source) and the yellow finches can rob me of thousands of dollars worth of lettuce, spinach etc. Is this rifle accurate enough to hit a finch (about a half dollar target area at 30 - 50 yards? I am considering using a bipod. I already have several places where I can rest the rifle above my crop area.
asked Michael Malone
It's a lot of gun for finches, but yeah it'll work. Considering the target size and range I'd consider a more accurate gun with less power. Maybe a Weihrauch 95 or 80 in 177? A 95 is only a little more $ and will be far more accurate.
ROBERT from USA
It can, but use heavy pellets (10+ grains). This same gun in .22 cal will probably be more accurate, powerful, and all around better, IMO. I have it in .22 and it is great for long range and delivers a heck of a wallop upon impact.
Conor from USA
Do you export the Benjamin Trail NP XL1500 to South Africa and if so can you give me a possible range of shipping cost?
asked Jaco Brits
Hello Jaco Brits, Yes, we are able to ship to South Africa, however, there are restrictions on certain air guns/ air rifles. The cost of shipping depends on the size of your order. You can find a shipping calculator on the bottom of the shopping cart page. Please let us know if you have any further questions. Sincerely, The Airgun Depot Customer Care Team
Steve from USA
Is it quiet enough to shoot in a suburban area?
asked Austin
Probably not, I have this gun in .22 cal, and it is fairly loud when the pellets hit the target. So the .25 cal will just be even louder.
Conor from USA
when is this rifle will be stock?
asked john
John, Estimated in stock date is July-16-2012. Sincerely, The Airgun Depot Customer Care Team
Steve from USA
Hello, is it all weather? Thanks.
asked ju
This is not all-weather, nor is it available in synthetic stock at this time.
Conor from USA
I am intrested in the Benj Trail np xl 1100 and have done quite a bit of research concerning air rifles, however, I still am unsure about purchasing this gun due to the fact there are no sights on this gun and you have to rely strictly on a scope set up which I have found to be a huge issue with keeping accuracy (ON MOST AIR GUNS and don't particularly enjoy constantly adjusting scope /gun for accuracy). I am aware np lessens the vibration and I am looking at a Gamo silent stalker np with sights on the gun as a alternative.... however if the benj trail had sights I would lean that way .....is it possible to mount open sights on the benj trail xl if not what gun would you recommend in the .. 22 cal also I heard the benj is HEAVVVVY . I would appreciate any help on this.. THANKS.
asked TOM K
You could mount a normal Crosman rear sight on the rear but you'll need to thread the breech block for the screws, but you could also glue it on.. Then either make a front sight or cut up a normal one and either glue it or bolt it to the tip of the suppressor. You could make one from a small machine screw and thread it into the tube then shape the exposed part to the height and shape you want. The suppressor can be rotated so you don't have to worry about getting the sight on perfectly straight. If you make a mistake and ruin the suppressor they are extremely cheap from Crosman.
ROBERT from USA
I have a beemen .177 springer, it kicks like a mule. I've installed an accushot 4-20x50 scope about 4 years ago and have had no problems, it should work great on this gun ( big scope, a little overkill )
Bill
The scope won't go out of sight as much as others because of the weaver mount. It dosen't move and the gas piston reduces recoil.
Dan from New Zealand
If you are not very strong, it can be heavy, but I don't notice the weight. The only way you can have iron/fiber-optic sights, is to ship it to Crosman, buy and have them install the sights from a similar gun. Personally, I wouldn't get any other gun. This will always be my go-to gun for any job out of my 9 airguns. If you are leaning on open sights, the Hatsan 125 in .22 or .25 is REALLY good as I've heard, but I personally haven't shot one yet, but will possibly purchase one in the future.Hope this helps.
Conor from USA
.22 VS .177 Which is better for long distance shooting? Benjamin Trail NP XL1100 or the 1500?
asked Anthony
the .177 will go further due to the lighter weight but won't be as accurate or hit as hard as the .22
Scott from USA
Do you send it to Puerto Rico (Free shipping).
asked Carlos Torres
Thank you for you interest. For questions about ordering/shipping please email us at [email protected] This so we can better help you.
Steve from USA
How dependible is this gun (life spam).
asked Mike Robinson
They'll last for life if you don't abuse it, like let it rust or neglect its lube needs. The nitro spring is the weak link, they vary in life span from days to maybe decades. Some people find they already leaked when new. If you have a warranty then check the cocking effort and/or velocity to be sure it's still full strength before it expires. If you're past warranty then they can be bought direct from Crosman for $26 (I think), + $4 shipping. Other parts like the breech seal and piston seal last a really long time because of the material they're made of, in the old days seals were short lived. I imagine they might last for life, but I'd change them after 10 years anyway. I change my piston seal first thing on these types of guns because they're usually damaged from the factory thanks to the sharp edges inside the gun which cuts the lip of the seal, the lip is the most important part. So I remove the sharp edges, install a new seal and all is well. A bad seal can reduce power and be harder on the gun and especially the scope. The worse the seal the harder it is on parts. New seals are only $1.15
ROBERT from USA
I have only owned my B.T.NP for a short period but I am more than pleased with the results so far. I am shooting tight groups and have had no problems. I highly recommend this gun.
Warren from USA
So far I have not had any problems at all. I got it in December 2011, so I only have about 500 to 600 rounds through it. I understand that the nitro piston provides better dependability than spring guns, and that temperature or use won't cause it to lose power. I have been extremely happy with this purchase.
Todd from USA
I bought this air rifle for pest control, after shooting it to sight it in, It's turned into whole new hobby, I've had no problems with it, It's very accurate, as for the noise levels, it's the quieter than the air rifles my friends have, with little or no recoil, I think you'll find this product to be a very, very reliable piece in your collection, after all it is a Benjamin....Enjoy John Brown
John from USA
I've had mine for a year now of constant shooting, and have had no problems....they'll probably last 2 years before you'll have to get a new piston seal.
Conor
The free shipping included Puerto Rico?
asked Carlos Torres
Thank you for you interest. For this question I would recommend emailing us at [email protected] This so we can better help you.
Steve from USA
come with strap?
asked mark from USA
How have you liked it so far? For what reasons?
asked joe
Connor: Try the Crow Magnum pellets, they're hollow points that actually open up and do what they're supposed to do vs others that are just for looks. I've been using them since they came out and I have no complaints. Another pellet that actually opens is the Crosman Destroyer, it's not nearly as good but they're very cheap. They work better in lower powered guns because they open up at lower velocity than the Crow Mag. for example I use them in my Tempest pistol which doesn't have the power to open a Crow Mag, but in a gun like this XL the Crows open just fine and do max possible damage for a .177. When I hunt I usually carry the Crow in one pocket, and something else like the 8.4gr JSB in another. Very similar trajectory and it's nice to choose the best pellet for the job. With the Crow Mags you can clearly hear the distinctive and very loud POP as they hit their target. I always use them on Crows because of the name :) but still they're the best pellet for Crows and they tend to fall when hit with a Crow Mag vs fly away and die elsewhere like round and pointed pellets do as you mentioned.
ROBERT from USA
Very impressed . Nice looking and shooting gun.
Thad
At first, I was speculating about purchasing the rifle. But after reading articles and reviews, I decided to go ahead and purchase it. I was contemplating of purchasing from another location, but after looking around, I found the exact one at a great price at Airgun Depot. I ordered it on Monday, expected to be in next week, but to my surprise, it came in on Thurs. After examination and mounting the scope on, all the thoughts of regrets and speculations had disappeared. The rifle is built solid and sturdy, just how I liked it. I already owned a few air rifles so I had a few different types of pellets stocked. So I took it to a nearby field and set in the scope. I was surprised by the effortless of cocking the Nitro Piston. It was smoother and quieter than the traditional spring piston. I set up oranges at 10, 20, and 30 yards. First I adjusted at 10 yards, after a few shots and adjustment, I knew the next one will hit it. Sure enough, the orange exploded when i pulled the trigger. The next shots on 20 and 30 yards was right on target. I've used all kind of pellets but, personally, the crossman premiers hollowpoint pellets was the best. It had penetration, accuracy, and speed combined. Although the heavier pellets has a slightly more penetration, it tends to drop and slows down more for long range. Its best for short distances. Overall, I am very satisfied with the purchase. I have no regrets whatsoever since the purchase. All my friends that tried it said they loved it and was looking to get one. So I recommended I've shopped around and Airgun Depot had the best price and quick delivery. Indeed, this is not a toy gun and should be handle by an adult. So if you're looking for a well built, powerful, accurate air rifle, get the Benjamin, its worth it.
Lennie
It is a great gun for hunting, and long range shooting, but the .22 would be better IMO, the .22 pellet retains more energy and knocks down stuff harder......177 kinda just does a pass through.
Conor
Hey Joe, So far I am very pleased with this air rifle. If you read my first review it is all in there and still holds true at this time. Rifle is very very accurate,hard hitting and a real pleasure to shoot. Air Gun Depot had to best price I could find and fast shipping, easy to deal with. I did notice that mine likes pellets that have a head size of 4.49 or 4.50, meaning that they insert into the breach with little if any effort. This is a rifle,meaning it feels and shoots more like a quality built .22 rifle. I thing that most people will be please with this gun so long as they are willing to put a little time into working with it. If you just want a plinker that is only so so in accuracy and power and do not what to put some time into it, then I would suggest a lower priced air rifle. A little time,effort and money and this thing will realy be at the top of its game, at a fraction of what high priced guns cost. Darryl
darryl from USA
I have loved my pellet gun. It is a tack driver and inexpensive to shoot.
Seth
Is this gun accurate and does it kick, does it wreck scopes. How is the nitro piston serviced and at what cost. What is the warranty What is the velocity. Thanks Dwight
asked Dwight Shultz
This gun is hard to shoot accurately because of the recoil, it kinda is a scope killer, but not often. Nitro will last you at least 4 years before you'll have to have it serviced. Real world velocity with 24gr pellets is like 600fps.
Carter from USA
Hello. I know nothing about guns. A small pet was recently killed in my neighborhood with this type of gun. The bullet did not come out of the animal so the police were able to retrive it. Can you tell me how much noise this type of gun makes. How close or far away can you be to get a clean shot? Do you have to have a license or register this type of gun? Any info would be appreciated. Sybil
asked Sybil
Check you local and state laws to find out if you have to have a license. This could take a raccoon with a head shot at 40yds max. It is fairly loud, but not as loud as a .22lr. This is an air rifle. Not a firearm.
Carter from USA
It's fairly quiet, someone could shoot it in the neighborhood without anyone knowing. It could kill a cat or small dog from 200 feet or more. No license or registration is required, but they're outlawed in a few cities. Sorry about the pet. Very few people would do that, and even less without a reason. If it was a dog that barks constantly, especially one that keeps people up at night then I retract the apology and the pets owner should be glad that is all that happened.
ROBERT from USA
would this gun kill racoons in a high tree or live beavers
asked butch hooverson
Yes it will.
Carter from USA
Yes, as long as you make the shot count. Head shots will kill them.
Conor
CA allows air rifles for Turkey hunting. I will need to take shots 50-100 yards out from bird. I would appreciate comments on the Benjamin Trail NP XL1100 .22 Cal. Also, typically not packing long distance for hunt so weight not issue. Also nitrogen, ideas who refills or new buy for gas?
asked Rick
I wouldn't even consider a shot on a turkey at a 100 yards with a 12 gauge shotgun, if you decided to use this gun, and were lucky enough to hit the bird you would just wound it. Turkeys are a lot tougher than you think, keep your shots to 30 yards
Bill
50yds max with this gun....no farther.
Carter from USA
This is about as powerful as you can get for the price. Any more power would probably cost three times as much. I'd guess if it's legal (which I didn't know) then this is the gun I'd use. No it doesn't take any gas to charge it, when they say nitrogen gas here they mean it has a pneumatic spring vs the usual steel coil spring. All you have to do is cock it for each shot, that's it. I've had a gas spring gun for over 12 years now and it still shoots like the day it was new.
ROBERT from USA
50 yds is kinda iffy for a turkey....100yds, no way. To humanly take the bird at 100yds, you'll need something like the Eun Jin Sumatra.
Conor
I want to import it to Canada. I will need to import it trough the custom and they asking me what's is the intial velocity and the initial energy (joules)of the projectile? I found the initial velocity but not the initial energy... thanks
asked frank
Thank you for you interest. For questions about international ordering/shipping please email us at [email protected] This so we can better help you.
Steve from USA
Would this gun be any better or more accurate than the Benjamin NP .22? The only difference is a few FPS.
asked Jake
The higher FPS for the Benjamin Trail NP XL 1100 . 22 Cal. means that the accuracy of this air rifle will be sustained at a larger distance. This is an extremely potent rifle and used with good quality ammunition like the Benjamin .22 Discovery pellets you have an extremely capable air rifle that allows you to reach higher levels of accuracy at longer distances. After properly aligning the scope, accuracy will depend on factors such as wind velocity/direction, distance and the shooter's abilities. Be assured that with this airgun you have the required power and consistency to reach higher levels of accuracy.
Luis R. from USA
I believe the XL 1100 Nitro may be more accurate than the Benjamin NP .22 because of the increased velocity. I do a lot of pistol/rifle/shotgun competitive shooting sports but chose this gun because of the reduction in noise. I bought the gun for pest control (woodchucks) with shots at 50 to 75 yards, and the increased stopping power (bullet weight X FPS/1,000) will be higher with this gun than with the Benjamin NP .22.
Todd from USA
Not familiar with NP.22. Have not got my Trail NP Xl1100 dialed in as yet. Benjamin notes the nitrogen piston takes braking in. The 1500 is quieter and has lots more thump than my .177 RWS.
Dick from USA
what is the noise index for this rifle.and its max. effective reage
asked ERNEST
I have the trail NP and with a hawk 3x9x50 AO I take squirrel and pidgeons at 30-50 yds no problem shooting crossman hollowpoints gun is quiet powerful and at 35 yds can get a 10 shot group inside 1 1/2 " spread which is lethal for rodents. Also chronied At 750 fps before break in haven't rechronied it lately. One shot body shot on a 34lb raccoon took it out of service but needed a follow up for humane dispatch (first shot prevented it from climbing fence and just laid there, and neighbors didn't even notice)
David
On a noise level, 1 being the quietest and 10 being the loudest, it ranks about a 5. Max effective range is like 100yds for a sagerat. 80yds for a starling. etc.
Carter from USA
It is very quiet for an airgun of this power. Both the pneumatic spring and the barrel shroud are why it's so quiet. I have a benjamin with the gas spring but no shroud and it's quieter than the new Stoeger Suppressor model. It's literally about 1/3rd as loud as a regular airgun. Range is all about pellet choice and if you can hit the target, but this gun has about as much range as you're going to get without spending big bucks on a pre-charged style gun that uses a scuba tank for power. I don't know what you're shooting but even my weaker guns can kill a crow or rabbit for example at 100 yards or more.
ROBERT from USA
This gun is a Medium to Loud on the Decibel scale, I shoot starlings out to 80+ yds all the time during the summer....If you do your part.
Conor
IS THAT SCOPE ACCURATE WHATS THE RANGE ON THIS I HAD ONE WHEN I WAS JUST A KID I LIKE IT ALOT IT WAS PRETTY POWERFUL
asked TERRY
The scope is fine, the range is 1-100yds, depending on what you're shooting.
Carter from USA
Those scopes work pretty good for me as long as you dial the parallax out of it, usually the ones I get are way off. You didn't say what you had as a kid, but most people had a Crosman 760 to similar. This one is 4-5 times that power. You won't regret buying it if that's what you're wondering.
ROBERT from USA
Well first, it isn't the scope that makes a gun accurate, it is the way you hold the gun, what pellets you use through it, and how you pull the trigger that makes a gun accurate. But yes, this scope is fine with this gun, mine has been on there for nearly a year with no problems.
Conor
I received this gun for christmas I am having trouble setting the scope I get it set up close like 20 yrds then at like 50 yrds it hits high then left then right is the scope cross hairs moving when its fire or does the barrel need seeeding thanks Mike
asked Mike
If you are having trouble with your rifle I would recommend speaking with our returns department about the issue. You can reach them by emailing them at [email protected] or by filling out an RMA form under the returns tab of our website.
Steve from USA
what are the advantages and disadvantages of the 25 cal. Thanks
asked nick
Advantages: Bigger holes through your target, more knockdown power.....Disadvantages: Heavy, pellets aren't cheap, and the pellet will be going pretty slow.
Carter from USA
Advantages of the .25 cal are that there is more knockdown power and more FPE, the disadvantage is that the pellet will be traveling a lot slower and the prey might hear the gun and move before the pellet hits it.
Conor
Overall the rifle is decent for the money.I had a Crow Magnum.25 Cal. Rifle I got from Beemans, back in the mid 80's when they first came out, this rifle reminds me of that rifle, just not quite the same quality, and not nearly as expensive. Not real hard to cock and a very positive lock up. First I tried the Benjamin Domed Pellets not very accurate with this rifle. Tried several different pellets until I finally found one that would shoot 3/8 -1/2 inch groups at twenty yards. Was the H& N Sport Field Target Trophy 19.91 grain.Some groups with this pellet were even smaller. They shoot the very best and clock on the Chrony at 630-660 FPS. Got 860-900 FPS with the Raptor Platinum Power Pellets but accuracy was poor.You must shoot these powerful with a light hold, if you try to grip them like you are shooting do not expect superior or even satisfactory accuracy. My overall opinion a fairly decent squiurrel rifle with H&N Sport Field Trophy at targets up to 30 yards.The next best accurate pellet was the H& N Ram Point. Another thing the factory trigger is awful, I got a trigger from Charlie Da Tuna. Made a world of difference.
Mack
Can you upgrade the trigger to an GTR-111 on the rifle I just orderd 12/18 2011.
asked stephen doerrer
You'll have to get that from Charlie da tunas website.
Scott from USA
Is this gun (benjimen trail np xl 15 00 air rifle made in America?)
asked Gerald Iwsner
Some Benjamin products are others are not. One our site, it will say in Blue that it is made in the USA. This one does not.
Steve from USA
Do you have to buy nitrogen cylinder for this air rifle?
asked Rick Parks
No, the Nitro piston cylinder is part of the gun and cannot be removed.
Steve from USA
I purchased this rifle for my son to be used primarily as rodant control. The first test shot out my back door was to see how quiet this gun is. It sounded off like a 22cal long rifle! The second shot was not much differant. I was expecting a pspt sound like on a James bond movie. The pallet used is a RWS 14.5gr superpoint extra. Was the round to light? or are the first couple shots always louder? Or should I take it back and give him a box of rat poison?
asked Al
Les premiers coups sonts bruyant mais ils s'aténuent avec le temps, seulement la précision du tir ne vient qu'apres 1000 tirs ou plus, la détente est médiocre, voir un remplacement comme GRT3 trigger, attention au joint du cannon, il influence beaucoup sur la précision du tir car l'enlignement du canon vs le télescope est imprécis lors de la remontée du canon. The first shots sonts noisy but they aténuent with time, only the accuracy of the shot does not come until after 1000 shots or more, the trigger is poor, see GRT3 as a replacement trigger, attention to seal cannon, it influences many the accuracy of the shot because enlignement barrel vs the telescope is inaccurate during the ascent of the barrel.
Pirateboy
It's the lube inside the chamber igniting. Just shoot the first ten or so pellets into a tightly rolled up old bath towel with the muzzle pushed into it. The towel will silence those shots until they stop. I always do that when I get a new gun or anytime I oil the chamber. Once it stops it's because there is no more volatile fuel left in the oil, but the oil is still there to keep things lubed so you're fine. Use the recommended chamber oil for it, it's the least likely to ignite or will only do so one or two shots. The gunk china puts in is awful in more ways that one and some people say their guns don't quiet down for 100 shots. I've never had more than 5 or 6 shots fire like that so I guess it's who did the lubing at the factory that day. Don't ever use something really flammable like WD-40 because it will really light up and the harder the explosion the harder it is on the gun. I can't imagine it doing much damage but experts say it will ruin the gun if for example you used WD-40 all the time. And speaking of damage, never ever shoot it without a pellet in there, that really hurts the gun.
ROBERT from USA
Maybe you should get him the regular Benji Trail, they are not as powerful, as a result, not as loud.
Carter from USA
first shots are always way louder now mine sounds so quiet i can shoot a squirrel in my neighbors tree and get before they even notice anything had happened. I have taken about 1000 shots though. Give him a couple cans of pellets and a target and it will be fine
Brandon
I want to put a 4-16x50 scope on mine when i get it.The larger objective lense means i'll have to change to higher rings.What receiver rail size will I need?And type of mount?
asked Eric Rollins
I agree with the others, the oem rings will probably fit, plus your rail is higher than normal rails so you have that added height. I always buy the lowest possible rings I can find because it's better to have the scope as close to the barrel as possible, plus it looks better. I think it's cool looking to have the scope almost touching the gun, sometimes it's so tight I can't even get the scope cap on :) One gun I had was a teeny bit too close and touched the gun before the ring screws were tight, so I shimmed it to fit. The other option was the next size up rings which I tried and did avoid using. That scope btw was 50mm w/ the lager diameter adjustable objective using low height rings and a std cut into the receiver rail. Of course that's all my opinion, others prefer it differently such as the high see-thru rings for quick sighting, but if you use both eyes to find your target it works better than see-thru rings. It's not hard to get used to doing it that way. Fyi..... Good luck on it!
ROBERT from USA
The rings that come with the gun will work.
Carter from USA
The rings that came on this scope will work.....but the size you need if you want two pairs of rings, are high profile weaver mounts/rings.
Conor
You can probably use the rings that come with your gun. I don't think the scope you are thinking about installing will require new rings. I would mount the Center Point scope and try it before you purchase a new scope because I think you will be pleasantly surprised. It is a quality scope designed for this air rifle !
James from USA
what is the max acuracy distance
asked gary sanner
I recieved mine in 2015 . And decided to put a center point 4-16x40aoil scope on it . After touring around at 100' to get it close I brought to my friends farm on a 75 degree afternoon with light to no wind . I set a 5 gallon plastic container out at 125yds .. Well I ran about a hundred rounds out to it with a 7" glow shot clipped to it . After sighting it in ( no elevation changes) I was two mil up above center and every shot hit the barrel with most of them inside the 2nd ring .. Some 4" pattern for the most part . It was going clean thru one side of the barrel and then leaving 1/8" impact dings on the exit side . This was with crosman lum77 10.5 grain ultra mags The field is 300 yards across and I fired a couple at a tree from that distance . It hit the tree 3/4 times hard enough I could hear the impact . Not sure where it hit but it did
Dave
This gun chronied 1637, with crosman ssp.177 rounds and gold pba raptor 1550 consistent on a near freezing day. This gun has a very long distance and is no toy. See gamo bone collector and review with photos.
edge
Too many variables, the main question being what do you consider accurate? For example 1" or 4"? and what power to you consider adequate on impact? There are programs available for free online that can tell you your trajectory including pellet drop, and power at that distance. I can send you some, just write me at chevota at hotmail and put "Airgun" in the subject. This goes for anyone who wants the programs.
ROBERT from USA
I can't answer that question right now. I have been breaking my gun in at about 20 yds. I have about 100 shots through it and it is dead on at that distance. I'm shooting Crosmans 10.4gram pellets and they are accurate for now. I gave the gun a good cleaning and put blue loctite on all the scope screws after about 50 shots and the gun is holding a perfect pattern(about a 1/4 ") right now. The gun has plenty of power and I'm sure it will reach quite a ways out after the breakin period !
James from USA
those the benjamin trail xl .177 have interchangeble berral to shot .22? .
asked john
No it does not. This is the .25 cal model but you can also get it in .177 and .22 .
Scott from USA