Diana Airbug Features
CO2
Repeater
Available in .177 and .22 calibers
Ergonomic hardwood stock
Bolt action
Includes 9-shot (in .177) or 7-shot (in .22) magazine and single-shot tray
5 fpe (.177), 6.6 fpe (.22)
Specs
Manufacturer

Diana

Caliber

.177

Velocity

525 fps

Condition

New

Ammo Type

Pellets

Action

Bolt-action

Barrel Style

Rifled

Fire Mode

Repeater

Gun Weight

1.97

Overall Length

14.00

Barrel Length

8.30

Loudness

3-Medium

Magazine Capacity

9

Mechanism

CO2

Rail

11mm dovetail

Safety

Manual

Front Sights

Blade

Rear Sights

Adjustable

Shots per Fill

50

Trigger Adjustability

Two-stage, adjustable take-up

Trigger Action

0

Use

Plinking/Fun

Warranty

2-year limited warranty
Reviews
Average Customer Review
5.0
5.0
7 Reviews
5.0
By Carlos
USA
August 13, 2021
You can't go wrong with this purchase!
Pros
One of the best if not the best pellet pistol out there right now. The production of this product is very well built! Fresh out've the box?? the sights are already lined up perfectly & you'll get at least 35-40 shots per cartridge at the highest velocity which is great in my opinion! The best thing about the Diana Airbug is that it gives u options, single shot or the magazine; "Most importantly you're not breaking the bank either"..
Cons
Nothing!
5.0
By TOM
April 12, 2021
Verified Purchase
Buy one in each caliber, you won't regret it.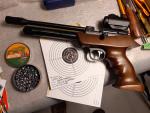 Pros
I love these Airbugs! I have a 177 and just got the 22. They are very accurate in my 10 meter basement range and outside at 50 feet. Factory trigger was perfect right out of the box. Whole lotta fun!
Cons
I honestly can't think of anything except maybe a threaded barrel for a silencer.
5.0
By James
USA
April 4, 2021
Verified Purchase
Well balanced, easy to load, accurate, smooth operation, and great looking.
Pros
Love everything about this pistol.
Cons
Nothing
5.0
By CaPpy
USA
March 15, 2021
Verified Purchase
Louder than the Bandit as it does not have a moderator.
Pros
Such an awesome pistol. Smooth bolt action in .177a cal. and not a single jam. Dead accurate using a dot scope at 25yds.. Powerful and I've lost count of the number of times I've reloaded the mag on only one cartridge!
Cons
Needs a barrel ring but ONLY for aesthetics. Lose that ridiculous base on what is otherwise a beautiful grip.
5.0
By James
USA
March 1, 2021
Verified Purchase
I almost forgot, the trigger is perfect for my likes. Brief take up and crisp release. The workmanship on the one I received is spectacular, not even a mar on the wood grip.
Pros
OK, this pistol looks fantastic, is well balanced in the hand, has a very nice hardwood grip that fits me perfectly, and is accurate to the point of aim. I just want to keep shooting it once I start.
Cons
Nothing I have noticed yet.
5.0
By Robert
USA
February 27, 2021
Verified Purchase
Pros
This pistol rocks. I've owned them all ....tempest ,1077,2240,hurricane,and everything in between. This one blows them all away. Trigger adjusts down to 7 oz shoots half inch groups at 50 ft all day long powerful enough to shoot rats with headshots shoots a full array of pellets accurately especially hobbies grips acceptable for left-handed shooters sights are metal and very precise robust CO2 system doesn't leak magazine works great excellent rifling excellent action why would you possibly buy a 2240 win you can own a repeater with a scope rail and a better trigger and a better CO2 system you'd spend a ton of money to make a 22 40 into one of these and still not have as good a pistol
Cons
Nothing this going to spot on
5.0
By Joe
USA
December 15, 2020
Verified Purchase
Q&A
Question?
Login to ask someone who bought this product.
It has 11mm dovetail for scope or red-dot mounting, .177 caliber? Also, additional mags available? Ok for LH and RH shooters?
asked Jim from USA
Could the Diana Chaser Moderator be added to the muzzle?
asked Simon from USA
Why does the magazine not allow the first round to be seated only half way, making it impossable to install into the gun? Diana Airbug pistol,that is? Plastic is blocking it.? Michael from MA.
asked Michael from USA
Where can I find extra magazines for the Diana Airbug pistol?
asked Michael from USA
Where can I get extra magazines for this Airbug pistol?
asked Michael from USA
Can I mount a scope? If so, what mounts and rings.
asked James from USA
yes, it has standard 11mm dovetail, but I imagine you iwll need to remove the rear sight and get mounts that can go over the magazine
Val from USA
How in the world do you install the magazine in the pistol?? The initial 'backwards pellet cannot even seat into the magazine due to the plastic stop . And even without this initial pellet, the magazine does not align the magazine holes with the barrel hole. Is there a video that show the magical solution?? Don't want to return the gun for something else that works.
asked T from USA
Germany or China or ???
asked Tom from USA
Does the storm rider magazine fit this pistol or does the Air bug have it's own magazine?
asked T from USA
Is the Handle on the Diana Airbug the same size as the Diana Bandit ? I have small to medium hands
asked Richard from USA
Dose it come with a case
asked Michael from USA
Does this have match grade accuracy?
asked David R Pelton
Where can you get extra magazines
asked Robert from USA
Can you chande the CO2 seal yourself, or must it he shipped back for changing??
asked David J. Cindric
Can you change the seal
asked David J. Cindtc
how many shots per co2 cartridge?.
asked David Hughes