The Diana Chaser Rifle Kit is the best of both the pistol and rifle world! This CO2 airgun was designed for spending all day plinking outside or if the weather prevents that, it makes a great indoor plinker as well. Powered by a 12 gram CO
2
cartridge, the Chaser is capable of 500 to 560 fps, depending on the caliber. The indexing magazines will hold 9 (.177) and 7 (.22) rounds, making this an ideal multi-shot repeater pistol. The pistol grip opens up to hold a spare CO
2
cartridge. There is a fixed front sight blade and adjustable rear sight with an 11mm accessory rail for a red dot sight or pistol scope. The moderated 17.7" rifle barrel will give you about 35 more feet per second over the pistol. If you're looking for something fun and effective, look no further than the Diana chaser.
Diana Chaser CO2 Air Rifle Kit
CO2
Bolt-Action
Includes Single-Shot Tray
Fixed Front Sight
Adjustable Rear Sight
11mm Dovetail
2-Stage Trigger, Adjustable take-up
Spare CO2 capsule can be stored in grip
Small Weaver accessory mount on underside of barrel band
Kit includes Chaser Pistol, Butt Stock, and Silenced Rifle Barrel
Specs
Manufacturer

Diana

Caliber

.177

Velocity

642 fps

Condition

New

Ammo Type

Pellets

Action

Bolt-action

Barrel Style

Rifled

Fire Mode

Repeater

Gun Weight

3.10

Overall Length

38.40

Barrel Length

17.70

Loudness

3-Medium

Magazine Capacity

0

Mechanism

CO2

Rail

11mm dovetail

Safety

Manual

Front Sights

Blade

Rear Sights

Adjustable for windage & elevation

Shots per Fill

50

Trigger Adjustability

Two-stage, adjustable take-up

Trigger Action

0

Use

Small game hunting/plinking

Warranty

1-year limited warranty
Reviews
Average Customer Review
4.7
4.5
29 Reviews
5.0
By jim
September 21, 2021
Verified Purchase
Pretty sweet rig with it
Pros
Nice setup
Cons
Access to buy parts easier not over priced for owners
5.0
By Davey
USA
August 25, 2021
Verified Purchase
Pros
This is the first airgun I've bought that shot perfectly right out of the box. I am impressed. Love the left side bolt being left handed easy to load co2 as well as pellets. I shot it a lot. Very Nice airgun considering buying another
Cons
Dosen't come with the magazine. Have to buy it separately.
5.0
By TOM
June 16, 2021
Verified Purchase
I set my 177 cal Chaser up with the rifle barrel and shoulder stock, left the barrel band sight off. This rifle loves the cheap Daisy flat nose pellets! This is my 3rd Diana airgun and are incredibly accurate and a great deal IMO. The silencer works awesome. Wish I could find them as an accessory for my other 3 airguns.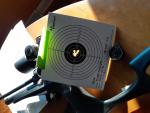 Pros
Super Accurate!
Cons
Nothing
5.0
By Christopher
USA
May 5, 2021
Verified Purchase
Get the optional ten shot rotary magazine it's worth the extra cost. And if you do get the 11mm scope stand offs so teh magazine will fit under your scope/red dot.
Pros
Great pellet rifle. I have the ,177 cal version and run the pistol barrel as a carbine with the moderator for starling control. I had so many marauding starlings at my bird feeders they chased all the "good" birds away. That is until my Diana Chaser pellet gun arrived. The rifle is very accurate and with a red dot sight target acquisition is fast. Let's say my startling problem has been reduced by 98% these past two months and I couldn't be happier.
Cons
The moderator being glued to the rifle barrel.
5.0
By Nick
April 4, 2021
Verified Purchase
Excellent fully machined silencer, thread covers, rifle and pistol configuration and nail driving performance, with hardly a whisper.
Pros
Very consistent, and quiet in rifle configuration with silencer. Trigger is excellent. Change over from pistol to rifle was simple and straight forward, but don't miss the gray O ring. Bought second rifle kit so the grand kids can compete. Not disappointed, silencer works great and makes it a great deal. Youre FAQ gave great advice to perfect these guns.
Cons
Front sight was canted about three degrees on both guns, was easily fixed but needed to heat barrel to loosen thread lock glue, (and to make silencer removable)
4.0
By david
USA
February 5, 2021
Verified Purchase
Worth the money and it packs a decent punch with around 35 - 40 strong shots per cartridge.
Pros
Light, quiet, and accurate.
Cons
Includes single shot tray while the description tells you there are 7 and 9 shot clips for it but you have to order them separately with no link to do that.
3.0
By Jack
USA
January 9, 2021
Verified Purchase
Sig replica is close in power and didn't break on me 3rd shot.
Pros
Pretty powerful co2 powered .177 Was dead silent with suppressor.
Cons
crossman super point got jammed up in the suppressor 3rd shot, destroyed suppressor. Wish it came with at least one rotary mag for that money.
5.0
By Derrick
USA
April 28, 2020
Verified Purchase
Great little backpack gun! The thing is so quiet you can't hardly tell when it's running out of air I don't know if that's a good thing or bad thing that it's something??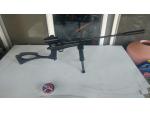 Pros
Comes with a customized case Can be a rifle or a pistol Super quiet suppressor Excellent shot count Extra CO2 storage A decent trigger lightweight Oh yeah it's accurate
Cons
I wish the magazine/shot tray was more secure I know they're held in by magnets and the bolt but I'd like a tighter fit.
5.0
By david
January 13, 2020
Verified Purchase
i think the build quality and fit and finish are really good. i was bummed that the front sight on the rifle barrel was canted a few degrees to the left when the barrel was mounted to the breech and no way of righting it easily. i didn't want to redrill the centering hole and as i was going to use some sort of scope or red dot i just ground and filed the front sight off. the suppressor is adhered to the rifle barrel with red loctite that requires heat of atleast 150f to soften. you can put the entire rifle barrel in the oven at 160f-180f for an hour to soften the loctite and then while the barrel is still warm clamp between some soft wood blocks in a bench vise and simply unscrew the suppressor. you can now use the suppressor for the pistol barrel if you like.
Pros
really nice for and finish and build quality. super quiet with the suppressor. really accurate and easily hiring and going through aluminum cans at 50yds.
Cons
only the canted front sight.
5.0
By david
January 5, 2020
Verified Purchase
if anyone is interested in removing the silencer from the rifle barrel in order to use it on the pistol barrel please read on. instructions: 1) carefully remove 2 o-rings from barrel tang end that goes into breech. 2) carefully remove o-ring that sits in end of barrel tang that goes into breech. 3) heat oven to 150f-180f and put entire rifle barrel in oven for 1hr. 4) carefully remove hot barrel from oven and clamp barrel between soft wood blocks in vise. 5) grab silencer with something grippy. i wrapped an old bicycle inner tube around the silencer. with silencer wrapped in something grippy just start unscrewing it from barrel and it should come off easily without needing to use any tools. 6) use stiff wire brush and or some type of solvent to clean rifle barrel silencer threads and screw on the thread protector cap that was on the pistol barrel and screw the silencer onto the pistol barrel and enjoy quiet shooting. the silencer is adhered to the barrel with something like red loctite that needs to be heated to somewhere between 150f-180f before it will become soft enough to lose its locking ability. anyone know how to remove the plastic front sight?
Q&A
Question?
Login to ask someone who bought this product.
What's the FPS on the .177 rifle?
asked Tom from USA
Is it possible from CO2 covert this gun to PCp rifle
asked Kayhan from Canada
I'm new to air gunning. What is an indexed mag?
asked Tim from USA
Where can I find the complete specs on the .22 cal rifle kit? I didn't find anything about the indexing mag or where to get it.
asked James from USA
did you receive a indexing mag. with your kit ??
asked larry from USA
No. Magazines are additional.
Mark from USA
What caliber is best for grouse and squirrel hunting
asked Dick from USA
Does the order include a magazine and does it include a case?
asked Ryan
No magazine included but it does come with a soft case that holds the components but not the assembled rifle
Aaron from USA
Does this shoot darts?
asked Scott from USA
I'm looking at getting the 22 cal version what's the best distance you get out of it?
asked Dcott
Is this a magazine based gun?
asked scott merlo
This kit comes with a magnetic single shot loading tray that fits behind the breach. You can purchase magazines for the Diana Stormrider rifle and they will work in the chaser. .22 cal mag holds 7 rounds, .177 holds 9
Aaron from USA
Can unscrew the silencer on the rifle barrel and screw it on the pistol barrel?
asked Erwin from Guam
Yes, it will go on either barrel. It comes on the rifle barrel and is LocTited on, but will unscrew. Heat the area where the threads are. If you use a pliers, be sure to wrap the end so it doesn't get scratched.
Marshall from USA
It sounds like USA market Chasers have loctite on the moderator threads. People have successfully unscrewed the moderator and it will screw onto the pistol barrel. The pistol barrel has a cap screwed onto the threads.
Aaron from USA
If I bought both .177 and .22 could I interchange the barrels
asked Justin from USA
Photos show left handed bolt action. Is it reversible? Also, is a multi shot clip included?
asked KBF
Apparently a clip is not included but the clip for the Diana Stormrider rifle will work in the Chaser and must be purchased separately. There is a left hand breech block that can be purchased to convert to left hand.
Aaron from USA
Does this come with a carry case.
asked Alan from USA
It comes with a soft case that will hold the components but not the assembled rifle
Aaron from USA
Is it possible to mount a scope? If not, how accurate is the targeting of this gun?
asked Yuri
Yes It is very accurate little rifle, but don't expect to shoot for accurate over 20 yds.
Wyman from USA
Anyone know where to get the indexing magazine? I ordered this rifle kit and it only came with the single shot setup. I looked on the website, but couldn't find one. Thanks
asked Jordon
You have to buy the magazine for the Diana Stormrider rifle. That is the magazine that fits in the Chaser
Aaron from USA
What is a good scope and mount for the rifle configuration?
asked Kent from USA
What is a good. Heap scope for this gun?
asked John
What is a recommended scope for this rifle?
asked Len
For those who have both the .177 and .22, how do they compare in velocity and sound?
asked Lon from USA
I have the 0.17 pistol. It possible to buy the rifle conversion separately?
asked R. De Hon
I see no magazine online for this gun,a little help on this would be grateful.
asked Robert from USA
You need the Diana Stormrider rifle magazine. That magazine fiis the Chaser
Aaron from USA
SO IN THE KIT DO U GET BOTH LONG AND SHORT BARRELS AND WHAT MAGS FIT THIS ITEM THE STORM RIDER OR MARAUDER MAGS ?
asked ravenshaw
Yes both barrels are included and the Stormrider mag works in the Chaser
Aaron from USA
Can the bolt be switched over to the other side for a lefty shooter?
asked Bill
glenn61 how can you rate it when you haven't picked the "still not available " gun up?
asked JEFF from USA
Does this gun come with the indexing magazine or do you have to purchase it separately?
asked Peter P.E. Malmquist
GLENN61. THEY'RE NOT available yet so how do you know?
asked JEFF from USA
How many shots per co2 cyclinder
asked gene from USA
Is the moderator removable? It looks like the pistol barrel has a thread protector
asked Jon from USA
Does this come with the magazines?
asked Jon from USA
IS THIS A RIGHT HAND OR LEFT HAND PISTOL?
asked Richard from USA
how hard would it be to convert this to a constant air system with a larger co2 bottle i.e. paintball marker system.
asked Phil G.