The Hatsan BullBoss QE™ air rifle is a great gun for your next small game hunting outing, or a fun day of backyard shooting. The bullpup design offers a lot of versatility and the awesome ergonomics built into this gun make for an extra-comfortable shooting experience. QE technology is just one of the many features included in this gun. You?ll like the Picatinny rails, detachable air cylinder, anti-double pellet feed and 2-stage adjustable trigger. This gun offers all of the accuracy, power and speed you?ve come to expect from Hatsan.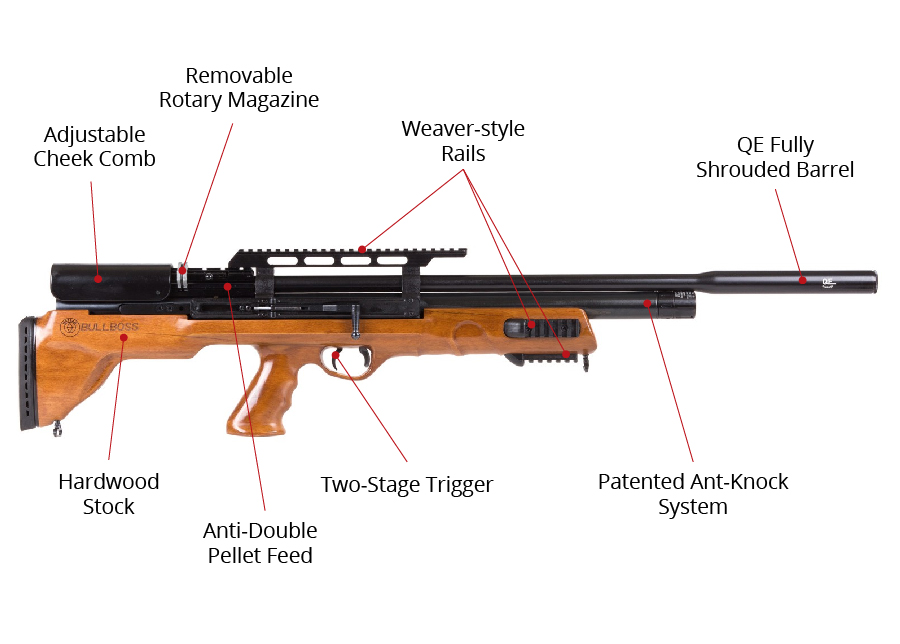 Hatsan BullBoss QE™
Pre-charged pneumatic power with side-lever cocking action
Bullpup design
Available in .177 (4.5 mm), .22 (5.5 mm) and .25 (6.35 mm) calibers
Hardwood stock
Picatinny rail for both 11 mm and 22 mm scope mounts
Additional Picatinny rail beneath forearm
Checkering on grip and forearm
Adjustable Cheek Comb - Stock equipped with integrated elevation adjustment button
Ventilated rubber butt pad
Precision rifled and choked barrel for accuracy
QuietEnergy™ fully shrouded barrel and Integrated Sound Moderator Approximately 32% report reduction
Rotary magazine: .177 10-rd, .22 10-rd, .25 9-rd
2 magazines included
Detachable steel air cylinder tube (230cc). (Spare cylinders are available)
Built-in pressure gauge on
Includes quick-fill nozzle & air cylinder discharging cap
Overall blued finish, black anodized receiver
Manual/Automatic Safety
Anti-double pellet feed mechanism preventing more than one pellet loading into barrel
Patented anti-knock system to prevent gas wastage when rifle is knocked or bounced
Quattro Trigger: 2-stage full adjustable match trigger for trigger travel and trigger load
Metal trigger & synthetic trigger guard
Fitted sling swivels
Spare air cylinders with regulator are available
Overall length: 36.8?
Barrel length: 23?
Weight: 8.6 lbs
Specs
Manufacturer

Hatsan

Caliber

.22

Velocity

1070 fps

Condition

New

Ammo Type

Pellets

Action

Sidelever

Barrel Style

Rifled

Fire Mode

Repeater

Gun Weight

10.20

Overall Length

36.80

Barrel Length

23.00

Loudness

4-Medium-High

Magazine Capacity

10

Mechanism

Pre-charged pneumatic

Rail

Weaver & 11mm dovetails

Safety

Automatic

Front Sights

none

Rear Sights

none

Shots per Fill

35

Trigger Adjustability

Two-stage adjustable

Trigger Action

0

Use

Small game hunting/target practice

Warranty

1-year limited warranty
Reviews
Average Customer Review
4.8
5.0
5 Reviews
5.0
By Wesley
USA
November 29, 2022
Verified Purchase
Definitely a must have in your PCP Arsenal.
Pros
This is my 2nd PCP air rifle and it is amazing, props to air gun depot. Extremely fast shipping. Over all amazing gun. From just target practicing with many different pellets a lot of fun to shoot. I have taken down small game to medium game with it so far with no issues whatsoever.
Cons
It's a tad bit heavy but whenever you put everything you need into play it's an amazing rifle.
Pros
Very accurate , quite and compact. I bought this for my 28 year old son. Topped it off with a Hawke 4-15x50. He loves it.
Cons
None
5.0
By Raymond
USA
December 12, 2019
Very glad and happy with the accuracy with this rifle. The knock down power it gives with .25 cal.
Pros
Easy to carry around
Cons
None
5.0
By Nicholas
USA
December 6, 2017
Just received my rifle today from Airgun Depot. I attached a Hatsan scope using Wheelers Level Blocks. Rifle a bit on the heavy side but it definitely packs a good punch and very accurate too. Sighted it in using a NRA 10m five spot air rifle target and putting hole after hole in the 8ring or better. All in all I highly recommend!
Once again let me start by saying that the service I received from Airgun Depot is top notch. The hatsan bullboss with wood stock is a very nice gun. Although I have not check fps yet, you can tell it is hitting very hard. Mine seems to be pretty pellet finicky. Have not found the perfect pellet yet. But JSB's, and Excite copper work pretty well so far. I know the gun is capable of better than 1.5" groups at 40 yards. When I find the right pellet. As for the gun itself the wood stock is very nice. Has picatinny rail for bipod that's good. The trigger on the one I got was horrible, but has improved with use. I think it can be adjusted after removing the stock. I really love the side lever action, but some of the parts look like they may be plastic, but no issues so far. The removable air cylinder is a nice feature, but when screwed in snug still has some play at end of stock. It should have some kind of support there. The adjustable cheek rest is great to obtain optimal eye position on the scope. The clips index well. And the QE moderator makes it very backyard friendly. The gun can be filled with a hand pump to 3000 psi, but you will want a fill bottle. This gun is fun to shoot and you will want to shoot it alot.
Pros
Gun has plenty of power. Awesome looking gun. Very fun to shoot
Cons
Should have a way to adjust trigger without removing stock. A bit on the heavy side. Needs some kind of support for air cylinder at front of stock
Q&A
Question?
Login to ask someone who bought this product.
What kind of case would you suggest for the Hatsan BullBoss ?
asked Matthew from USA
Hos many joul's and speed on the pellets.25 Hatsan BullBoss QE
asked Mikael from Finland
Can the BullBoss handle slugs? Or is there a slug liner available for it?
asked John from USA
The slug liner is for the FX guns. FX doesnt do the typical land and groove rifling. They twist the barrel causing a more mechanical type twist. The engagement of the rifling is minimal. As diabolo type pellets dont Need soon stabilizing past a few feet out of the barrel the front heavy and flared skirt design make them stable in flight without spin. The slug however does require normal rifling that heavily engages the projectile. The way the FX barrels are twisted and not cut is why slug liners are needed. All other guns are traditionally rifles.
Alexander from USA
You can shoot slugs. They would have to be single loaded, The barrel is a single piece. There is no liner.
Mark from USA
What connector do I need to charge the rifle if I have a air Venturi mk4 pump
asked Williston from USA
i am left hand .can i buy this rifle?
asked yun from USA
The Bullboss stock is ambi. The sidelever to cock the gun is on the right side of the gun.
Mark from USA
will the fill broke connect straight to a Benjamin hand pump or do i need the male quick disconnect 1/8 BSPP with female threads as well
asked Gary from USA
Hi i am trying to buy a Hastan bullboss, bullpup in wood but i can seem to find a buying option on the page
asked Eduardo Carrillo
Any Southpaws (left handed folk) out there bought one of these beauties? How's it work for you?
asked Bruce from USA
If you buy the gun in one cal. Can you buy the other two cal. Barrels. ?
asked Robert Allison
No, the barrel is not interchangeable without considerable gunsmithing. However the Hatsan Hydra doers exactly what you are looking at a lower price but a little less power. Otherwise you could buy an FX for about $1500 and easily change calibers
LESLIE from USA
Is this semi automatic?
asked Ray from USA
Are there any special packages available that would include a scope (6x16)?
asked Gene
how can i get it
asked Absalom j Dlamini from USA
How accurate is this gun
asked Dallas from USA