The new Fusion 2 from Umarex is even better than the first! This updated version offers enhanced ergonomics and a higher level of report suppression. With it's uniquely designed SilencAir technology, which encompasses a five chamber moderator, this rifle is perfect for backyard shooting! The side bolt allows for quick follow-up shots using the 9 round magazine, two are included with the rifle, and the 4x32 scope is perfect for short range shooting. It's new thumbhole stock features M-LOK slots on the side, which allow you to attach almost any accessory out there!
Umarex Fusion 2 Features:
Over 70 shots on 2x12 grams
SilencAir technology
Powered by (2) 12g CO2 or (1) 88g CO2
.177 Pellet
700 FPS
Single stage trigger
Bolt action
4x32 scope and (2) 9-round pellet mags included
Specs
Manufacturer

Umarex

Caliber

.177

Velocity

700 fps

Condition

New

Ammo Type

Pellets

Action

Bolt-action

Barrel Style

Rifled

Fire Mode

Repeater

Gun Weight

5.95

Overall Length

40.55

Barrel Length

18.50

Loudness

2-Low-Medium

Magazine Capacity

9

Mechanism

CO2

Rail

Weaver/Picatinny

Safety

Manual

Front Sights

none

Rear Sights

none

Shots per Fill

70

Trigger Adjustability

Single-stage

Trigger Action

0

Use

Plinking/Fun

Warranty

1-year limited warranty
Reviews
Average Customer Review
4.4
4.5
13 Reviews
5.0
By Randy
USA
April 23, 2021
Verified Purchase
Highly recommend for beginners, plinkers, varmint shooting. Very accurate even with the scope that comes with it. The only one of my air rifles that my wife can shoot and enjoy
Pros
Great air rifle. Light, good trigger, lots of power. Getting around 65 shots from the 12g Co2's at 60 degrees outside.
Cons
Make it where the crosman 12g co2 cartridges would work in it. That's all we can get around here
5.0
By Jim
USA
February 22, 2021
Verified Purchase
Really think this is an awesome little rifle for backyard plinking and general fun Really no cons to share Also Airgun depot was excellent to deal with fast delivery no complaints again!??
Pros
Very reasonable price Very accurate 3/4" group at 30 yards with the RWS 8.3 gram superfine pellets fresh out of the box on twin .12 gram CO2 cartridges Optics ok get the job done I will upgrade in near future to better scope old guy eyes thing Very quiet ??
Cons
Would love to see a small tube of lube be included in the kit as well
4.0
By Patrick
January 15, 2021
Pros
What ammunition works best for this rifle?
2.0
By Vance
USA
December 9, 2020
The real buzz kill on this is the clip. Sometimes very hard to get pellets to feed. Rarely can both CO2s to puncture
Pros
This is very accurate even with stock scope
Cons
Should have come with a single pellet option
4.0
By Christopher
USA
November 27, 2020
Pros
nice close in backyard gun, quite, accurate, took care of the small pest in my garden. took the 2 cylinder tube and scope and placed it on the shelf. i chose the 88 gram cylinder and a drop of oil...shot stream consistent and accurate, (150 plus shots ) your choice of scope will tailor the gun to your style. nice weight and balance, does not seem to be pellet picky in 15 thru 20, 25 yard targets, bolt and trigger not bad for the price. looking for a first .177...look no further, nice addition to my collection
Cons
silencer is excellent, no bark at all would rather see a round silencer on the gun rather than the triangular shape
5.0
By David
USA
October 31, 2020
Verified Purchase
Take your time to make the rifle work the way you want it to. After 8 months of trying various things, I couldn't be happier.30 YARDS ON THE MARK!!! SWEET!!! COULD PROBABLY GET MORE!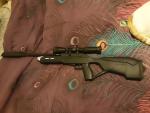 Pros
Just upgraded my scope with a nicer simmons brand added to this rifle, OH MY GOD! 30 yards and I'm so on the mark I blow myself away! I'm so impressed with this rifle that I'm looking to buy the umerex gauntlet. 25 with the refillable tank! I just got the 88 gram co2 tanks, very impressed! I dont have to worry about running out of air!!! Sweet!!!
Cons
It's kinda hard to get the first 12 gram tank to puncture sometimes. Still, the rifle is solid and made very well.
4.0
By Mike
USA
October 29, 2020
Verified Purchase
Pros
The gun looks great. Great trigger, light pull. Manual safety that does not engage after every shot. The scope isn't high quality, but for this price it's more than adequate. Very accurate, quiet, just a lot of inexpensive fun. I've been shooting 88 gram cartridges with no issues. I added an inexpensive bi-pod to the front, making it super accurate.
Cons
I'd like the bolt action to be a bit smoother, but it may loosen up a bit through continued use.
5.0
By Nathaniel
October 29, 2020
Pros
Has ,2, easy to fill magazines and can use both 12 gram co2 and 88 gram co2
5.0
By Jake
September 9, 2020
5.0
By David
USA
July 27, 2020
Verified Purchase
It does seem like the first air cartridge that is inserted doesn't get punctured. I had this problem maybe 2 out of 6 times. So I started to use more force in order to puncture the seal of the first co2 cartridge. I haven't tried the 88 gram cartridge yet so I can't say anything about that. But when I did manage to make both cartridges work I had plenty of air at my disposal. I'm very happy with it.
Pros
This rifle is 100% solid. Extremely accurate, durable, very well built. When tuned and dialed in this rifle rocks!! Comfortable to hold.
Cons
I haven't come across anything I would change at this moment
Q&A
Question?
Login to ask someone who bought this product.
Will you be able to use the Crosman CO2 12 gram capsules?
asked Jamie from USA
Do I need an adapter to run the88/90 gram co2 or is the rifle ready to go with it ?
asked Kevin from USA
Rifle is ready for 88/90. However you have to use it all or get an adapter so you can remove it and keep the rest of the Co2. You can't leave the Rifle pressurized
Randy from USA
When using the 88gr co2 and adapter should I be using a drop of oil with it? Asking since I've only shot 6 pellets and now I'm getting no air. There is air in the cylinder still but not coming through the gun now??
asked Norman from USA
What type of " oil " can you use if you don't have the RWS lube
asked Jim from USA
How to you mount a bi pod
asked Jim from USA
this rifle umarex fusion ll can I use 90grams co2 instead of 12grams co2?
asked Jose from USA
Yes. It works with the 88/90 gram cartridges
Randy from USA
700 fps velocity is possible with how much grains pellet?
asked Uzay from Turkey
Does the adapter for the co2 x2 come with the gun
asked Julius from USA
I've read it's not advisable to store the gun for any length of time with an air cartridge in place. If I haven't used the entire cartridge, I don't have much choice right?
asked Mike from USA
Better to release the Co2 then damage the rifle. It will damage the rifle for sure if you leave the Co2 in
Randy from USA
Interested in this gun because of its low noise, but unfamiliar with 88 gram CO2. Is the 88 gram refillable?
asked Jarrod from USA
No The 88 gram is single use.
Mark from USA
Does this new version require releasing the safety with each shot? Does the safety automatically engage after each shot? Can this "feature" be disabled? Thanks for your help.
asked Anthony from USA
The Fusion II has a manual safety. It does not automatically engage.
Mark from USA
What is the length of this rifle
asked David from USA
Overall Length 40.55"
Mark from USA
does it come with the 12 gram adapters
asked Drew from USA
The Fusion operates with 12gm CO2 cartridges.
Mark from USA
When will the 22 caliber be available?
asked Rebel from USA
This gun will probably not be made in 22 cal.
Mark from USA