You'll appreciate this next article if you've ever been hunting in brush or tight woods with a scope. While most airguns these days simply expect you to drop a scope on them to be able to shoot, some big-bore hunting options either ship with open sights or can have them added very simply. If you like hunting with open sights and are looking for a serious hunting airgun that can use open sights, this article is for you.
Why use open sights for hunting?
If you are new to hunting, this may help you better understand the dilemma. When you are just looking down the barrel of your gun with open sights, you have a very wide view of your surroundings. Not only can you see your target, but you can also see out of your peripheral for movement, other targets of opportunity, etc. However, once you drop a scope on your gun, that field of view shrinks dramatically, and you lose all that additional input from your periphery.
Most airgun makers plan on you dropping a scope on your airgun simply because that's what most people want. A scope certainly helps bring things right up close and provides very specific aim points to drive the pellet or slug to the target. As long as you have enough distance and your target is not obstructed by leaves, branches, or other things, you'll have more accuracy with a scope. But what do you do when you're in the woods, and no matter how low you set your scope, you just can't find the target. Or things are so close that your scope zero is just useless. If you've ever been squirrel hunting in tight woods, you'll know exactly what I'm talking about.
What about hunting with open sights for big game?
As stated above, nearly all airguns come without any sights. This is even more prevalent with big bore air rifles. But, there are many environments where open sights would be a real advantage, depending on your environment. Fortunately, some airguns exist to meet this need.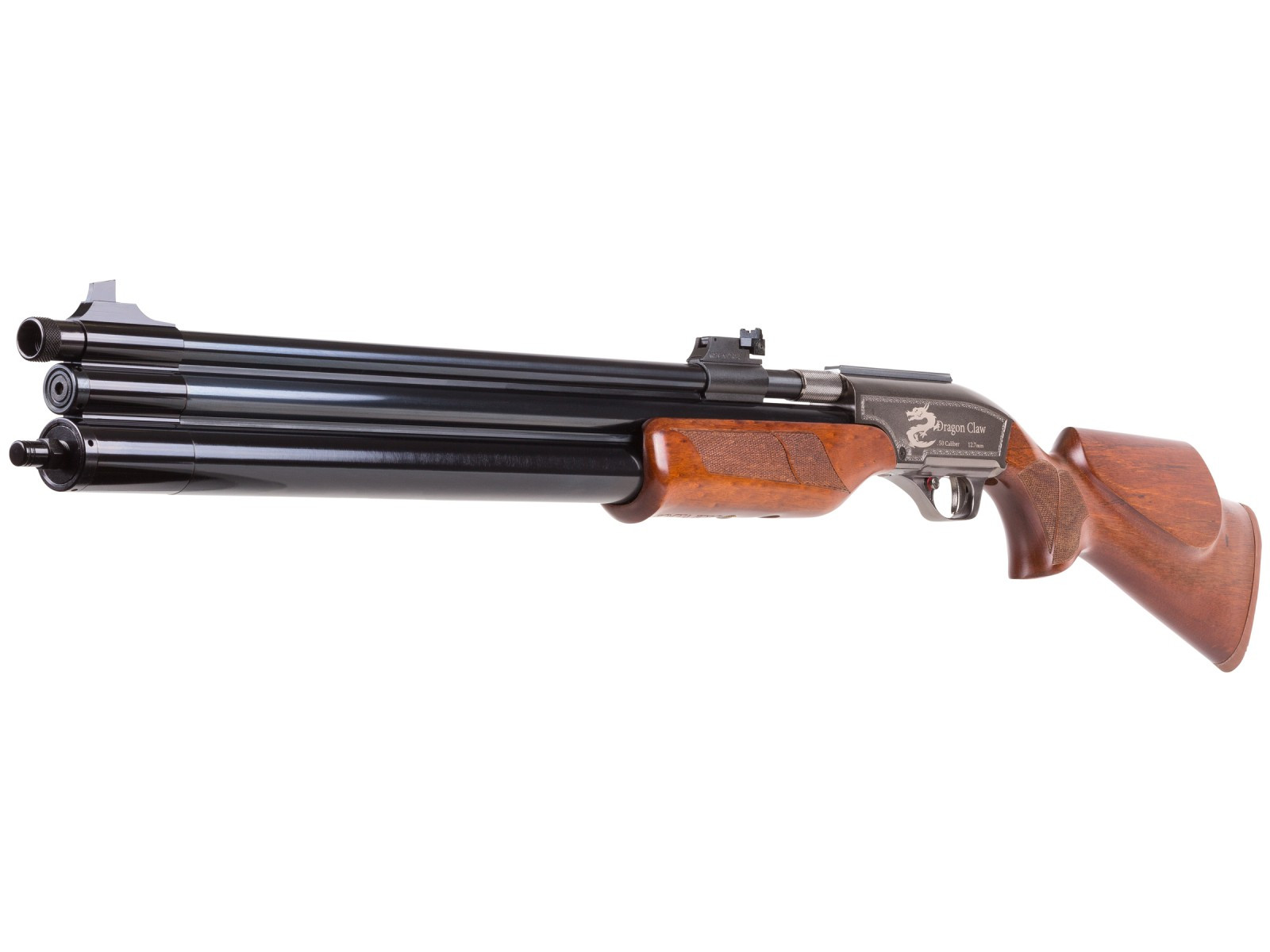 The Seneca line of big-bore airguns includes the .357 cal Recluse, .45 cal 909 Light Hunter, and the .50 cal Dragon Claw. These all ship with fully adjustable open sights. They are quite usable out to 50 yards if you are hunting big game. Moreover, if you are shooting game at various distances and spend even a little time with your airgun, you'll quickly find the holdover to ensure you're on target.
What about adding sights to a big bore rifle?
Most of the time, adding sights to an airgun that's not intended to use them is only going to be done through custom-created parts. You can certainly do it if you have the connections, but it's not as easy as hopping on your favorite vendor's website and ordering a kit.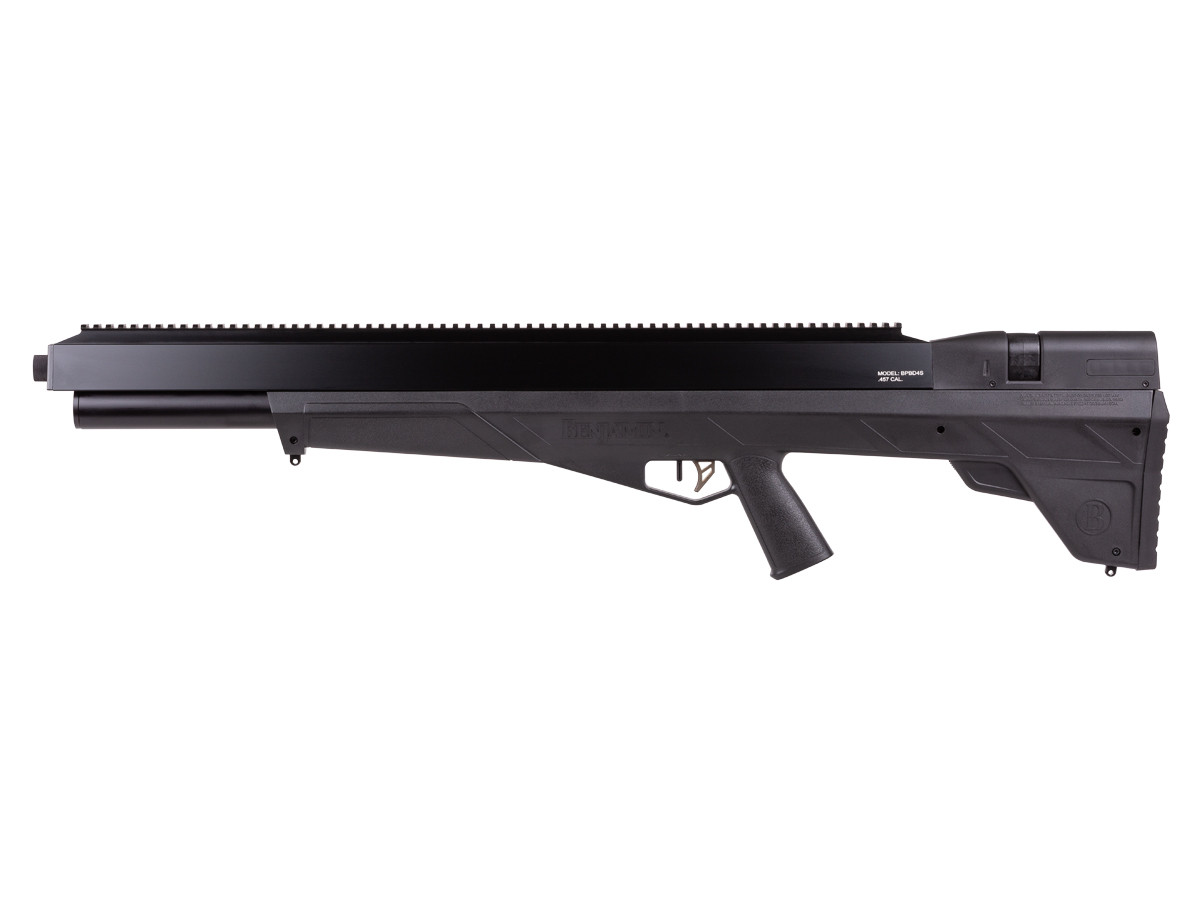 Fortunately, some manufacturers, whether intentionally or not, have created airguns that allow us to just drop open sights right on the receiver rail. The airgun that comes to mind here is the Benjamin Bulldog. It's available in both .357 and .457 and has a weaver rail that runs the full length of the gun from right in front of the receiver all the way to the end of the barrel. This is in contrast to something like the Hatsan Piledriver, which has a lengthy rail, but without a 2nd point of reference out at the muzzle, trying to use open sights on just the receiver rail, may not yield the same type of repeatable accuracy.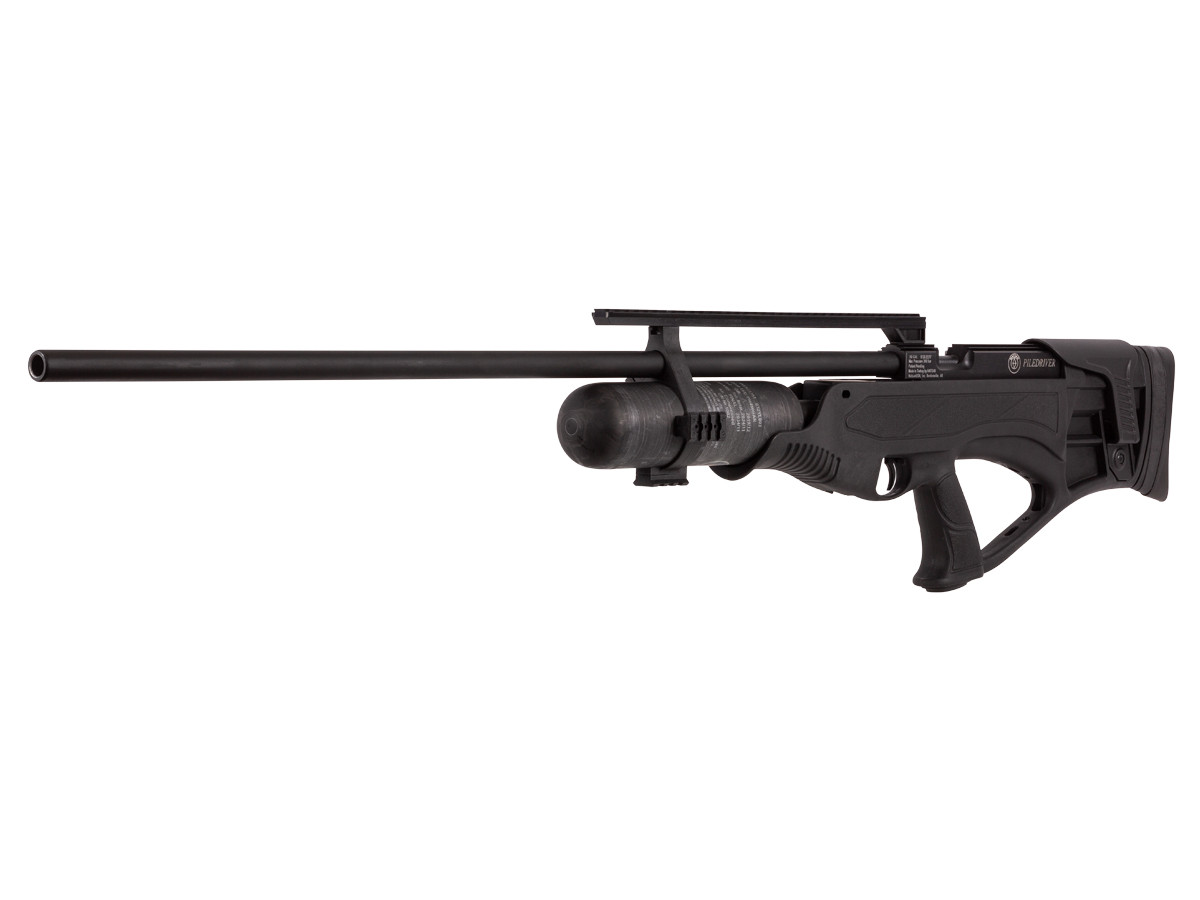 So what sights work on large caliber airguns like the Bulldog? While we don't currently stock these (that may change), it's pretty easy to find simple flip-up AR15 sights. You can generally find them for under $20 for plastic sights, and if you want precision match sights, you can get those too. The options are somewhat endless, with both peep sights and fiber optic sights available. Regardless of what you choose to run, you'll be able to put lead on target with precision and speed. It's a great option when hunting in close quarters, and target acquisition speed is critical.
Do you have questions?
Hunting with open sights is getting bigger and bigger, and more shooters want to get in on the action. Fortunately, we have a great staff to ensure you get all the answers you need. If you have questions, just give us a call, and we'll be pleased to help you make the best choice.