Imagine what it would be like to have your own shooting range right in your backyard. It's relatively easy and practical these days with all the cool airguns available. The critical factor for any airgun designed for backyard use is that it has to be very quiet; something that's not going to bother the neighbors or maybe your significant other.
So in this article, we'll cover our top 7 backyard-friendly airguns for 2020.
No. 7 – Umarex Fusion II
Umarex released their new Fusion II in mid-2020. This latest offering from Umarex USA may be one of the most affordable "quiet" airguns on the market. It uses two 12 gram co2 powerlets to drive .177 lead pellets up to 700 FPS. It's incredibly accurate out to 25 yards and barely makes a whisper. The upgraded Fusion II has a multi-shot breech, newly designed synthetic stock, and an all-new integrated suppressor.
No. 6 – Weihrauch HW44
Hands down, the HW44 is simply an awesome looking airgun. Fortunately, it fully lives up to its looks. This side-lever, multi-shot PCP pistol is available in .177 and .22. It features a match grade barrel and trigger along with multiple rails for accessories.
Because it's a pistol with a relatively small reservoir, it's easy to fill with a hand pump, making it very convenient for backyard plinking or pesting, without the need for a big tank or compressor.
No. 5 – Benjamin Marauder
When you are talking about back yard friendly airguns, you can't leave out the airguns that started it all for US Airgunners. The Benjamin Marauder and the Benjamin Marauder pistol set the modern standard for what's "quiet" in airguns. They were some of the first airguns with integrated baffles, which dramatically reduced the airgun report. They continue to be some of the best choices for backyard shooting ranges.
No. 4 – Air Venturi Avenger
Air Venturi entered into the affordable airgun world in 2020 with the new Avenger. Not only is this airgun affordable, but it's also very adjustable and allows airgunners to set the regulator pressure and hammer spring without ever taking the action out of the stock. It's also very quiet due to the barrel shroud, which reduces the shot noise. It's a great new offering from Air Venturi, perfectly suited for backyard shooting fun.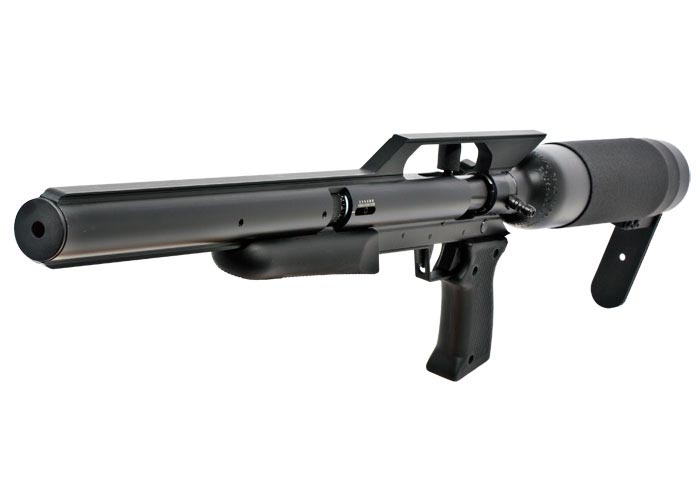 No. 3 – AirForce Talon SS
AirForce makes some really powerful airguns. The AirForce Texan is mostly known for the massive knockdown power it can deliver. However, it's certainly not backyard friendly. But the Texan is not the only airgun made by AirForce Airguns. The Talon SS has been around a very long time, and it's still holding its own amongst all the new airguns introduced over the past ten years. The Talon SS is a precision PCP airgun that works great for some quiet backyard target practice, pesting, or even taking out into the field for some small game hunting.
No. 2 – BSA R10 SE
The BSA Brand often flies under the radar for most airgunners, which is unfortunate. BSA has a longstanding heritage in the airgun world, making some of the best airguns out there. The BSA R10 SE comes with an extremely efficient regulator, match-grade trigger, shrouded barrel, and integrated moderator. It's exceptionally accurate and very quiet, making it perfect for the backyard shooting range. It also packs a punch for those who want to take it out of the backyard and into the field for some small game hunting.
No. 1 – Gamo Urban
So what's our number 1 recommended backyard-friendly airgun? It's the Gamo Urban. People love this airgun for more than just shooting in the backyard range. It's very affordable, accurate, hand pump friendly, and very quiet. This bolt action, multi-shot PCP, pushes .22 caliber lead pellets at over 800 FPS generating about 25 foot-pounds on average. That's more than enough energy for 50-yard target accuracy and small game hunting. The beauty of the Gamo Urban comes down to the fact that it's such a simple airgun that just works.
Want some more options?
These are just some of the great airguns that are perfect for ultra-quiet backyard target shooting and pesting. If you want some more, then just give us a call here at Airgun Depot, and we'll be happy to help you find the perfect solution for your backyard range!