Before we start tossing out options for airguns, let's take a look at our prey. The typical groundhog reaches about 8 to 9 pounds. In contrast, your typical squirrel tops out at around a pound. When looking at the right airgun for taking game, you need to make sure that you can put enough energy on target.
If a 12 foot pound airgun is considered "just enough" for small game like squirrels, what do you want for taking down something with a mass that's 8 to 9 times more?
FPS, FPE & Hunting
What matters is not the FPS, but rather the FPE.  FPS can be manipulated by merely changing the projectile's weight, while the FPE of a particular airgun stays pretty constant regardless of the pellet weight. 
In reality, you need a whole lot less than 12 foot-pounds to humanely take small game like squirrels and rabbits.  A well-placed 6 foot-pound shot can do the job nicely.  Fortunately, you don't have to use the same multiple, i.e. 8 or 9 times, when looking to switch from squirrel to groundhog, but you do need something more powerful than you may think.
Rule of Thumb
A generally good rule of thumb is the 3x principle.  Whatever your target's weight, specifically when looking at small game, multiply it by a factor of at least 3 and use that as a starting place for your muzzle energy.  As you go up in size and weight, i.e. medium to large game, a 2x multiplier is a good rule.  As you get even larger, then things start getting a lot more subjective but for now, let's stay on task with hunting groundhogs. 
FPE Starting Point
Small game can be a lot more resilient than you think, but 30 foot-pounds is a good starting point.  Additionally, hitting a moving quarter at range is a lot harder than a circle on a piece of paper.  Having the extra energy on tap is an excellent way to ensure a clean, ethical kill shot. There are many airguns that deliver this kind of energy.
Let's take a look at three excellent options. 
Utilitarian Option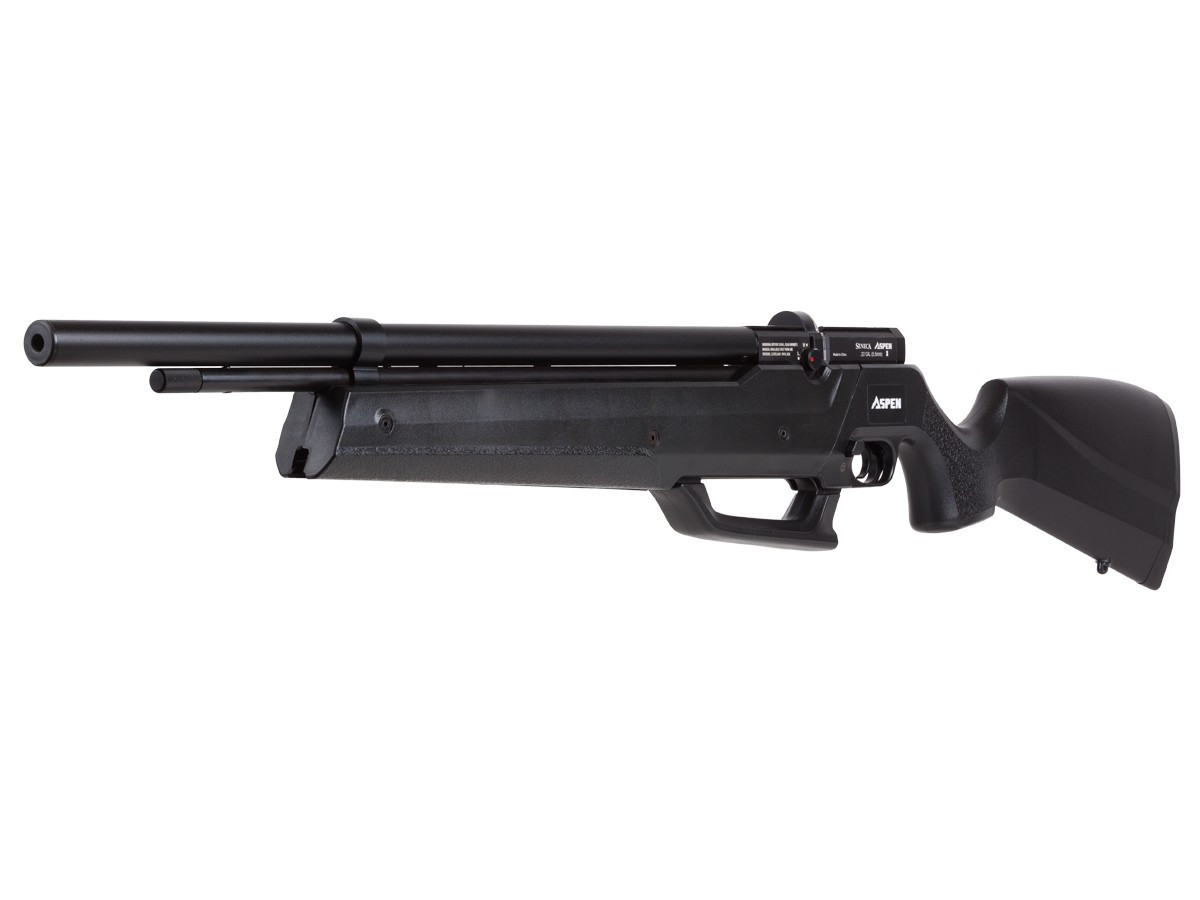 For folks who need to clear pests and that's it, take a look at the Seneca Aspen in .25 caliber.  This may be the best airgun for just getting the job done for groundhogs and other pests.  It's a fully self-contained PCP with a built-in hand pump.  It comes out of the box with a decent AO, Mil-Dot, airgun scope too.  All you need is some elbow grease and pellets and you are ready to start taking out those pests tearing up your yard or garden. 
It has two power settings with low power pushing about 27 foot-pounds and high power pushing close to 40 foot-pounds.  It will put 8 shots (a full mag) into a 1″ group at 50 yards without any work at all.  It does not have a hardwood stock and high-end finishes, but it gets the job done.
Middle-of-the-Road Option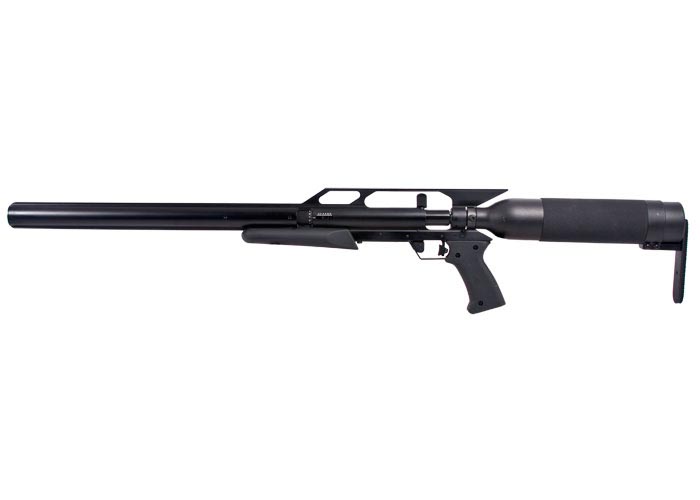 What if you like to target shoot and you need to take out some groundhogs that are tearing up your yard? Then you'll want to take a look at something like the single-shot AirForce Condor SS .25 caliber.  This is a single shot tack driver with unique styling and exceptional accuracy.  It has variable power that can push a standard .25 cal pellet to over 50 foot-pounds. 
AirForce has been making airguns right here in the USA for many years and they've perfected their design and execution of that design.  Additionally, the Condor can drive the newer airgun "slugs," making it great for shooting well past 50 or even 100 yards. 
Maximum Effectiveness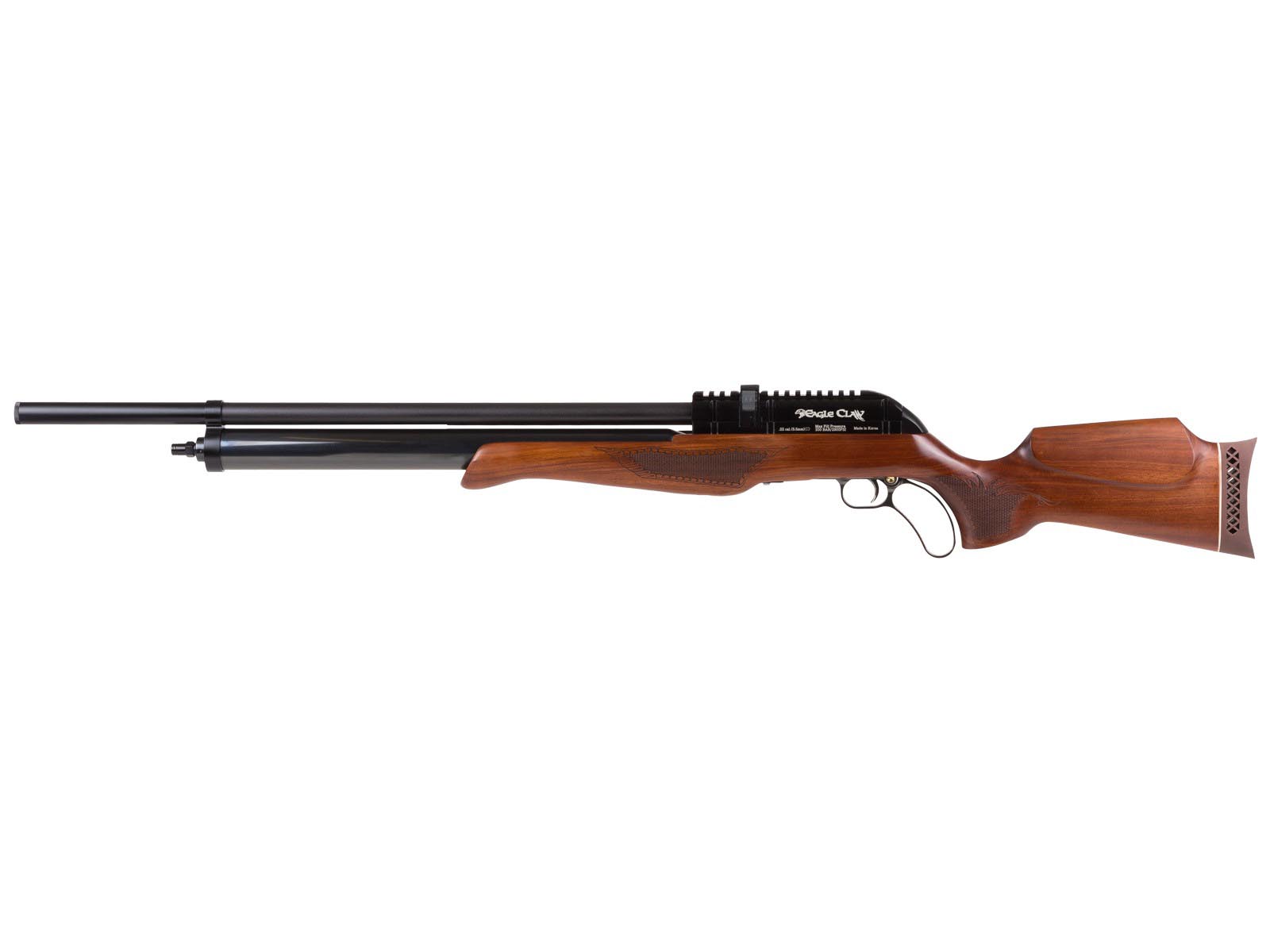 If hunting is your thing and you want to do more than just clear out the occasional pest, then you need to look at the Seneca Eagle Claw in .25 caliber.  In .25 caliber, the Eagle Claw can push pellets close to that 60 foot-pound mark.  As with all our suggestions, it also has adjustable power allowing shooters to dial down the power for smaller game, or turn it all the way for predators and other pests.
It's extremely versatile.
The unique feature is the lever-action, which allows shooters to maintain a perfect sight picture while cocking and lining up a quick follow-up shot from the eight-shot magazine. 
Is that all I need?
Of course you'll need some gear to go with your new small game hunting rifle!  You'll need pellets, possibly a scope, and a way to fill your new airgun. If you need help choosing, just reach out to us here at Airgun Depot, and we'll be sure to get you just what you need to get started!
Lastly, check out some of of these other hunting resources to learn more: