Airguns allow us to get in more trigger time. Usually, this will be in the comfort of our own backyard. The biggest concern most backyard shooters need to consider is the loudness of their airgun. Backyard-friendly airguns need to be quiet, and fortunately, most of today's airguns focus on keeping things quiet. Let's look at the top "quiet" backyard-friendly airguns for 2022. We will list these by price, starting with the most affordable and topping out with some of the more expensive options.
Diana Chaser Rifle
The Diana Chaser Rifle kit has a lot to offer. At $150 +/-, not only do you have a very quiet rifle, but it breaks down into a pistol as well. It runs on CO2 and delivers both accuracy and fun. The integrated moderator makes this a whisper-quiet backyard shooter when set up as a rifle.
Gamo Arrow PCP
New for 2022, the Gamo Arrow is an entry-level PCP that delivers accuracy and shootability way above its price class. It combines the best of Gamo's quiet technologies with PCP Technology gained from its relationship with BSA. Delivering high shot counts with consistent accuracy, the Gamo Arrow is a backyard force to be reckoned with.
Umarex Notos
The Umarex Notos is a brand-new compact PCP pistol / Carbine combo. Not only does it deliver an extra quiet backyard-friendly shooting experience, but it does it with style. This new PCP from Umarex is going to take the market by storm. So if you are looking for a regulated PCP with tons of features and a great price point, give the Notos a hard look.
Gamo Fusion 10x Gen 3i
Gamo makes some great backyard-friendly airguns. It's good to know that not all the quiet airguns need to be PCP. The Gamo Fusion 10x Gen 3i is not only quiet but uses Gamo's SWARM magazine system. The new Gen 3i SWARM utilizes inertia from the recoil to advance the magazine. Having a 10-shot breakbarrel that's quiet, accurate, and fun to shoot is perfect for any backyard range.
Air Venturi Avenger
The Air Venturi Avenger is available in .177, .22, and .25 calibers. It's one of the most affordable PCP airguns on the market, and it's jam-packed with great features like external adjustments for the regulator, hammer spring, and trigger. Most importantly, the shrouded barrel keeps things nice and quiet.
Benjamin Marauder
The quiet standard was set many years ago by the Benjamin Marauder. While this airgun has been around for many years, it's still one of the quietest airguns you can buy. The traditional styling certainly resonates with older shooters. It's an accurate and fun airgun that's ideal for bench shooting or taking out pests in the garden.
Air Arms TX200
Heirloom airguns are airguns that easily last from generation to generation and are passed down accordingly. The Air Arms TX200 is one such airgun. Available in multiple configurations, this underlever spring airgun is built to last. It's quiet, accurate, and looks amazing.
AirForce Texan LSS Hawke Scope Combo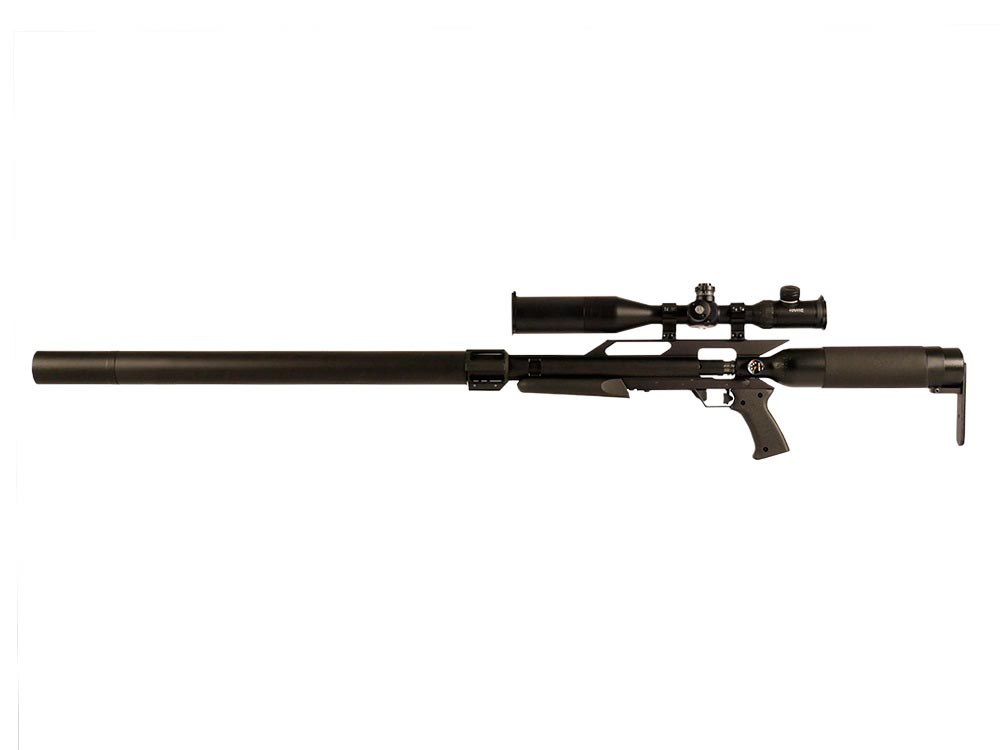 Big bore airguns are not necessarily meant for the backyard, but we wanted to include one with aggressive sound moderation. The AirForce Texan LSS is available in multiple calibers and incorporates sound suppression that works up to the .45 cal model. Our exclusive combo comes bundled with a great Hawke Optic so you can head right into the field for some stealthy hunting adventures.
FX Dreamline Dream-Tact w/Moderator & AR Stock
We are climbing the price scale here, and while the FX Dreamline Dream-Tact is an expensive airgun, it packs in a ton of features. With external adjustments for the hammer spring, transfer port, and regulator, shooters can dial in the perfect mix for power, range, and accuracy. As a result, the FX Dreamline Dream-Tact works for backyard plinking, bench rest shooting at the range or serious hunting out in the field. And, it's very quiet too.
RAW HM1000x LRT, Camo Laminate
At the top of the price point, we find the RAW line of airguns. These custom-crafted works of art combine the best build quality with very effective sound moderation. Whisper quiet does not begin to describe the shooting experience. The best in precision and quiet shooting, the RAW line of guns are a great fit.
That's it!
Well, that's it for our 2022 list of quiet, backyard-friendly airguns. We barely scratched the surface, so if you are looking for something different that's still quiet and backyard friendly, just give us a call, and we'll be happy to point you in the right direction.