Airgun hunting is extremely popular. It's pretty easy to scroll through a list of high-powered air rifles to find something suitable for small game hunting. But what about if you want to hunt small game with an air pistol? For a successful small game hunt, you not only need accuracy, but you also need sufficient energy to make that clean, ethical kill. If you want to hunt rabbits and squirrels with an air pistol, then you're going to want to take a look at our top 5 choices for hunting air pistols. Just a note: these are provided in no particular order. Let's get started.
AirForce TalonP Spin-Loc Pellet Pistol
With variable power and chambered for .25 cal pellets and slugs, the AirForce TalonP can either deliver a high shot count or up to 50 foot pounds on target.  This compact powerhouse is a single-shot pistol that's tuneable based on the weight of the projectile.  Shooting the standard 25.4-grain JSB pellets on low power will yield up to 30 shots with more than enough energy for small game.  But if you need more, you can crank the power, switch over to slugs, and either take game at greater distances or set your sights on medium-sized game like woodchucks and raccoons. 
The TalonP comes with a large 213cc cylinder that fills to 3000 psi. That's a massive amount of air on tap and why it's able to deliver high shot count with power. It features an 11mm top rail for mounting optics, a wide breech that accommodates a variety of .25 cal ammo, and a match-grade trigger. It's the powerhouse of our airgun pistols and our top recommendation for shooters looking for the most power and range.
Benjamin Marauder Pistol
Next up, we have the Benjamin Marauder Pistol. This .22 cal multi-shot pistol also has variable power via an external hammer spring and hammer throw adjusters.  The 8-shot magazine is operated by a rear bolt, and the two-stage trigger is also fully adjustable.  There's an 11mm top rail for optics, which will be required as there are no open sights.
This affordable air pistol delivers exceptional accuracy while being extremely quiet. It also has a very cool trick up its sleeve (something that other models on our list have also adopted), and it's the ability to convert from a pistol to a micro carbine. And what's even better is that everything you need for the conversion is right in the box, making it a great all-around small game hunting option.
Hatsan Jet I and Jet II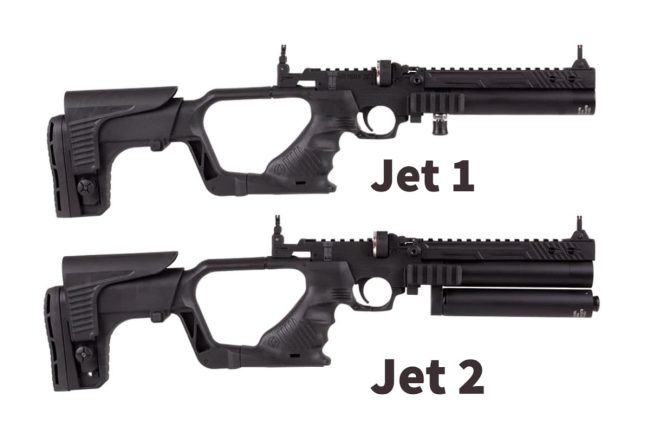 Hatsan must have noticed just how well the Marauder had done in the market when they designed their new JET PCP air pistols. These pistols bring open sights, side lever action, along with a toolless transition back and forth between pistol and micro carbine formats.
The JET I features a single air cylinder, whereas the JET II features a dual air cylinder design. The big difference between the two is shot count and weight.  This makes the JET I ideal for pistol shooting and the JET II better suited for use in the micro carbine form factor.  But, either option is able to shoot in either configuration, so regardless of your primary use, you can always swap things around based on need.
The JET line comes in .177, .22, and .25 calibers and features decent shot count, energy, and accuracy on target. The side lever action is easy to operate, and the fully adjustable open sights work great. For those who want to use an optic, there's a dual 11 mm / weaver rail on top of the receiver.
Weihrauch HW44, FAC Version
If refinement with power and accuracy is your focus, then look no further than the Weihrauch HW44 FAC.  This .22 caliber pistol will stretch your budget a bit, but it delivers on its promises. 
The Weihrauch HW44 is a multi-shot, side-lever, regulated, match-grade hunting pistol that delivers decent shot count and up to 19 foot pounds. Given that it's regulated, you can expect consistent power and accuracy throughout the shot curve.
Some of the key features are the ambidextrous target grip, match-grade trigger, fully adjustable open sights, integrated moderator, and awesome trigger. This is a top-shelf hunting air pistol.
Umarex Notos with Pistol Kit
Our last hunting air pistol ships as a micro carbine but can be easily converted to a pistol. Unfortunately, you'll need to purchase the grips and open sights separately, but they are very affordable. For shooters who want to make the conversion, it's not going to break the bank.
The Umarex Notos features a regulated high-pressure cylinder that fills to a max of 250 Bar and delivers up to 21 shots on the reg.  Other features are a side lever action, adjustable trigger, and integrated moderator.  Power output is very good at over 20 foot pounds across all 21 shots. 
While it doesn't come from the factory as a hunting air pistol, the ability to make the conversion and still come in below the $300 price point gave it a place on our list. With power and accuracy out to 50 yards, the Notos should be on your short list.
That's a wrap
That's just a short look at a few of the great PCP Air Pistols suitable for small game hunting. If you have any questions about what else may be needed to create the perfect airgun pistol hunting package, please do not hesitate to give us a call, and we'll be happy to help.