In part 1 of this series, we spent more of our $1500 budget towards the airgun, and now, we'll flip things around and pair a Benjamin Armada and put more towards the optic, in this case a Hawke Sidewinder FFP.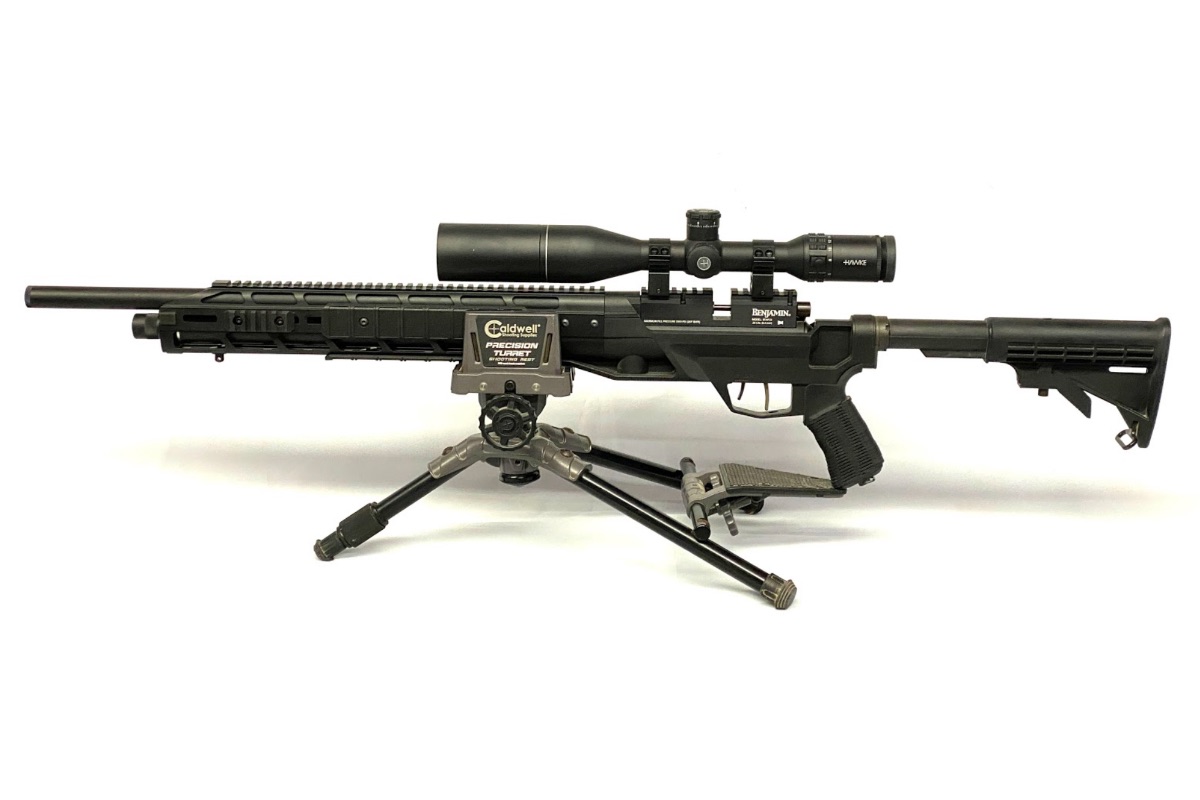 Benjamin Armada, .25 Caliber
The Benjamin Armada is essentially a Benjamin Marauder with an AR skin. It has an AR Grip and AR Stock adaptor along with M-LOK rails for compatible accessories. It features a very nice, fully adjustable trigger that's not quite match-grade but certainly above average for the price point. The cocking is done via a rear bolt design.
Where the S510 XS is regulated, the Benjamin Armada is not. You'll need to watch your pressure and stay within the optimal range of your shot curve to see consistent accuracy. If you have too much pressure in the cylinder, you may experience valve lock where the impact from the hammer is not sufficient to fully open the valve and achieve a full-power shot. With too little pressure, the hammer strike will open the valve too much and may/will cause you to use too much air with each shot.
Achieving a good balance can be done by "tuning" the valve, hammer throw, and hammer spring tension for optimal results. That may be a good topic for another day, but for now, we are going to shoot our Benjamin Armada as it came out of the box. Regulators like the one in the S510 XS help eliminate the need for this fine-tuning, giving you consistent pressure and volume for each shot.
The Armada has a male foster fitting at the end of the air cylinder. It operates with up to 3000 psi. Most Marauder class airguns have a sweet spot between 1500 PSI and 2500 PSI. That's where we'll be shooting. As in Part 1, we'll be using the Hill compressor for all our testing.
As you cock the bolt on the Armada for the first time, you will notice a big difference in the shooting experience between the two rifles. The Armada comes in at nearly half the cost of the S510 XS, and you can feel the difference right away. Where the S510 XS is buttery smooth, the Armada can be a bit "crunchy" and hard to cock. This is not a deal-breaker by any means; it's just an example of the differences between airguns at these various price points.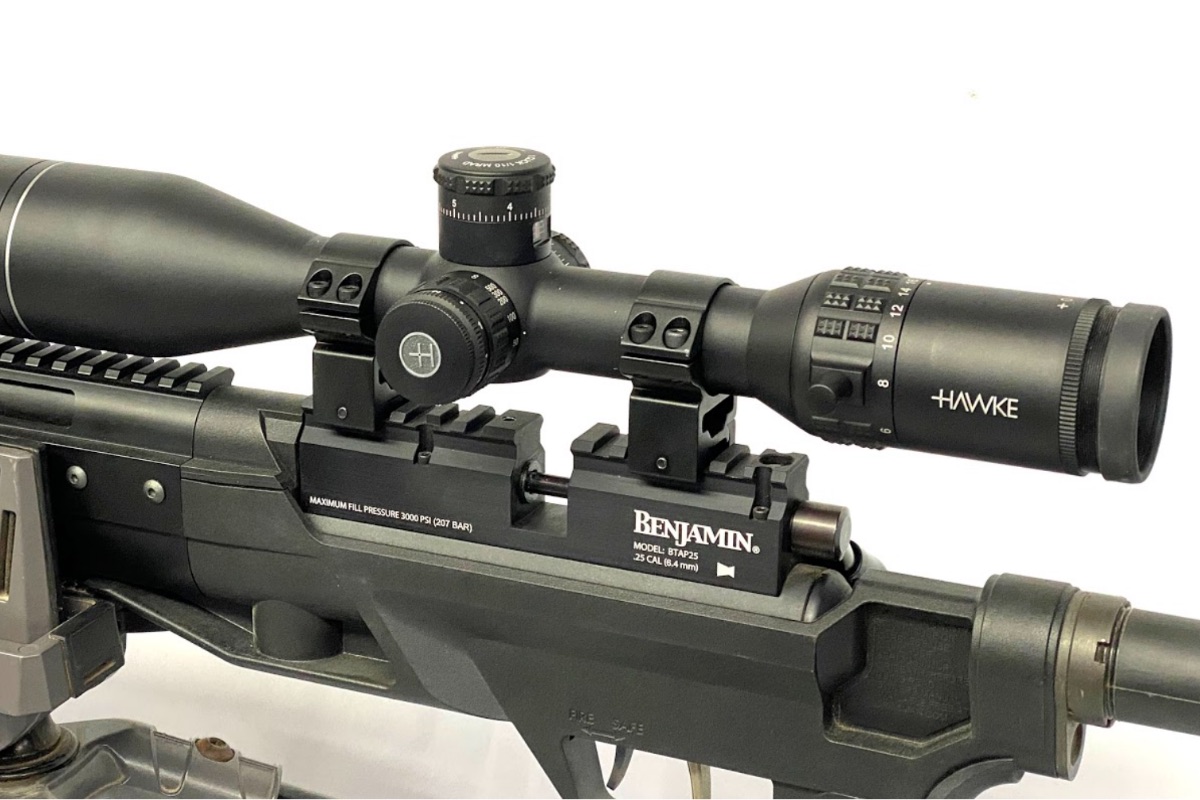 Hawke Sidewinder FFP
Before we start putting lead on paper, let's take some time to look at the new Sidewinder FFP from Hawe Optics. The Sidewinder model line has been a favorite of airgunners for some time. This new version takes a great scope and makes it better. It has a 30mm chassis that is stronger, lighter and smaller than the previous models. The multi-coated glass is exceptionally clear at all magnifications. Additionally, it has exposed zero-reset locking turrets. The elevation turret features a "witness window" which provides shooters immediate feedback regarding their current elevation setting.
Models come standard with side focus parallax adjustment including the large wheel accessory, sunshade, and fast focus eyebell with locking ring. The Sidewinder line is available in either first focal plane or second focal plane configuration, each in various magnification range options. For this article we are using the 4-16×50 FFP with Half-Mil illuminated etched glass reticle. When it comes to airgun scopes, it really doesn't get much better than this.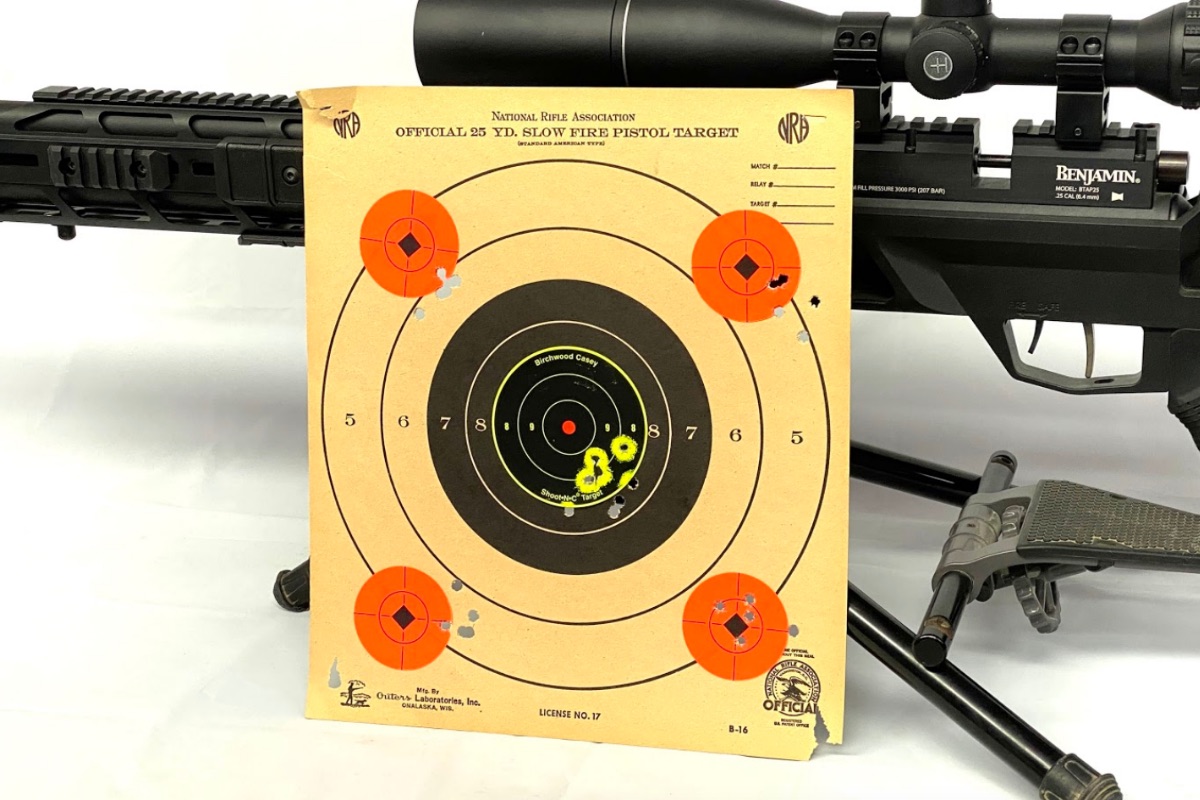 Testing & First Shots
If results on paper are all that matters, I believe you'll be pleasantly surprised by the Armada. Regulated or not, this gun has been impressive from the day it hit the market. Running the same testing protocols, and in the same shooting conditions as part 1, we shot four five-shot groups and achieved an average CTC of under 1.1″.
Maxing Out the Gun & Scope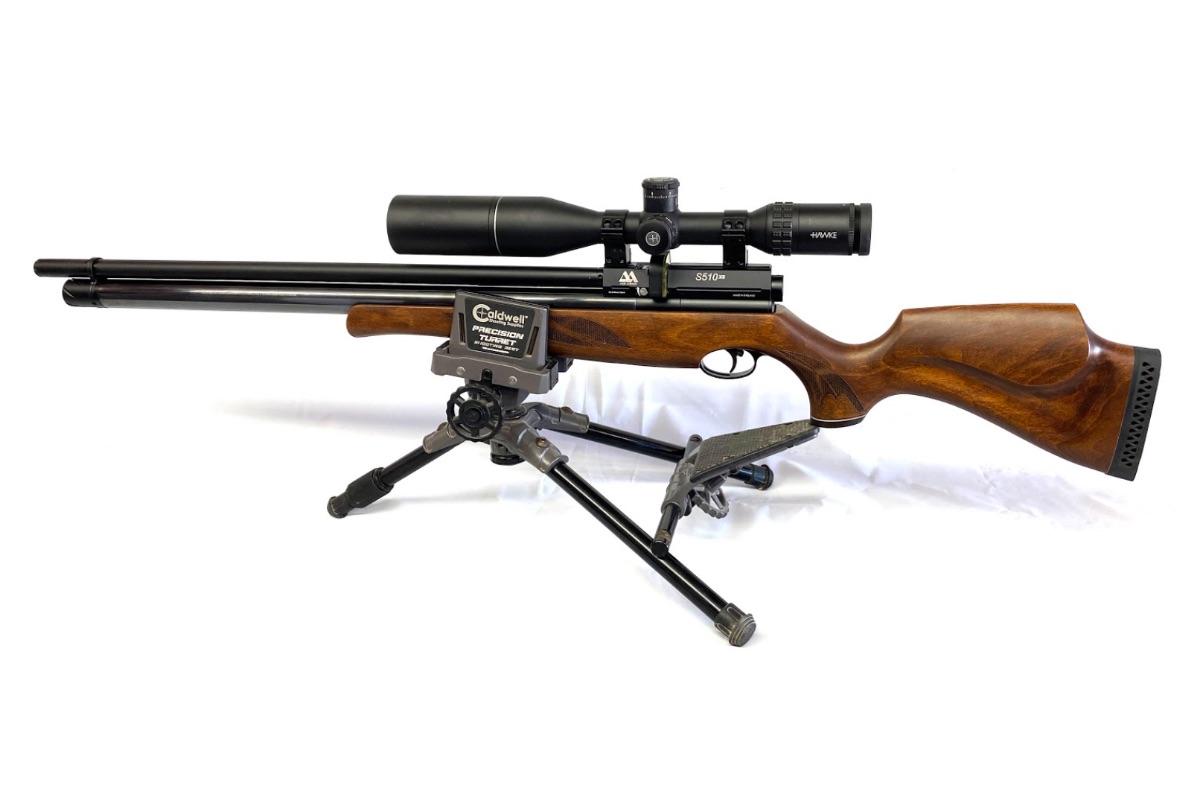 We know that we gave the Armada the best possible chance with an exceptional optic. What would happen if we moved that to the Air Arms? Would it group better with a scope that costs nearly 3 times as much?
We want to know, so we moved the Sidewinder over to the S510 and shot another test.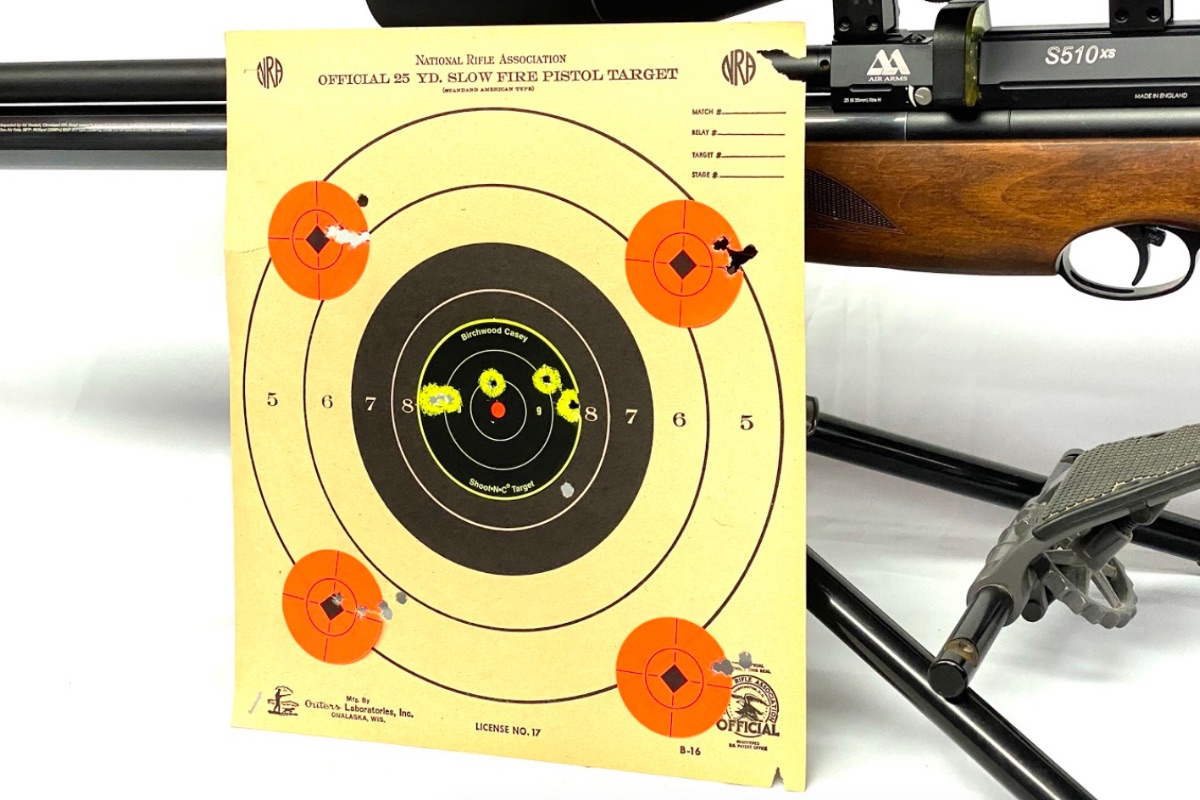 Here are the results. Across four five-shot groups, the average CTC dropped to .74″ Three of the four groups were all under .75″ but there was one flyer in the 3rd group that upped? opped it up to 1.2″ CTC, messing up our average. If we take that one errant shot out of the equation, our average CTC drops to .66″ at 50 yards in the wind. Those results are exceptional.
The better scope with the better airgun did better. Did we really expect to see something different? We could certainly hope for it, and there are probably cases where the more affordable gun will outshoot the expensive gun regardless of the optic.
If you really want to maximize your airgunning trigger time, then brands like Air Arms, FX, Ataman, RAW, and other high-end guns are going to deliver a better shooting experience and better results on target. As you move past 50 yards, the difference between affordable and expensive grows wider. Not always, but most of the time, that's the case.
Where to Next?
Most airgunners start their journey on the affordable side of the coin and there's nothing wrong with that. But if you can go bigger sooner, then don't be afraid to take the plunge. When you match a high-end airgun with a high-end airgun optic, you will get great results with less effort.
Our suggestion would generally be to put your money into the airgun over the scope. The airgun is always going to be what it is unless you are willing to go through making a lot of functional changes. If you start with a higher level airgun, you can always bump up the scope to maximize its potential. However, if you go for expensive glass and a budget airgun, you may find yourself frustrated when you don't get the results you want. And if you need help finding the perfect fit for your budget, then give us a call. We are always here to help.