Have you ever wanted to fire an MP40 or maybe handle an UZI? Have you ever wanted to pull an M1 Carbine or how about the Sig MCX? While you may not be able to have the opportunity to handle the "real" thing, there are some great airgun replicas on the market that certainly give you the chance to get the feel of some of these awesome firearms.
Let's pull together a quick top 10 popular replicas from both historic and modern firearms.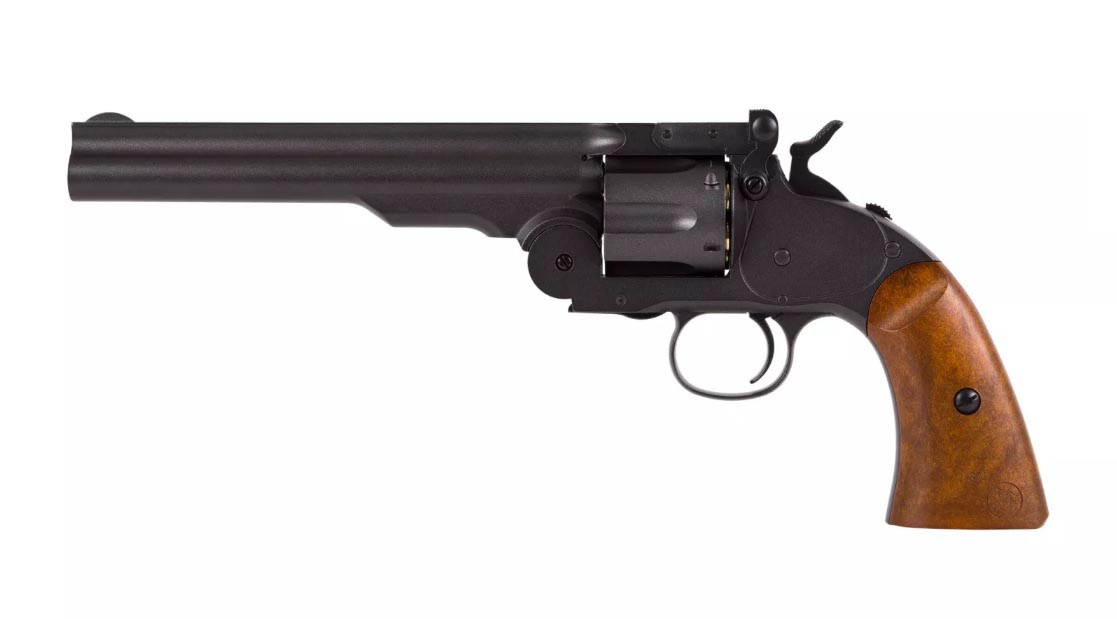 No. 10 – Schofield No3
Going back to the days of the US Calvary, the Schofield No. 3 was a venerable pistol of the time, made famous by Major George W. Schofield. The idea was to try and improve on the Smith & Wesson and was so popular it became the mainstay of the time. The airgun replica of this great revolver lives up to the reputation of the real thing with a break-open action, full metal receiver, and realistic loading system. A single 12gm co2 delivers a ton of power shots and a whole lot of fun.

No. 9 – Beretta CX4
The Beretta CX4 has a truly modern look and feel. The airgun version fires from a 30 round belt-fed pellet magazine. Rather than the smaller 12-gram cartridges, the CX4 uses the larger 88 or 90-gram disposable co2 bottles. Like the firearm, you can use the open sights or the integrated rail to mount your favorite red dot or traditional optic. With each pull of the trigger, you get to send a lead pellet downrange which is sure to put a smile on your face.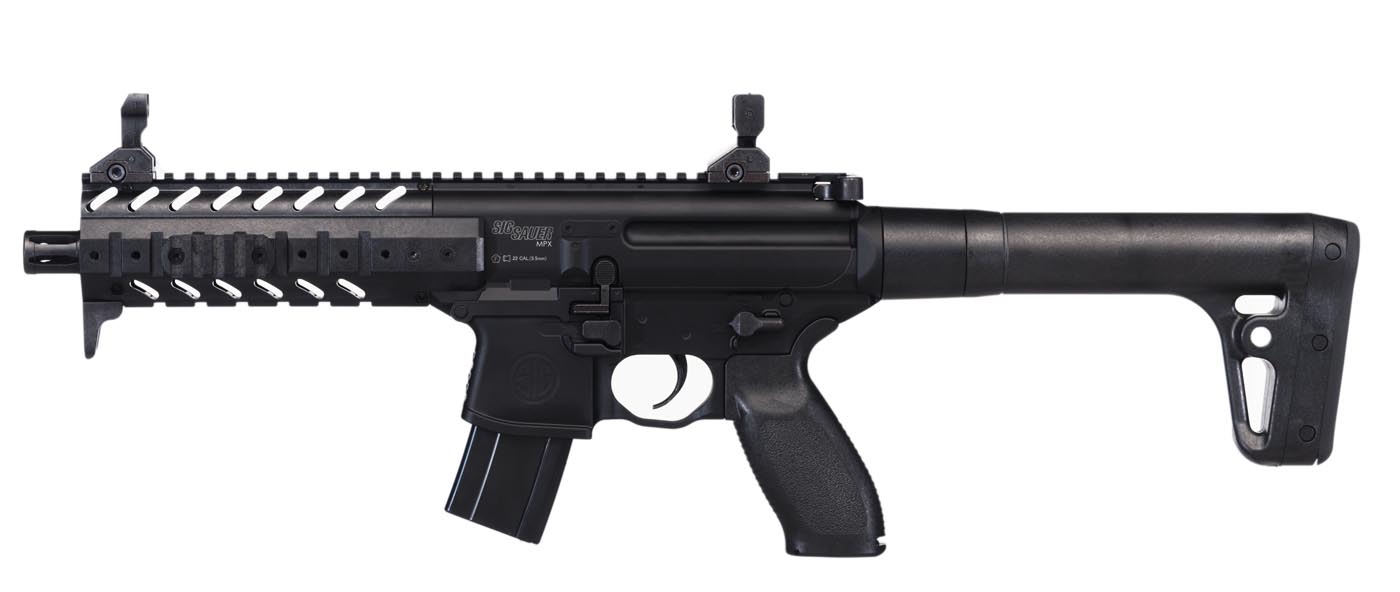 No. 8 – SIG Sauer MPX
The SIG name in firearms has a strong connection to military operators that insist on reliable performance in the harshest of environments. The SIG MPX Replica airgun mirrors the actual firearm in weight, feel, and function. It fires pellets from a patented 30 round belt-fed magazine using the large 88 or 90-grain disposable co2 bottles. There are multiple configurations and colors. It is certainly one of the most realistic and fun airguns you can have in your arsenal.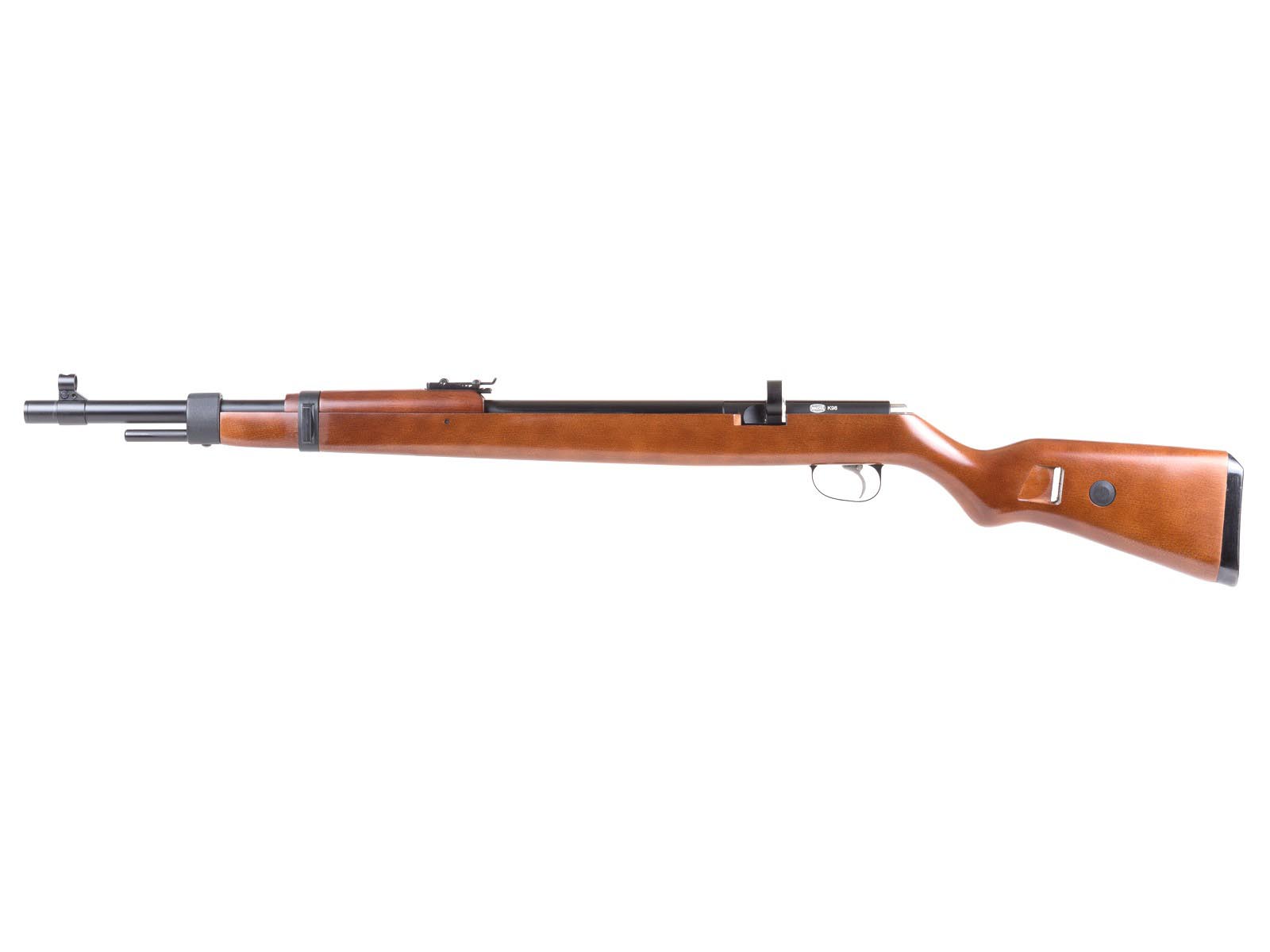 No. 7 – Diana Mauser K98
Anyone into military history is going to recognize the Diana Mauser K98. Diana takes a unique approach with this replica and it's why it comes in number 7 on our list. Where other manufacturers focus on basic functionality and the "fun" factor, Diana decided to not only create something that looks like the historic firearms but backed it with enough power to take out small game hunting too! Additionally, it comes in .22 as well as .177 caliber. Where other replicas are co2 powered, the Diana uses a spring-piston to propel the pellets downrange. Utilizing an underlever cocking arm and fixed barrel, the Diana Mauser K98 has already carved a niche for itself in the airgunning community.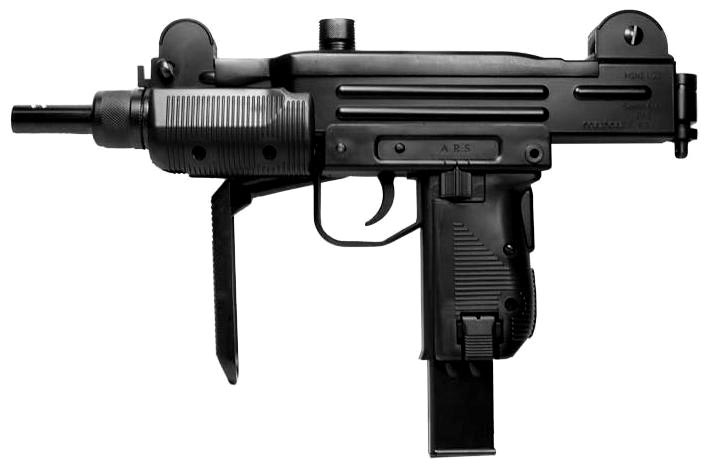 No. 6 – UZI
The shape of the UZI is undeniable. It simply can't be mistaken for any other firearm, period. The airgun replica version from Umarex USA is ready to rock and roll just like the real thing. Firing from the open bolt design, the internal blowback system rattles and clacks just like the real deal. Not only does this replica fire semi-automatic, it comes complete with the "more fun" switch taking it from semi-auto to full automatic for serious airgun fun. Whether firing as a pistol or as a micro carbine using the folding stock, it's hard to put down this modern airgun replica.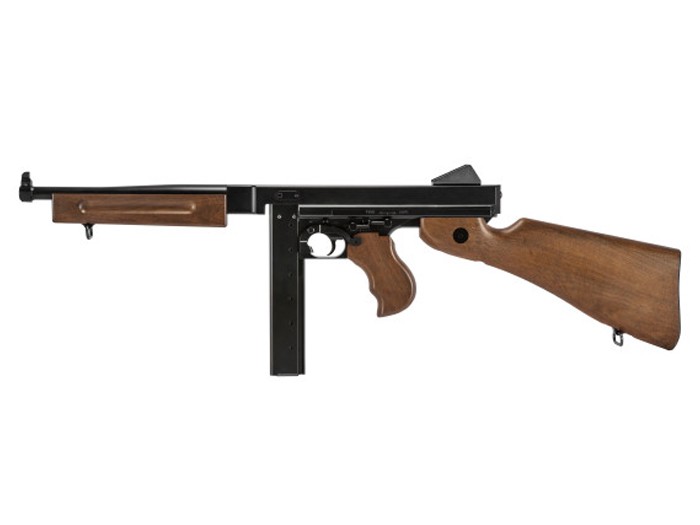 No. 5 – Umarex M1A1
I can only imagine the shock and awe delivered by a fully automatic .45 caliber sub-machine gun. The .45 caliber was created to deliver maximum knock-down energy in close range combat. Taking that to full auto is just devastating. While it's completely impractical to try and own the real thing today, the Umarex M1A1 replica certainly delivers a high level of airgun realism. (Just look at all the 5 star reviews!) Using a single 12 gram co2 to fire 30 bbs, in either semi-automatic or full-automatic, from the stick mag, you'll be sure to get a lot of enjoyment from this awesome airgun.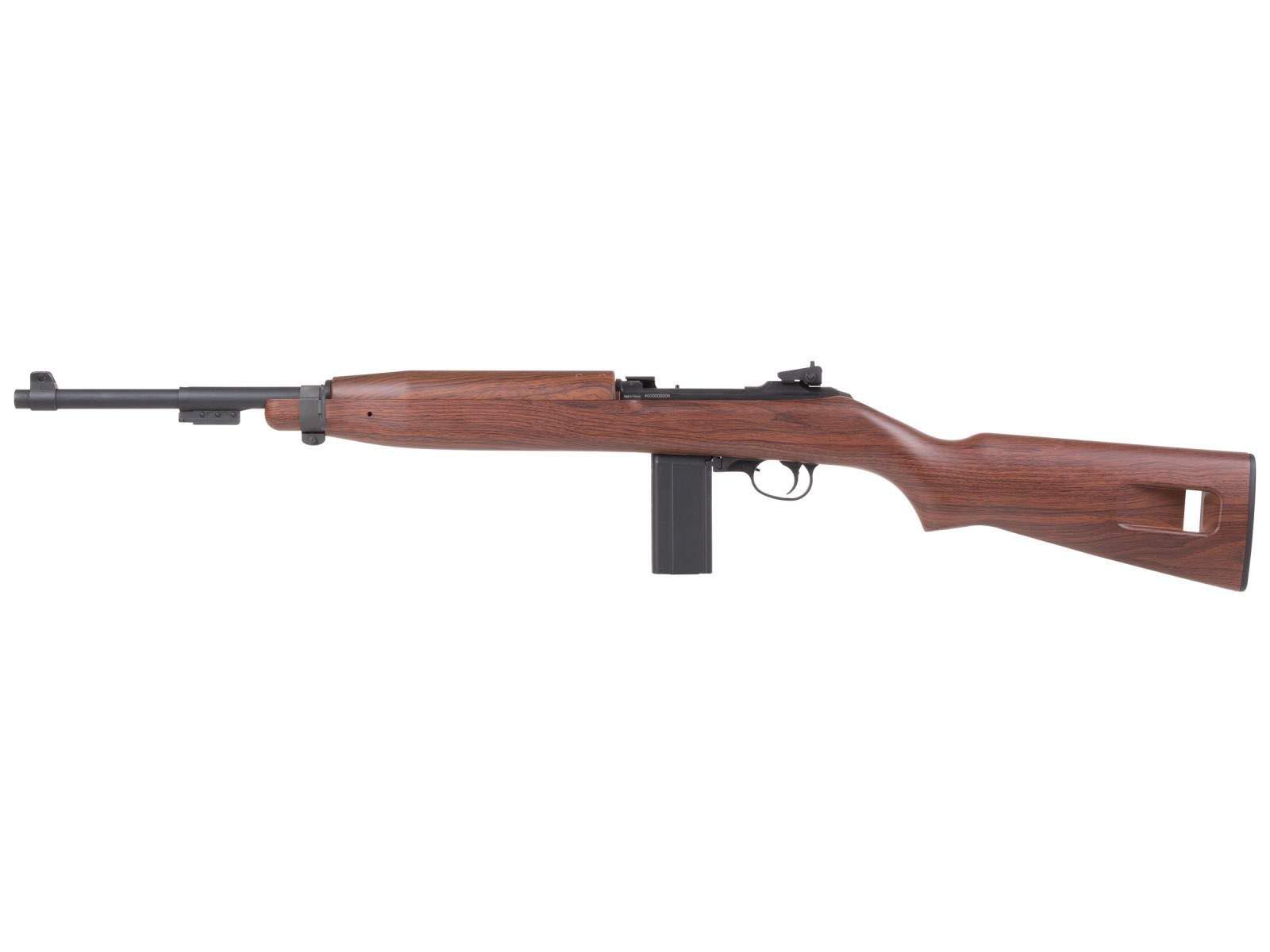 No. 4 – Springfield M1 Carbine
Alongside the other historic airgun replicas comes the Springfield M1 Carbine. Pulled right from WWII history, the Springfield M1 Carbine has been a mainstay in the US military right up into the mid-2000s. Talk about a legacy! And this version has pulled out all the stops, including an all-metal receiver and even a hardwood stock option. It has a great blowback system that really rocks the gun, adding to the overall realism. It has a 15 rebound drop-free magazine and uses a single 12 gram co2 to send bbs downrange. While you need to swap the co2 after each mag, it's WELL worth it having spent some quality trigger time with this great airgun.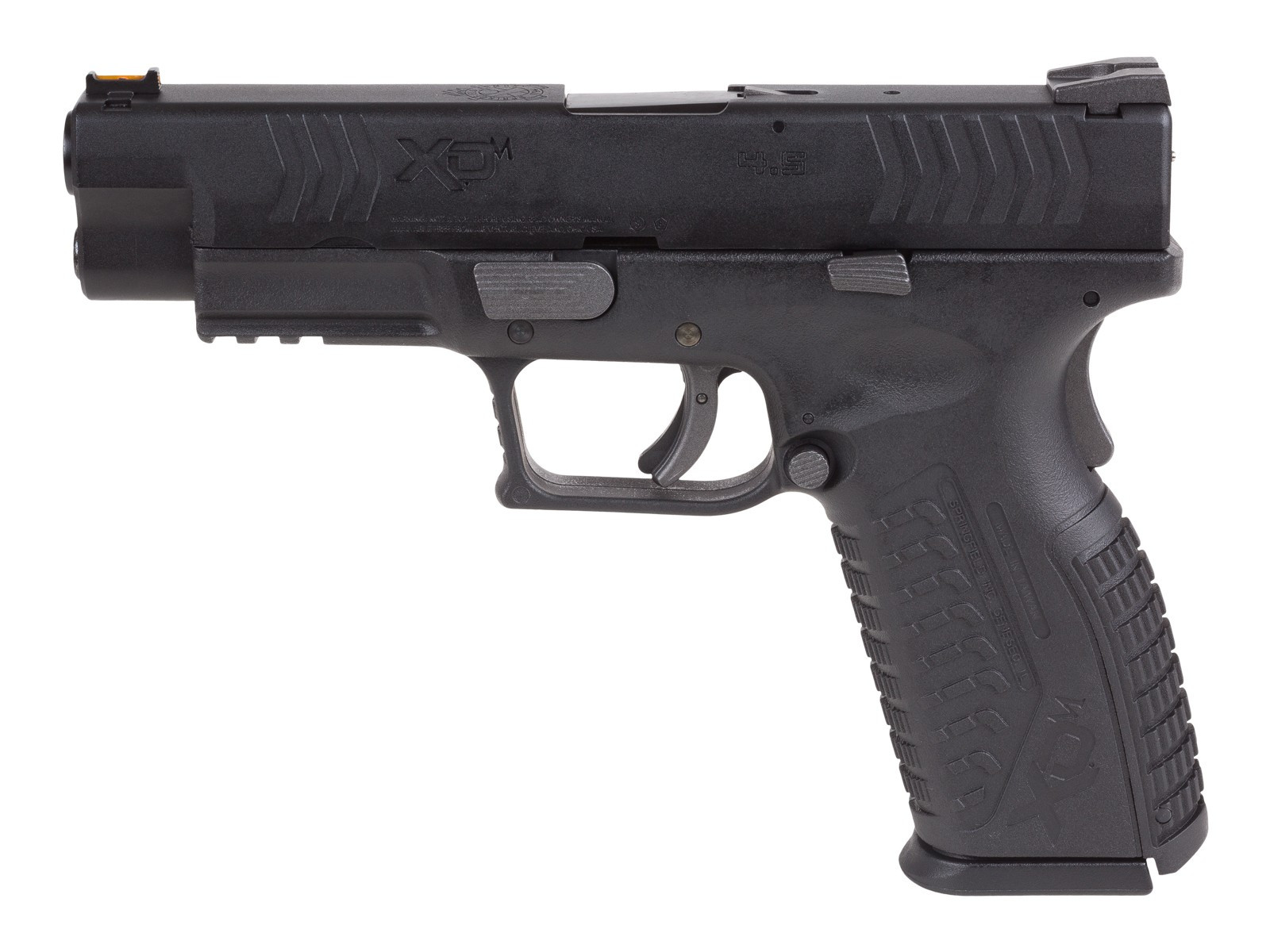 No. 3 – Springfield XDM
Personal defense weapons continue to be very popular and the ability to have a 1 to 1 airgun replica really aids in affordable and convenient training. Additionally, the airgun version of the Springfield XDM is comparable with all the same accessories as the actual firearm. It utilizes a 20 round drop-free magazine and a single 12g co2 cartridge. Other features include a functional slide stop lever, trigger safety, accessory rail, etc. If you've got the Springfield XDM firearm, then you NEED the airgun replica!

No. 2 – SIG Sauer MCX
Like the SIG MPX, its big brother the MCX takes the realistic AR15 airgun replica platform to another level. While most AR15s run the less power and less accurate bbs, the MPX and MCX rifles fire .177 pellets from a 30 round belt-fed magazine as fast as you can pull the trigger. Its metal housing, picatinny optics rail, and accessories rails lend it to accessorizing with the best of them. If ARs are your thing, and you want accuracy with reliability, the SIG MCX should be on your shortlist.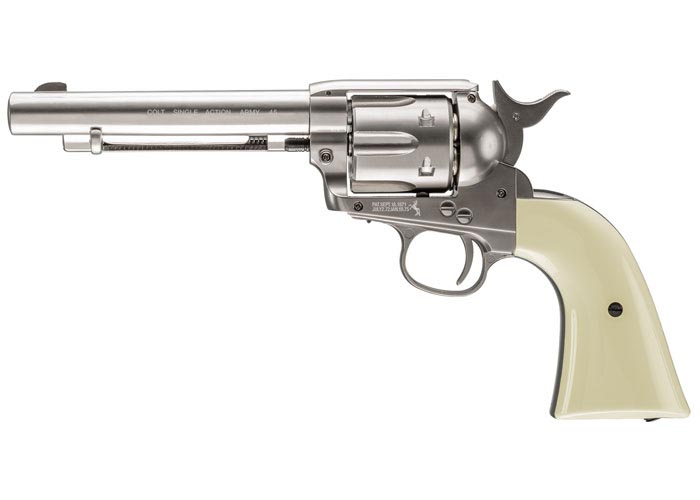 No. 1 – Colt SAA Peacemaker
So it's time that we pick our number 1 and it's a good one. The Colt Single Action Army revolver is our number one for good reason. It's a classic six-shooter that will never go out of style. The weight and feel are so realistic it will often catch people off guard. With 6 "shells," realistic loading system, and a phenomenal single-action trigger, the good times just keep rolling whenever the Colt SAA comes out to play. Available in many configurations and even some limited special edition models, it has become a wonderful piece of history that anyone can have as part of their collection.
So that's our top ten for replica airguns, both historic and modern. Whether you're old school or new, there's an airgun replica to get excited about. And if you have questions, you can always reach out to us here at Airgun Depot to help you get the perfect airgun and all the right accessories to go along with it!
Top 10 Historic Replica Airguns
Beretta CX4