Let's start by identifying what we classify as a "Sporting Air Rifle." Sporting Air Rifles are small bore airguns, between .177 and .25 caliber, designed to hunt small to medium game and pests. We are not looking at big bore or large game airguns for now, but we may cover that in another article. Moreover, we will sort our top sporting airguns by price to help new airgunners dial in the right airgun for their needs and wallet. Let's get started.
$200 Price Level
The newly released Gamo Arrow .22 is a perfect example of an affordable sporting airgun. At just over $200, this lightweight, accurate, and easy-to-shoot PCP delivers more than enough power for backyard hunting and pesting. With exceptional open sights, shooters can get right to work without the added expense of buying a scope. While the range is a bit shorter than some, up to 35 yards, the overall value and accuracy inside its optimal range, makes it our pick. The Gamo Arrow is a great "first" sporting airgunner for shooters on a budget.
$350 to $500 Price Level
The competition at this pricing level is fierce, and it's why we can't choose just one. So we'll give you a few options based on their performance and value.
The Seneca Aspen is a fully self-contained hunting machine. Available in .177, .22, and .25 calibers, this PCP combines the flexibility of a multi-pump pneumatic airgun with the power and accuracy of a PCP. The built-in pump can fill the onboard air reservoir to 250 bar, allowing shooters to take multiple shots between pumping sessions. Of course, you'll need to add a scope, but this is one sweet sporting airgun.
Next, we have one of the top spring sporting airguns in our price category. The Diana 460 Magnum is an underlever spring airgun that delivers PCP power and accuracy out to 50 yards. Available in .177 and .22 calibers, there's a reason this airgun continues to be a top pick. It comes with Diana's great open sights and one of the best airgun triggers ever released. And, it's not bad to look at either.
Rounding out our top picks under $500 is going to be the Umarex Gauntlet II. Available in .22, .25, and .30 caliber, this airgun was purpose-built as a sporting airgun. Its high power and high shot count are only exceeded by its range and accuracy. Capable of taking small game out to 100+ yards, the Umarex G2 tops our list of the best sporting airguns in this price range.
$500 to $1000 Price Level
If the last price category was fierce, it only gets more fierce as we climb the price ladder. When you start approaching $1000, nearly all options will perform exceptionally well. It comes down to purely subjective choices such as aesthetics and form factor.
At nearly $800, the Air Arms TX 200 is a very expensive underlever spring airgun. But, it's also one of the best ever manufactured. The TX 200 is a work of art airgun that's also a very functional sporting airgun. Available in .177 and .22 calibers, it's capable of taking game out past 50 yards and proves so regularly in field target competitions worldwide.
The AirForce Condor SS is our next airgun.  Coming in around the mid $800s, this single-shot airgun provides a ton of flexibility.  Shooters can swap barrels, adjust the power with an external hammer spring adjustment wheel, and add multiple accessories to the full-length 11mm top and bottom rails. The classics never go out of style, and the AirForce Talon, Condor, and other models have essentially remained the same for over a decade.  There's no reason to change what's working. 
Right at the top of our price limit sits the new Hatsan Factor. Available in .177, .22, and .25 calibers, the Hatsan Factor brings tactical to practical. The new trend in airguns incorporates high shot count, large, regulated air cylinders, and shooters' ability to dial in all the various adjustments. Where most products that provide this level of performance cost close to $2000, the Hatsan Factor delivers it at just under $1000. Hatsan continues to deliver a ton of features, good build quality, power, range, and accuracy at a very aggressive price point.
$1000 to $2000+ Price level
Now we are getting into some top-shelf airguns. Whenever you go north of $1000, you enter into the range of elite brands, and they all really deliver.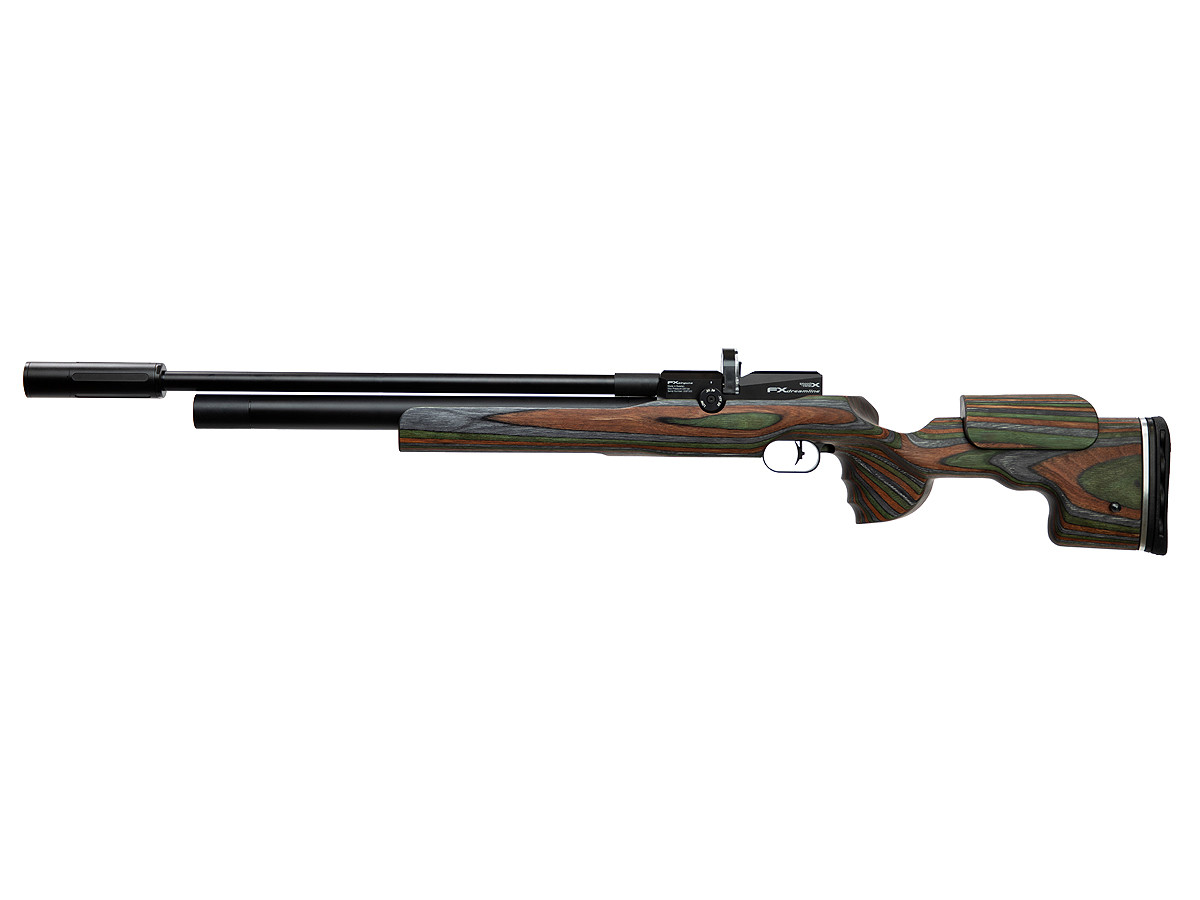 FX is a brand that has taken the airgunning world by storm. Most of their line sits near or surpasses the $2000 mark, but there are some great options just over $1000 that need to make our list. For example, the Dreamline series starts at just over $1100 and delivers incredible build quality, shooting experience, power, range, and accuracy. There's something for every shooter in the Dreamline product stack. There are ultra-light tactical options all the way up to traditional wood stock sporter options and just about everything in between.
Air Arms Airguns represent the best of what sporter airguns bring to the table. Starting with the basic S510 all the way up to their new S510 XS Tactical, Air Arms are what sporter airguns are all about. The specific model we'll look at in this article is the S510XS Ultimate Sporter. At around $1700 and available in .177, .22, and .25 calibers, the Ultimate Sporter variants come in soft-touch tactical, walnut, and laminate stocks. In addition, the stocks have a highly adjustable cheekpiece that allows shooters to tailor their stocks for the perfect fit. Like the Air Arms TX200, the S510XS Ultimate Sporter is a work of art, delivering precision, accuracy, and an exceptional shooting experience at the bench or in the field.
At the top of the price level sits RAW. RAW (Rapid Air Weapons) is another relative newcomer to the airgun market. RAW airguns are made to the highest standards and deliver an incredible shooting experience, great build quality, and precision accuracy out to 100 yards. Like the FX Dreamline, RAW has many models spanning tactical to traditional.
That's a Wrap
We hope you've enjoyed this article on our top sporting airguns from $200 to $2000. There are so many more great airguns, specifically under $1000, that it would be impractical to try and mention them all. So, if you have questions about our products and how they may work for your needs, just call us. We are always happy to help.