Welcome to our top .22 cal airguns of 2023 article. Today, we'll look at a combination of the most reviewed airguns and ratings to deliver 10 great .22 caliber airgun choices. These are not in any particular order, cover a wide range of power plants and range in price from the very affordable to the top end. Let's get started.
Benjamin Cayden
The Benjamin Cayden is a gorgeous, traditional airgun that features an ambidextrous Turkish Walnut stock, smooth side lever action, and an easy fill pressure of 3000 psi.  The 1/2 UNF threaded barrel features a removable muzzle break.  The air cylinder fills via a foster quick disconnect, and the trigger is fully adjustable.   It's awesome for bench shooting as well as small game hunting. 
FX Royale 400 Walnut
Continuing with traditional walnut and steel but jumping to the other end of the price point, we find the FX Royale 400.  FX Airguns remain the top airgun for serious airgunners looking for maximum performance, gorgeous aesthetics, and an amazing shooting experience.  The FX Royale 400 features a carbon fiber bottle fillable to 250 bar, an integrated suppressor, a 3-step power adjuster, a smooth twist barrel, a fully adjustable match trigger, and the list keeps going on.  It's an exceptional airgun for the discriminating airgunner. 
Stoeger XM1 Suppressed
New to the top airguns list for 2023, we have an offering from Stoeger.  The XM1 Suppressed is starting to gather some great reviews on our site with features like an integrated sound suppressor, friendly 2900 psi fill, interchangeable grips and cheekpieces, swivel studs, and open sights with a fully adjustable rear sight.  It's an interesting-looking airgun that delivers great performance to our customers. And it's very affordable. 
Air Venturi Avenge-X Classic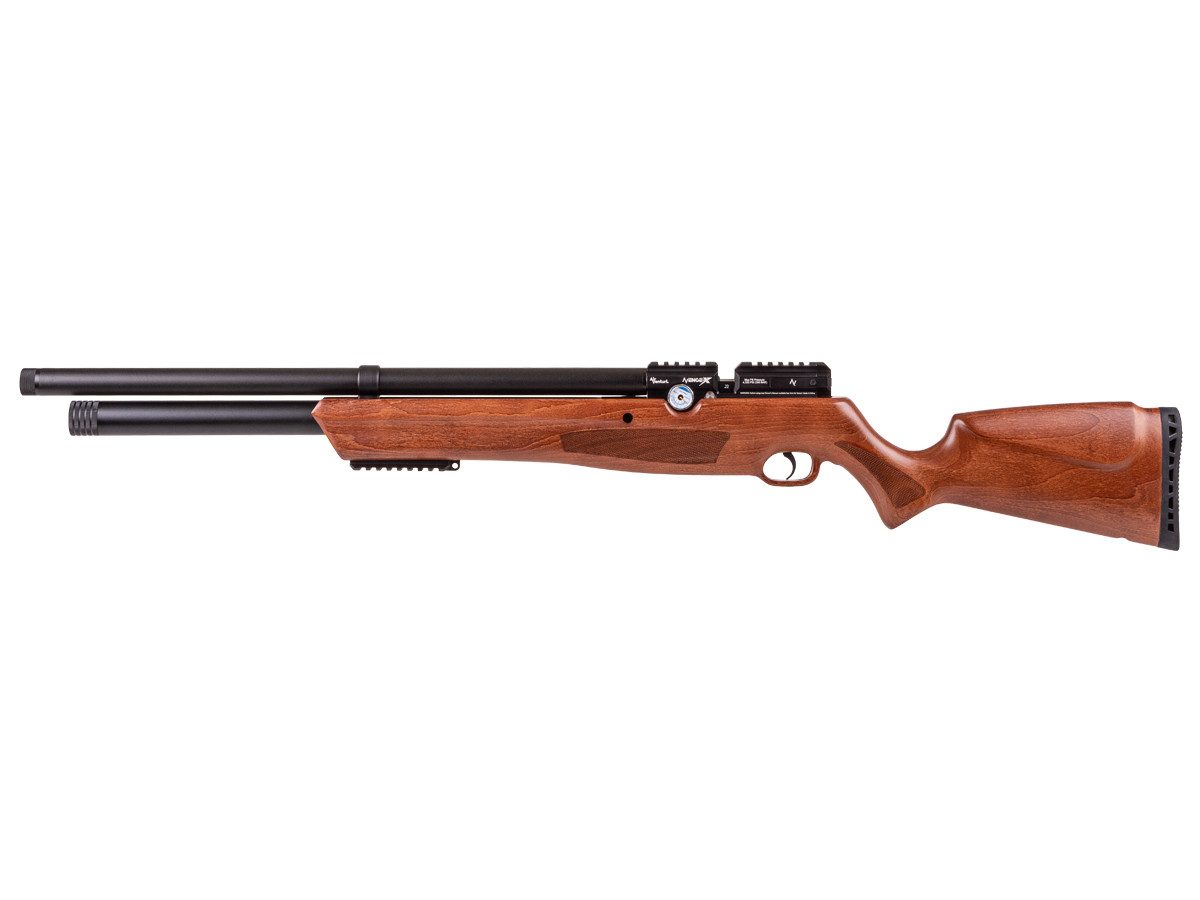 Brand new to our site but already making a significant impression, we have the new Avenge-X from Air Venturi.  This gun needs its own series of articles because it can just do so much.  Here are some of the highlights.  Shooters can change calibers, move between stock formats, and change from an air cylinder to a carbon fiber bottle.   But it's not just caliber and format that can change; shooters can adjust the regulator, hammer spring, and trigger, all without ever having to take the action out of the stock or dismantle the gun in any way. Air Venturi says the Avenge-X is "Your airgun, Your way," and we agree 100%.
Gamo Swarm Magnum 10x Gen3i
A top airguns list simply wouldn't be complete without at least one airgun from Gamo.  Gamo USA continues to move break barrel airgunning forward with even greater advances.  They've had the multi-shot break barrel system for several years, but now they've added an auto-advancing magazine that helps prevent double feeding.  It only advances to the next pellet when the inertial from the recoil actuates a switch in the mag. It's an ingenious way to solve a complex problem as simply as possible.  Not only do you get a stable multi-shot system, but you can deliver those pellets with awesome power and accuracy.  It's an awesome platform for new and old-school break barrel shooters alike. 
Air Arms TX200
Air Arms is another brand that simply has to make the list.  The TX200 is no stranger to top 10 lists, as it's the most winning airgun for springer field target competition.  The Air Arms TX200 is expensive, but it's designed and created to be the best-looking and best-shooting spring airgun you can buy.  It's exceptionally accurate and a joy to shoot. 
Benjamin Marauder
Will there ever be a top 10 that didn't have the venerable Benjamin Marauder?  Probably not for a long time. While the Marauder has its share of competition in the market, it's still a force to be reckoned with.  It's quiet, easy to maintain, easy to upgrade, has an amazing trigger system, and is wonderfully accurate and easy to shoot.  We expect the Maruder to continue to be around for some time, especially if Benjamin keeps coming out with new models with updated features and capabilities. Long live the Benjamin Marauder. 
Hatsan Mod 135
Massive power in a beautiful package.  That's the Hatsan Mod 135 walnut break barrel.  Built around the best of what Hatsan has to offer, the Mod 135 sports Hatsan's largest air-powered spring, "quiet energy" integrated moderator, fully adjustable Quattro trigger, and a host of other great features.  It may take a lot of force to cock, but it delivers massive power, up to 30+ FPE, and great accuracy.  The beefy walnut stock and all-steel construction help to tame the massive "springer" recoil, making it easier to shoot than other magnum break barrels. The open sights are a really nice touch as well. 
Crosman 2240 XL
The Crosman 2240 has been around for decades.  Recently, we were graced with a much-needed upgrade from Crosman when they released the new 2240 XL.  This updated model comes standard with a steel breech and threaded muzzle.  Out of the gate, the new 2240 XL is ready for key accessories.  The CO2 power plant delivers ease of operation, consistent power, and plenty of shots per cartridge.  If you've ever owned a 2240 or maybe have never owned a 2240, you need to get your hands on this iconic airgun from Crosman. 
Umarex Notos
Last but certainly not least, we have the Umarex Notos.  This dual-purpose airgun ships from Umarex as an awesome microcarbine.  But shooters can purchase grips and open sights, converting it to a multi-shot .22 caliber pistol.  While that's pretty cool, it's not even close to all the Notos has to offer.  Some of the other key features are a regulated power plant, adjustable trigger, AR-Style adjustable buttstock, full-length top rail,  and the price point is amazing too.  Ideal for pesting, target shooting, and small game hunting, the Umarex Notos may be the top .22 airgun for 2023.
That's a Wrap!
We hope you all enjoyed our list of top 10 .22 airguns. And if you are still looking and need some help, please don't hesitate to reach out and give us a call. We are always here to help.